About Us
Our New Location & Mailing Address:
6282 Route 9, Rhinebeck NY 12572
Our old PO Box has been discontinued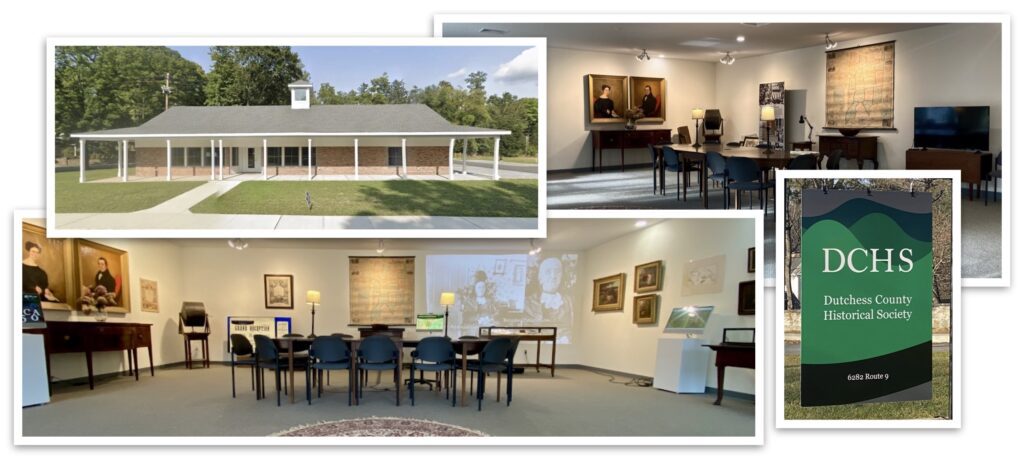 We are not yet fully open to the public as we are still in transition, but are beginning to operate on a limited basis. Please email us with any questions! ~ Bill Jeffway, Executive Director
Explanation of Our Website Top Navigation Tools
Option 1
DIY: Research Toolbox
"I am doing my own research,
assembling my own story…"
Finding Aids:
DCHS Collections, Research Libraries, Photograph & Image Collection,
DCHS Yearbooks and Maps.
Beyond DCHS:
Google Digital Bookshelf, Newspapers
County Government, Gravestone Transcriptions.





Option 2
Ready to Read & View
"I am interested in complete
stories prepared by others…"
Topics:
Women's History,
Black History, Civil War,
History in Public Places.
Virtual Event Space Video Playlists:
Caroline Clowes, Veterans Stories of Service, Poughkeepsie, Black, Indigenous Peoples, General History.
Exhibitions:
Caroline Clowes.
A major part of our work involves the almost invisible work of archival preservation. Our public-facing activities generally fall into the categories below: Events & exhibitions (both virtual and physical), publications such as our DCHS Yearbook or Caroline Clowes catalogue.
---
Events and Exhibits
---
---
---
Learn More