Individual Editions
---
---
Two-step search
for article, author, or topics
1. Type a single word.
2. Scroll through resulting list.
This search function is different from traditional search engines. Type a single search term in the search box (only use a second word if you are sure it will follow in sequence such as "Clinton House"). Then scroll down what will be the highlighted lines that have that word or sequence of words. You can search a word in the title, or author name, or topic tag.
All DCHS Yearbooks since our inaugural issue in 1914 are available in a searchable digital form.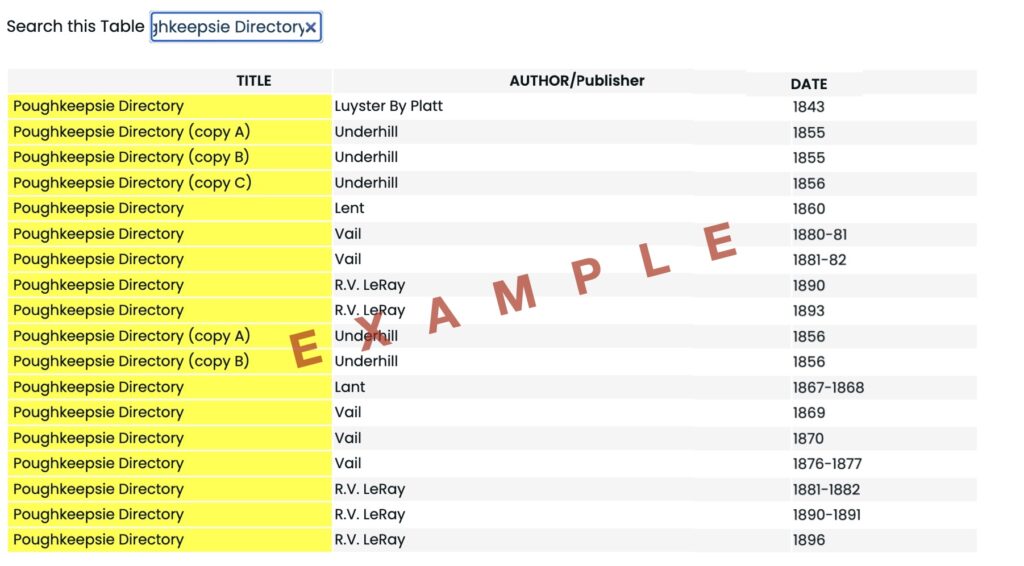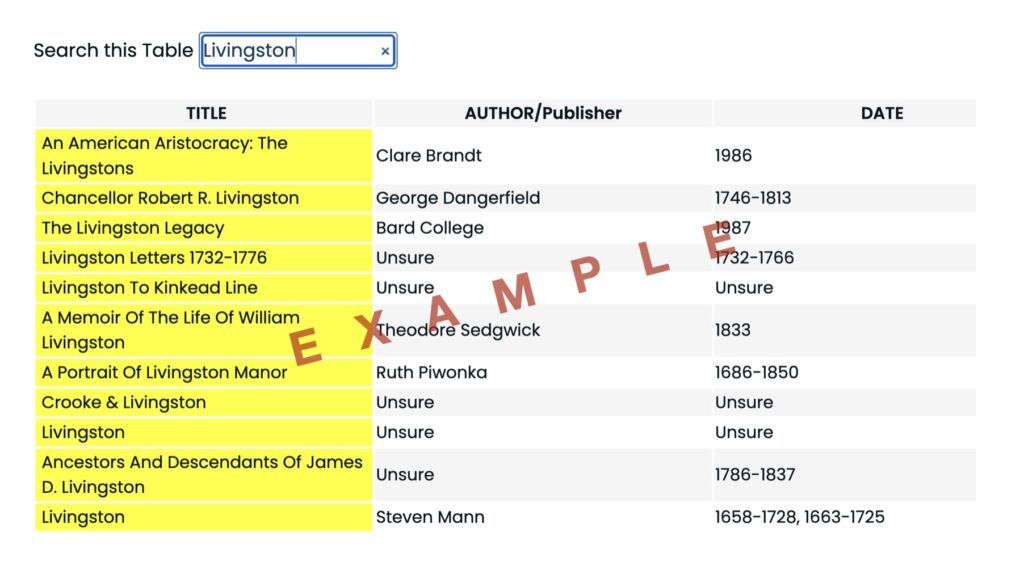 ---
| | | | |
| --- | --- | --- | --- |
| Maria Mitchell, Famed 19th Cent. Astronomer, Educator And Advocate For Women's Rights | Vassar College, Women's History, STEM | Molly B. Jones | 2021 |
| Brass Pounders: The Railroad Women Of Dutchess County | Railroad, Women's History | John Desmond | 2021 |
| Caroline M. Clowes: How Did We Lose An Important Nineteenth-Century American Artist? | Artists, Women's History | Candace J. Lewis | 2021 |
| The Hudson Valley Alemic Of Mrs. C.S. Lewis | Women's History | Roger Donway | 2021 |
| Hallie Flanagan At Vassar Colllege | Women's History, Vassar College , Theater | Sandra Opdycke | 2021 |
| Selections From Eleanor Roosevelt's 1933 Book | Women's History, FDR & ER | Candace J. Lewis | 2021 |
| Violet H. Simmons: A Remarkable Teacher | Women's History, Education | Edward Downey | 2021 |
| Campaigning For Woman's Sufferage In Dutchess County | Women's History, Politics | Sandra Opdycke | 2020 |
| Recovering The Paintings And Legacy Of A Great American Artist: Caroline Morgan Clowes | Women's History, Creative Arts, Artists | Bill Jeffway | 2020 |
| The League Of Women Voters In Dutchess County : Its Origin And Acomplishments | Women's History, Politics | Eleanor Ruby Charwat | 2020 |
| The Road From Clinton Hollow: A Grandmother's And Granddaughter's Path To Equal Rights For Women | Women's History, Politics | Melodye K. Moore | 2020 |
| Amy Spingarn: Humility And Pride | Women's History, Biography, Amenia, Troutbeck | Camille Roccanova | 2020 |
| Responses To The Flu Epidemic Of 1918 | Women's History, Medicine | Myra B. Young Armstead | 2020 |
| Practicing Law With Trailblazers | Women's History, Law | Diane O'Leary | 2020 |
| Ecology Pioneer At Vassar College | Women's History, Vassar College, Plant Life | Barbara Hughey | 2020 |
| "I'll Be Right Over" | Women's History, Medicine | Meg Downey | 2020 |
| Franny Reese.: "Defender Of The Hudson Valley | Women's History | Molly B. Jones | 2020 |
| Leitutenant Alvin H. Treadwell Lost And Found | | Peter Bedrossian | 2019 |
| Dutchess County's African-American Experience During The World War, 1917-1919 And Beyond | | Bill Jeffway & Melodye K. Moore | 2019 |
| Decoding The Past: George Wuest's First World War Adventures | World War One | William P. Tatum III | 2019 |
| Immigrant Farmer In The OSS | | Julian Strauss | 2019 |
| "Orchestrated Hell" Edward R. Murrows December's 1943 Radio Broadcast, Reporting On His RAF Bomber Flight Over Nazi Germany | | John Barry | 2019 |
| Bernard Handel's Recollections Of World War II | World War II, Patriotism & Honor | Candace Lewis | 2019 |
| The Fighting O'Connells: Twentieth Centrury American Soldiers | | Candace Lewis | 2019 |
| Getting To Know My Great Great Grandfather Fred: Soldier In The Spanish American War | | J.M. Kemp | 2018 |
| Over Here: The Yet-to-be Told Stories Of The Men , Women And Children Of Dutchess County During The World War , 1917-1919 | | Bill Jeffway & Melodye K. Moore | 2018 |
| The Unknown Soldier-and The Unknown Hamilton Fish | | Sarah Gates | 2018 |
| A Yank In The RCAF | | Peter Bedrossian | 2018 |
| Executive Order 9981 | | Peter Bedrossian | 2018 |
| My Longest Year: Twelve Months With The Joint Army-Navy Mobile Rivervine Force (MRF) In The Mekong River Delta , Republic Of Vietnam, 1967-1968 | | Tyler Dann | 2018 |
| Vietnam: A Seabee's Different Experience | | Craig Marshall | 2018 |
| Minutes Of The Johnsville Temperance Society 1831-1851, Hamlet Of Johnsville, Town Of Fishkill, New York | | Malcom Mills | 2017 |
| The Road To Prohibition: 1820 To 1920 | | John Barry | 2017 |
| The Temperance Poem: "Oh Rumseller" | 1825-1896 | Benjamin J Hall | 2017 |
| Prohibition Draws New York Gangsters To The Hudson Valley | | Eleanor Ruby Charwat | 2017 |
| The Raid On Dutch Schultz's Establishment In Pine Plains, New York | | Lydia Higginson | 2017 |
| Bootleggers At The Airport | 1905-2008 | John M. Miller | 2017 |
| Aerial Rum-Runners And Their D-25 Biplanes | | Charles Peter Colomello | 2017 |
| The Second Annual N.A.A.C.P Meeting, Amenia, N.Y | | Julia Hotton | 2017 |
| Inez: Icon Of A Movement | | Candace J. Lewis | 2017 |
| Maintaining The Link: The Letters Of Platt C. Curtis, 150th Regiment, New York Volunteers, "The Dutchess Regiment" | | Eileen Mylod Hayden | 2016 |
| The Case And Times Of Dred Scott | | John Barry | 2016 |
| A Tale Of Two Sisters | Biography | Melodye K. Moore | 2016 |
| Colonel John H. Ketcham: The Cincinnatus Of Dutchess County | Biography | Caroline Rogers Reichenberg | 2016 |
| Weapons Used By The Rank And File Of The 150th NY Volunteer Infantry | | Micheal Peets | 2016 |
| Songs Of The 128th | | Dean Thomas | 2016 |
| The Union Troops Get Mik – From Wassaic, New York | | Arlene Luliano | 2016 |
| Dutchess County, New York And Beaufort County, North Carolina During The Civil War | | Peter S. Bedrossian | 2016 |
| Hope: The Inagural Train Ride Of Abraham Lincoln And The Hudson River Valley | | Anthony J. Czarnecki | 2016 |
| Lincoln And The Mangolia Tree | | Virginia Hancock | 2016 |
| Grief: The Funeral Train Of Abraham Lincoln And The Hudson Valley | | Candace J. Lewis | 2016 |
| After The Battle Of Gettysburg: The Death Of Dutchess County Soldier, Albert Reed | | Newton Reed | 2015 |
| The New York Constitutional RatificationConvention Of 1788, Slavery, And The Coming Of The Civil War | | John Barry | 2015 |
| "We Support No Man Who Votes Against Liberty" | | F. Kennon Moody | 2015 |
| John A. Bolding, Fugitive Slave | | Helen Wilkinson Reynolds | 2015 |
| John A. Bolding: The Rest Of His Story | | Eileen Mylod Hayden | 2015 |
| "From Your Son…," The Civil War Letters Of Pvt. Evert Traver, Company C, 128th Reg't, N.Y.S V.I | | Dean Thomas | 2015 |
| Oration At Gettysburg | | Henry A. Gildersleeve | 2015 |
| Living History: History Taken Out Of The Book And Into The World | | Peter S. Bedrossian & Micheal Peets | 2015 |
| The Second Surrender: Sherman's 1865Campaign In The Carolinas And The End Of The Civil War | | Keith Altavilla | 2015 |
| Thinking Historically: My Take | | Denise D. VanBuren | 2014 |
| Watching Aviation In Dutchess County: The Myth Of Meaning; The Meaning Of Myth | | Leonard E. Opdycke | 2014 |
| Poppies From Heaven: 1928 | | David Johnson | 2014 |
| Photographs As Place Markers Of The Urban Lanscape: Main Street, Poughkeepsie | | Harvey K. Flad | 2014 |
| How Poughkeepsie Contributed To The Enlistment Of Blacks In The Union Army | | Julia Hotton | 2014 |
| Introduction To The 2013 Dutchess County Historical Society Yearbook | | Marcus J. Molinaro | 2013 |
| The Birth Of A County: Establishinh A Goverment In Dutchess, 1713-1721 | | William P. Tatum III | 2013 |
| Of Sufficient Number: The First 447 To Be Counted | | Melodye K. Moore | 2013 |
| Albert M. Rosenblatt: A Life In Law And Public Service | Biography, Law | Lou Lewis | 2013 |
| John Concklin And The Dutch Reformed Church "Bolt" | | John R. Conklin | 2012 |
| Dutchess County Quakers And The Hicksite Seperationof 1827-1828 | | Dell Upton | 2012 |
| Thomas Lake Harris And Amenia's Brotherhood Of The New Life | | Russell La Valle | 2012 |
| "The Poughkeepsie Plan" And Its Impact On American Catholic Parochial Education | | Timothy Walch | 2012 |
| The Life And Times Of Father Patric McSweeney | | Mary Regis McLoughlin & Angela O'Sullivan | 2012 |
| The Evolution Of Poughkeepsie's Jewish Community: The Nationall Background: A Brief Overview | | Rabbi Paul Golumb | 2012 |
| The Evolution Of Poughkeepsie's Jewish Community: It Was Not All About The Organ | | Lou Lewis | 2012 |
| Sheikh Ahmed Daod Faisal And Est Fishkill's "Medinah Salaam" | | Russell La Valle | 2012 |
| The Peace Of Jerusalem: An 1845 Plea For Religious Humility | | Roger Donway | 2012 |
| Innisfree Garden | | Candace J. Lewis | 2011 |
| Early Golf In Dutchess County | | Russell La Valle | 2011 |
| Blithewood: A Biography | | Nan Fogel | 2011 |
| Fox Hunting In Dutchess County | | Lewis R. Sterler | 2011 |
| The Sandanona Pheasantry | | Russell La Valle | 2011 |
| Peach Hill Park | | Molly B. Jones | 2011 |
| Marching With Sherman: Dutchess County's 150th Regiment | | | 2010 |
| Miss Lyman Of Vassar College | | | 2010 |
| The Legacy Of Maple Grove | | | 2010 |
| Ice Yachting: Describing The Ride Of A Lifetime | | | 2010 |
| Dr. J. Wilson Poucher: Medical Pioneer | | | 2010 |
| Telling The News: An Editor's Story | | | 2010 |
| John Burroughs-Neighbor | | | 2010 |
| Guarding The Roosevelts | | | 2010 |
| There Was Bustle But No Hustle | | | 2010 |
| Prowlers, Deleriums, The Pest House Held No Fears | | | 2010 |
| James A. Hughes Recalls Early Vassar Hospital | | | 2010 |
| They're Just "Boys" At Vassar | | | 2010 |
| Wise Voices, Plain Speaking: 20th Century Griots | | | 2010 |
| Billy Name And The Warhol Era | Biography, Artist | | 2010 |
| Bridge Of Dreams | | | 2010 |
| The Art Of Pastry: Frank Cordaro's La Deliziosa | | | 2010 |
| Portait Of An Artist And A River | | Wayne Lempka | 2009 |
| The Hudson River And Mathew Vassar: Creating A College Art Collection | | Candance J. Lewis | 2009 |
| Whalers Of The Hudson | | Steven A.A. Mann | 2009 |
| Getting To "The Point" | | Christopher Pryslopski | 2009 |
| Sepacots: Native Americans Near Rhinebeck's Hudson Hudson Shore | | Nancy V. Kelly | 2009 |
| Last Days Of The Newburgh-Beacon Ferry | | Willa Skinner | 2009 |
| Excursions Up The Hudson To Mount Beacon's Incline Railway | Beacon, Beacon Railway | Robert J. Murphy | 2009 |
| The Hudson River In Maps | | Nan Fogel | 2009 |
| Commercial Fishing In Dutchess County | | Dan Shapley | 2009 |
| Rob Modjeski And The FDR Bridge | | James Storrow | 2009 |
| Rowing On The Hudson | Regatta | John Mylod | 2009 |
| Bowdoin Park: A History (1688-1975) | | Annon Adams | 2009 |
| Dutch Rhinecliff | | Cynthia Owen Phillip | 2009 |
| Henry A. Livingston | | | 2008 |
| William Wilson | | | 2008 |
| Maria James | | | 2008 |
| Fitz-Green Halleck | | | 2008 |
| Rokeby | | | 2008 |
| Springside | | | 2008 |
| Founder's Day | | | 2008 |
| Myron Benton | | | 2008 |
| Joel Benton | | | 2008 |
| Horatio Nelson Powers | | | 2008 |
| Edward Hazen Parker | | | 2008 |
| Wallace Bruce | | | 2008 |
| William Harloe | | | 2008 |
| Josh Billings | | | 2008 |
| George W. Davids | | | 2008 |
| Vassar College | | | 2008 |
| Maria Mitchell | Biography, Vassar College | | 2008 |
| Edna St. Vincet Millay | | | 2008 |
| Riverview Academy | | | 2008 |
| Poughkeepsie Regatta | Regatta | | 2008 |
| Rhinebeck, The Beautiful | | | 2008 |
| Dutchess County Courthouse | Poughkeepsie, Law, Architecture | | 2008 |
| John Jay Chapman | | | 2008 |
| Margaret Chanler Aldrich | | | 2008 |
| Joel E. Spingarn | Troutbeck | | 2008 |
| College Hill | | | 2008 |
| Kimlin Cider Hill | | | 2008 |
| Innisfree | | | 2008 |
| Locust Grove | | | 2008 |
| Frank S. Dickerson | | | 2008 |
| Fala | | | 2008 |
| Franklin Delano Roosevelt | | | 2008 |
| Eleanor Roosevelt | | | 2008 |
| Chanler Chapman | | | 2008 |
| Barrytown Explorer | | | 2008 |
| Women's Activism And The Founding Of Dutchess Community College, 1955-1960 | | Andrew C. Rieser | 2007 |
| The Dutchess County Board Of Supervisors And The Appointment Of Dutchess Community College Trustees | | Beth Kolp | 2007 |
| An Intervierw With Dr. James Hall, Founding President Of Dutchess Community College | | | 2007 |
| An Interview With Joseph Jiudice, First Chairman Of The Board Of Trustees For DCC | | | 2007 |
| The Legacy Of The Ritz: A History Of The The DCC Library | | Tom Trinchera | 2007 |
| Unionization At Dutchess Community College By Howard Winn | | | 2007 |
| DCC'S Campus And The Foundation Ann Winfield And F. Kennon Moody | | Winfield And F. Kennon Moody | 2007 |
| Coming Apart: The 1960s | | Richard Reitano | 2007 |
| Student Activities Through The Years: A Photo Essay | | DCC History Club | 2007 |
| A Survey Of Dutchess Alumni | | Cathy Furlani | 2007 |
| Historian Has The Last Word | | Joyce C. Ghee | 2007 |
| A History Of The Juliet Theater | | Annon Adams | 2005-2006 |
| Paramount Memories | | Pete Bergamo | 2005-2006 |
| Trinity Church -250 Years | | Shirley B. Bergmann | 2005-2006 |
| From The Bill Of Rights To IBM: Poughkeepsie Journal History | | Meg Downey | 2005-2006 |
| Two Hundred Years Of The Full Moon Lodge | | Patrick Higgins | 2005-2006 |
| History Of Dress At Vassar College | | Holly Hummel | 2005-2006 |
| The Palatine Farmstead At Rhinebeck | | Nancy Kelly | 2005-2006 |
| Captain H.L. Barnum: An Enigma By Harold Nestler | | Harold Nestler | 2005-2006 |
| Ten Mile Resevoir | | John Quinn | 2005-2006 |
| Back From The Dead: Pleasant Valley's Old Mill Store | | Thomas E. Rinaldi | 2005-2006 |
| Genealogicall Chart Of Van Vliets | | | 2003-2004 |
| Introduction | | Nancy Fogel | 2003-2004 |
| The Van Vliets In Dutchess County | | Jane Dresser | 2003-2004 |
| In Sickness And In Health – Henry & Hannah Van Vliet | | Erica Blumenfield | 2003-2004 |
| Mr. And Mrs. Van Vliet- George And Mercedes | | Nancy Fogel | 2003-2004 |
| "Dear Mother"- Helena Garrison Van Vliet | | Rosemary Davidson Kyle | 2003-2004 |
| Go East Young Woman | | Erica Blumenfield | 2003-2004 |
| Meeting The Granddaughters- Annatje & Gretchen | | Jane Dresser & Nancy Fogel | 2003-2004 |
| Reuben Spencer- Van Vliet Neighbor And Friend | | Jane Dresser | 2003-2004 |
| Conclusion | | | 2003-2004 |
| Jesse Effron 1915-2004 | | | 2003-2004 |
| DCHS Staff, Officers, Trustees | | | 2003-2004 |
| Statement Of Revenue And Expense | | | 2003-2004 |
| Municiple Historians Of Dutchess County | | | 2003-2004 |
| Historical Societies Of Dutchess County | | | 2003-2004 |
| President's Report 2001 | | Joyce C. Ghee, (DCHS Board President) | 2001-2002 |
| Introduction | | | 2001-2002 |
| Baseball In Dutchess County, When It Was A Game | | Joseph V. Poillucci | 2001-2002 |
| Remembering Baseball: A Conversation With Walter Patrice | | Nan Fogel | 2001-2002 |
| Running In Dutchess County | | Pete Colaizzo | 2001-2002 |
| The Bycicle In And Around Poughkeeepsie | | Greg Hancock | 2001-2002 |
| A Hundred-Yard Dash Through Vassar's Athletics Traditions | | Elizabeth A. Daniels | 2001-2002 |
| Soccer In Dutchess County | | Nan Fogel | 2001-2002 |
| Soccer In Dutchess County: The Germania Club | | John Jorgensen | 2001-2002 |
| Golf In Dutchess County: 1884 To 2000 | | Rudy Zochi And John Flanagan | 2001-2002 |
| The Junior Davis Cup: Poughkeepsie Tennnis Club | | Natalie H. Davis | 2001-2002 |
| Two Centuries Of Ice Yachting On The Hudson | | Brian Reid | 2001-2002 |
| Sports Museum Of Dutchess County | | John Flanagan | 2001-2002 |
| Annual Meeting 2000 | | | 1992-1993 |
| Introduction | | | 1992-1993 |
| Mrs. Slater's World | | Annon Adams | 1992-1993 |
| Mrs. Bessie Harden Payne | Women's History | Lawrence Mamiya | 1992-1993 |
| "Feeding Yound Ladies' Minds From Living Springs," Maria Mitchell And Vassar College | Biography, Vassar College | Elizabeth A. Daniels | 1992-1993 |
| How The D.A.R Ladies "Saved The" The Clinton House- Twice! | Poughkeepsie, War: Rev War, Architecture: 18thc | Marian Liggera | 1992-1993 |
| Walking With Grace | | Nancy Taubman | 1992-1993 |
| A Woman Who Made A Difference, Mary Lucy Ham Alley | | Ruth Hogan | 1992-1993 |
| Dutchess County Women In Military | | Nan Fogel | 1992-1993 |
| Once Upon A Time, The Little Red School House | | Dorothea Taylor | 1992-1993 |
| Across The Spectrum | | Nancy Alden | 1992-1993 |
| Designing Women: Embroidery In Dutchess County | | Nan Fogel | 1992-1993 |
| Do It Yourself Women's History Tour Of Dutchess County And Map | | Joyce C. Ghee And Stephanie Mauri | 1992-1993 |
| Memorial For Mary Lou Jeanneney | | Robin Walsh | 1992-1993 |
| D.C.H.S Stament Of Revenue & Expenses | | | 1992-1993 |
| D.C.H.S Officers And Trustees | | | 1992-1993 |
| Municipal Historians Of Dutchess County | | | 1992-1993 |
| Historical Societies Of Dutchess County | | | 1992-1993 |
| Horse High, Sheep Tight And Hog Proof | | Bruce Buckley | 1997-1998 |
| The Sampler And The American Schoolgirl: The Ann Beadle Map Sampler | | Ann Friedland | 1997-1998 |
| Keeping Good Time | | James Storrow & Annon Adams | 1997-1998 |
| Eleanor Roosevelt, Val-Kill, And The American Crafts Movement | Business | Mary M. Flad | 1997-1998 |
| The Vall-Kill Industries Of Hyde Park | Hyde Park | Louis Torres | 1997-1998 |
| Webatuck Crafts Village – Building A Craft Driven Community | | | 1997-1998 |
| Sitting Pretty | | Nan Fogel | 1997-1998 |
| First Dutchess Quilters -Carrying On American Tradition | | Joyce C. Ghee | 1997-1998 |
| The Landscape As Historic Evidence: A Review Of Smithfield Valley's Past | | Neil Larson | 1995-1996 |
| Changes In Dutchess County's Art Scene | | Nan Fogel | 1995-1996 |
| Jerome Deyo's Poughkeepsie | | Nan Fogel | 1995-1996 |
| "I Began To Paint What Lay Before Me" | | Jerome Deyo | 1995-1996 |
| Do-It-Yourself "Arttours" | | Nan Fogel, Joyce Ghee, Stephanie Mauri | 1995-1996 |
| Early Social Welfare In Dutchess County Including The Poorhouse System | | Susan D. Blouse | 1994 |
| The Fugitive Slave Law Of 1850 | | Arun Banerjee | 1994 |
| The Sampler And The American School Girl- 18th And 19th Century | | Anne M. Freidland | 1994 |
| Silver Ribbon Historic House Tour: A History Of Five Homes And Their Neighborhoods | | Antonia L. Mauro | 1994 |
| A Tour Of Sites In The Rombout Patent | | Joyce C. Ghee | 1994 |
| Trustee's Resolution On The Death Of Helen W. Reynolds | | J. Wilson Poucher, George Van Vliet, And Katherine Waterman | 1993 |
| Helen Wilkinson Reynolds: A Tribute | | J. Wilson Poucher, James F. Baldwin | 1993 |
| Helen Wilkinson Reynolds…A Seconds Look: Helen Wilkinson Reynolds And The D.C.H.S | | Joyce C. Ghee | 1993 |
| Helen Wilkinson Reynolds (1875-1943) A Bibliography | | Elizabeth Adams Daniles & Nany S. MacKechnie | 1993 |
| St. Margaret's Home, Red Hook, New York | | Richard Crowley , With John Winthrop Aldrich | 1993 |
| Mr. Platt Goes To The Collingwood Opera House | | Annon Adams | 1993 |
| View Of New Amsterdam, 1653 | | | 1992 |
| New Amsterdam City Hall | Ilustrations | | 1992 |
| Map Of Rombout Patent, 1689 | Ilustrations | | 1992 |
| Madam Brett Homestead, Beacon, New York | Ilustrations | | 1992 |
| Kitchen Fireplace, Madam Brett Homestead | Ilustrations | | 1992 |
| Seventheenth Century Floor Clock, Brett Homestead | Ilustrations | | 1992 |
| Van Wyck Homestead, Fishkill, New York | Ilustrations | | 1992 |
| Alice Crary Sutcliffe, Great-great-great-great Granddaughter Of Madam Brett | Ilustrations | | 1992 |
| Robert Fulton Crary And Mrs. Crary | Ilustrations | | 1992 |
| First Reformed Protestant Dutch Church , Fishkill, New York | Ilustrations | | 1992 |
| Mathew Vassar, 1792-1868: More Than A Brewer | | Elizabeth A. Daniels | 1991 |
| Why Mr. Beardsley Came To Dutchess County | | Janet E. Nugent | 1991 |
| The G.H. Ford Tea Company: Monument To A Woman's Business Skills | | Jane DuPree Begos | 1991 |
| Dr. Cornelius Osborn Rediscovered | | Brian L. Altonen | 1991 |
| Edvard Bech: Citizen Of Poughkeepsie , 1852-1873 | | V. Beck Rambusch With Walter Averill | 1991 |
| Vassar Brickmaking In The State Of New York | | Robin Lucas | 1991 |
| Andrew Jackson Downing And Picturesque Tourism At Mathew Vassar's "Springside" | | John F. Sears | 1990 |
| Hamilton Pray -Inventor Of The Horse-Drawn Ice Plow | | Kath Welsh | 1990 |
| Records Of Marriages | | Mary Lou And Jim Davidson | 1990 |
| The History Of The Clove Valley 1697-1740 | | Frank J. Doherty | 1990 |
| Stanford Union Free School District No. 2, 1922-1957 | | Donald C. Spiers | 1990 |
| The West Mountain Mission: A Mission For Its Time | | Myrna J. Hubert | 1990 |
| With Prosperity All Aorund: Urban Issues In Poughkeepsie , New Yrok, 1950-1980 | | Sandra Opdycke | 1990 |
| Tator Hill | | Elma Williamson | 1990 |
| The First Seventy-Five | | | 1989 |
| The Value Of Local History | | Eilleen M. Hayden | 1989 |
| Images Of IBM | | Lewis Mumford | 1989 |
| Poughkeepsie Yacth Club | Regatta | Arthur E. Scott | 1989 |
| A Lasting Ideal In A Changing World: A History Of Marist College | | Arthur E. Scott | 1989 |
| The Constituition And New York | | John P. Kaminski | 1988 |
| The Right To Choose: Suffrage During The Revolutionary Era | | William P. McDermott | 1988 |
| Life 200 Years Ago In The Original Nine Towns Of Dutchess | | | 1988 |
| Early Amenia | | Ann Linden | 1988 |
| The Town Of Beekman-1788 | | Lee Eaton | 1988 |
| Late Eighteenth Century Clinton (including Hyde Park And Pleasant Valley) | | William H. Bensen, Jr. | 1988 |
| Fishkill-1788 | | Willa Skinner | 1988 |
| North East | | Helen Netter | 1988 |
| State Of The Town In 1788-Pawling | | Myrna Feron | 1988 |
| The Town Of Pougkeepsie -1788 | | Mona Vaith, Herbert Saltford | 1988 |
| Rhinebeck – A Look Backward And Forward | | Elma Williamson | 1988 |
| Town Of Washington | | Carmine Di Arpino | 1988 |
| Edmund Platt, 1865-1939 | | Clyde Griffin | 1987 |
| Platt's History, And Ours | | Clyde Griffin | 1987 |
| Poughkeepsie's Architectural Styles , 1835-1940 | | William B. Rhoads | 1987 |
| A Young Lawyer's Trails: Opportunities And Obstacles In Poughkeepsie, 1780-1800 | | Marta Wagner | 1987 |
| Invisible People, Untold Stories: A Historical Overview Of The Black Community In Poughkeepsie | | Lawrence H. Mamiya And Lorraine | 1987 |
| The Catholic Community In Poughkeepsie 1870-1900: The Period Of Testing | | Louis C. Zuccarello | 1987 |
| The Changnign Neighborhoods Of Poughkeepsie 1850-1900 | | Clyde Griffin | 1987 |
| A Time Of Readjustment: Urban Renewal In Poughkeepsie, 1955-75 | | Harvey K. Flad | 1987 |
| The Rural Hamlet In Dutchess County: An Endangered Species | | William McDermott | 1986 |
| The Violet Craze In Dutchess County | | Herb Saltford | 1986 |
| The Fire At The Home Of Frankline D. Roosevelt And Its Aftermath | | Donald H. McTernan & Susan Jensen Brown | 1986 |
| Main Building, Vassar College A National Historic Landmark | | Bannon McHenry | 1986 |
| Solvenian Priest | | | 1986 |
| Gleanings From The New York State Of 1844 At Poughkeepsie | | Clifford M. Buck | 1986 |
| The Dutch In Colonial Dutchess – Declining Numbers – Continuing Influence | | Willam P. McDermott | 1985 |
| Disposable Blades- Poughkeepsie Style | | Robin S. Walsh | 1985 |
| The Van Wyck/Jay House Its Historics And Structural Analysis | | Keneth W. Walpuck | 1985 |
| The Theodorus Van Wyck Site: A Ceramic Analysis | | Roberta Wingerson | 1985 |
| The Rombout Patent: An Alliance Of Families | | Janet Knight | 1985 |
| Dutchess Quakers Maintain Their Testimony Agianst Military Participation | | Alson Van Wagner | 1985 |
| Poughkeepsie Horse Cars | | Charles Benjamin | 1985 |
| The Poughkeepsie Railroad Bridge- An Informal History | | Micheal D. Haydock | 1985 |
| Notes And Quotes: Notes Of The Poughkeepsie City School District | | Peters Anders Edman | 1985 |
| Notes And Quotes: A History Of The Cirriculum In The Poughkeepsie City School District 1843-1929 | | Peters Anders Edman | 1985 |
| The Forest Plantations Of Franklin D. Roosevelt At Hyde Park, NY | | Thomas W. Patton | 1985 |
| Alexander Hamilton, Melancton Smith, And The Ratification Of The Constitution In Poughkeepsie, NY | | Robin Brooks | 1984 |
| The Great New Hamburg Fire-1877 | | John Perillo | 1984 |
| South Amenia: An Oral History | | Newton Reed | 1984 |
| Slaveholding On Livingston Manor And Clermont, 1686-1800 | | Roberta Singer | 1984 |
| Blizzard Of 1888: Exerpt From The Diary Of George Henry Deuell | | George Badgley | 1984 |
| The Dutchess County Fair | | Clifford M. Buck | 1984 |
| Local Burial Places Of Prominent Dutchess County Citizens | | Robert Fish | 1984 |
| Alfred Ackert And The Dutchess County Society Of New York | | Alfred Ackert | 1984 |
| The First Natural Resource Inventory Of Dutchess County: The New York State Natural History Survey -1836-1842 | | Claude M. Epstein Ph.D. | 1984 |
| The Turnpikes Of Pleasant Valley | | Alson Van Wagner | 1984 |
| The Famine Irish Arrive In Poughkeepsie -1850 | | Willam P. McDermott | 1984 |
| Helen Wilkinson Reynolds, FDR, And Hudson Valley Architecture | | William B. Rhoads | 1983 |
| Franklin D. Roosevelt: His Development And Acomplishments As A Local Historial | | John C. Ferris | 1983 |
| Munsee And Mahican: Indians Of Dutchess County | | Julian H. Salomon | 1983 |
| Nineteenth Century Manufacturing Enterprise In Dutchess County | | Andrea Zimmerman | 1983 |
| An Account Of Ther New Hamburg Railroad Disaster Of 1871 | | John Perillo | 1983 |
| The Fading Veneer Of Equality: The Afro-American Experience In Poughkeepsie Between 1840-1860 | | Joshua G. Hinerfeld | 1983 |
| Local Burial Places Of Prominent Dutchess County Residents | | Robert Fisch | 1983 |
| Sybil Ludington: Heroine Of The Revolution | War: Rev War | Louanna J. Elya | 1983 |
| Poughkeepsie's Musical Heritage (1683-1865) | | Barbara Biszick | 1983 |
| The 1714 Dutchess County Census: Measure Of Household Size | | William P. McDermott | 1983 |
| Franklin Delano Roosevelt: Dutchess County Farmer | | F. Kennon Moody | 1982 |
| The Poughkeepsie Navy | | George N. Wilson | 1982 |
| Sale Of Loyalist Estates In Dutchess County: The Effects On Landholding Patterns | | John T Reilly | 1982 |
| The New American Landscape: An Analysis Of The Poughkeeepsie Iron Works | | Jeffrey A. Arons | 1982 |
| Masked Burglars In Millerton | | Chester Eisenhuth | 1982 |
| Archeology As Historic Preservation: An Example From Dutchess County | | Charles Fisher | 1982 |
| The Lassen Family 1659-1982: Dutchess County's First Settlers | | B. Buchanan | 1982 |
| The Washington Hollow Fair | | Louise Tompkins | 1982 |
| The Civil War Comes To Dutchess County | | David Lund | 1982 |
| The Bardovon 1869 Opera House 1669-1979 | | Jesse Efron | 1982 |
| Land Grants In Dutchess County 1683-1733: Settlement Or Speculation? | | William P. McDermott | 1982 |
| Teaching History With Local Goverment Records | | Kathleen D. Roe | 1981 |
| A Subject Index For Articles From The Dutchess County Historical Society Yearbooks | | Nancy A. Logan | 1981 |
| Beekman's Irish Connections | | Lee Eaton | 1981 |
| Homegrown Politicians | | Melodye A. Kaltz | 1981 |
| Dutchess County's Role In The Civil War | | William S. Benson Jr. | 1981 |
| Susannah Vaughton: Caught In The Web Of 17th Century Politics? | Settlement: 17thc | William P. McDermott | 1981 |
| Union Corners School, District #3 | | Clifford M. Smith | 1981 |
| The Depression Comes To Poughkeepsie -1930-1936 | | Jack Lippman | 1981 |
| The Federal Census- A Research Instrument | | William P. McDermott | 1981 |
| Dutchess County Palatine Research In Germany | | Henry Z. Jones Jr. | 1981 |
| Dutchess Countians Go To War: The 150th New York State Volunteer Infantry Regiment | | William F. Tuceling | 1981 |
| The Rapaljes – Fishkill Village | | Margaret Somers | 1981 |
| "Capt. Dobbs, One Of Our Most Experienced Pilots" | | Margaret T. Lane | 1981 |
| Seperate Black Education In Dutchess County | | Carleton Mabee | 1980 |
| The Poughkeepsie And Stormville Plank Road | | Clifford M. Buck | 1980 |
| Old Gravestones Of The Town Of Beekman | | Lee Eaton | 1980 |
| Ante-Bellum Dutchess County's Struggle Against Slavery | | Susan J. Crane | 1980 |
| Rev. Dr. Westbrook's School At Fishkill : Revisited | | Margaret Somers | 1980 |
| Livingston Family Correspondence: 1732-1799 | 18thc | Kevin J. Gallagher | 1980 |
| Saved By A Boot | | Louise Tompkins | 1980 |
| The 150th Dutchess County Regiment In The Civil War | | William S. Benson Jr. | 1980 |
| Widow Allen | | William P. McDermott | 1980 |
| The Little Red Schoolhouse | | George N. Wilson | 1980 |
| The Astor Home: Looking Back | | Eileen M. Hayden | 1980 |
| The Johannes Jacob Melius House At Mt. Ross | | Byron R. S. Fone | 1980 |
| Board Of Trustees And Vice Presidents For Towns And Cities | | | 1979 |
| Secretary's Minutes | | | 1979 |
| Treasurer's Report | | | 1979 |
| President's Message | | | 1979 |
| Curator's Report | | | 1979 |
| Glebe House Report | | | 1979 |
| In Brief | | | 1979 |
| Clinton House: A New Period | | Molodye Andros | 1979 |
| Historical Society Leaders | | Joseph W. Emsley | 1979 |
| Sixteen-Mile Riverfront Historic Society | | | 1979 |
| Central New England Railroad Cartoons | | Ed Rose | 1979 |
| Hell's Acres | | Luoise Tompkins | 1979 |
| A Touch Of Darkest Treason | | Radford Curdy | 1979 |
| A Welfare Administration In Revolutionary Dutchess County | | Jonathan Clark | 1979 |
| The Flager Cemetery At Green Haven | | Robert Pierce | 1979 |
| A Brief Account Of Cruger's Island, Magdalen Island, The North Bay, And Adjoining Uplands | | John Winthrop Aldrich | 1979 |
| Reminiscences Of Old Time Blacksmithing | | | 1979 |
| The Cook Mills A Century Old | | | 1979 |
| The Old Plantation | | Burton Coon | 1979 |
| Uncle Tom | | Burton Coon | 1979 |
| The Big Parade | | James L. Lumb | 1979 |
| Hacketts And Cunneens | | | 1979 |
| Historical Talk On The Occasion Of The Inaguration Of Jack Economou As Mayor Of The City Of Poughkeepsie | | Clyde Griffin | 1979 |
| The Freight Terminal At Fishkill Landing | | Eunice Hatfield Smith & Collin M. Strong | 1979 |
| Attempts At Mining In Pleasant Valley | | Clifford M. Buck | 1979 |
| Widow Allen | | William P. McDermott | 1979 |
| Exerpts From Let Us Be A Company | | George Flowers & Jerome V. Deyo | 1979 |
| Appointed Historians Of Dutchess County | | | 1979 |
| Presidents Of Historical Socirties In The Towns Of Dutchess County | | | 1979 |
| Membership- Dutchess County Historical Society | | | 1979 |
| Board Of Trustees And Vice Presidents For Towns And Cities | | | 1978 |
| Secretary's Minutes | | | 1978 |
| Treasurer's Report | | | 1978 |
| President's Message | | | 1978 |
| Glebe House Report | | | 1978 |
| In Brief | | | 1978 |
| Frank Mylod | | | 1978 |
| Helena Van Vliet | | | 1978 |
| Ralph E. Van Kleeck | | | 1978 |
| The Grist Mill At Pleasant Plains | | | 1978 |
| Pleasant Plains And Frost Mill Notes | | Emma Link | 1978 |
| Letter From William Case Williams | | Helena G. Van Vliet | 1978 |
| Postal Service In Dutchess County-revisited | | Clara Losee | 1978 |
| Letter To The Authors Of "A Trip On The Clove Branch Rail Road | | William P. McDermottt | 1978 |
| Poughkeepsie's Oldest Existing Structures: The Freer House W Notes On The Freer House Burial Grounds | Poughkeepsie | Catherine F. Leigh | 1978 |
| Our Almost Forgotten Hero: | | Melodye Andros | 1978 |
| The Two Shilling -Doctor: A Legend And An Account Book | | Elizabeth I. Carter | 1978 |
| In Search Of Collateral Ancestors (The Sixth Chapter Of The Flagler Family) | | Radford B. Curdy | 1978 |
| The Other House At The Upper Landing | | Robert Pierce | 1978 |
| When The Capital Of New York Came To Poughkeepsie -1778 | Poughkeepsie | Melodye Andros & Radford B. Curdy | 1978 |
| Conflict And Transition: Poughkeepsie, Capital Of New York State 1778 | | Chris Farlekas, Times Herald Record, | 1978 |
| Dutchess County Tells Its Story With A Multi Media Display | | | 1978 |
| Constitution's Birth Marked In Kingston | | Poughkeepsie's Journal | 1977 |
| State Inked Constitutions On The Run | | Poughkeepsie's Journal | 1977 |
| May 1775- Area Freeholders Meet To Decide Future | | | 1977 |
| The First Reformed Church Of Fishkill | | | 1977 |
| America's Narrow Escape | | Louise Tompkins | 1977 |
| King George I Of America | | Louise Tompkins | 1977 |
| Town Of LaGrange- Revolutionary Period | | Nancy Logan | 1977 |
| Some Revolutionary War Resindences Existing In The Town Of LaGrange | | Joan Platt | 1977 |
| Brief Biography: William James Vassar | | J. Spotts McDowell | 1977 |
| Saving The Elmendorph (Red Hook) | | Gazzette Advertiser | 1977 |
| Jacob Willets' Early Nineteenth Century Textbooks | | A. Day Bradley | 1977 |
| Pleasant Valley Pilgrimage | | Poughkeepsie Journal | 1977 |
| Woodlawns | | Clifford M. Smith | 1977 |
| The Schenk Mill And Store At Pleasant Valley | | William P. McDermott | 1977 |
| A Wandering Preacher I (Chapter Five On The Flagler Family) | | Robert Pierce | 1977 |
| Jonathan Thorn | | Clifford M. Buck | 1977 |
| A Trip On The Clove Branch Railroad | | | 1977 |
| Postal Service In Dutchess County | | William P. McDermott | 1977 |
| Happy Days In Deep Hollow | | Louise Tompkins | 1977 |
| The Children's Hope Of Poughkeepsie-130 Years | | Mrs. David N. Sanford | 1977 |
| Constitution's Birth Marked In Kingston | | Poughkeepsie's Journal | 1976 |
| State Inked Constitutions On The Run | | Poughkeepsie's Journal | 1976 |
| May 1775- Area Freeholders Meet To Decide Future | | | 1976 |
| The First Reformed Church Of Fishkill | | | 1976 |
| America's Narrow Escape | | Louise Tompkins | 1976 |
| King George I Of America | | Louise Tompkins | 1976 |
| Town Of LaGrange- Revolutionary Period | | Nancy Logan | 1976 |
| Some Revolutionary War Resindences Existing In The Town Of LaGrange | | Joan Platt | 1976 |
| Brief Biography: William James Vassar | | J. Spotts McDowell | 1976 |
| Saving The Elmendorph (Red Hook) | | Gazzette Advertiser | 1976 |
| Jacob Willets' Early Nineteenth Century Textbooks | | A. Day Bradley | 1976 |
| Pleasant Valley Pilgrimage | | Poughkeepsie Journal | 1976 |
| Woodlawns | | Clifford M. Smith | 1976 |
| The Schenk Mill And Store At Pleasant Valley | | William P. McDermott | 1976 |
| A Wandering Preacher I (Chapter Five On The Flagler Family) | | Robert Pierce | 1976 |
| Jonathan Thorn | | Clifford M. Buck | 1976 |
| A Trip On The Clove Branch Railroad | | | 1976 |
| Postal Service In Dutchess County | | William P. McDermott | 1976 |
| Happy Days In Deep Hollow | | Louise Tompkins | 1976 |
| The Children's Hope Of Poughkeepsie-130 Years | | Mrs. David N. Sanford | 1976 |
| 200 Years Ago: New York Joins A Revolution | | Russell E. Chappell | 1975 |
| American Flag Evolved Slowly | | | 1975 |
| Prelude To Revolution: Politics In Poughkeepsie | | Thomas P. Billings | 1975 |
| Dutchess County In The Revolutionary War | | Louise Tompkins | 1975 |
| A Record Of Turmoil (Minutes Of The Committee Of The Safety For The Town Of Northeast, 1778) | | George B. & Janet S. Bookman | 1975 |
| Backbone Of Farm Fare For Years Was Hog Meat | | | 1975 |
| Over Hill: Over Dale (Chapter Four Of The Flagler Family) | | Robert Peirce | 1975 |
| Oblong Friends And Dr. Fallon's Hospital | | A. Day Bradley | 1975 |
| The Chains Which Fortified The Hudson River Highlands During The Revolution | | Henrietta Mead | 1975 |
| Red Hook's Maizefield In Historic Register | | | 1975 |
| Changing City | | | 1975 |
| Union Street Historic District | Poughkeepsie Urban Renewal Agency | Suzanne Doner & Ben Rayfield | 1975 |
| Knickerbocker-Kilmer Homestead | | Barbara Thompson | 1975 |
| Antique Print Association Issues Bicentennial Book | | | 1975 |
| Historical Societies In The Towns Of Dutchess County | | | 1975 |
| A Recommendation And Appreciation | | Frank V. Mylod | 1974 |
| A Local History Center In Dutchess County | | Jesse Efron | 1974 |
| The Seed Is Planted In American Soul | | Robert Pierce | 1974 |
| A Feeling For The Land | | Barbara Thompson | 1974 |
| The Old Railroad Of Dutchess County | | Paul T Phillips | 1974 |
| The Hucklebush Line | | Keith MacPhail | 1974 |
| Julia Dean | Creative Arts, Theater, Women | Clifford M. Buck | 1974 |
| On Finding A Folk Art Treasure | | Sue Whitman | 1974 |
| Excavation Of The Van Wyck Homstead, A Preliminary Report | Revolutionary War | Juliette J. Whitman | 1974 |
| The Poughkeepsie Tower Clock | Poughkeepsie | Michael D. Gordon | 1974 |
| The Mystery Of Old Maps | | Barbara Thompson | 1974 |
| 1974 Annual Pilgrimage | | | 1974 |
| Rhinebeck Area Historic Survey | Rhinebeck | Richard Crowley | 1974 |
| Mrs. Amy VerNoy | | | 1973 |
| Milan's Immigrations, Old And New | | Barbara Thompson | 1973 |
| Illustrations | | Ozzi Stippa | 1973 |
| Milan Pathmasters And Other Things | | Barbara Thompson | 1973 |
| The Palatines | | Wilhelmina B. Powers | 1973 |
| The Voyage | | Robert Pierce | 1973 |
| Garfield Place Day: Victorian Ambience Revived | Poughkeepsie, Architecture | Dr. Susan Luskin Puretz | 1973 |
| Beson J. Lossing- Patriot | | Joseph Emsley | 1973 |
| Report Of The 1973-1974 Glebe House Bicentennial Auction | | John M. Jenner | 1973 |
| The Barn Museum At Millbrook Pheasant Farm | | | 1973 |
| The Story Of Lithgow | | Louise Tompkins | 1973 |
| Evolution Of The Fallkill National Bank | | Raymond J. Baumbusch | 1973 |
| Century Farms In Dutchess County As Of 1972 | | Clifford M. Buck | 1973 |
| Space Pilgrims | | Mr. & Mrs. Kenneth R. Briggs | 1972 |
| Progress Noted On Project To Restore Historic Mr. Gulian | | | 1972 |
| Gulian Verplanck House-Beacon N.Y | Verplanck, 18thc | William E. Verplanck | 1972 |
| Amenia Benton's | | William A. Benton 2nd | 1972 |
| Open House Planned At Glebe House | | | 1972 |
| William Bissell | | William A. Benton 2nd | 1972 |
| Days Of Old Dutchess | | Louise Tompkins | 1972 |
| The Old Muzzle Loading Rifle | | William A. Benton 2nd | 1972 |
| Charcoal | | William A. Benton 2nd | 1972 |
| Sweet Violets | | Barbara Thompson | 1972 |
| A History Of Trovoli From First Settlement To Incorporation | | James Elliot Lindsley | 1972 |
| A History Of Trovoli From Incorporation In 1872 To Its Centenial , June 18, 1972 | | Barbara Navins | 1972 |
| Testing Cows | | William A. Benton 2nd | 1972 |
| School District #1 Town Of LaGrange | | Clifford M. Buck | 1972 |
| Blacksmith Shop | | William A. Benton 2nd | 1972 |
| One Room School … Set For Historic Hyde Park | | | 1972 |
| Ulster County Pilgrimage | Ulster County | Walter Averill, 2nd | 1971 |
| What Does The County Historian Do? | | Dorothy B, Alsdorf | 1971 |
| The Names Of Street In Poughkeepsie | Poughkeepsie, Street Names | Dorothy B, Alsdorf | 1971 |
| The Village Of Wappingers Falls Celebrates Its Centennial | | Elizabethann Albertson | 1971 |
| Pleasant Valley Celebrates Its Sequencentenial | | Mrs. N Edwards Mitchell | 1971 |
| The Friends Meeting House | | Clifford M. Buck | 1971 |
| Abel Peters Of Clinton Corners | Clinton, Wills | Cornelia Brooks | 1971 |
| Poughkeepsie's Union Street (Preface: The Quixotic Plan) | Poughkeepsie | Edmund Van Wyck | 1971 |
| The Poughkeepsie Hartford & Boston Railroad | | | 1971 |
| Harvey G. Eastman | Eastman College, Education, Poughkeepsie | | 1971 |
| Fire At The Old Dutch Church | Poughkeepsie, Fire | | 1971 |
| The Stone Barn At Pleasant Valley | Pleasant Valley | Clifford Buck | 1971 |
| The Central Baptist Church Of Clinton Corners | | | 1971 |
| Clifford Buck Recalls | Salt Point, Buck Family | Karen Jones | 1971 |
| A Creamery And The Blacksmith Shops In Lagrange | | Edmund Van Wyck | 1971 |
| The Amazing Chanlers And How They Grew- A Book Review | | John Winthrop Aldrich | 1971 |
| A Copy Of An Afidafit Of The Actions And Behavours Of Thomas Vorce Since 1758 | Legal Documents 18thc | Brigid Allen | 1971 |
| Dr. John Bard & Dr. Samuel Bard Of Hyde Park | Hyde Park, Medicine, Bard Family | Joseph W. Emsley | 1971 |
| Faith Chapel At Titusville | Chapels | | 1971 |
| The Old Ladies Home – 100 Years Of Service | | | 1971 |
| The Van Wyck Family Of Dutchess County | Dutch Families | Joseph W. Emsley | 1971 |
| Prices In The Good Old Days | | Edmund Van Wyck | 1971 |
| Mathew Vassar, Junior | | | 1971 |
| By Laws, Dutchess County Historical Society | | | 1971 |
| Dutchess County Hitorical Society Membership List | | | 1971 |
| Dr. Henry Noble MacCracken 1880-1970 | Obituaries, Vassar College | Joseph W. Emsley | 1970 |
| Die Pflatz | Wallkill Valley, Ulster County | Edmund Van Wyck | 1970 |
| Rochdale | Poughkeepsie | Joseph W. Emsley | 1970 |
| Lane Brothers | Poughkeepsie, Manufacturing | | 1970 |
| Lane Motor Vehicle Co. Advertisments | Poughkeepsie, Manufacturing | | 1970 |
| Dutchess County Quakers And Slavery | Quakers, Abolition, Antislavery | Dell T. Upton | 1970 |
| Annual Pilgrimage | | | 1970 |
| Shultzville | Hamlets, Clinton | Ruth M. Hoyt | 1970 |
| Clinton Corners Friends Church | | Mabel K. Burbans | 1970 |
| Westminister Presbyterian Church Of Salt Point | Salt Point, Presbyterian | Rev. Carl T. Voth | 1970 |
| Early Railroads In Dutchess County | | Lyndon A. Haight | 1970 |
| The Reverend Mr. Willam Whittmaker | Presbyterian, Pleasant Valley | Judith K. Stewart & Clifford Buck | 1970 |
| Society Meeting, November 9, 1970 | | | 1970 |
| Old Museum Village Of Smith's Clove | Museums, Mastadon | | 1969 |
| The Ledge Where The Bear Jumped Off | Dover | Clifford M. Buck | 1969 |
| The Reid Family In America | | Henry Noble MacCracken, Mable V. Lawson | 1969 |
| Wappinger Savings Bank | Wappinger | | 1969 |
| Luckey, Platt & Co | | | 1969 |
| Euturpe: A Musical History Of The Mid-Hudson | | Barbara A. Pierce | 1969 |
| The First White Child Born In Dutchess County | | Clifford M. Buck | 1969 |
| Dutchess County Scenery | | Edmund Van Wyck | 1969 |
| Cunnett House On Hackett Hill | Hyde Park, Architecture | Charlotte Cunneen Hackett | 1969 |
| Dutchess County Railoads | | Edmund Van Wyck | 1969 |
| Huckle Or Hooker Bush? | | Barbara Thompson | 1969 |
| Names In Places In The Town Of LaGrange | | | 1969 |
| Amenia Female Academy, 1865 | | | 1969 |
| Horticulture In Dutchess County | | Joseph W. Emsley | 1968 |
| The Town Of LaGrange | | Edmund Van Wyck | 1968 |
| Thorndale | | Louise Tompkins | 1968 |
| Peter DeRiemer, Goldsmith | | Katherine L. Babson, Jr. | 1968 |
| Early American Glass | | Kenneth E. Pearce | 1968 |
| The Drovers | | Edmund Van Wyck | 1968 |
| More Shunpiking In The Hudson Valley | | Walter Averill | 1968 |
| Old Ways Discovered | | Richard A. Dwelley | 1968 |
| Romance Of Hudson River Sloops | | William F. Gekle | 1968 |
| In Memory Of Miss Reynolds | | Joseph W. Emsley | 1968 |
| Letters Of Brig. General Jacobus Swartwout | | Mrs. Edward V.K. Cunningham | 1967 |
| The Home And Mill Of Colonel Derick Brinkerhoff | | Charlotte Cunningham Finkel | 1967 |
| Trinity Church, Fishkill, New York | | Barbara Smith Buys | 1967 |
| The Breadbasket Of The Revolution | | Radford B. Curdy | 1967 |
| Major General Henry Knox, Biographical Sketch | | Major Louis J. Flanagan | 1967 |
| Regatta: As I Remember | Regatta | Frank V. Mylod | 1967 |
| Shunpiking In The Hudson River Valley | | Walter Averrill | 1967 |
| Our Salt Box | | George B & Janet S. Bookman | 1967 |
| Dutchess County People | | Clifford M. Buck | 1967 |
| Preservation Of The Poughkeepsie Municipal Building | Poughkeepsie | Baltus B. Van Kleeck | 1966 |
| The Colonial Dames Of Dutchess | Women's History | Henry Noble MacCracken | 1966 |
| Jacobus Swartwout Resident Of Rombout Precinct | Settlement: 18thc | Joseph W. Emsley | 1966 |
| The Reformed Churches Of Dutchess County | | Baltus B. Van Kleet | 1966 |
| The Federal Period Of Dutchess County 1789 – 1825 | Early Republic, Architecture | Baltus B. Van Kleet Jr. | 1966 |
| Education: A Moral Duty | Benson Lossing | Regina D. Fitzpatrick | 1966 |
| Christ Church Poughkeepsie 1766-1966 | Poughkeepsie | Shirley L. Sartori | 1966 |
| Adriance Memorial Library | Library | Arnold P. Sable | 1966 |
| The West Mountain Mission | Pawling | Amy Ver Nooy | 1966 |
| Our President Says | | Baltus B. Van Kleeck | 1965 |
| The Annual Pilgrimage | | | 1965 |
| A View Of Tidewater Dutchess | | Henry Noble MacCracken | 1965 |
| Hammertown | | Charlotte C. Finkel | 1965 |
| The Passing Of The Dutchess County Bible Society | | Amy Ver Nooy | 1965 |
| Historical Societies Of Dutchess County | Associations, Local History | | 1965 |
| The Store Account Books Of Hendrick Shenck | Fishkill Landing, Beacon, 18thc | | 1965 |
| Bible Records Of Dutchess County Families | Van Anden, Gay, DeGroff, Velie | | 1965 |
| Our President Says: | | Baltus B. Van Kleeck | 1964 |
| The Annual Pilgrimage | | | 1964 |
| Revision Of The Bylaws | | | 1964 |
| The Rivals For Dutchess | | Henry Noble MacCracken | 1964 |
| Defending The Highland In The Revolutionary War | | Kenneth C. Miller | 1964 |
| The Restoration At New Windsor Cantonment | | Frederick P. Todd | 1964 |
| "Lifes Race Well Run" | | Amy Ver Nooy | 1964 |
| Our President Says: | | Baltus B. Van Kleeck | 1963 |
| The Celebration Of The 175th Anniversary Of The Ratification Of The Constitution | | | 1963 |
| The Ratification Of The Constitution By The State Of New York At Poughkeepsie, 1788 | | Baltus B. Van Kleeck | 1963 |
| A Trip To The West In 1845 | | | 1963 |
| The Dutchess's County | | Edmund Van Wyck | 1963 |
| Mathew's Vassar Plan | | | 1963 |
| Membership's List, 1963 | | | 1963 |
| Index To Year Books, Volumes 43-48 (1958-19630 | | | 1963 |
| Secretary's Minutes | | | 1962 |
| Treasurer's Report | | | 1962 |
| Our President Says | | | 1962 |
| The Annual Pilgrimage | | | 1962 |
| Bard College And Schuyler House | | Reamer Kline | 1962 |
| Lincoln's State Department | | Henry Noble MacCracken | 1962 |
| Dutchess County Cattle Show And Fair Of 1820 | | Amy Ver Nooy | 1962 |
| Poughkeepsie's 275th Anniversary | | | 1962 |
| How The City Of Poughkeepsie Was Founded, (a Reprint) | | Helen Wilkinson Reynolds | 1962 |
| America Learned To Write | | | 1962 |
| Books | | | 1962 |
| Bible Records Of Dutchess County Families | | | 1962 |
| Our President Says: | | Henry Noble MacCracken | 1961 |
| The Annual Pilgrimage | | | 1961 |
| Mathew Vassar, Founder | | Theodore Henry Erck | 1961 |
| Sharpe Reservation | | Frederick H. Lewis | 1961 |
| The Public Career Of James Tallmadge, Part 11 | | John D. Gindele | 1961 |
| Bible Records Of Dutchess County Families | | | 1961 |
| Secretary's Minutes | | | 1960 |
| Treasurer's Report | | | 1960 |
| Our President Says: | | | 1960 |
| The Annual Pilgrimage | | | 1960 |
| The Story Of Amenia Union | | | 1960 |
| The South Amenia Neighborhood | | | 1960 |
| The Public Career Of James Tallmadge, Part I | | | 1960 |
| Secretary's Minutes | | | 1959 |
| Treasurer's Report | | | 1959 |
| Our President Says: | | Henry Noble MacCracken | 1959 |
| The Annual Pilgramage | | | 1959 |
| The Poughkeepsie Tennis Club- Its First Fifty Years | | Baltus B. Van Kleeck | 1959 |
| Our Creative River | | Henry Noble MacCracken | 1959 |
| John Forbus And His Family | | Amy Ver Nooy | 1959 |
| Records Of Dutchess Counties Families | | | 1959 |
| Secretary's Minutes | | | 1958 |
| Treasurer's Report | | | 1958 |
| Our President Says: | | Edmund Van Wyck | 1958 |
| The Annual Pilgramage | | | 1958 |
| The Netherlands, Background Of New Netherland | | Adriaan J. Barnouw | 1958 |
| The Last Of Her Kind – Miss Ellen C. Roosevelt | | Walter B. Patterson | 1958 |
| The Columbia Crew | | Ellen C. Roosevelt | 1958 |
| Speed Laws And The Sanitary Code In 1866 | | Baltus B. Van Kleeck | 1958 |
| Books | | | 1958 |
| Elsea Haight's Book | | | 1958 |
| Records Of Dutchess Counties Families | | | 1958 |
| Secretary's Minutes | | | 1957 |
| Treasurer's Report | | | 1957 |
| Our President Says: | | Edmund Van Wyck | 1957 |
| The Annual Pilgramage | | | 1957 |
| The Van Wyck Papers | | | 1957 |
| Punishment In Other Davs | | Aimee Buchanan | 1957 |
| The Ghost At Fiddler's Bridge, And Other Spots | | John R. Schwartz | 1957 |
| Mermbership List, 1957 | | Amy Ver Nooy | 1957 |
| Index To Year Books Of 1952-1957 (Volumes 37-42) | | | 1957 |
| Secretary's Minutes | | | 1956 |
| Treasurer's Report | | | 1956 |
| Our President Says: | | Edmund Van Wyck | 1956 |
| The Annual Pilgramage | | | 1956 |
| The Whaling Industry In Poughkeepsie | | Sandra Truxtun Smith | 1956 |
| To The Curious; Or, The Animals Came To Town | | Amy Ver Nooy | 1956 |
| Books | | | 1956 |
| Secretary's Minutes | | | 1955 |
| Treasurer's Report | | | 1955 |
| Our President Says: | | Edmund Van Wyck | 1955 |
| The Annual Pilgramage | | | 1955 |
| The Discovery Of The Birthplace Of The American Cowboy | | Susan Zurhorst | 1955 |
| The Cementary At Pink's Corners | | Jennie U. Strong | 1955 |
| The Old Stone Church | | Frederica Coon Rockefellar | 1955 |
| The Story Of The 240 Years Of St. Paul's Church, Red Hook | | Margaret Chanler Aldrich | 1955 |
| A Visit To Blithewood | | Richard Mott Gummere, Jr. | 1955 |
| John Bard, Willie Bard And The Founding Of St. Stephen's College | | Olin Dows | 1955 |
| Stephen And Julia Olin | | | 1955 |
| Bible Records Of Dutchess County Families | | | 1955 |
| Secretary's Minutes | | | 1954 |
| Treasurer's Report | | | 1954 |
| Our President Says: | | Frank V. Mylod | 1954 |
| The Annual Pilgramage | | Charlotte Cunneen Hackett | 1954 |
| Centenary Hymn | | Herbert Muller | 1954 |
| Stony Kill Farm | | Francis S. Peterson | 1954 |
| History Of Glenham, New York | | Jessie E. Roake | 1954 |
| Same Old Documents Of Dutchess County | | Amy Ver Nooy | 1954 |
| La Fayette's Visit, September 16, 1824 | | | 1954 |
| A War-time Raffle In The Town Of Stanford | | Amy Ver Nooy | 1954 |
| Died Of A Broken Heart-James D. Sketchley | | | 1954 |
| Bible Records Of Dutchess County Families | | | 1954 |
| Secretary's Minutes | | | 1953 |
| Treasurer's Report | | | 1953 |
| Our President Says: | | | 1953 |
| The Annual Pilgramage | | | 1953 |
| "Shaking The Family Tree" | | Edwin R. Van Kleeck, Ph.D. | 1953 |
| Mary Powell, Queen Of The Hudson | | Harry T. Briggs | 1953 |
| The Glebe House, And The People Who Lived There | | Amy Ver Nooy, Edmund Van Wyck, Frank V. Mylod | 1953 |
| Bible Records Of Dutchess County Families | | | 1953 |
| Secretary's Minutes | | | 1952 |
| A Christmas Toast | | Henry Noble MacCracken | 1952 |
| Treasurer's Reports | | | 1952 |
| Curator's Report | | | 1952 |
| Our President Says: | | | 1952 |
| Harry Harkness Flagler | | | 1952 |
| The Annual Pilgrimage | | | 1952 |
| Highlights In The History Of The Town Of Stantford | | Elinor Beckwith | 1952 |
| The Early History Of Pine Plains | | Julia S. Jordan | 1952 |
| The Moravian Mission To The Indians At Shekomeko | | Helen Netter | 1952 |
| Ice Yatching On The Hudson River; The Poughkeepsie Ice Boat, Association, Part II | Regatta | Harry T. Briggs | 1952 |
| Elizabeth Crannell, Wife Of Dr. Peter Tappen | | Amy Ver Nooy | 1952 |
| Bible Records Of Dutchess County Families | | | 1952 |
| Secretary's Minutes | | | 1951 |
| Treasurer's Report | | | 1951 |
| Our President Says: | | Frank V. Mylod | 1951 |
| Henry T. Hackett And Franklyn J. Poucher | | Joseoph W. Emsley | 1951 |
| The Annual Pilgrimage | | | 1951 |
| The Story Of Rokeby | | Margaret Chanler Aldrich | 1951 |
| The Poughkeepsie Collegiate School, 1848-49 The Diary Of A Hudson Student On College Hill | | James Taylor Dunn | 1951 |
| Ice Yachting On The Hudson River; The Poughkeepsie Ice Boat Association, Part I | | Harry T. Briggs | 1951 |
| Addenda To "Twelve Cannot Street, Poughkeepsie" | | James Taylor Dunn | 1951 |
| Books | | | 1951 |
| Bible Records Of Dutchess County Families | | | 1951 |
| Membership List, 1951 | | | 1951 |
| Index To Year Books Of 1946-1952 (Volumes 31-36) | | | 1951 |
| Secretary's Minutes | | | 1950 |
| Treasurer's Report | | | 1950 |
| Curator's Report | | | 1950 |
| Our President Says: | | Edmund Van Wyck | 1950 |
| James Fosdick Baldwin, Ph.D., L.H.D | | Frank V. Mylod | 1950 |
| The Annual Pilgrimage | | | 1950 |
| The Poughquag Neighborhood | | Mary Hoag | 1950 |
| The Beekman Neighborhood | | Lavina Blake | 1950 |
| Union Vale And The Clove | | Anne M. Vincent | 1950 |
| Twelve Cannon Street, Poughkeepsie | | Amy Ver Nooy | 1950 |
| Poughkeepsie As A Place-Name | | Harold Nestler | 1950 |
| Books | | | 1950 |
| The Ols Asher Home | | | 1950 |
| Bible Records Of Dutchess County Families | | | 1950 |
| Secretary's Minutes | | | 1949 |
| Treasurer's Reports | | | 1949 |
| Our Presidents Says | | Edmund Van Wyck | 1949 |
| George S. Van Vliet- An Appreciation | | Edmund Van Wyck | 1949 |
| The Annual Pilgrimage | | | 1949 |
| Titusville Road | | Ruth A. Halsted | 1949 |
| The Crum Elbow Creek, Its Mills And Dams | | Harry T. Briggs | 1949 |
| "Uncle Benn" Haviland | | The Editor | 1949 |
| Josh Billings | | Amy Pearce Ver Nooy | 1949 |
| More About Orson S. Fowler | | The Editor | 1949 |
| Secretary's Minutes | | | 1948 |
| Treasurer's Reports | | | 1948 |
| Our Presidents Says | | Edmund Van Wyck | 1948 |
| Resolution On The Death Of J. Wilson Poucher, M.D. | | | 1948 |
| In Memory Of John Wilson Poucher, Ph.D | | James F. Baldwin, Ph.D | 1948 |
| The Annual Pilgrimage | | | 1948 |
| Historic Dover | | Anne M. Vincent | 1948 |
| Dover, And How It Got Its Name | | George E. Whalen | 1948 |
| Old Drovers Inn | | Olin Chester Potter | 1948 |
| The Stone Church | | Virginia Palmer | 1948 |
| "Fowler's Folly, " And Its Builder | | Amy Pearce Ver Nooy | 1948 |
| John Russell Comstock, And His Octagon | | Amy Pearce Ver Nooy | 1948 |
| Early Hotels Of Hude Park Village | | Harry T. Briggs | 1948 |
| Billeting Reciepts Of 1759 | | The Editor | 1948 |
| Bible Records Of Dutchess County Families | | | 1948 |
| Secretary's Minutes | | | 1947 |
| Treasurer's Reports, October 18, 1946-December 31, 1947 | | | 1947 |
| Our Presidents Says | | Edmund Van Wyck | 1947 |
| The Annual Pilgrimage | | Iva Loowther Peters, Ph.D. | 1947 |
| Fishkill And Some Of Its Historic Spots | | Wilbert J. Hammond | 1947 |
| The House Of Hendrick Kip | | | 1947 |
| Trinity Church, Fishkill | | | 1947 |
| "Ten Acres" | | Amy Pearce Ver Nooy | 1947 |
| Dutchess County Men-Andre Jackson Davis , The Poughkeepsie Seer | | Amy Pearce Ver Nooy | 1947 |
| My Heart Goes Home | | Thomas S. Lossing | 1947 |
| The Smith Brothers- "Trade" And "Mark" | | Frederic A. Smith | 1947 |
| Mizzen Top Days | | Helen Akin Littell | 1947 |
| The "White House On The Corner" | | Annie M. Thomas | 1947 |
| The Sanitary Fair | | Amy Pearce Ver Nooy | 1947 |
| Bible Records Of Dutchess County Families | | | 1947 |
| Secretary's Minutes, October 26, 1945- October 18, 1946 | | | 1946 |
| Treasurer's Reports, October 26, 1945-October 18, 1946 | | | 1946 |
| Our Presidents Says | | Edmund Van Wyck | 1946 |
| By-Laws, Dutchess County Historical Society | | | 1946 |
| The Annual Pilgrimage | | | 1946 |
| Glenburn | | Olin Dows | 1946 |
| Old Forms With New Faces | | Grank D. Blanchard | 1946 |
| Dutchess County Men Of The Revolution Period- Baron Steuben | | J. Wilson Poucher, M.D. | 1946 |
| The Indians Of Dutchess County And Vicinity | | Harry T. Briggs | 1946 |
| My Heart Goes Home | | Thomas S. Lossing | 1946 |
| Some History And Traditions Of Pawling, New York, Part II | | Jennie Toffey Green | 1946 |
| The Grandfather Clock | | Marion G. Ogden | 1946 |
| Peter A. Schryver, Justice Of The Peace, And His Records | | Amy Ver Nooy | 1946 |
| Bible Records Of Dutchess County Families | | | 1946 |
| Secretary's Minutes, October 21, 1944- October 26, 1945 | | | 1945 |
| Treasurer's Reports, October 21, 1944-October 26, 1945 | | | 1945 |
| Resolutions On The Death Of Franklin D. Roosevelt | | | 1945 |
| Our Presidents Says | | Raymond G. Guernsey | 1945 |
| The Silversmiths Of Poughkeepsie | | George B Cutten & Amy Pearce Ver Nooy | 1945 |
| Some History And Traditions Of Pawling, New York, Part II | | Jenny Toffey Green | 1945 |
| Dutchess County Men Of The Revolutionary Period- Judge Robert R. Livingston, His Sons And Sons-in-law | | J. Wilson Poucher | 1945 |
| Dutchess County Men Of The Revolutionary Period- Colonel Henry Ludington And His Daughter Sybil | | J. Wilson Poucher & Barbara Corliss | 1945 |
| Dutchess County Men- Benson John Lossing | | Amy Pearce Ver Nooy | 1945 |
| Bible Records Of Dutchess County Families | | | 1945 |
| Membership List, 1945 | | | 1945 |
| Index To Year Books Of 1940-1945 | | | 1945 |
| Secretary's Minutes, October 21, 1944- October 26, 1945 | | | 1944 |
| Treasurer's Reports, October 21, 1944-October 26, 1945 | | | 1944 |
| Our Presidents Says | | Raymond G. Guernsey | 1944 |
| A Message From The State Historian | | Albert B. Corey | 1944 |
| The Historical Society- Its Relationship To School And Community | | Paul T. Williams | 1944 |
| "My Kind Physician" | | Clara Steeholm | 1944 |
| The General Store At Salt Point, 1848-1849 | | Amy Pearce Ver Nooy | 1944 |
| The Carrier's Address – A New Year's Greeting | | Amy Pearce Ver Nooy | 1944 |
| Dutchess County Men Of The Revolutionary Period – Zephaniah Platt | | J. Wilson Poucher | 1944 |
| Some History And Some Traditions Of Pawling, New York | | Jenny Toffey Green | 1944 |
| Dutchess Counties Tories Of The Revolutionary Period | | J. Wilson Poucher | 1944 |
| Dutchess County And Her Neighbors Before 1800 | | J. Wilson Poucher | 1944 |
| Bible Records Of Dutchess County Families | | | 1944 |
| Secretary's Minutes, October 16, 1942- October 15, 1943 | | | 1943 |
| Treasurer's Reports, October 16, 1942-October 15, 1943 | | | 1943 |
| Resolution On The Death Of Miss Helen Wilkinson Reynolds | | | 1943 |
| Helen Wilkinson Reynolds | | J. Wilson Poucher, M.D & James F. Baldwin, Ph.D | 1943 |
| The Founding Of The Society Of The Cincinnati | | Frederick R. Stevens | 1943 |
| The Folklorist Looks At The Historians | | Louis C. Jones, PhD | 1943 |
| Colonial Presbbyterian Churches In Dutchess County | | William C. Swartz | 1943 |
| Diary Of Farming Affairs, Weather, &c, Of Alexander Hamilton | | Ruth A. Halstead | 1943 |
| The Anti-Slavery Movement In Dutchess County 1835-50 | | Amy Pearce Ver Nooy | 1943 |
| Dutchess County Men Of The Revolutionary Period – James Livingston And Some Of His Descendants | | J. Wilson Poucher, M.D | 1943 |
| Lieutenant Jonathon Thorn, U.S.N, And Some Of His Dutchess County Connections | | Amy Pearce Ver Nooy | 1943 |
| Dutchess County Men-Joseph Folger Barnard | | Amy Pearce Ver Nooy | 1943 |
| Dutchess County Men- Admiral John Lorimer Worden | | Amy Pearce Ver Nooy | 1943 |
| The First Trained Nurses In The United States Navy | | Amy Pearce Ver Nooy | 1943 |
| In Memoriam, William Willis Reese | | | 1942 |
| Raymond G. Guernsey, President, Dutchess County Historical Society | | | 1942 |
| Secretary's Minutes, October 16, 1942- October 15, 1943 | | | 1942 |
| Treasurer's Reports, October 16, 1942-October 15, 1943 | | | 1942 |
| Pilgrimage Notice | | | 1942 |
| Murals In The Post Offices At Rhinebeck & Hyde Park, New York | | Olin Dows | 1942 |
| Account Of The Eastern And Southeastern Portions Of The Town Of Hyde Park | | Benjamin H. Haviland | 1942 |
| Johnson Of The Mohawks, A British Pro-Consul In America | | Arthur Pound | 1942 |
| The Committee On Conservation Of Cultural Resourses | | | 1942 |
| "For The Duration | | Helen Wilkinson Reynolds | 1942 |
| Some Of The Members Of The Dutchess County Agricultural Society, 1853 | | Miss Caroline Haviland | 1942 |
| The Prosperity Of Dutchess County About 1830 | | Helen Wilkinson Reynolds | 1942 |
| Poughkeepsie's Water Supply | | J. Wilson Poucher, M.D | 1942 |
| Family Bible Of Joanna Livingston, Wife Of Pierre Van Cortlandt A Record Contributed Shortly Before His Death By The Late | | William Willis Reese | 1942 |
| Dutchess County Men Of The Revolutionary Period – Colonel Frederick Weissenfels | | J. Wilson Poucher, M.D | 1942 |
| Editorial Notes On The Writings Of Henry Livingston, Jr. | | Helen Wilkinson Reynolds | 1942 |
| Early American Painting | | Oliver S. Tonks, Ph.D | 1942 |
| The Parish Register, Trinity Church, Fishkill, New York: A Record Contributed Shortly Before His Death By The Late | | William Willis Reese | 1942 |
| Secretary's Minutes, October 16, 1942- October 15, 1943 | | | 1941 |
| Treasurer's Reports, October 16, 1942-October 15, 1943 | | | 1941 |
| The Annual Pilgrimage | | | 1941 |
| The Ten Broeck Bouwerie | | Jane Livingston Wilson | 1941 |
| The Hill | | John Ross Delafield, A.M., LLB., D.S.M | 1941 |
| The Town Of Clinton | | George S. Van Vliet | 1941 |
| The Founding Of The Dutchess County Historical Society | | Amy Pearce Ver Nooy | 1941 |
| Berlin, Vermont. Its Connection With Dutchess County | | Helen Wilkinson Reynolds | 1941 |
| Three Artists: James Smillie, James D. Smille, George Edwin Bisell | | J. Wilson Poucher, M.D, Helen Wilkinson Reynolds | 1941 |
| Sheep Raising In Dutchess County | | Helen Wilkinson Reynolds | 1941 |
| The Claire Pottery At Poughkeepsie | | J. Wilson Poucher, M.D | 1941 |
| Physicians And Medicine In Dutchess County In The Eighteenth Century | | Helen Wilkinson Reynolds | 1941 |
| The Negro In Dutchess County In The Eighteenth Century | | Helen Wilkinson Reynolds | 1941 |
| Agriculture In The Town Of Red Hook, Dutchess County | | Benedict S. Seidman | 1941 |
| Secretary's Minutes, October 16, 1942- October 15, 1943 | | | 1940 |
| Treasurer's Reports, October 16, 1942-October 15, 1943 | | | 1940 |
| The Annual Pilgrimage | | | 1940 |
| The Homestead Of The Brock Family | | | 1940 |
| One-Hundred And Fiftieth Anniversary Of The Establishment Of The Supreme Court | | | 1940 |
| Smith-Thompson Of Dutchess County, Justice Of The Supreme Court | | J. Wilson Poucher, M.D | 1940 |
| Dutchess County Men Of The Revolutionary Period – Major Andrew Billings | | J. Wilson Poucher, M.D | 1940 |
| James Emott And Some Of His Dutchess County Descendants | | J. Wilson Poucher, M.D | 1940 |
| The Beginnings Of Civil Administrations In Dutchess County (continued From Year Book 1939) | | Helen Wilkinson Reynolds | 1940 |
| The Settlers On Great Nine Partners Patent | | Helen Wilkinson Reynolds | 1940 |
| Captain Richard Sackett | | J. Wilson Poucher, M.D | 1940 |
| Early Roads On Nine Partners Patent | | Helen Wilkinson Reynolds | 1940 |
| Filkintown | | Helen Wilkinson Reynolds | 1940 |
| Hibernia Mills | | Helen Wilkinson Reynolds | 1940 |
| De Cantillon's Landing | | Helen Wilkinson Reynolds | 1940 |
| St. Barnabas' Hospital | | J. Wilson Poucher, M.D | 1940 |
| Something About Trained Nursing | | J. Wilson Poucher, M.D | 1940 |
| Secretary's Minutes, October 16, 1942- October 15, 1943 | | | 1939 |
| Treasurer's Reports, October 16, 1942-October 15, 1943 | | | 1939 |
| Announcement, Collections, Volume VII | | | 1939 |
| Annual Pilgrimage | | | 1939 |
| An Historic Flag | | | 1939 |
| A Group Of Important Portraits | | | 1939 |
| The Story Of The Hermitage | | John Ross Delafield | 1939 |
| The Story Of Teviotdale | | John Ross Delafield | 1939 |
| Two Hundredth Anniversary, Birthday Of George Clinton | | | 1939 |
| George Clinton, First Governer Of New York | | J. Wilson Poucher, M.D | 1939 |
| Who Were The Nine Partners? | | J. Wilson Poucher, M.D | 1939 |
| The Beginnings Of Civil Administrations In Dutchess County | | Helen Wilkinson Reynolds | 1939 |
| The Court House Of Dutchess County 1809-1901 | | Helen Wilkinson Reynolds | 1939 |
| The Hyde Park Patent | | Henry T. Hackett | 1939 |
| Index To Year Books Of 1934 -1939 | | | 1939 |
| MISSING 1938 | | | 1937 |
| Secretary's Minutes, October 16, 1942- October 15, 1943 | | | 1937 |
| Treasurer's Reports, October 16, 1942-October 15, 1943 | | | 1937 |
| Annual Pilgrimage | | | 1937 |
| Eight Anniversaries | | | 1937 |
| Address Made At The Annual Luncheon, May 21, 1937 | | Edmund Platt | 1937 |
| Address Made At The Annual Pilgrimage, September 16, 1937 | | J.E. Spingarn | 1937 |
| Address At The Semi-Annual Meeting, October 16, 1937 | | Elizabeth Bockee | 1937 |
| Abraham Tomlinson And The Poughkeepsie Museum | | Helen Wilkinson Reynolds | 1937 |
| Again The Palatines | | J. Wilson Poucher, M.D | 1937 |
| Palatines In Dutchess County | | Helen Wilkinson Reynolds | 1937 |
| College Hill, Poughkeepsie | | J. Wilson Poucher, M.D | 1937 |
| Books And Reading In Dutchess County | | Helen Wilkinson Reynolds | 1937 |
| List Of Members | | | 1937 |
| Secretary's Minutes, October 20, 1933- October 19, 1934 | | | 1936 |
| Treasurer's Reports, October 20, 1933-October 19, 1934 | | | 1936 |
| Annual Pilgrimage, September 13, 1934 | | | 1936 |
| Three Contennials, 1834-1934 | | | 1936 |
| The Dutchess County Historical Society Of 1845-1846 | | | 1936 |
| The Covered Bridge At Wapppingers Falls, 1819-1851 | | | 1936 |
| A Map Made In Dutchess County In 1728 | | | 1936 |
| Place-Names Again | | Helen Wilkinson Reynolds | 1936 |
| John Charraud, Dancing Master | | Helen Wilkinson Reynolds | 1936 |
| Dutchess County Men Of The Revolutionary Period: Dr. Peter Tappen | | J. Wilson Poucher, M.D | 1936 |
| From Stephen Hendrickson's Inn Of 1777 To The Nelson House Of 1934 | | Helen Wilkinson Reynolds | 1936 |
| Secretary's Minutes, October 19, 1934- October 18, 1935 | | | 1935 |
| Treasurer's Reports, October 19, 1934-October 18, 1935 | | | 1935 |
| Report Of Committee On Milestones | | | 1935 |
| Annual Pilgrimage | | | 1935 |
| About Phillip Hart And Hart's Village | | John Hunting Otis | 1935 |
| Nine Partners Patent, Nine Partners Meeting And Nine Partners School | | Helen Wilkinson Reynolds | 1935 |
| Maps Of Nine Partners Patent, The Editor | | | 1935 |
| Pictures Of Nine Partners Boarding School; The Editor | | | 1935 |
| Catalogue Of Exhibition At Edgewood | | | 1935 |
| Memorial To Jacobus Stoutenburgh | | | 1935 |
| Address On Jacobus Stoutenburgh | | Henry T. Hackett | 1935 |
| Intellectual Life, Dutchess County, 1790's; The Editor | | | 1935 |
| John A. Bolding, Fugitive Slave; The Editor | | | 1935 |
| Settlement Of Danby, Verment, By Men Of Nine Partners, Dutchess County | | Helen Reed De Laporte | 1935 |
| Country-Seats On Hudson's River In Dutchess County | | Helen Wilkinson Reynolds | 1935 |
| Dutchess County Men Of The Revolutionary Period: Colonel Lewis DuBois; Captain Henry DuBois | | J. Wilson Poucher | 1935 |
| Travelled Documents | | The President Of The United States | 1935 |
| Events On Hudson's River In 177, From Records Of The British Admirality | | The President Of The United States | 1935 |
| Secretary's Minutes, October 20, 1933- October 19, 1934 | | | 1934 |
| Treasurer's Reports, October 20, 1933- October 19, 1934 | | | 1934 |
| Annual Pilgrimage, September 13, 1934 | | | 1934 |
| Three Centennials, 1834-1934 | | | 1934 |
| The Dutchess County Historical Society Of 1845-1846 | | | 1934 |
| The Covered Bridge At Wappingers Falls, 1819-1851 | | | 1934 |
| A Map Made In Dutchess County In 1728 | | | 1934 |
| Place-Names Again | | Helen Wilkinson Reynolds | 1934 |
| John Charruaud, Dancing Master | | Helen Wilkinson Reynolds | 1934 |
| Dutchess County Men Of The Revolutionary Period: Dr. Peter Tappen | | J. Wilson Poucher | 1934 |
| From Stephen Hendrickson's Inn Of 1777 To The Nelson House Of 1934 | | Helen Wilkinson Reynolds | 1934 |
| Secretary's Minutes, October 20, 1933- October 19, 1934 | | | 1933 |
| Treasurer's Reports, October 20, 1933- October 19, 1934 | | | 1933 |
| Annual Pilgrimage, September 13, 1934 | | | 1933 |
| Address By The Reverend A. Elewood Corning | | A. Elewood Corning | 1933 |
| Address By The Honorable Hamilton Fish, Jr | | Hamilton Fish, Jr | 1933 |
| Two Hundred And Fifteeith Anniversary | | | 1933 |
| The Story Of Dutchess County | | Helen Wilkinson Reynolds | 1933 |
| President Roosevelt's First Speech Over The Radio | | | 1933 |
| More About Covered Bridges | | J. Wilson Poucher | 1933 |
| Farm Life In The Hudson Valley, 1769-1779 | | Helen Wilkinson Reynolds | 1933 |
| In Regard To The Repetition Of Place-Names | | Helen Wilkinson Reynolds | 1933 |
| Kromme Elleboog | | Helen Wilkinson Reynolds | 1933 |
| Index To Year Books Of 1928-1933 | | | 1933 |
| Secretary's Minutes, October 20, 1933- October 19, 1934 | | | 1932 |
| Treasurer's Reports, October 20, 1933- October 19, 1934 | | | 1932 |
| Announcement: Collections, Volume V | | | 1932 |
| Annual Pilgrimage | | | 1932 |
| The Study Of Locust Grove | | Helen Wilkinson Reynolds | 1932 |
| Henry Livingston, Jr. | | William S. Thomas, M.D | 1932 |
| Samuel F.B. Morse | | Leila Livingston Morse | 1932 |
| The Stories Of Linwood, Wildercliff And Ellerslie | | John Ross Delafield | 1932 |
| The Scientist And Inventor In Electrical Communications | | Paul A. Northrop | 1932 |
| Our Old Covered Bridges | | J. Wilson Poucher | 1932 |
| The Mill-Site By The Bridge At Pleasant Valley And The Visit There Of Mrs. Clinton | | Helen Wilkinson Reynolds | 1932 |
| A Broadside Of 1768 About Hyde Park | | Franklin D. Roosevelt | 1932 |
| The Poughkeepsie Journal For December 31, 1799 And The Ulser County Gazette For January 4, 1800 | | The Editor | 1932 |
| "I Will Life Up Mine Eyes Unto The Hills" | | H.W.R | 1932 |
| Secretary's Minutes, November 1, 1930- October 31, 1931 | | | 1931 |
| Treasurer's Reports, October 17, 193o- October 16, 1931 | | | 1931 |
| Annual Pilgrimage, September 17, 1931 | | | 1931 |
| The Stone Barn At Pleasant Valley | | | 1931 |
| Marked Stones, Ulster And Dutchess Counties | | | 1931 |
| The Great Nine Partners' Record Book | | | 1931 |
| Daguerrotypes And Photographs | | Helen Wilkinson Reynolds | 1931 |
| International Relations Created By Science | | John Ross Delafield | 1931 |
| Poughkeepsie's First Bank | | Edmund Platt | 1931 |
| Dutchess County Gives The State A Governer | | Helen Wilkinson Reynolds | 1931 |
| Membership List | | | 1931 |
| Illustrations: | | | 1931 |
| Detail, From The Stone Barn At Pleasant Valley | | | 1931 |
| Marked Stone, Ulster County | | | 1931 |
| Marked Stone, Dutchess County | | | 1931 |
| Rubbing Of Marked Stone, Dutchess County | | | 1931 |
| The Governer Of New York, Franklin D. Roosevelt | | | 1931 |
| Mount Hope, Town Of Poughkeepsie, Dutchess County | | | 1931 |
| Springwood, Hyde Park, In The 1880's | | | 1931 |
| Springwood, Hyde Park, In 1931 | | | 1931 |
| Secretary's Minutes, November 1, 1929- October 31, 1930 | | | 1930 |
| Treasurer's Reports, October 18, 1929- October 17, 1930 | | | 1930 |
| Annual Pilgrimage, September 17, 1930 | | | 1930 |
| The Story Of Blithewood | | Helen Wilkinson Reynolds | 1930 |
| The Story Of The Grove | | J. Wilson Poucher | 1930 |
| Notes On Illustrations | | | 1930 |
| How Poughkeepsie Was Founded | | Helen Wilkinson Reynolds | 1930 |
| Dutchess County Men: James Van Der Burgh | | J. Wilson Poucher | 1930 |
| The Reminiscenses Of Miss Richard Montgomery | | John Ross Delafield | 1930 |
| Membership List | | | 1930 |
| Illustrations: | | | 1930 |
| Waterfall At Madam Brett's Mill | | | 1930 |
| Waterfall At Johannes DeWitt's Mill | | | 1930 |
| Waterfall At Jacob Rutsen's Mill | | | 1930 |
| Waterfall At Isaac Bloom's Mill | | | 1930 |
| Waterfall At Robert G. Livingston's Mill | | | 1930 |
| Mrs. Jacobus Sleight (Elsie De Riemer) | | | 1930 |
| Van Der Burgh House, Poughquag | | | 1930 |
| Emigh House, North Clove | | | 1930 |
| Ham House, Washington Hollow | | | 1930 |
| Secretary's Minutes, November 1, 1928- October 31, 1929 | | | 1929 |
| Treasurer's Reports, October 19, 1928- October 18, 1929 | | | 1929 |
| Annual Pilgrimage, September 13, 1929 | | | 1929 |
| The Story Of Grasmere | | Maunsell S. Crosby | 1929 |
| Montgomery Place | | John Ross Delafied | 1929 |
| An Old Personage | | | 1929 |
| An Inscription On A Dutchess County Window | | | 1929 |
| An Historical Sketch Of The Town Of Cermont (Book Notice) | | | 1929 |
| Dutchess County Men: Phillip J. Schuyler | | J. Wilson Poucher | 1929 |
| Peter De Labigarre And The Founding Of Trivoli | | J. Wilson Poucher | 1929 |
| Membership List | | | 1929 |
| Illustrations: | | | |
| Montgomery Place, West Facade | | | 1929 |
| Montgomery Place, East Facade | | | 1929 |
| An Old Personage | | | 1929 |
| An Inscription On A Dutchess County Window | | | 1929 |
| Portrait Of Phillip J. Schuyler | | | 1929 |
| Plan For The Village Of Trivoli | | | 1929 |
| The Wall Built By Peter DeLabigarre At Trivoli | | | 1929 |
| Secretary's Minutes, November 1, 1927- October 31, 1928 | | | 1928 |
| Treasurer's Reports, October 21, 1927- October 19, 1928 | | | 1928 |
| Annual Pilgrimage, September 12, 1928 | | | 1928 |
| Saving The Glebe House | | | 1928 |
| In Regard To Fugitive Documents | | | 1928 |
| Items From Eighteenth Century Newspapers | | | 1928 |
| The Dutchess County Agricultural Society | | | 1928 |
| A Map And A Tree | | | 1928 |
| Dutchess County Men Of The Revolutionary Period: General Jacobus Swartwout | | | 1928 |
| Membership List | | | 1928 |
| Illustrations: | | | 1928 |
| House Of Walter Langdon | | | 1928 |
| House Of Maturin Livingston | | | 1928 |
| Order Issued By George Washington | | | 1928 |
| Map Of The Partition Of The Estate Of James Winans | | | 1928 |
| A Corner Of The Southwick Garden | | | 1928 |
| Portrait, Table, Silver, Adn Chair Of General Jacobus Swartwout | | | 1928 |
| Secretary's Minutes, June 29 1926- October 21, 1927 | | | 1927 |
| Treasurer's Reports, July 1, 1926- October 21, 1927 | | | 1927 |
| Pilgrimage, September 15, 1928 And September 16, 1927 | | | 1927 |
| Organization Of Court Of Common Pleas, Dutchess County | | | 1927 |
| Madam Brett's Discarded Will | | | 1927 |
| An Eighteenth Century Lease | | | 1927 |
| Old Sycamore Trees | | | 1927 |
| The Glebe House At Poughkeepsie | | | 1927 |
| Papers Of The LeRoy Family: Assesment Role Of Dutchess County, 1714. Letter, Written By Henry Beekman December 29, 1743. Five Letters Addressed To Peter LeRoy. | | | 1927 |
| Records Of The German Church, Formerly At Pink Corners | | J. Wilson Poucher | 1927 |
| The Lure Of The Living Past | | Helen Reed DeLaporte | 1927 |
| Membership List | | | 1927 |
| Secretary's Minutes, September 29 1925- June 29, 1926 | | | 1926 |
| Treasurer's Reports, December 31, 1924- October 15, 1926 | | | 1926 |
| Annual Fall Pilgrimage, September 29, 1925 | | | 1926 |
| The Birthday Of The State, July 9, 1776 | | | 1926 |
| Sesqui-Contennial, Fishkill, September 5, 1926 | | | 1926 |
| Dedication Of The Memorial Gates, Rhinebeck | | | 1926 |
| Where Is It? | | | 1926 |
| Town Maps | | | 1926 |
| Politics In Dutchess County In 1826 | | | 1926 |
| Hopewell School In 1760 | | | 1926 |
| The Growth Of Dutchess County In The Eighteenth Century | | | 1926 |
| Twenty-Four, Cannon Street, Poughkeepsie | | | 1926 |
| Clinton Point, Town Of Poughkeepsie | | | 1926 |
| Marriages At Pawling, 1785-1801 | | | 1926 |
| Baron Steuben-William B. Dwight | | William B. Dwight | 1926 |
| Dutchess County Men Of The Revolutionary Period- Captain Israel Smith -J. Wilson, Poucher, M.D | | J. Wilson, Poucher | 1926 |
| The Pageant Of Market Street-Florence White Olivet | | | 1926 |
| Membership List | | | 1926 |
| Secretary's Minutes, August 23 1924- June 14, 1924 | | | 1925 |
| Treasurer's Reports-Year Ending December 31, 1924 | | | 1925 |
| Report Of Pilgrimage, September 27, 1924 | | | 1925 |
| Dedication Of Monument, Chambly, P.Q. | | | 1925 |
| Address Made By Mrs. Theodore De Laporte | | | 1925 |
| Papers Of The Late Isaac N. Huntting | | | 1925 |
| Notes Upon Some Of The Illustrations In This Year Book | | | 1925 |
| Contributions From Members | | | 1925 |
| Dutchess County Men Of The Revolutionary Period Melanchthon Smith- J. Wilson Poucher M.D. | | J. Wilson Poucher M.D. | 1925 |
| Udny Hay-Helen Wilkinson Reynolds | | Helen Wilkinson Reynolds | 1925 |
| Membership List | | | 1925 |
| Secretary's Minutes, August 19 1923- June 17, 1924 | | | 1924 |
| Treasurer's Reports-Year Ending December 13, 1923 | | | 1924 |
| Report Of Pilgrimage, September 15, 1923 | | | 1924 |
| The Future Of The Year Book | | | 1924 |
| Notes Upon Some Of The Illustrations In This Year Book | | | 1924 |
| Books Relating To Dutchess County | | | 1924 |
| Wanted, -Family Bibles! | | | 1924 |
| Dutchess County Revolutionary Period. John Jay. | | J. Wilson Poucher M.D. | 1924 |
| Domine Meynema | | J. Wilson Poucher M.D. | 1924 |
| A Forgotten Church | | Helen Wilkinson Reynolds | 1924 |
| A Lady Of The Victorian Era | | Helen Wilkinson Reynolds | 1924 |
| Old Brown Homstead In "The Orchard" | | Genevieve Brown Spurling | 1924 |
| Membership List | | | 1924 |
| 1923 MISSING CONTENT | | | |
| Map | | | 1922 |
| Bartholomew Crannell | | | 1922 |
| Map | | | 1922 |
| Numbered References For Text | | | 1922 |
| Copy Of An Original Letter | | | 1922 |
| Excerpts, British Audit Office Records | | | 1922 |
| DCHS Meeting Minutes 1920 1921 | | | 1921 |
| DCHS Pilgrimage Eastern Dutchess | | | 1921 |
| DCHS Meeting Minutes 1919 | | Not Indicated | 1919 |
| Original Dutchess County Settlements | Hamlets | George S. Van Vliet Et Al | 1919 |
| Chelsea And Its Mill | Low Point, Chelsea | Charles B. Glasss | 1919 |
| Henry Livingston | Livingstons | Dr. William S. Thomas | 1919 |
| Co-operation Of Dutchess County Society | Dutchess County Society Of New York City | Louis Stotesbury Et Al | 1919 |
| DCHS Members | | Not Indicated | 1919 |
| The Livingstons Of Rhinebeck, Red Hook | | Stephen H. Olin | 1918 |
| The Old Red Tavern Of Upper Red Hook | | Dr. Harvey Lossee | 1918 |
| DCHS Meeting Minutes: 1918 | | | 1918 |
| DCHS Pilgrimage: 1918 | Hyde Park, Rhinebeck, Red Hook | | 1918 |
| Beekman-Kip House, Rhinebeck | | Mrs. Theodore De Laporte | 1918 |
| Hudson River Railroad 1847 | | Carolyn Rider Browning | 1918 |
| DeGarmo Institute | Rhinebeck Schools | Not Indicated | 1918 |
| Mills: The Leroy Mills | | John Deyo LeRoy | 1918 |
| Mills: Salt Point | | Not Indicated | 1918 |
| Mills: Amenia | | Dr. Harvey Lossee | 1918 |
| Dr. Osborn: His Book | Dr. Corneleus Osborn Of Poughkeepsie, Book Of Recipes And Applications | Henry Booth | 1918 |
| DCHS Members | | Not Indicated | 1918 |
| DCHS President's Address | | Harry N. W. Magill | 1917 To 1918 |
| DCHS Pilgrimage 1917: Beacon, Fishkill, Revolutionary War | Mt Gulian, Teller House, Kip House, Bailey's Forge, Reformed Dutch Church, Trinity Episcopal Church, Louden's Printing, Van Wyck Homestead, Continental Camp, Brinkerhoff House, | John C. Sickley (presumed) | 1917 To 1918 |
| Mills Of Beacon | | Joseph N. Badeau | 1917 To 1918 |
| Mills Of Pleasant Valley | | Wright Devine | 1917 To 1918 |
| DCHS Members | | John C. Sickley (presumed) | 1917 To 1918 |
| DCHS Meeting Minutes 1917 | | John C. Sickley (presumed) | 1917 To 1918 |
| The Development Of The Episcopal Church In Dutchess County | | Rev. Walter A. Edwards | 1915 To 1916 |
| Early History Of Amenia | | Mr. H. V. D. Reed | 1915 To 1916 |
| Red Hook Local History | | Miss Frances E. Crouse | 1915 To 1916 |
| Pawling Patent, Alias Staatsburg, And Some Of Its Earliest Families | | George S. Van Vliet | 1915 To 1916 |
| Pawling Patent: Dewitt Family | Dewitt Family | George S. Van Vliet | 1915 To 1916 |
| Pawling Patent: Pawling Family | Pawling Family | George S. Van Vliet | 1915 To 1916 |
| Pawling Patent: Ames, Russell, Mulford, Uhl, Bergh, Lewis, Levingston, Cookinham, Forman, Smith Families | | George S. Van Vliet | 1915 To 1916 |
| DCHS Members | | John C. Sickley (presumed) | 1915 To 1916 |
| Jan Pier Mansion, Rhinebeck | | John C. Sickley (presumed) | 1915 To 1916 |
| DCHS Meeting Minutes 1914 | | John C. Sickley (presumed) | 1914 |
| Value Of Local Archives | | Prof. James. F. Baldwin, Ph.D. | 1914 |
| An Address On The Topic Of: The First Reformed Dutch Church, Fishkill | | Rev. Cornelius Van Der Mel | 1914 |
| Brick House Farm, Extracts Of The Newcomb Genealogy | | John C. Sickley (presumed) | 1914 |
| Early Divisions Of Dutchess County | | George S. Van Vliet | 1914 |
| DCHS Bylaws | | John C. Sickley (presumed) | 1914 |
| DCHS Members | | John C. Sickley (presumed) | 1914 |
| Map: Dutchess County 1779 | | Joseph Sautier | 1914 |