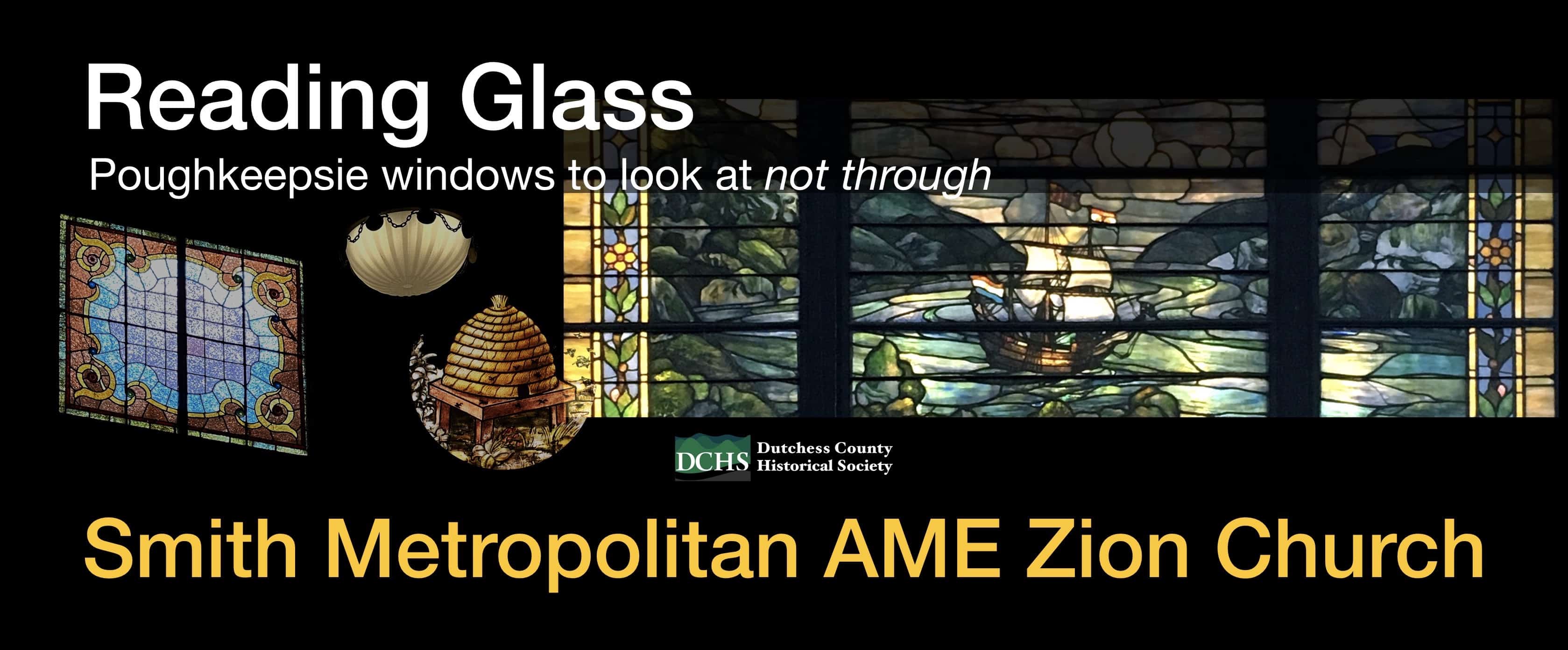 "Reading Glass" is an evolving online presentation of the Dutchess County Historical Society.
Listed on the US National Register of Historic Places
Windows are contributing elements
"Listing on the National Register recognizes the importance of these properties to the history of our country…" NYS Office of Parks, Recreation and Historic Preservation, 1992, announcing national listing of the Church.
In January 1992, the NYS Office of Parks, Recreation and Historic Preservation announced that the Smith Metropolitan AME Zion Church  in Poughkeepsie had been listed on the National Register of Historic Places, noting, "Listing on the National Register recognizes the importance of these properties to the history of our country…"
Among the contributing historic elements are the 21 stained glass windows. Construction started in 1910 under the leadership of its Pastor, the Rev. Judd, who had a history of constructing impressive edifaces during his tenure as pastor in prior positions. His time in Poughkeepsie would be no different. Referred to as "the church builder" he persuaded one of the brothers of Smith Brothers cough drop fame, to provide the full $20,000 to cover building construction.
But furnishings, including the sacred windows, were constructed through individual and group donations, their names being recorded on the window.
The basis of this online exhibition is work done by parishioners Pamela Reeves and Lona Channel, who documented the windows' imagery and donors through documentation and photography. In 2020, the Dutchess County Historical Society enlarged her effort with photography by Bill Jeffway. All image rights remain with the Dutchess County Histrical Society on behalf of the Smith Metropolitan AME Zion Church, and no reproduction is allowed without express written permission of the Church.
Below: Emerging documentation of the stained glass windows of the Smith Metropolitan AME Zion Church in Poughkeepsie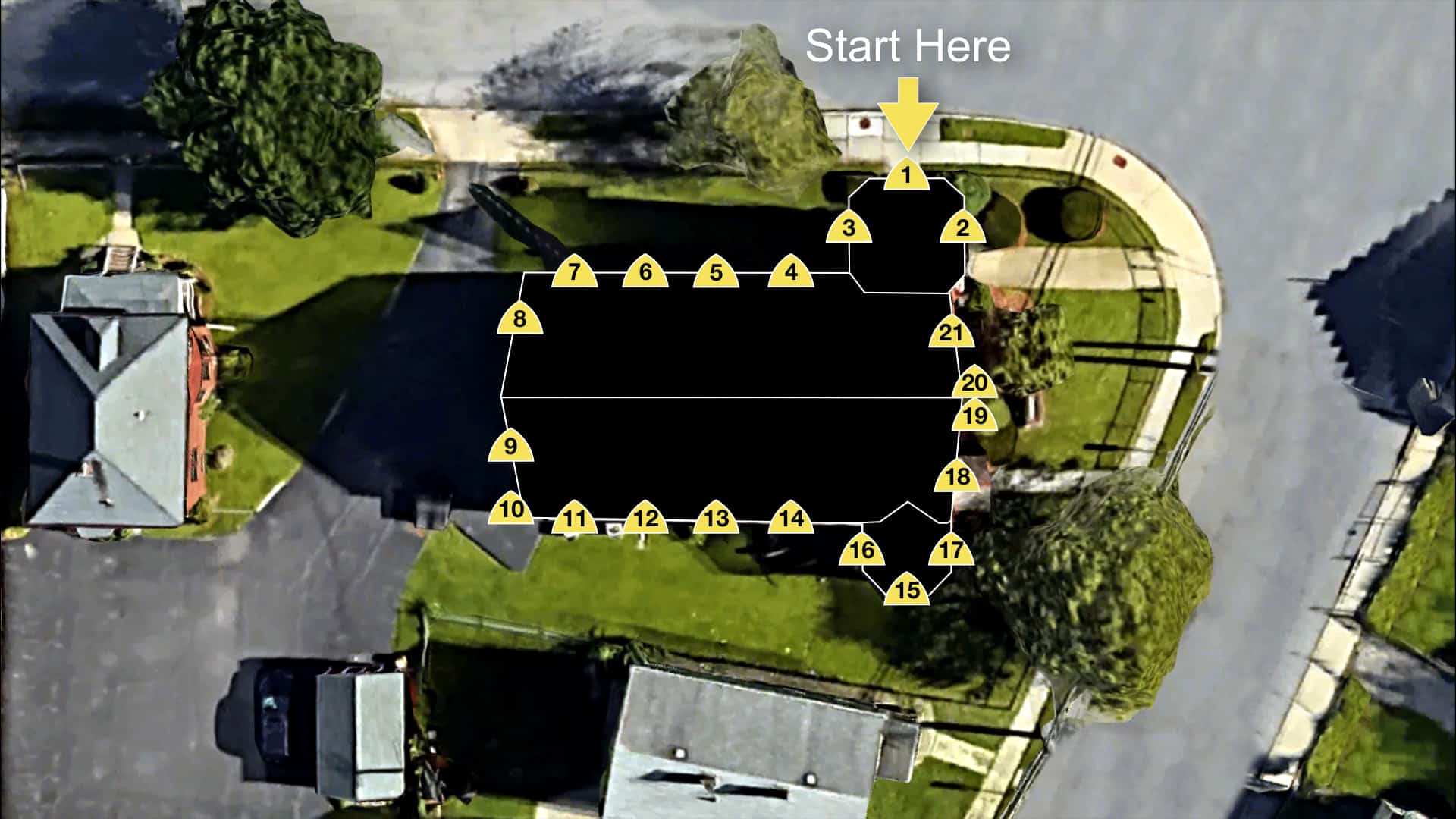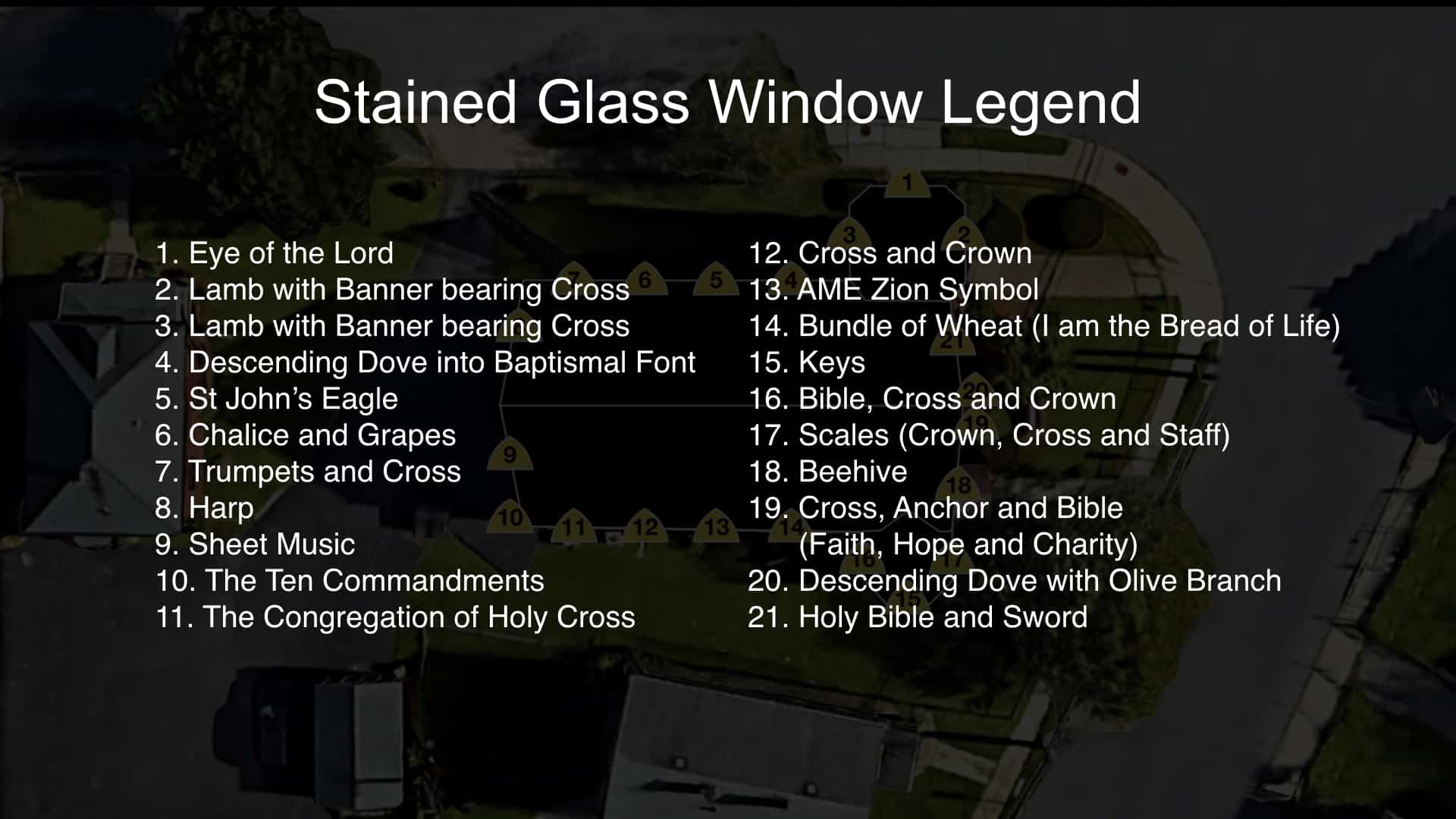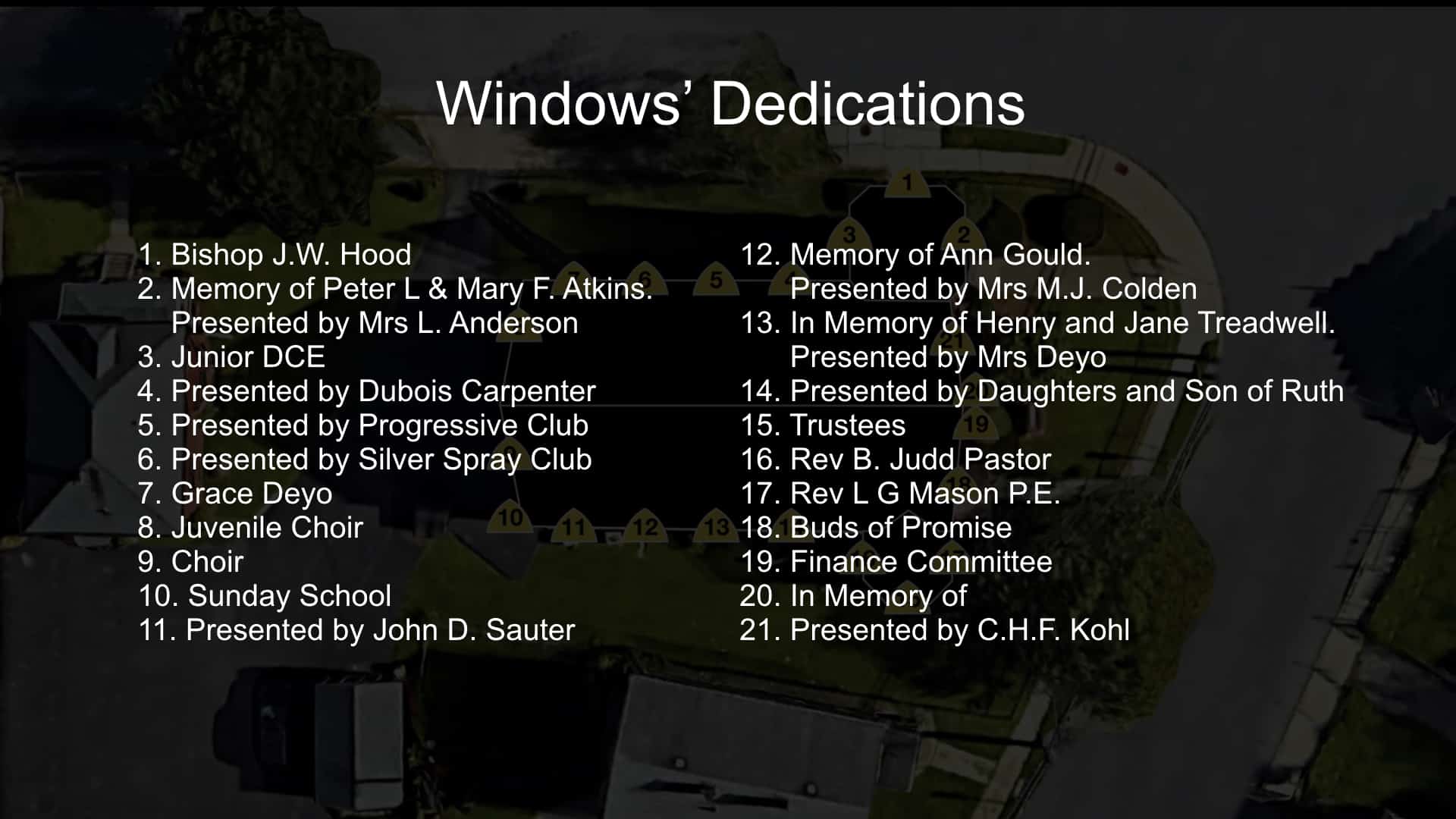 Although the images below advance automatically, you can move through at your own pace by clicking the pause button at bottom, center, and advancing with arrows left and right.
For best view, click full screen icon at bottom right of screen below. © Dutchess County Historical Society
All rights reserved.
Close-up look at the central icons
Above: Entry vestibule, SG-1 through SG-3.
Left: Entry vestibule
Entry vistibule.
Below: North wall
North wall.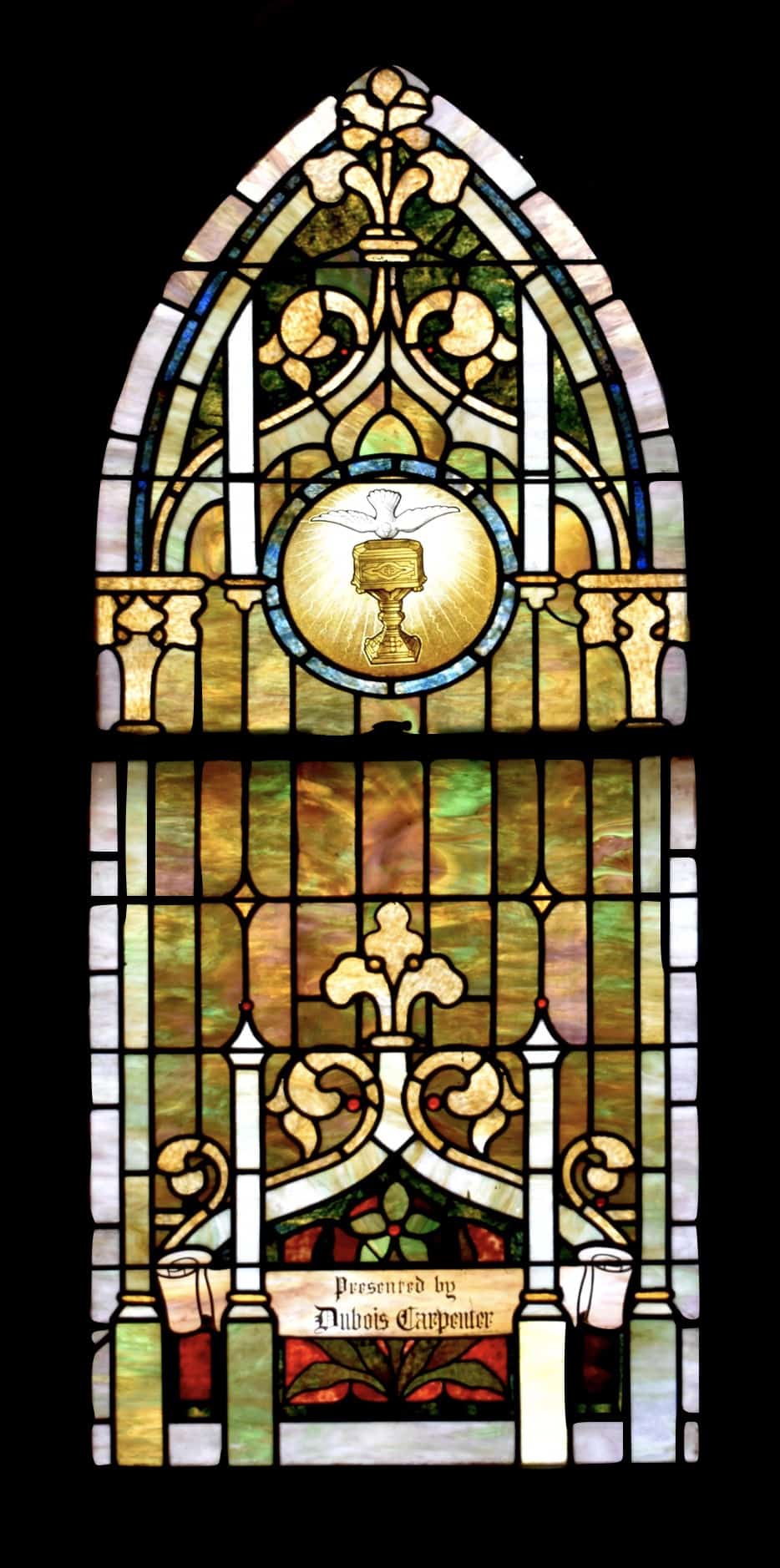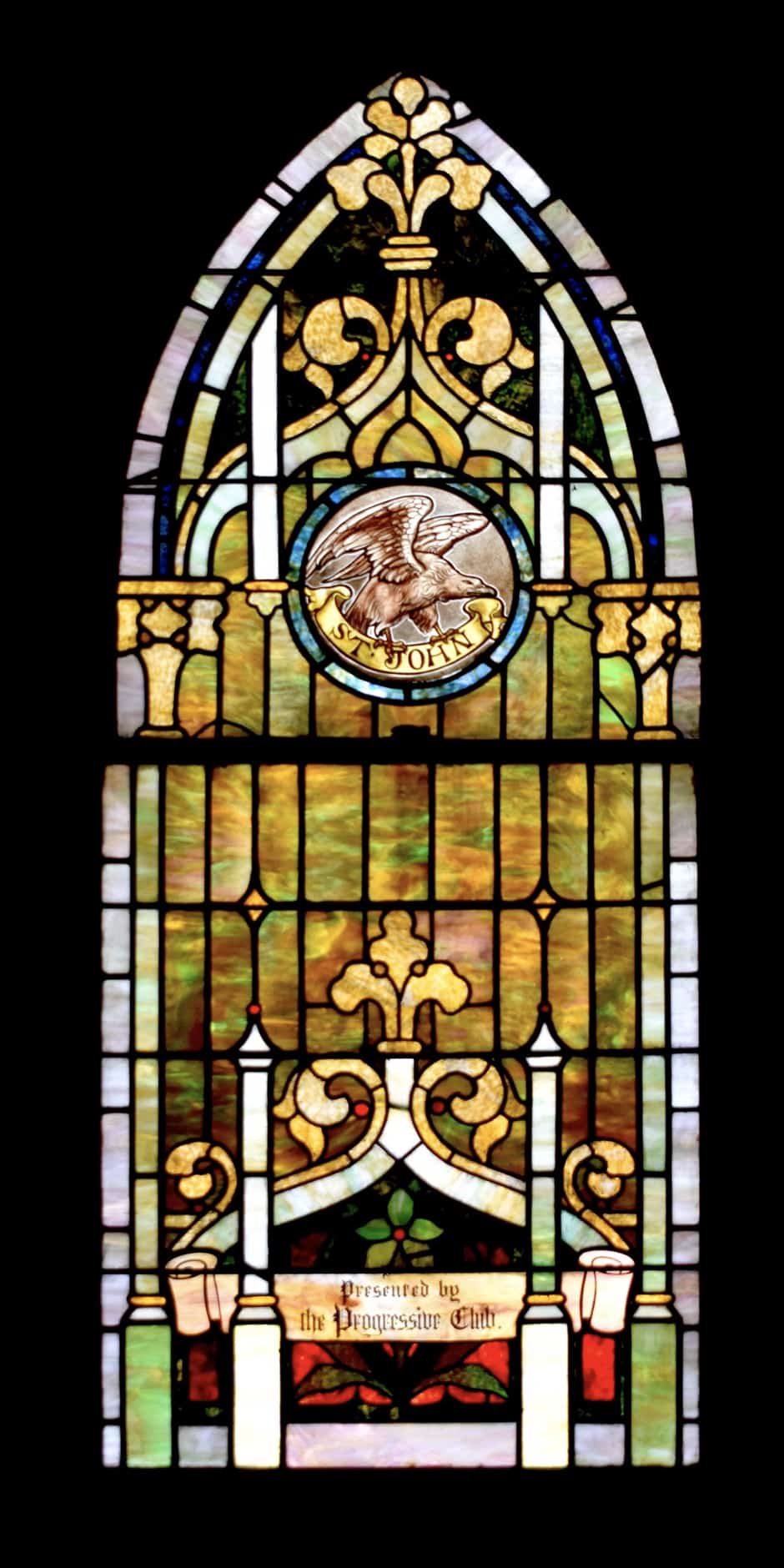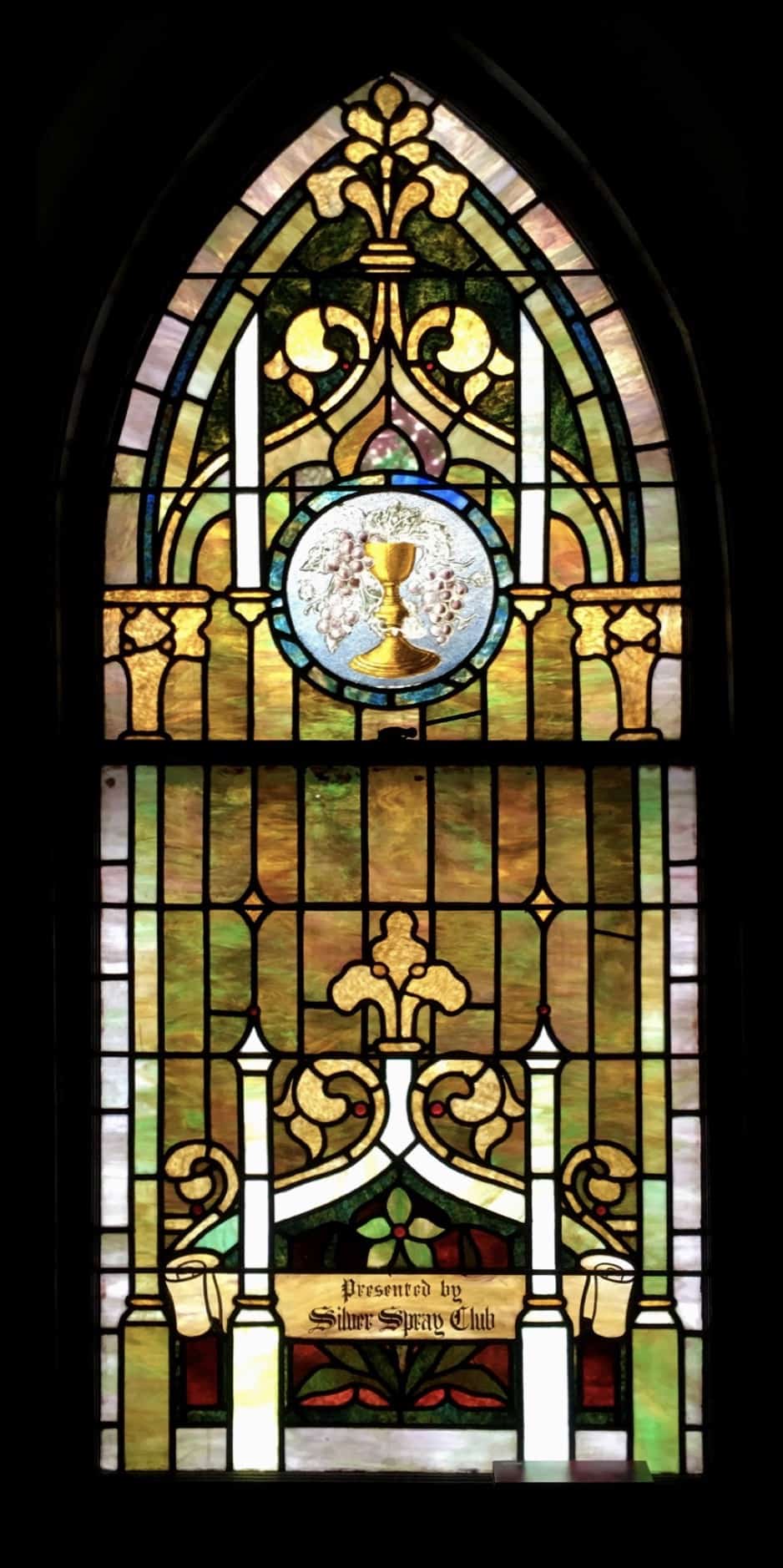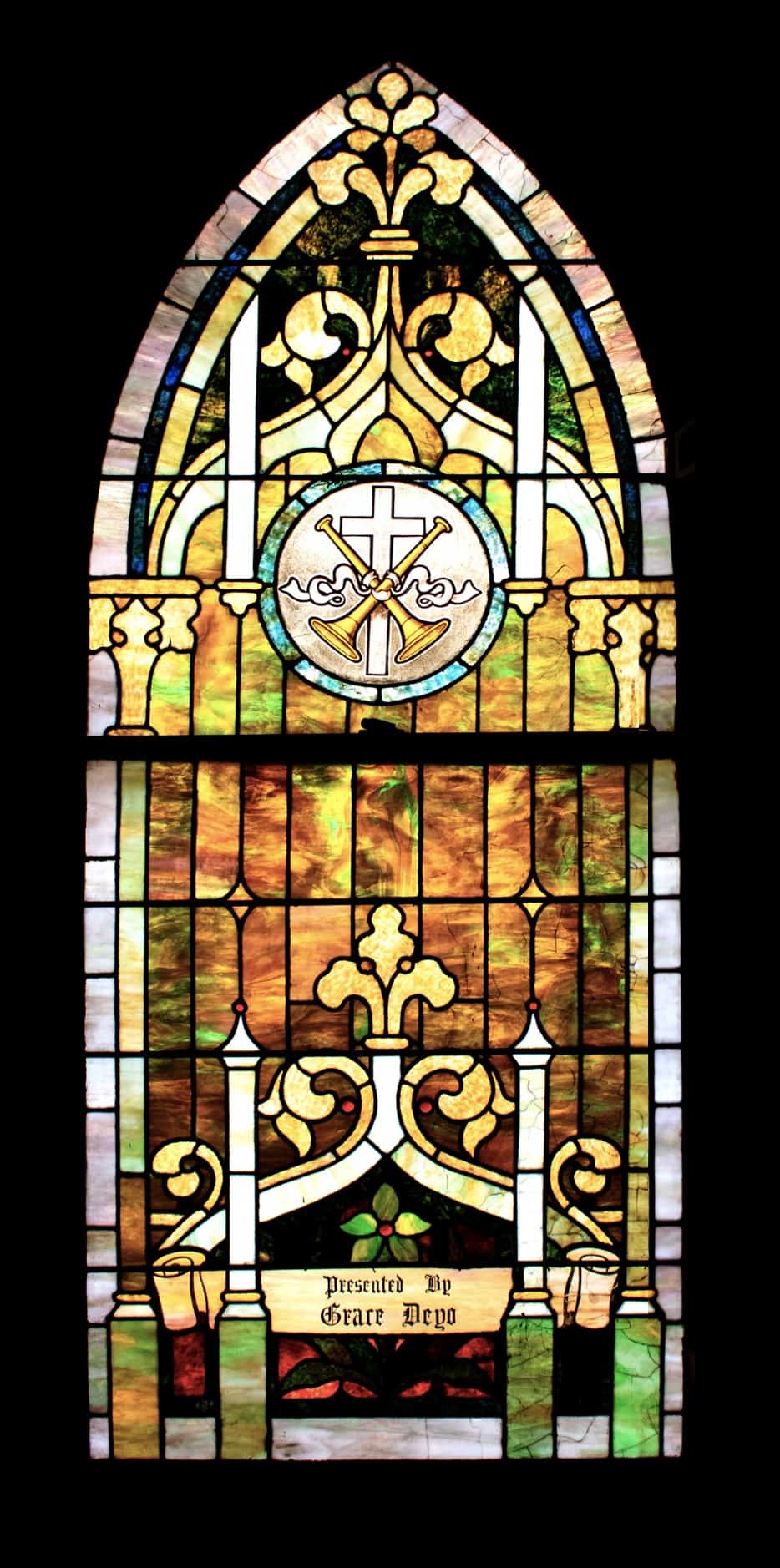 Above: North wall, SG-4 through SG-7.
Above: Altar wall, SG-8 through SG-10.
Left: Altar wall
Left: altar wall.
Below: South wall
Below: south wall.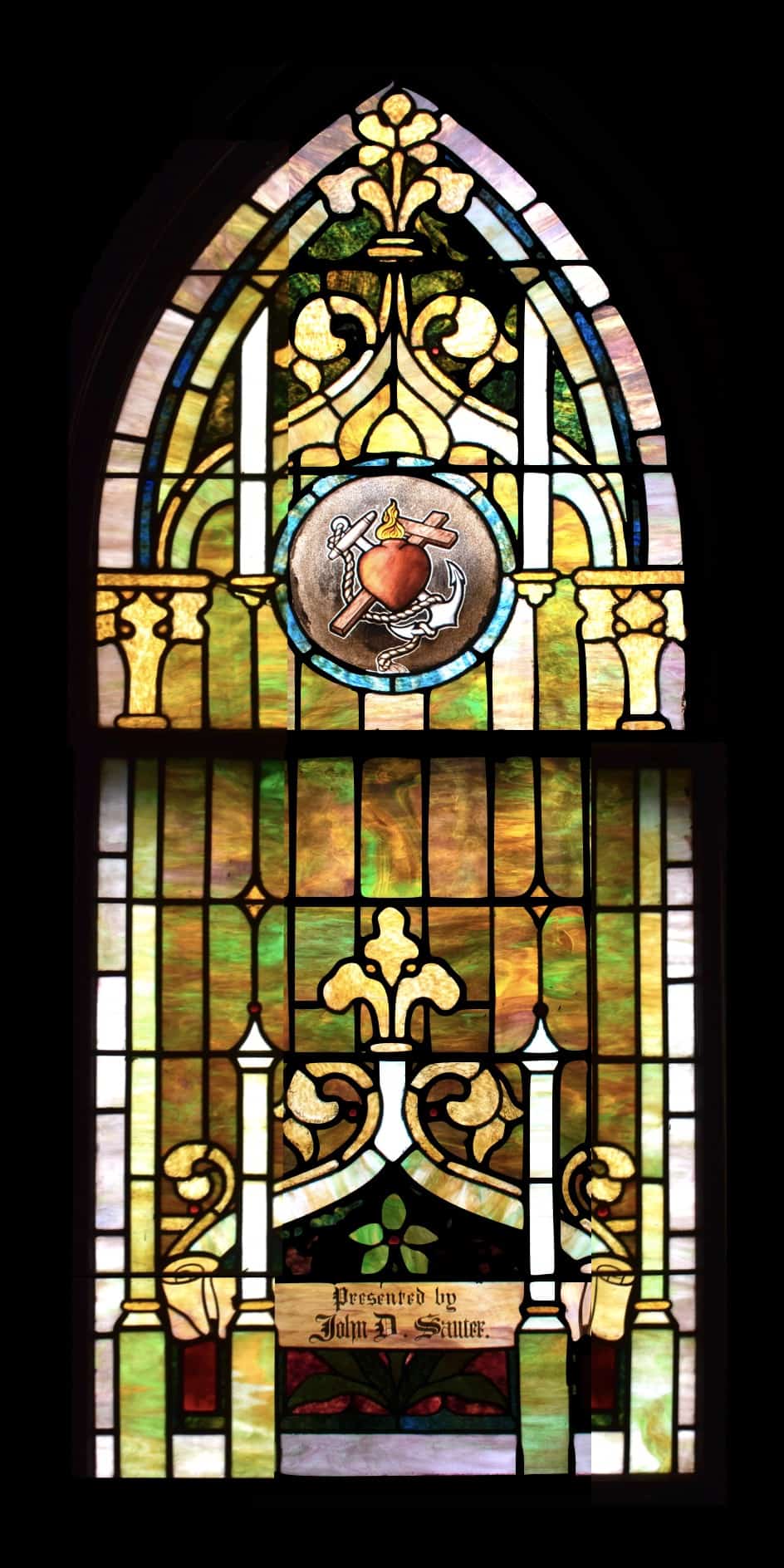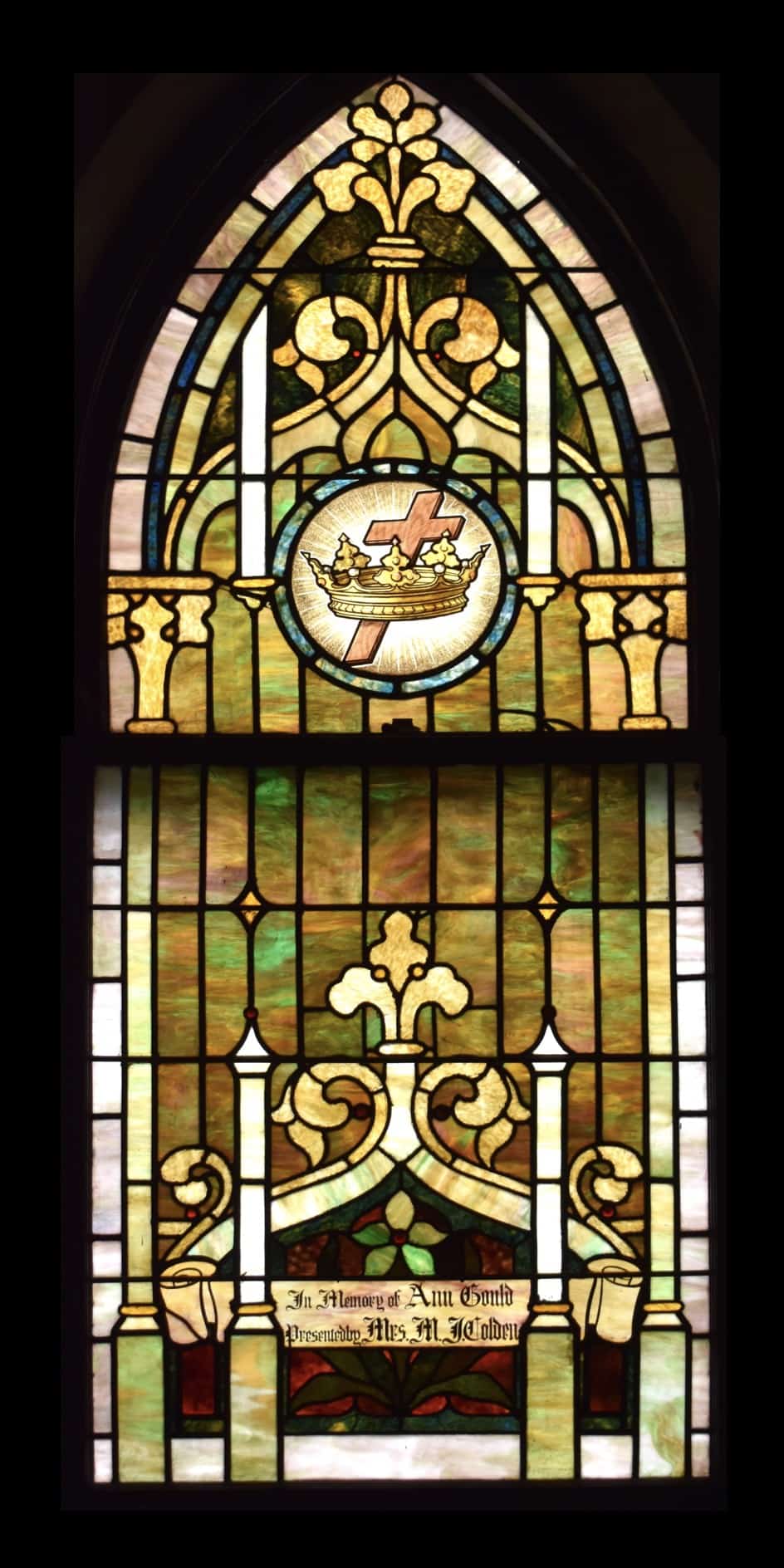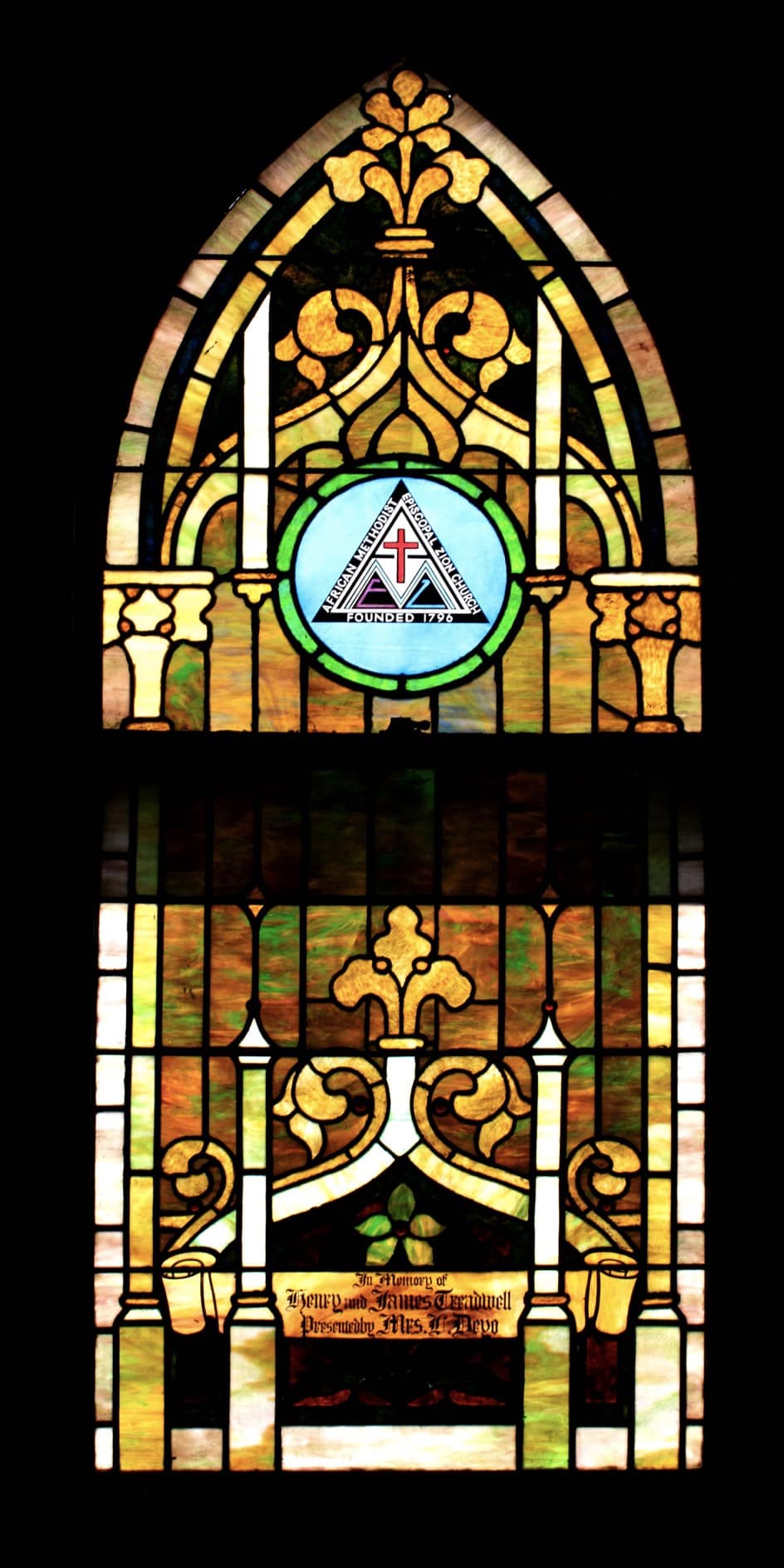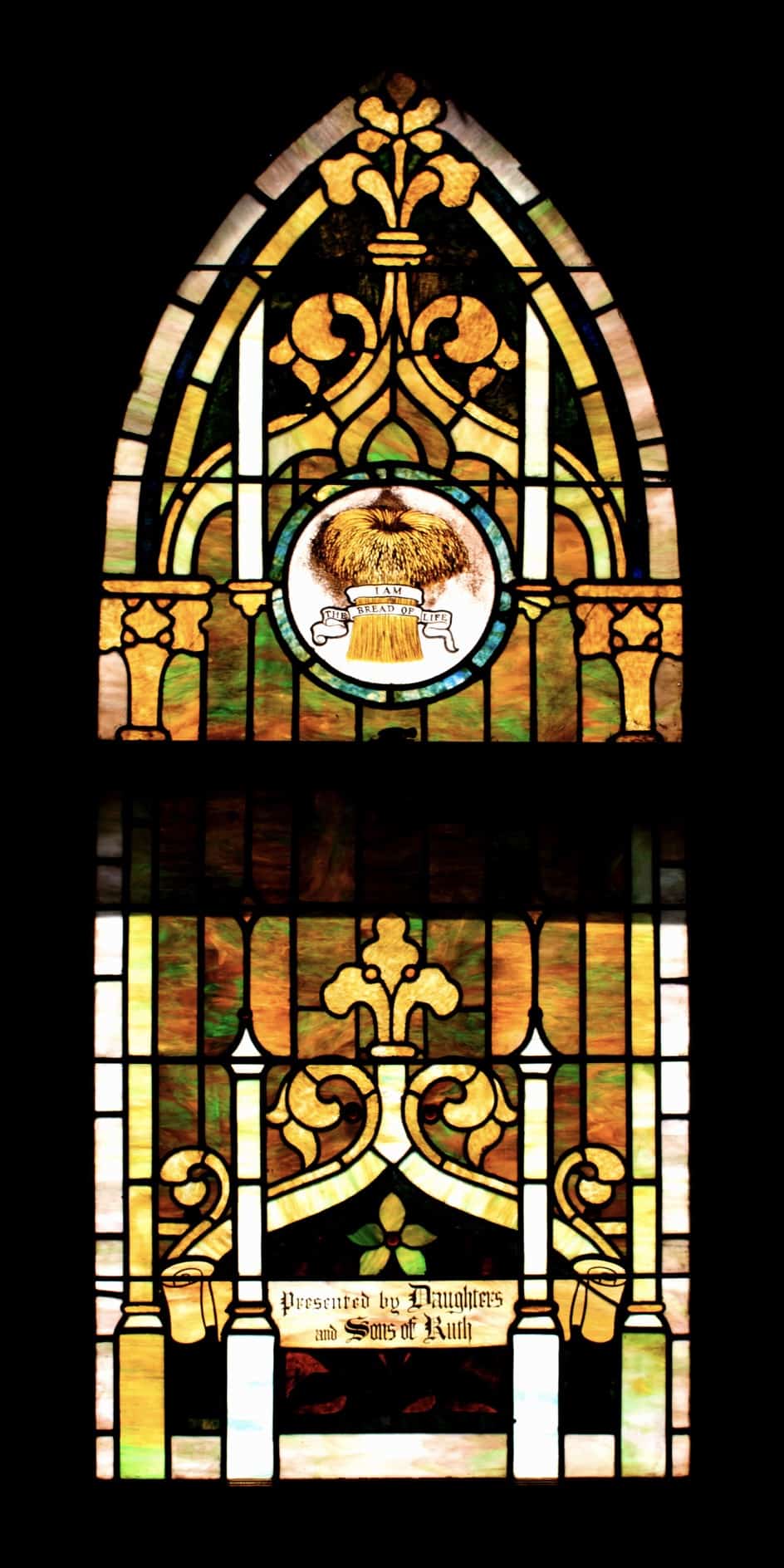 Above: South wall, SG-11 through SG-14.
Below: Southeast vestibule
Above: Southeast vestibule, SG-15 through SG-17.
Below: East wall
Above: East wall, SG-18 through SG-21.
Parish connection to Tuskegee Institute 1924 to 1958
Upon entering the Church from the Cottage Street entrance, on the left you'll find a large, framed depiction of the famed stained glass "singing windows" at the Tuskegee (Alabama) Institute Chapel. Signed by Tuskegee Institute's Quarles' Studio, it is dated March 30, 1939, the date of a visit by then-President Franklin Delano Roosevelt who received it as a gift. He, in turn, gave it to the AME Zion Church in 1941. The windows are from a 1932 collaboration between Tuskegee President Robert R. Moton and Katherine Lamb Tait. Moton proposed the depiction of "eleven negro spirituals" that he felt were important to the community.
The commission came to Tait at a time when she was working from home, on a greatly reduced schedule, to raise four children. Despite being married and taking her husband's last name in 1924, she was known publicly during the high-profile Tuskegee commission as "Miss Lamb," perhaps out of regard for the extraordinary pedigree of stained glass professionals in her family, and the high regard for the Lamb studios that were founded in 1857. She was the last Lamb family member to have a role in the studio, serving as head of design from 1937 to 1969.
She said of the Tuskegee stained glass windows at the time, interesting in comparison to the 1910 stained glass windows of the Smith Metropolitan AME Zion Church, "The day when we merely told a Bible story in glass is gone—though, of course, we'll never lose the basic religious significance."
When President Roosevelt visited Tuskegee in 1939, he would have known of former Poughkeepsie resident and AME Zion Church parishioner Sadie Peterson Delaney. Mrs. Delaney moved to Poughkeepsie when she was ten years old, when her father took the position of sexton at St. Paul's Episcopal Church on Mansion Square which he held from 1899 to 1919. She attended Poughkeepsie High School.
At a women's suffrage rally at the church held in 1914, Peterson spoke out in favor of suffrage by reading a poem she had written. She would go on to be an internationally known bibliotherapist at Tuskegee Veterans Hospital in Alabama, recognized by many, including, Eleanor Roosevelt in 1957. Today, a television dangles from the ceiling from across nearly every hospital bed in the United States. But in the years just before television emerged, Delaney led the development of bibliotherapy, a science that developed reading recommendations and access to books based on the physical and emotional needs of the a patient.
Booker T. Washington launched Tuskegee as a Black educational institution in 1881. It is today known as Tuskegee University. Delaney arrived just as a Veterans Hospital was constructed in 1924. She served as head librarian of the Veterans Hospital until her death in 1958.
Use left and right arrows to advance or reverse through images
 Sources: Underlying research & concept, Pamela Reeves & Lona Channel. Tuskegee Chapel window images, Library of Congress. DCHS Walter Patrice Collection. Contemporary photographs by Bill Jeffway © Dutchess County Historical Society, 2020.