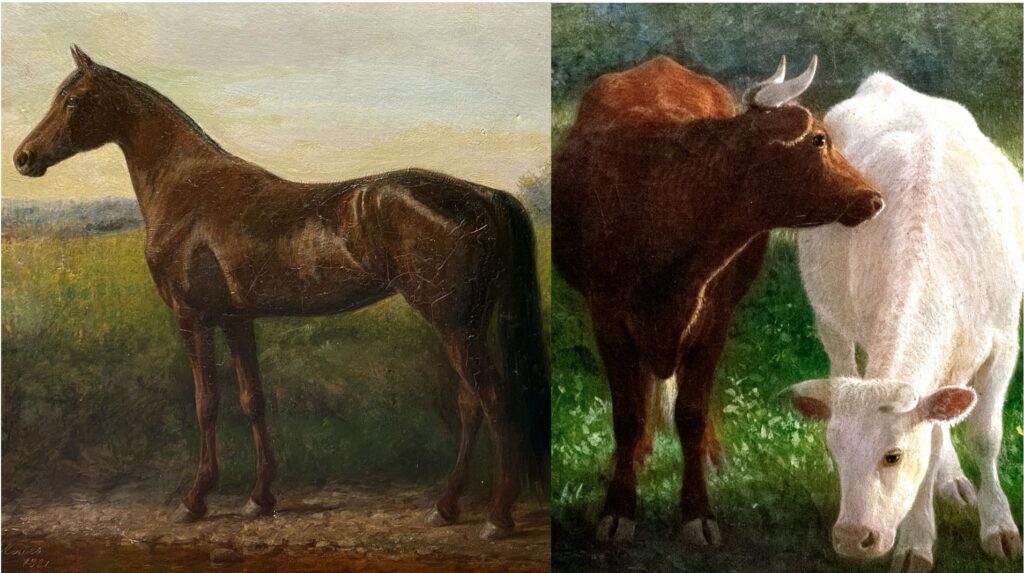 The exhibition, Fertile Ground: The Hudson Valley Animal Paintings of Caroline Clowes, will be on view at the Locust Grove Estate in Poughkeepsie, New York from November 4th to December 30th, 2022. Organized by the Dutchess County Historical Society, the exhibition celebrates the life and art of one of the Hudson Valley's first professional female artists. Though virtually unknown today, LaGrange artist Caroline Clowes earned an international reputation during the nineteenth century with her poignant and charming paintings of sheep, cows, horses, and other farm animals. Featuring some 25 original paintings by the artist as well as dozens of sketches and other archival materials, the show will mark the first time that a collection of her works have been displayed for the public.
The installation will be open and free to the public Wednesdays to Sundays 1:00 to 5:00pm during the exhibition's run (closed Thanksgiving Day) and by appointment. The exhibition is made possible through the partnership of Locust Grove and the generous support of the Members' Fund of the Frances Lehman Loeb Art Center at Vassar College.
Caroline Clowes' personal story is compelling. She had to overcome personal tragedy and loss early in life, and experienced pushback and barriers as a woman wishing to succeed artistically and commercially in a field dominated by men. And yet it is her work that is the highlight of the exhibition.
Bill Jeffway, the Executive Director of the Dutchess County Historical Society (DCHS) explains, "During the pandemic we became accustomed to doing things remotely, but there is no way to experience the beauty and light of Caroline Clowes' work than to see it in person, especially now that her paintings have been professionally, archivally restored."
In 1878, the Vassar Miscellany quoted Henry Van Ingen, the head of the then-fledgling Art Department at Vassar College, complimenting the character of her "transparently solid flesh tints." Though seemingly contradictory, it is precisely this luminosity and the skill and detail involved in depicting both animals and landscapes that makes her work so powerful.
Through thousands of pages of letters and diaries, the exhibition tells the story of a woman of vision and drive. Growing up among a cadre of accomplished women at her family home, Heartsease, she would later be buoyed by the support of nationally-renowned artists and educators involved in the 1865 founding of Vassar College. With hard work, perseverance, and a little luck, Clowes was able to shed her remote childhood in the Sullivan County woodlands for the national stage.
There could be no better or fitting site for the exhibition that Locust Grove. Set on a hill overlooking the scenic Hudson River in Poughkeepsie, the not-for-profit Locust Grove Estate includes a historic Italianate mansion open for tours, 200 acres of landscaped grounds with five miles of hiking trails, and a visitor welcome center with art galleries, museum shop, and classrooms for educational programs.
Kenneth F. Snodgrass, Executive Director of The Locust Grove Estate explains, "Due to his international fame as the inventor of the telegraph and 'Morse Code,' few people realize that Samuel F. B. Morse was an internationally acclaimed portrait painter in the early decades of the 1800s. In 1826 he helped found the National Academy of Design, an influential group which embraced Clowes' early talent in the 1860s. We are thrilled to host this exhibition for several reasons. One is that it gives us greater insight into local 19th century social and professional life that Morse and his wife participated in among their neighbors. Another is that it reminds us that while Morse put painting firmly behind him later in life, those who knew him were aware of his early talent, and important relationships in the field.
Locust Grove Estate, in addition to being the former residence of Samuel F. B. Morse, is a contemporary, highly accessible exhibition space with easily accessible, adjacent parking.
For more information, please contact Bill Jeffway, Executive Director of the Dutchess County Historical Society at [email protected] or cellphone 845-293-7711.
Programs at Locust Grove/ Save the dates!
Instructions on how to RSVP will be shared closer to the time, as seating is limited.
Sunday, November 20 at 2:00 pm
From Attic to Gallery, the Art and Science of Conserving Art
With David Heskes, Yost Conservation
Sunday, December 4 at 2:00 pm
Painting in a Challenging Landscape: Women Artists in the 19th Century
With Rob Doyle, President of the Dutchess County Historical Society
Sunday, December 11 at 2:00 pm
Drawn to Nature: The Sketches and Studies of Caroline Clowes
With Caroline Culp, PhD, is Adjunct Assistant Professor of Art History at Vassar College, where she teaches courses in the history of art.
Sunday, December 18 at 2:00 pm
Caroline Clowes: How Poughkeepsie, the City of Schools, Nurtured An Artist
With Bill Jeffway, Executive Director, and Melodye Moore, Trustee and Collections Chair of the Dutchess County Historical Society.
Wednesday, December 28
Children's Program ages 7 – 12
$15/person, recommended for kids 5 and up! Requires advanced sign-up