This article is part of a year-long program recognizing the 100th anniversary of national women's suffrage, other articles here:

By Bill Jeffway
The path to the August 1920 national right to vote for women in the US was long and varied. Some used their political voice to create change, other women were "radical" by achieving success in a male dominated field and became "the first woman to [fill in the blank]." The Village of Tivoli provides ample stories.
The first Village President in Dutchess County was Justine dePeyster Martin. Martin was elected Village President in 1919, the first year such a candidacy would have been possible. In the same election, Wilhelmina Freeborn, became the first woman to take a regular village board seat.
Martin was born of the wealthy, dePeyster family. Having settled in New York in the 17th century, they established a tradition of service and benevolence. Justine dePeyster Martin is reported to have always been popular, and won re-election in 1921. Both times that she ran, she ran unopposed.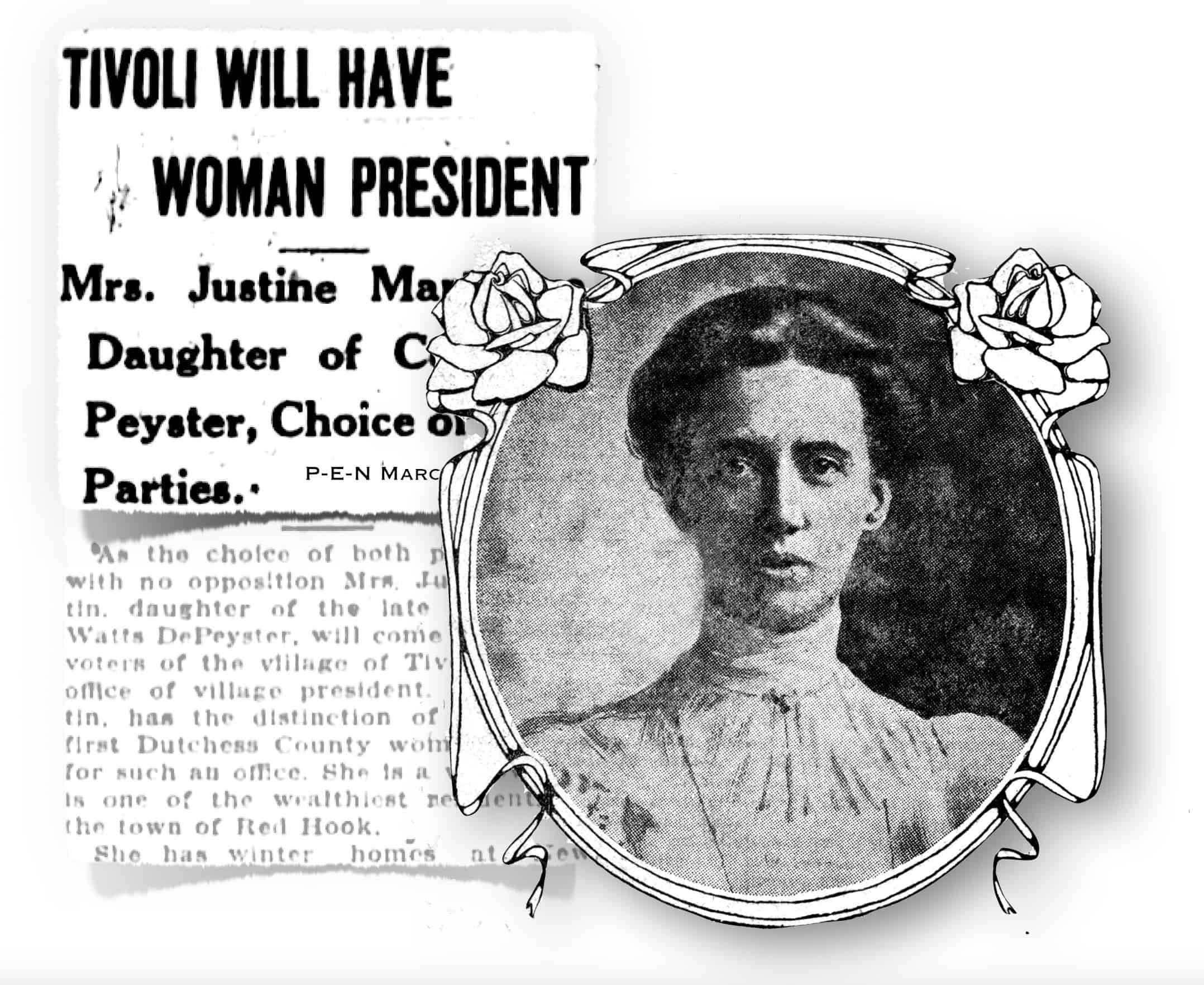 Pritchards of Tivoli: Two generations of women in the legal profession followed by two generations of men in the same role
You could be forgiven for thinking the next big story is that of the Tivoli twin sisters who became the youngest women to pass the Bar in New York State. But there is another story first!
The Canadian-born mother of the twins, Mary Ellen Hoover Pritchard, after working as a schoolteacher and licensed Methodist preacher, became the first woman to pass the Bar in Dutchess County. She did so on May 5, 1903. She immediately began to practice law, using the family's home on Broadway (which still stands) as an office. Although she did eventually add a Poughkeepsie office, at 50 Market Street.
She and her husband, the physician Dr. Churchill Pritchard, moved to Tivoli in 1890. By 1892, the year they became parents, they bought the house that Pritchard describes as her office, having remodeled it extensively in 1899.
Tragically, she died March 20, 1904, age 41, of pneumonia, leaving a husband and twin daughters Clara and Clarissa, age 11.
In her short tenure as a lawyer, she is reported to have never lost a case. She argued in courts from Hudson and Claverack to Poughkeepsie and Fishkill. She had been active in the Women's Christian Temperance Union. She Founded the local Chapter of the Eastern Star, an "appendant body" in the Masonic Order that allowed membership of men and women. Her husband was an officer of the local Masonic Order for many years. She is interred in Canada.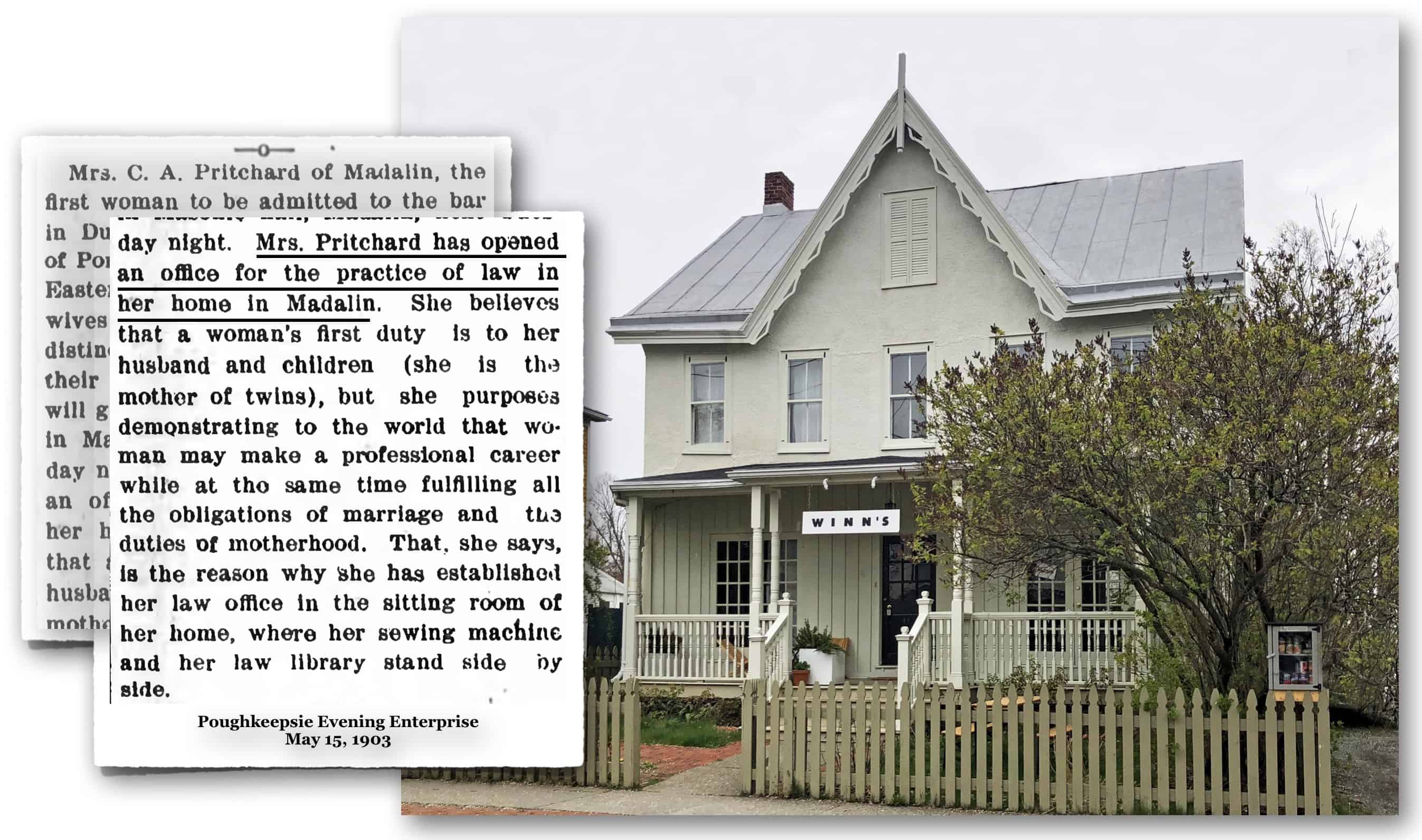 Poughkeepsie Evening Enterprise May 15, 1903
Mrs. Pritchard has opened an office for the practice of law in her home in Madalin. She believes that a woman's first duty is to her husband and children (she is the mother of twins), but she proposes demonstrating to the world that women may make a professional career, while at the same time fulfilling all the obligations of marriage and the duties of motherhood. That she says, is the reason why she has established her law office in the sitting room of her home, where her sewing machine and her law library stand side-by-side.
Clara and Clarissa were born on August 6, 1892. They graduated from Tivoli High School. They were honor pupils at Albany Law School, about to graduate, when it was discovered that they were not of age (21 years). They had to receive their diploma's at the following graduation in June of 1913. No doubt in jest, Clara said at the time of her actual graduation, "We could have passed last June if that horrid man hadn't asked our age!" A minimum of one year's work was required before passing the Bar. They intentionally worked at different legal offices in Albany. They made headlines when they were both admitted to the Bar in 1914. Clarissa was admitted to the US Federal Bar in 1915, one report saying she was the first woman to do so. They had said they expected to practice law together. But in another tragedy, Clara died July 2, 1916. Putting an end to those plans.
Clarissa married an attorney Eusebio Lopez Acosta, and moved to his native home in Puerto Rico. She and her family returned to Tivoli to visit her father until he died in 1935. Clarissa died October 8, 1969. She is buried at the Pritchard family plot at Red Church Cemetery.
Her son, Daniel E. Lopez Pritchard (1917 to 2007) became Chief Judge of Superior Court, San Juan, Puerto Rico. The three children of Clarissa and Eusebio used the family name of both parents, an Hispanic tradition.
Clarissa's two grandsons, through Judge Lopez Pritchard, are both lawyers. Brigadier General Daniel F. Lopez-Romo is profiled by the Department of Defense.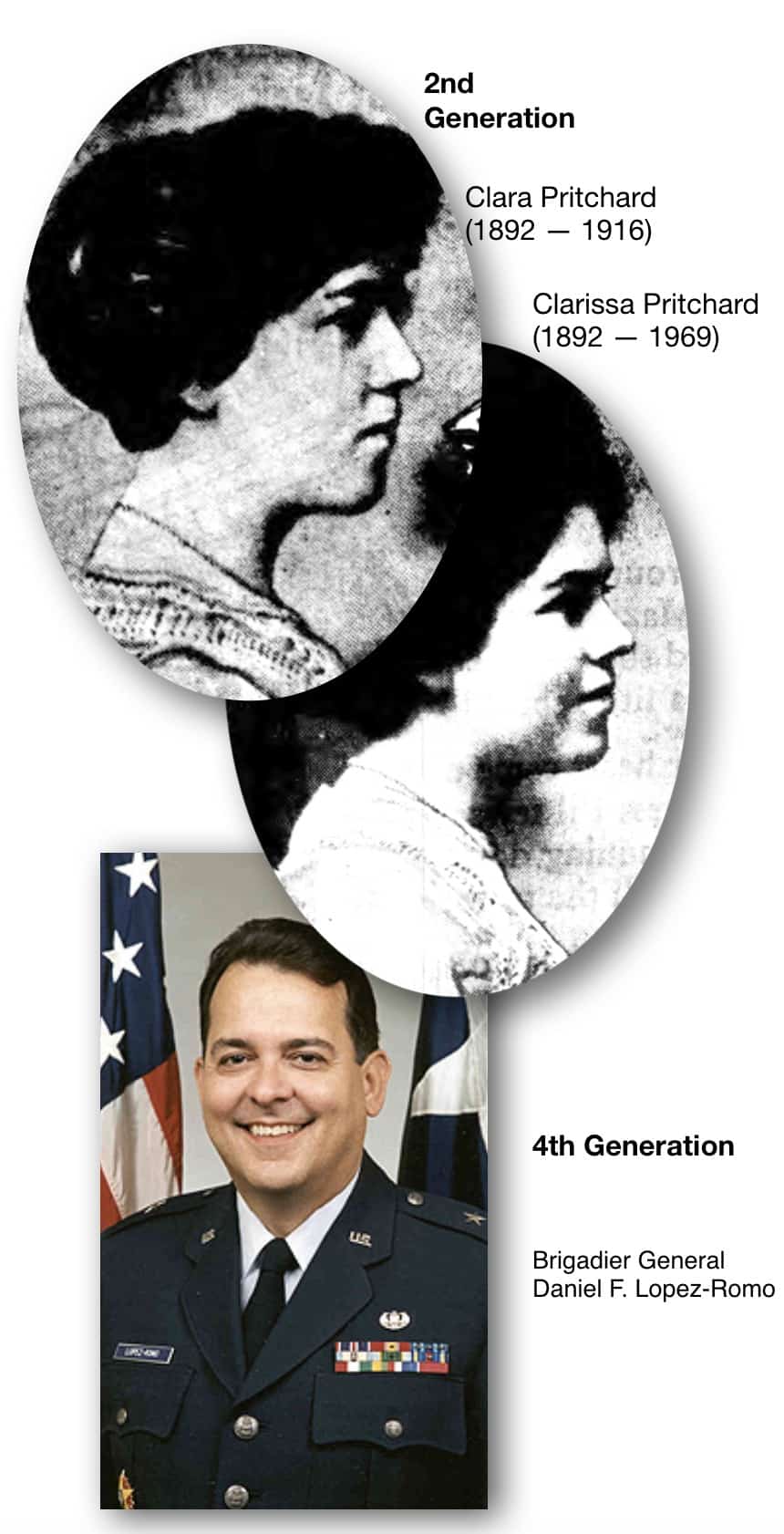 From the New York Herald Times and Vancouver World (British Columbia, Canada) January 14, 1914: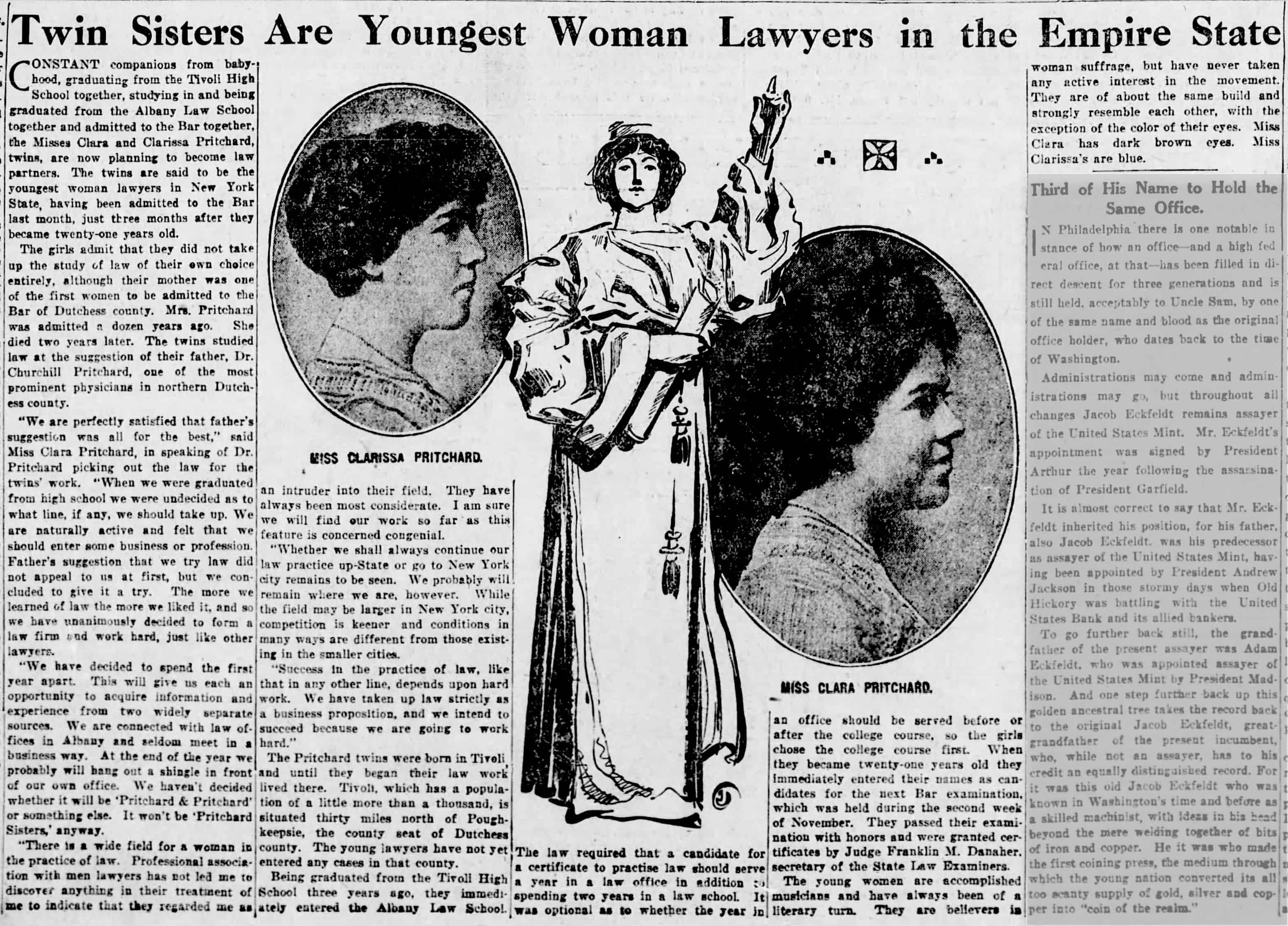 Clarissa lost her mother when she was 11 years old. She lost her twin sister, Clara, when they were 23 as they were planning on having a legal practice together. Clarissa carried on. As did her children and grandchildren. Her son,
This article is part of a year-long program recognizing the 100th anniversary of national women's suffrage, other articles here: