Partnership with Caroline Morgan Clowes
Through newspaper notices and correspondence, we know that Frederick Rondel was a friend, sometimes artistic collaborator, and always an advocate for Caroline Morgan Clowes. Rondel arrived in the US c. 1856 and moved to Poughkeepsie by early 1862. He taught young ladies, and painted local scenes until he moved to New Rochelle c. 1871. Comparison of Rondel and Clowes oils and sketches.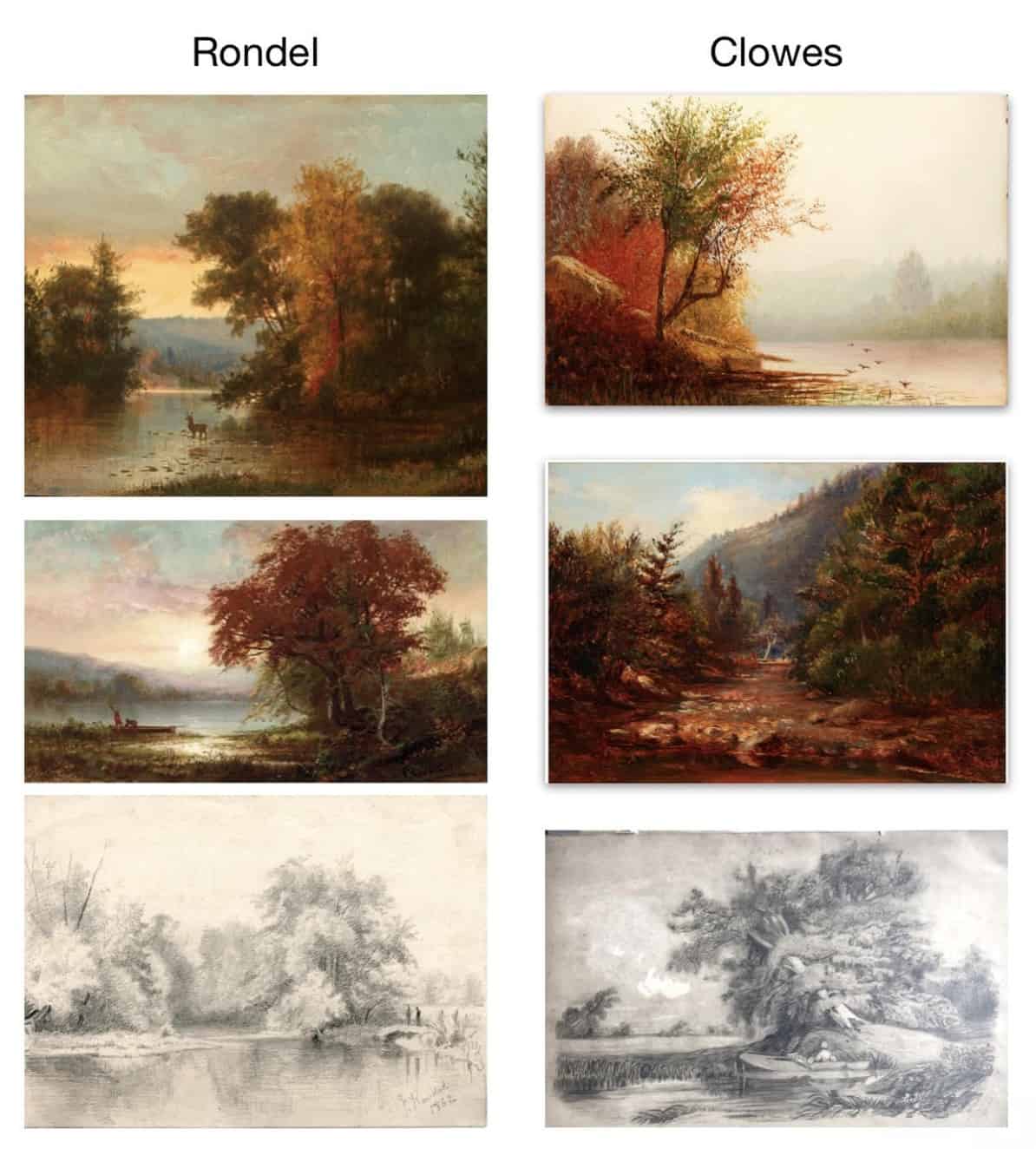 Advocate
This letter exposes what was a long-running, close collaboration among Rondel, Henry Van Ingen and Clowes in pursuit of commercial success.
Poughkeepsie, July 19th, 1869 ~ I have just received a note from Mr. [?] informing me that he will be here some time next week probably with a friend of his Fred Williams from Boston. An artist and also a friend of mine. Will you please inform Mrs. Dingey and beg her to keep one of her rooms for them. I have not yet heard from Van Ingen but expect to soon. Yours very truly, F Rondel.
DCHS Hart Hubbard Collection.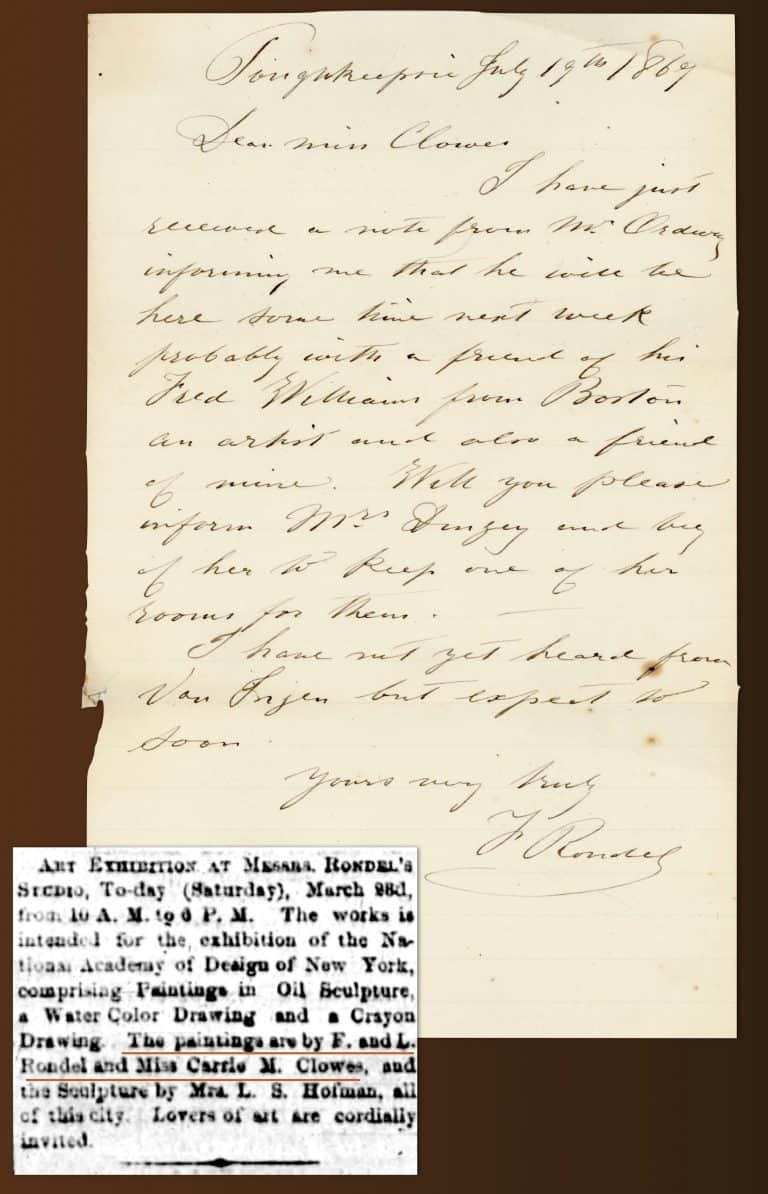 Collaborator
As much as 18 years after he moved from Poughkeepsie, and three years before his death, we see Clowes collaborating with Rondel on a single canvas.
Postmark Brooklyn, Feb 10, 1889. My dear friend –Â I was ill in bed when your picture came, and so please excuse the delay in writing you — You have sent me a charming but difficult subject — the buff heifer will not be so difficult to manage — but a close fine background is I feel beyond my power — Would you mind if I put in a sketchy background with some open distance? One which might afterwards be worked up — I would like very much sometime when I become more expert to come up and see you and select or talk over some subject — perhaps — I hope you will come to see me whenever you are in the city. with love best, Â F Rondel.
DCHS Hart Hubbard Collection.
Teacher
Frederick Rondel may have moved to Poughkeepsie to teach painting to young ladies and to paint Hudson Valley scenes by January of 1862. The dual motivations were the impetus for his eventual, next move to New Rochelle c. 1871. Through advertisements we see that Rondel is teaching in January of 1862 at Cottage Hill Seminary and initially at his home studio at the corner of Mansion Square and Clinton Street, and eventually at a studio on Main Street.

Two advertisements from local newspapers are shown here. Above left is from the
Poughkeepsie Daily Eagle of
January 31, 1862, and mentions him as a teacher at Cottage Hill Seminary (where his daughter, Rose, would attend). The second is from the same newspaper, February 6, 1862 offering to teach ladies from his home studio located at Mansion Square at Clinton St.  He seems to have taught to a lesser degree at Poughkeepsie Female Academy, but well after Caroline Morgan Clowes attended.
Mentor
It is generally understood (Vassar College Archives) that Matthew Vassar retained Rondel to paint his ancestral home in England, and two Poughkeepsie Vassar homes in 1862, with a view to start work in 1863. Since this is close in timeframe to the ads just mentioned, it is debatable what the first impetus was for Rondel's relocation, with his family, to Poughkeepsie. Clowes would obviously benefit from the relationships Rondel had established.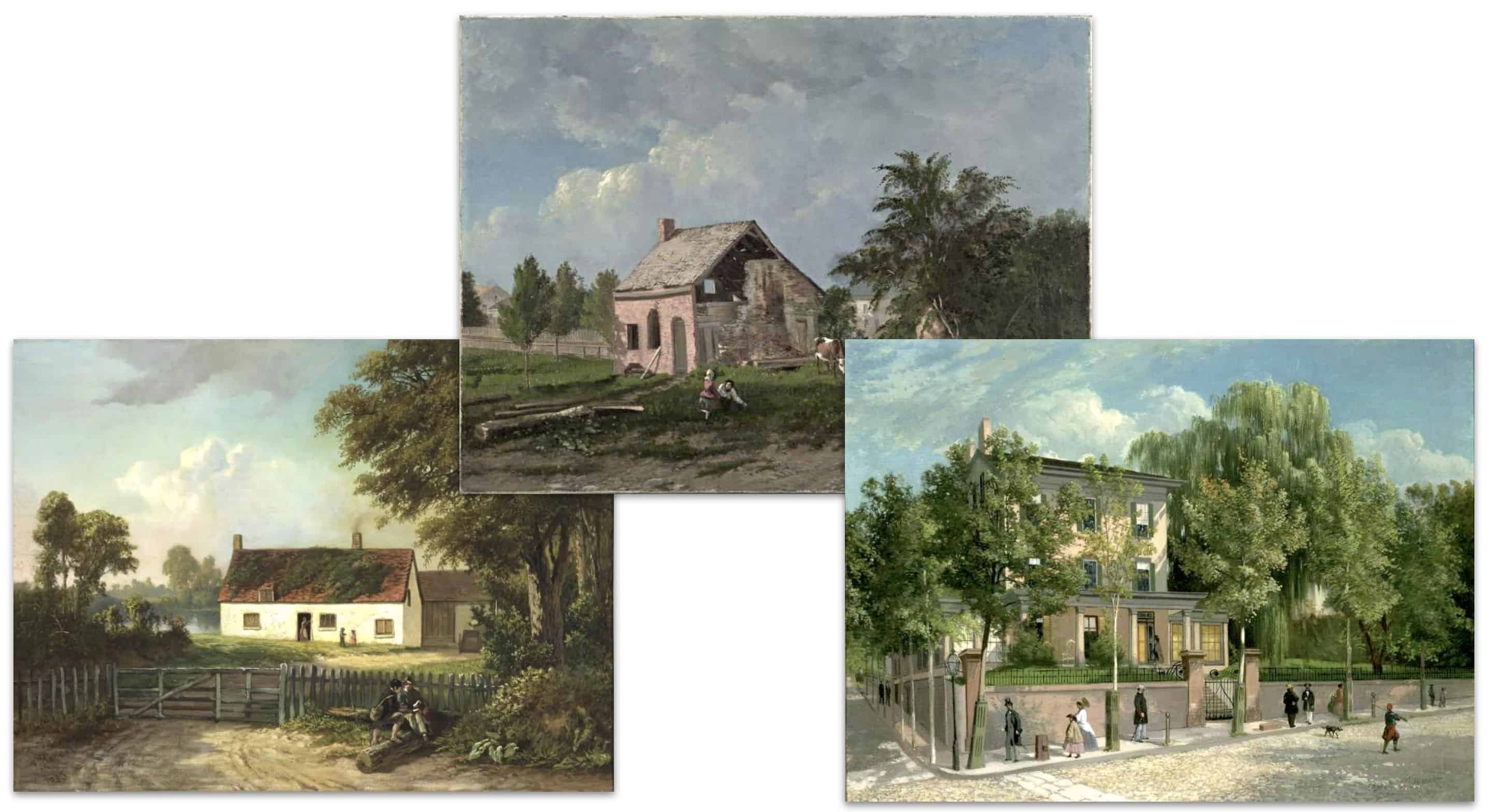 Left to right by Frederick Rondel for Matthew Vassar: Birthplace of Matthew Vassar in England. First residence of Matthew Vassar in Poughkeepsie. The late residence of Matthew Vassar, corner of Vassar and Main Streets. Courtesy Vassar Frances Lehman Loeb Art Center.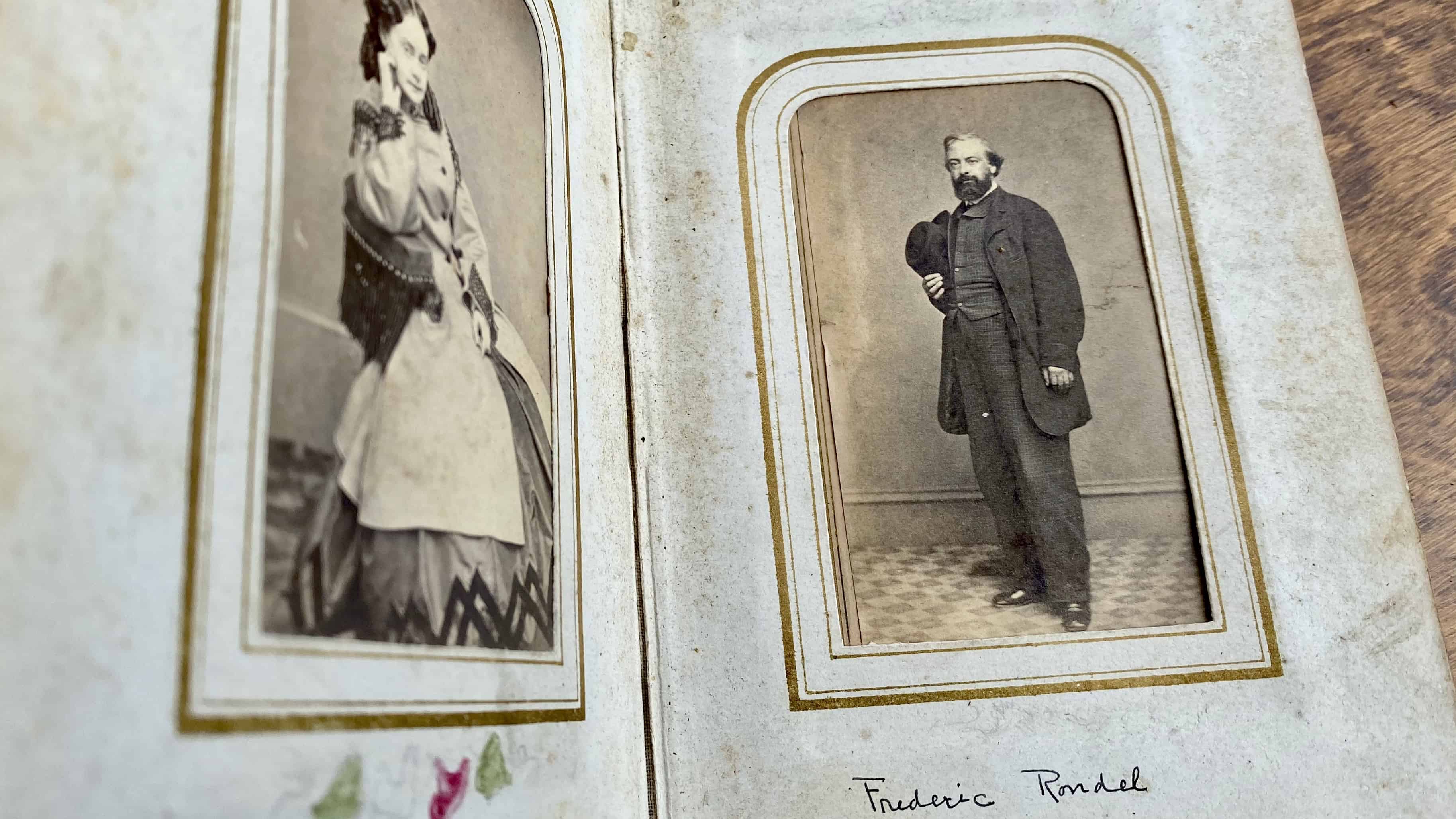 Death
The
Poughkeepsie Daily Eagle
of December 1, 1892 publishes an announcement of Rondel's death.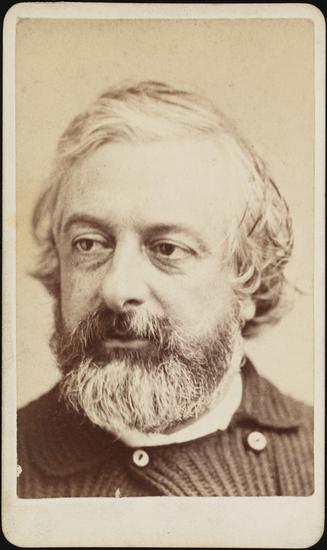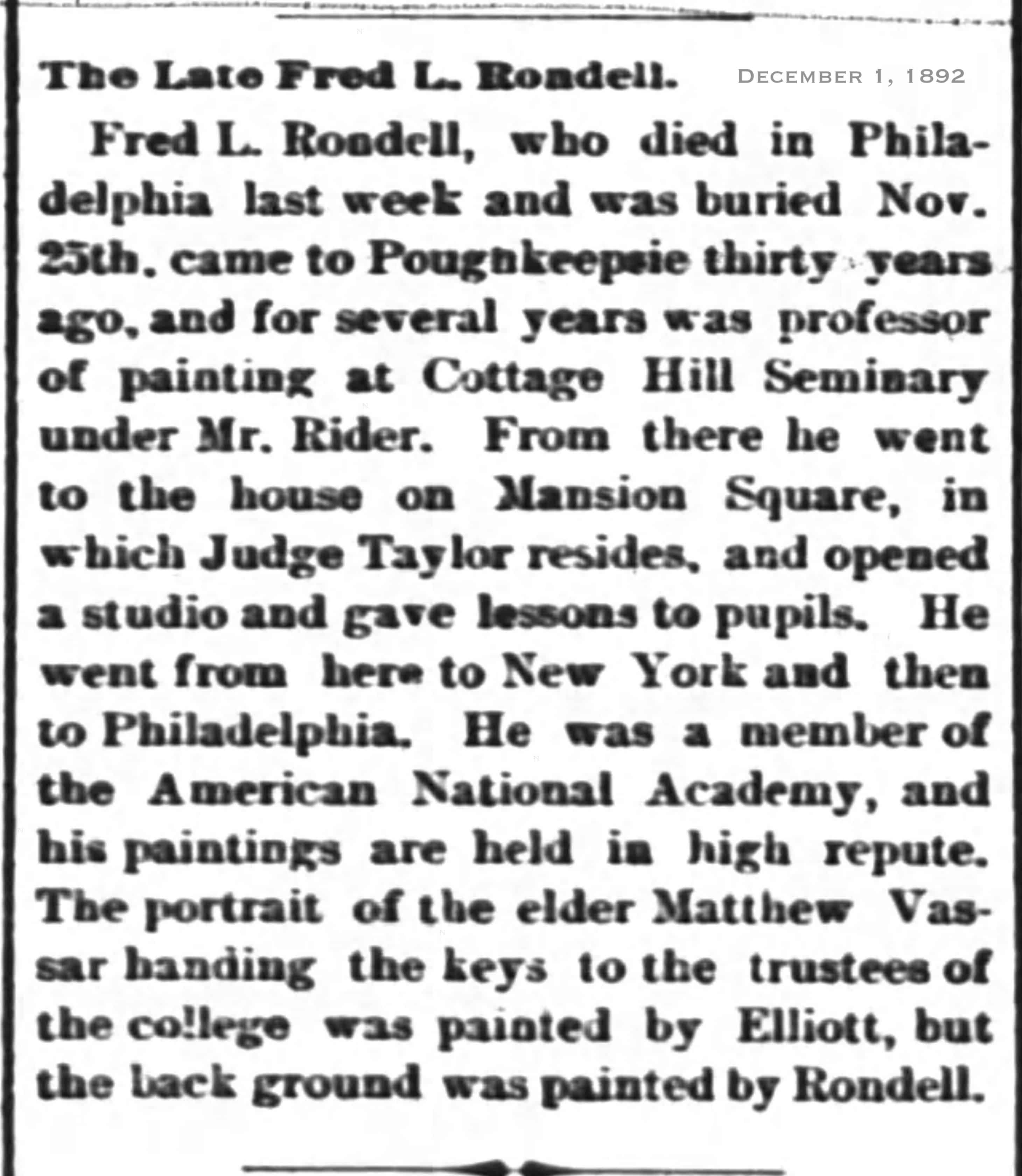 Take Me To Caroline Morgan Clowes Introductory Page