Two-step search for book titles:
Type in a single word.
Scroll through resulting list.
This search function is different from traditional search engines. Type a single search term in the search box (only use a second word if you are sure the two words follow in sequence such as "Vassar College"). Then scroll down what will be the highlighted lines that have that word or sequence of words. You can search a word in the title, description, or photographer.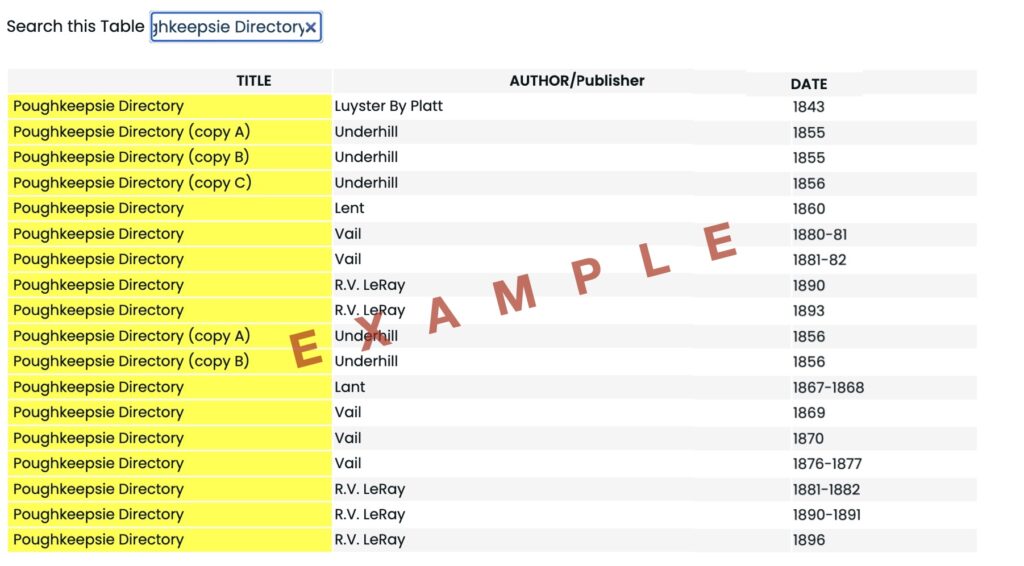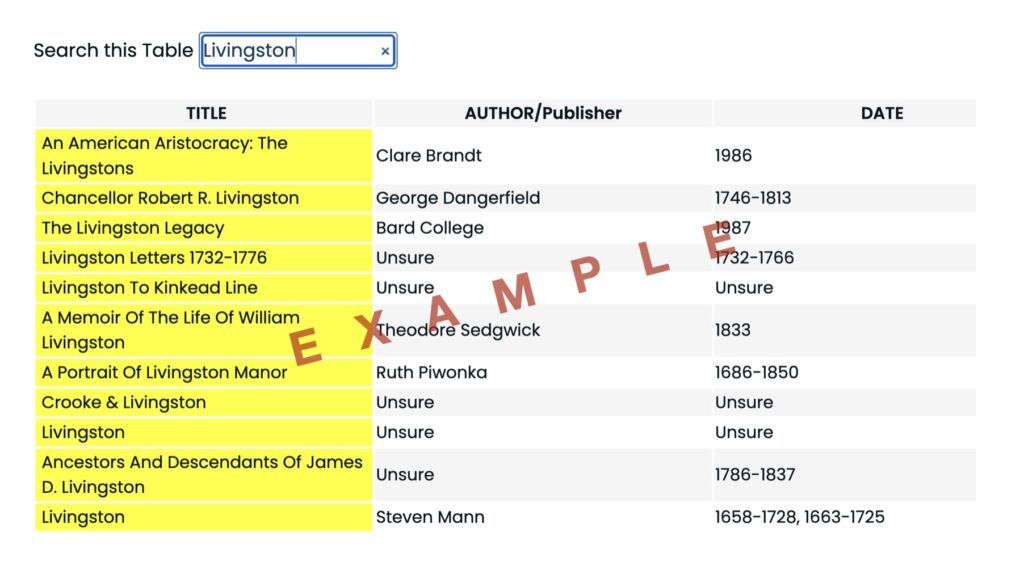 ---
Type your search term here:
| | | Date Photo Was Taken If Known | | | |
| --- | --- | --- | --- | --- | --- |
| 3 Story Brick House With Porch, Fence, Trees | Biographical Material- Van Kleeck Photographers- Vail Bros Buildings, Residential Hotels- King's Court Place Names- Poughkeepsie (city)- Cannon St. | | 13 5/8″ X 10'18": On Carboard 17″ X 14″; Old Glue On Cardboard | Vail Brothers, Poughkeepsie NY | On Back: George Van Kleeck's Residence, Demolished, Cannon St.; Southside, Above Liberty St., Kings Court Hotel Built On Site; George V.K. Was Father Of Theo. V.K, Walter V.K" "Theo Van Kleeck" |
| Long Row Of Buildings With Men Posed In Front, Horse + Wagon On Brick Street | Biographical Material- Van Kleeck Photographers- Vail Bros Buildings, Goverment-Post Office Hotels-Nelson House Place Names- Poughkeepsie (city)- Market St. Vehicles Horses People, Unidentified | | 10'18" X 13'12" On Cardboard: 12'12 X 17″; Lower Left Corner Of Board Torn Off, Top Bent | Vail Brothers, Poughkeepsie NY | On Front: "Market St. Corner Of Union. Site Of Post Office. The Goverment Building Erected On This Site Was Occupied By The Post Office On The 13th Day Of November 1886." On Back: "Site Of Post Ofice, The Post Office Was On The Corner, The Brick Part Of The Building, Before Removal To The City Hall: Albert Van Kleeck Was Postmaster At The Time Of The Removal To The City Hall. Photograph Taken Prior To 1884." |
| Young Man With Fancy Hair + Mustache- Collar And Shirt- Portrait | Biographical- Van Kleeck People, Identified Photographers- Vail Brothers | | 2 3/8 X 3 3/4 Prior Niorented(sp?) On 3 1/8 X 5 Cardboard | Vail Brothers, 254-256 Main Street Poughkeepsie NY | On Back: "Robert Mcm. Van Wyck" |
| Portrait Of A Woman In White Dress, Dark Ornament Across Front | Biographical Material- Van Wyck People, Identified Photographers- Vail Brothers | | Horizontal Print 4 X 5 1/2 Mounted On 5 1/2 X 6 3/4 Cardboard | Vail Brothers, 254-256 Main Street Poughkeepsie NY | Soiled But Clean: On Back: " Mrs. S.C. Van Wyk, Mother Of Charles And Robert Van Wyck |
| Portrait Of Minerva Eastman Gaines- Wido Of Harvey G. Eastman | Biographical Material E.G Education People Identified | C 1880s | | Vail Brothers, 254-256 Main Street Poughkeepsie NY | |
| Bust Portrait Of Woman | People Identified Biographical Material H-Q | | Sepia Photograph Mounted On Cardboard Image Size 4'1 G X 5 1/2″ Mat Size 4 1/4 X 6 1/2 | Vail Brothers, 254-256 Main Street Poughkeepsie NY | Front: Ella Hernick |
| Bust Portrait Of Woman In Glasses | People Identified Biographical Material H-Q | | Sepia Photograph Mounted On Cardboard Image Size 41/8 G X 5 1/8 Mat Size 4 1/4 X 6 1/2 | Vail Brothers, 254-256 Main Street Poughkeepsie NY | Front: Mrs. George Lumb |
| Old Lady With White Curls, Lace Cap, Ruffled Blouse With Pin And Jacket | People Photographers- Vail Brothers | | H- 6 1/2 Inches- Cabinet Photo I- 4 1/4 Inches | Vail Brothers, 254-256 Main Street Poughkeepsie NY | Come In Photo Album # 89 With Some Vassar Photos |
| Two Ladies (one Seated-one Next To Step Ladder In Planetarium; Possible Vassar College | People Education-collegues-vassar Photographers- Vail Brothers Houses And Buildings-Interior | | H- 6 1/2 Inches- Cabinet Photo I- 4 1/4 Inches | Vail Brothers, 254-256 Main Street Poughkeepsie NY | Come In Photo Album # 89 With Some Vassar Photos |
| Gentleman With Handlebar Mustache Bouble Breasted Jacket With Shirt And Tie | People Photographers- Vail Brothers | | H- 6 1/2 Inches- Cabinet Photo I- 4 1/4 Inches | Vail Brothers, 254-256 Main Street Poughkeepsie NY | Come In Photo Album # 89 With Some Vassar Photos |
| Lady With Curls On Tope Wearing A Jacket With Clasps | People Photographers- Vail Brothers | | H- 6 1/2 Inches- Cabinet Photo I- 4 1/4 Inches | Vail Brothers, 254-256 Main Street Poughkeepsie NY | Come In Photo Album # 89 With Some Vassar Photos |
| Old Man Bald No Mustache , Double Breasted Jacket With Shirt And Bow Tie | People Photographers- Vail Brothers | | H- 6 1/2 Inches- Cabinet Photo I- 4 1/4 Inches | Vail Brothers, 254-256 Main Street Poughkeepsie NY | Came In Photo Album # 89 With Some Vassar Photos |
| Gentleman In Academic Robes With Mortor Board On Knee Pinch-nez On Cord Around Neck; Possible Vassar College | People Education-Collegues- Vassar Photographers- Vail Brothers | | H- 6 1/2 Inches- Cabinet Photo I- 4 1/4 Inches | Vail Brothers, 254-256 Main Street Poughkeepsie NY | Come In Photo Album # 89 With Some Vassar Photos |
| Gentleman Wirh Leart Arm On Fire Place- Cane In Right Hand | People Photographers- Vail Brothers | | H- 6 1/2 Inches- Cabinet Photo I- 4 1/4 Inches | Vail Brothers, 254-256 Main Street Poughkeepsie NY | Come In Photo Album # 89 With Some Vassar Photos |
| Man In Tophat With Cane And Suit, Coat + Gloves. In Front Of Large Building And Small Wall With Vines; Possible Vassar College | People Education-Collegues- Vassar Photographers- Vail Brothers | | H- 6 1/2 Inches- Cabinet Photo I- 4 1/4 Inches | Vail Brothers, 254-256 Main Street Poughkeepsie NY | Come In Photo Album # 89 With Some Vassar Photos |
| Women With Glasses, Possibly A Robe With Bow And Neck. Bun At Nape Of Neck; Possible Vassar College | People Photographers- Vail Brothers | | H- 6 1/2 Inches- Cabinet Photo I- 4 1/4 Inches | Vail Brothers, 254-256 Main Street Poughkeepsie NY | Come In Photo Album # 89 With Some Vassar Photos |
| Women With Scarf At Neck Of Jacket. Hair Parted In Middle, Pulled Back. | People Photographers- Vail Brothers | | H- 6 1/2 Inches- Cabinet Photo I- 4 1/4 Inches | Vail Brothers, 254-256 Main Street Poughkeepsie NY | Come In Photo Album # 89 With Some Vassar Photos |
| Lady With Pretty Pin At Neck Of Dress. Hair Parted In Middle | People Photographers- Vail Brothers | | H- 6 1/2 Inches- Cabinet Photo I- 4 1/4 Inches | Vail Brothers, 254-256 Main Street Poughkeepsie NY | Come In Photo Album # 89 With Some Vassar Photos |
| Lady With Ruffles At Neck + Pretty Pin. Buttons On Front Of Jacket. Hair Parted In Middle + Pulled Back | People Photographers- Vail Brothers | | H- 6 1/2 Inches- Cabinet Photo I- 4 1/4 Inches | Vail Brothers, 254-256 Main Street Poughkeepsie NY | Come In Photo Album # 89 With Some Vassar Photos |
| Lady With Hair Parted In Middle + Pulled Up. Pinch-nez Glasses, Pretty Pin At Collar. | People Photographers- Vail Brothers | | H- 6 1/2 Inches- Cabinet Photo I- 4 1/4 Inches | Vail Brothers, 254-256 Main Street Poughkeepsie NY | Come In Photo Album # 89 With Some Vassar Photos |
| Heavy Lady With Upswept Hair, Pretty Beading On Front Of Dress | People Photographers- Vail Brothers | | H- 6 1/2 Inches- Cabinet Photo I- 4 1/4 Inches | Vail Brothers, 254-256 Main Street Poughkeepsie NY | Come In Photo Album # 89 With Some Vassar Photos |
| Light Haired Lady, Ruffled Collar At Neck + Pin | People Photographers- Vail Brothers | | H- 6 1/2 Inches- Cabinet Photo I- 4 1/4 Inches | Vail Brothers, 254-256 Main Street Poughkeepsie NY | Come In Photo Album # 89 With Some Vassar Photos |
| Lady With Curls, Hair On Top, Beaded Dress With High Neck. | People Photographers- Vail Brothers | | H- 6 1/2 Inches- Cabinet Photo I- 4 1/4 Inches | Vail Brothers, 254-256 Main Street Poughkeepsie NY | Come In Photo Album # 89 With Some Vassar Photos |
| Lady With Hair On Top Of Head, Ruffled Collar With Pretty Half Moon Pin, Bow Decoration (?) On Front Right Side Of Dress | People Photographers- Vail Brothers | | H- 6 1/2 Inches- Cabinet Photo I- 4 1/4 Inches | Vail Brothers, 254-256 Main Street Poughkeepsie NY | Come In Photo Album # 89 With Some Vassar Photos |
| Lady With Topknot Dark Band Around Neck | People Photographers- Vail Brothers | | H- 6 1/2 Inches- Cabinet Photo I- 4 1/4 Inches | Vail Brothers, 254-256 Main Street Poughkeepsie NY | Come In Photo Album # 89 With Some Vassar Photos |
| Lady With Bangs + Light Colored Dress With High Neck. | People Photographers- Vail Brothers | | H- 6 1/2 Inches- Cabinet Photo I- 4 1/4 Inches | Vail Brothers, 254-256 Main Street Poughkeepsie NY | Come In Photo Album # 89 With Some Vassar Photos |
| Lady With Hair Pulled Back, Dark Band Around Neck With Small Pin | People Photographers- Vail Brothers | | H- 6 1/2 Inches- Cabinet Photo I- 4 1/4 Inches | Vail Brothers, 254-256 Main Street Poughkeepsie NY | Come In Photo Album # 89 With Some Vassar Photos |
| Lady With Bangs And Topknot, High Neck, Buttons Down Front Of Jacket | People Photographers- Vail Bros. | | H- 6 1/2 Inches- Cabinet Photo I- 4 1/4 Inches | Vail Brothers, 254-256 Main Street Poughkeepsie NY | Come In Photo Album # 89 With Some Vassar Photos |
| Man With Long Narrow Beard, Semi Bald, Suit + Shirt | People Photographers- Vail Bros. | | H- 6 1/2 Inches- Cabinet Photo I- 4 1/4 Inches | Vail Brothers, 254-256 Main Street Poughkeepsie NY | Come In Photo Album # 89 With Some Vassar Photos |
| Lady Sitting In Ornate Chair, Writing At Ornate Table, Fancy Dress With Beads On Back Of Dress, Hair Parted In Middle And Pulled Back | People Photographers- Vail Bros. | | H- 6 1/2 Inches- Cabinet Photo I- 4 1/4 Inches | Vail Brothers, 254-256 Main Street Poughkeepsie NY | Come In Photo Album # 89 With Some Vassar Photos |
| Man With Strange Mustache + Beard. Suit, Vest, High Collar And Bowtie | People Photographers- Vail Bros. | | H- 6 1/2 Inches- Cabinet Photo I- 4 1/4 Inches | Vail Brothers, 254-256 Main Street Poughkeepsie NY | Come In Photo Album # 89 With Some Vassar Photos |
| Plain Lady, With Pin On Jacket | People Photographers- Vail Bros. | | H- 6 1/2 Inches- Cabinet Photo I- 4 1/4 Inches | Vail Brothers, 254-256 Main Street Poughkeepsie NY | Come In Photo Album # 89 With Some Vassar Photos |
| Lady With Ruffled Collar + Pretty Pin At Neck. Frizzy Bangs + Bun On Back Of Hair | People Photographers- Vail Bros. | | H- 6 1/2 Inches- Cabinet Photo I- 4 1/4 Inches | Vail Brothers, 254-256 Main Street Poughkeepsie NY | Come In Photo Album # 89 With Some Vassar Photos |
| Younger Lady With Earrings + Blank Band Around Neck Ruffled At Front | People Photographers- Vail Bros. | | H- 6 1/2 Inches- Cabinet Photo I- 4 1/4 Inches | Vail Brothers, 254-256 Main Street Poughkeepsie NY | Come In Photo Album # 89 With Some Vassar Photos |
| Man With Mustache And Gotee (?) Fancy Suit With Vest, Shirt + Bow Tie | People Photographers- Vail Bros. | | H- 6 1/2 Inches- Cabinet Photo I- 4 1/4 Inches | Vail Brothers, 254-256 Main Street Poughkeepsie NY | Come In Photo Album # 89 With Some Vassar Photos |
| Bald Older Man With Mustache, Suit, Vest, Shirt, + Tie | People Photographers- Vail Bros. | | H- 6 1/2 Inches- Cabinet Photo I- 4 1/4 Inches | Vail Brothers, 254-256 Main Street Poughkeepsie NY | Come In Photo Album # 89 With Some Vassar Photos |
| Lady Hair Pulled Back, Gathered Dress At Neck, Highneckline. | People Photographers- Vail Bros. | | H- 6 1/2 Inches- Cabinet Photo I- 4 1/4 Inches | Vail Brothers, 254-256 Main Street Poughkeepsie NY | "Died April 28, 1890" Come In Photo Album # 89 With Some Vassar Photos |
| Lady With Curly Bangs, Pins At Neck Of Highneckline | People Photographers- Vail Bros. | | H- 6 1/2 Inches- Cabinet Photo I- 4 1/4 Inches | Vail Brothers, 254-256 Main Street Poughkeepsie NY | Come In Photo Album # 89 With Some Vassar Photos |
| Outdoor Scene; Stone Wall With Steps, Large Building In Background | People Photographers- Vail Bros. | | H- 6 1/2 Inches- Cabinet Photo I- 4 1/4 Inches | Vail Brothers, 254-256 Main Street Poughkeepsie NY | Come In Photo Album # 89 With Some Vassar Photos |
| Long Shot Of Entrance Gate With Clock, Tree Lined Driveway Vassar (?) | People Photographers- Vail Bros. | | H- 6 1/2 Inches- Cabinet Photo I- 4 1/4 Inches | Vail Brothers, 254-256 Main Street Poughkeepsie NY | Come In Photo Album # 89 With Some Vassar Photos |
| Long Shot Of Building From Large Entrance Gate Vassar (?) | Houses And Buildings- Vassar Coll. Education- Colleges- Vassar Photographers- Vail Bros. | | H- 6 1/2 Inches- Cabinet Photo I- 4 1/4 Inches | Vail Brothers, 254-256 Main Street Poughkeepsie NY | Come In Photo Album # 89 With Some Vassar Photos |
| Large Building With Circular Driveway In Front Vassar (?) | Houses And Buildings- Vassar Coll. Education- Colleges- Vassar Photographers- Vail Bros. | | H- 6 1/2 Inches- Cabinet Photo I- 4 1/4 Inches | Vail Brothers, 254-256 Main Street Poughkeepsie NY | Come In Photo Album # 89 With Some Vassar Photos |
| Inside Of Building With Pews And Large Organ | Houses And Buildings- Interior Education- Colleges- Vassar Photographers- Vail Bros. | | H- 6 1/2 Inches- Cabinet Photo I- 4 1/4 Inches | Vail Brothers, 254-256 Main Street Poughkeepsie NY | Come In Photo Album # 89 With Some Vassar Photos |
| Many Large Buildigns Trees + Open Field Vassar (?) | Houses And Buildings- Vassar Coll. Education- Colleges- Vassar Photographers- Vail Bros. | | H- 6 1/2 Inches- Cabinet Photo I- 4 1/4 Inches | Vail Brothers, 254-256 Main Street Poughkeepsie NY | Come In Photo Album # 89 With Some Vassar Photos |
| Lady With Pleated Suit + High Neck; Hair On Top On Head. | People Photographers – Vail Brothers | | H- 6 1/2 Inches- Cabinet Photo I- 4 1/4 Inches | Vail Brothers, 254-256 Main Street Poughkeepsie NY | Come In Photo Album # 89 With Some Vassar Photos |
| Long View Of Many Large Buildings | Houses And Buildings- Vassar Coll. (?) Education- Colleges- Vassar (?) Photagraphers- Vail Bros | | H- 6 1/2 Inches- Cabinet Photo I- 4 1/4 Inches | Vail Brothers, 254-256 Main Street Poughkeepsie NY | Come In Photo Album # 89 With Some Vassar Photos |
| Building With Turrett, Large Brick On Stone Possibly Vassar Coll (?) | Education-Colleges- Vassar Houses And Buildings- Vassar Coll. (?) Education- Colleges- Vassar (?) Photagraphers- Vail Bros | | H- 6 1/2 Inches- Cabinet Photo I- 4 1/4 Inches | Vail Brothers, 254-256 Main Street Poughkeepsie NY | Come In Photo Album # 89 With Some Vassar Photos |
| Possibly Vassar College Planetarium (?); Building With Domed Roof | Education-Colleges- Vassar Houses And Buildings- Vassar Coll. (?) Education- Colleges- Vassar (?) Photagraphers- Vail Bros | | H- 6 1/2 Inches- Cabinet Photo I- 4 1/4 Inches | Vail Brothers, 254-256 Main Street Poughkeepsie NY | Come In Photo Album # 89 With Some Vassar Photos |
| Outdoor View, Large Tree On Right, Dirt Path/road With Wooden Bridge; Vassar Coll. Grounds (?) | Education-Colleges- Vassar (?) Photagraphers- Vail Bros | | H- 6 1/2 Inches- Cabinet Photo I- 4 1/4 Inches | Vail Brothers, 254-256 Main Street Poughkeepsie NY | Come In Photo Album # 89 With Some Vassar Photos |
| Lake Lined With Trees, Road In Front Going Over Wooden Bridge On Right. Vassar College (?) | Education-Colleges- Vassar (?) Photagraphers- Vail Bros | | H- 6 1/2 Inches- Cabinet Photo I- 4 1/4 Inches | Vail Brothers, 254-256 Main Street Poughkeepsie NY | Come In Photo Album # 89 With Some Vassar Photos |
| Outdoor Scene-dirt Road In Foreground Going Straight Ahead, Wood Fence On Left, Stone Wall On Right Of Road; Trees. Possibly Vassar Coll. (?) | Education-Colleges- Vassar (?) Photagraphers- Vail Bros | | H- 6 1/2 Inches- Cabinet Photo I- 4 1/4 Inches | Vail Brothers, 254-256 Main Street Poughkeepsie NY | Come In Photo Album # 89 With Some Vassar Photos |
| Dirt Path With Grass + Trees; Bench On Right With Man Seated. Vassar Coll. (?) | Education-Colleges- Vassar (?) Photagraphers- Vail Bros | | H- 6 1/2 Inches- Cabinet Photo I- 4 1/4 Inches | Vail Brothers, 254-256 Main Street Poughkeepsie NY | Come In Photo Album # 89 With Some Vassar Photos |
| Ladies Playing Lawn Tennis; Shows 3 Small Pavillions And Possibly Planetarium In Background, Possibly Vassar (?) | People Sports-Tennis- General Education-Colleges- Vassar (?) Education- Colleges- Athletics (?() Photagraphers- Vail Bros | | H- 6 1/2 Inches- Cabinet Photo I- 4 1/4 Inches | Vail Brothers, 254-256 Main Street Poughkeepsie NY | Come In Photo Album # 89 With Some Vassar Photos |
| Interior Photo Showing Walls Covered With Paintings, Sculpture. Possibly Vassar (?) | Houses And Buildings- Interior Education- Colleges- Vassar Art Photographers- Vail Bros. | | H- 6 1/2 Inches- Cabinet Photo I- 4 1/4 Inches | Vail Brothers, 254-256 Main Street Poughkeepsie NY | Come In Photo Album # 89 With Some Vassar Photos |
| Girl With Bangs And Hair In A Braid Down Back | People Photographers- Vail Bros. | | H- 4'18 In (10.4 Cm) – Carte-de-visite I- 2 1/2 Inch. (6.4 Cm) | Vail Brothers, 254-256 Main Street Poughkeepsie NY | |
| Novelty Card- Minstrel Rehearsal- Heads Of Po' Citizens | People, Identified Photographers- Vail Bros. | | Photo 4 1/4 X 3 3/4″ Card 6 1/2 X 4 | Vail Brothers, 254-256 Main Street Poughkeepsie NY | Back Of Photo- Names Of Performers On Front Listed |
| Small House Surrounded By Fence W/ Trees (Van Kleeck House) | Biographical Materials – Van Kleeck Biographical Material- Lossing Photographers- Vail Bros. Wars- American Revolution Buildings, Residential Biographical Hamilton Biographical- Vassar Buildings, Commercial | | 2 1/2 X 4 1/4 | Vail Brothers, 254-256 Main Street Poughkeepsie NY | See Other Side For Back Of Photo |
| View Of Lower Main St, Evidently Looking Down Towards Thre River, Large Group Of Men Gathered At South Side Of Street, Smaller Group On Northside | Biographical Materials – Van Kleeck People History Of City- Poughkeepsie Photographers- Vail Bros. Houses And Buildings | | 6 1/2 " X 4 1/2 " | Vail Brothers, 254-256 Main Street Poughkeepsie NY | On Back In Pencil; " Main St. Opposite Dutch Church And Court House 1857 |
| Sidewalk Scene After Blizzard, Sidewalk Partially Cleaned People Standing Around | Biographical Materials – Van Kleeck Photographers- Vail Bros. Biographical Materials – Burrows Disasters- Blizzard Of 1888 Place Names- Poughkeepsie City- Main St. | March 12, 1888 | 10.8 M (4 1/2 Inch) H X 26.5 Cm (61/2 In) W- Cabinet Photo | Vail Brothers, 254-256 Main Street Poughkeepsie NY | On Back: " March 12 1888, Main St. East Of Garden St. Looking West, Walter VanKleecks Store 304 Main St. Dates And Burrows Store. 300 Main St. " Baltas B. Van Kleeck" March 12 1888 |
| Snow Tunnel After Blizzard | Buildings- Commercial Place Names- Poughkeepsie (city) Main St. Photographers- Vail Bro | | 1-.8 C, ( 4 1/4 In) H X 16.5cm (6 1/2 In) W- Cabinet Photo ; Upper Left Corner Bent | Vail Brothers, 254-256 Main Street Poughkeepsie NY | On Back : "Blizzard March 1888" Frank Van Kleeck |
| "C.H. Armstrong, May 18, 1894, And Frank Van Kleeck (on Right), C.H. Armstrong-center, Dan Ringwood Left"; In Doorway Of Frank Van Kleeck + Co. | Biographical Materials – Van Kleeck Buildings- Commercial People- Identified People- Unidentified Photographers- Vail Bros. Biographical Materials – Thing Place Names- Poughkeepsie City- Main St. | May 18th, 1894 | 5 X 8 Photo Glued To 5 1/4 X 8 1/2 Cardboard | Vail Brothers, 254-256 Main Street Poughkeepsie NY | Van Kleeck Collection |
| Stone House W/ Double Chimneys, Fences, Trees, Bushes, Stone Over Doorway, "1702 Butm? | Biographical Materials – Van Kleeck History Of City- Poughkeepsie Houses Buildings- Mill St. Photographers- Vail Bros. | | Photo- 6 1/2 X 8inch On Backing 10 X 12 Inch | Vail Brothers, 254-256 Main Street Poughkeepsie NY | On Back: Written "Baltus, The Old, Van Kleeck House On Mill St. Poughkeepsie"; On Front Eight Corner" 1702-1835 Tag In Upper Left Corner "12" |
| The Same Picture As 1980. 29.26-8-284 Except In Poorer Shape | Biographical Material- Van Kleeck Buildings-Residential Place Names- Poughkeepsie (city)- Mill St. | | Photo 6 1/2″ X 8 1/8″, On Cardboard: 10″ X 12″; Cardboard Badly Cracked + Pieces Missing | Vail Brothers, 254-256 Main Street Poughkeepsie NY | Van Kleeck House- Torn Down |
| Street Scene With Huge Snowbanks In Middle Of Street Buildings, Utility Poles; A Few People On Right. | Biographical Material- Van Kleeck Houses And Buildings- Main St. History Of City- Poughkeepsie Disasters- Blizzard Of 1888 Utilities Poeple Photographers- Vail. Bros. | 1888 | 19.0 Cm (71/2 Inch) H X 23.1 Cm (9 1/8in) H On Cardboard: 25.3 Cm (10in) H X 30.5cm (12 In) W | Vail Brothers, 254-256 Main Street Poughkeepsie NY | On Front: Blizzard March 1888 Main St. East From Current Fenner Farmers" On Back: Frank Van Kleeck |
| Long View Of Street, Building On Both Sides, In Distance Horse And Buggy. In Foreground An Intersection | Biographical Material- Van Kleeck Buildings, Commercial Vehicles Place Namea- Poughkeepsie(city)- Main St. Hotels- Franklin Photographers- Vail. Bros. | 1853 | Photo 7 1/4″ By 9 1/4 Cardboard 10x 12″ | Vail Brothers, 254-256 Main Street Poughkeepsie NY | Main St. East Fron Corner Of Washington In 1853, Franklin Hotel Baltus B. Van Kleeck, Copy By Vail Bros. Photo |
| Front Of Store, Side Angle, Two Men Standing On Sidewalk, Part Of Neighboring Buildings | Biographical Material- Van Kleeck Buildings, Commercial Vehicles People, Unidentified Place Names- Poughkeepsie(city)- Main St. Biographical Material= Joseph Photographers- Vail. Bros. | 1863 | Photo 7 1/2 X 9 Cardboard 10 X 12 | Vail Brothers, 254-256 Main Street Poughkeepsie NY | "265 Main St. 1863, Now Site Of Joseph Clothing Store Formaly Owned By Albert Van Kleeck (Sold By Estate Of A.V.K In 1867) A.V.K's Hat Store Was In Westleft Hand In Picture Portion Prior To 1854 Frank Van Kleeck" – On Back |
| Long View Of Street, Buildings Lined Up On Both Sides People + Horses And Buggy In Foreground | Buildings- Commercial Place Names- Poughkeepsie (city) Main St. Photographers- Vail Bros. People, Unidentified Utilities Biographical Material- Filkins | 1864 Or 5 | Photo 7 1/2 X 9 Cardboard 10 X 12 | Vail Brothers, 254-256 Main Street Poughkeepsie NY | 1864 Or 5, Frank Van Kleeck |
| Large Group Of Boys In Uniform, Flag In Stone In Back Of Building Drums Also | Buildings- Academics Photographers- Vail Bros. People, Unidentified Buildings- Unidentified Schools, Private- Riverview Utilities Biographical Material- Booth, Oliver | | Photo- 12 1/2 X 16 1/2 Inches | Vail Brothers, 254-256 Main Street Poughkeepsie NY | Written On Back: "Riverview Mil Academy" Oliver Booth 556″ 3-94 |
| "James Wood Drug Store, July 1915"; "Corner Main St. "Wood Lane" Formerly Mechanicalist"; Building, Brick Street, Trolley Tracks, Part Of Automobile. | Place Names- Poughkeepsie (city), Main Street Building- Commercial People-Unidentified Vehicle | 15-Jul | 4 1/2 X 6 5/8 Photo Glued To 7 X 9 Cardboard | | Van Kleeck Collection |
| "Fronts Of 457-459 Changed July 1916"; Fronts Include Nancy Hasbrouck, Martin Ryan, + Albert Clark Drug Store , People On Sidewalks. | Buildings, Commercial Biographical Material-Hasbrouck Biographical Material- Ryan Vehicles Biographical Material- Clark Place Names- Poughkeepsie (city) – Main St. People, Unidentified | | 5 X 7 3/4 Photo Glued To 7 X 9 Cardboard | | Van Kleeck Collection |
| "Northwest Corner Main + N. Hamilton St."; Photo Of Niagara No. 2 Firehouse With 3 Men In Front Of Building + One Man In Scaffolding To Right Of Lady. | Place Names- Poughkeepsie (city)- Maint St., Buildings Civic- Niagara No. 2 Fire Co. Fire Companies- Niagra No.2 People-Unidentified | | 4 3/4 X 6 1/2 Phot Glued To 7 X 9 Cardboard | | Van Kleeck Collection |
| "256 Main St. Sept. 1912 In Former Time Henderson Bros: Laundry Store." Storefront, Man, Child, Street With Trolley Tracks. | Place Names- Poughkeepsie (city) Main St. Biographical Material-Lynchf Buildings, Commercial Biographical Material- Henderson People, Unidentified | | 4 3/4 X 6 1/2 Phot Glued To 7 X 9 Cardboard | | Van Kleeck Collection |
| "264 Main St. July 1912"; Storefronts, People, Construction, Brick Street With Trolley Tracks. | Place Names- Poughkeepsie (city) Main St. Buildings- Commercial People- Unidentified | | 4 3/4 X 6 1/2 Phot Glued To 7 X 9 Cardboard | | Van Kleeck Collection |
| " Front Of Kirchner Building. Sept. 1915″; Ice Cream Parlor + Vassillius (sp.) Bros. Confectionary At # 282 On Left. | Place Names- Poughkeepsie (city) Main St. Buildings- Commercial People- Unidentified Vehicles Biographical Material-Kirchnerf | | 5 X 7 Photo Glued To 7 X 9 Cardboard | | Van Kleeck Collection |
| "West Side No.Hamilton St. North Of Main St." Photo Of O.H Booth Hose Co. No. 2 With Men + Horses | Place Names- Poughkeepsie (city) North Hamilton St. Buildings – Civic , O.H Booth Hose Co. No. 2 Fire Companies, O.H. Booth Hose People-unidentified Animals | | 4 1/2 X 6 5/8 Photo Glued To 7 X 8 7/8 Cardboard | | Van Kleeck Collection |
| "2 Pictures- 1) Ph 492 (a) A Store Fronts-Edward Van Kleeck + F.J. Nesbitt Signs 2) Ph 492 (b) A Stores – John A DePew Sign | Biographical Material- Van Kleeck Buildings, Commercial Place Names- Poughkeepsie (city) – Main St. People, Unidentified Biographical Material- Nesbitt, DePerr | | Mat 5″ X 4 1/4″ Pictures 3″ X 4″ | | 1) "259 Main 1892" 2) "Cor. Main + Liberty 1892" Cone Photo On Each Side |
| "C.H Armstrong, May 18, 1894, And Frank Van Kleeck (on Right), C.H. Armstrong- Center, Dan Ringwood Left"; In Doorway Of Frank Van Kleeck + Co. | Biographical Material – Van Kleeck Buildings, Commercial People, Identified People, Unidentified Biographical Material- Thing Photographers- Vail Bros Place Names- Poughkeepsie(city)- Main St. | | 5 X 8 Photo Glued To 5 1/4 X 8 1/2 Cardboard | | Van Kleeck Collection |
| "Carpenter + Parkhill 346 Main Corner Academy"; Left Corner Of Luckey Platt + Co. Building With Carpenter + Parkhill Still In Lower Portion. | Place Names- Poughkeepsie (city), Main Street Buildings, Commercial Biographical Material- Lucky Family, Platt Family People-inidentified | | 4 1/2 X 6 1/2 Photo Glued To 6 X 8 1/2 Cardboard | | Van Kleeck Collection; On Back, "Baltus Van Kleeck" |
| Large Wood Building "Winikee Hall, With Fence In Front And Men Leaning On Fence And Lamp Past | Place Names- Poughkeepsie (city)- Smith St. Buildings People-Unidentified Biographical Material-H | | Photo: 10.5 Cm(4 1/8 In) H X 15.9 Cm (6 1/4 In) W On Cardboard. 20.3 Cm (8in) H X 25.3cm (10 In) W; Board Dirty + Torn, Photo Dirty | | On Front: Now Site Of Hoag's (?) Knitting Mill" |
| "316 Frank Carpenter, 318 S. A(?) Raymond, May 1916", Storefront, People Auto, Bicycle, Trolley Tracks, Street Lighting. | Buildings- Commercial Biographical Material- Carpenter Biographical Material-Raymond People, Unidentified Vehicles Place Names- Poughkeepsie (city)- Raymond Avenue | | 4 5/8 X 6 3/4 Photo Glued To 7 X 9 1/2 Cardboard | | Van Kleeck Collection |
| Looking Down Sidewalk After Snow; Morgan House, People Standing Around | Building, Commercial Place Names- Poughkeepsie (city)- Main Street, Catherine Street Disasters- Blizzard Of 1888 People, Unidentified | | 18.6 Cm (7 5/16 In) H X 23.8 Cm (9 3/8 In) W; Very Wrinkled, Part Of Right Hand Button Missing | | On Back: "Blizzard March 1888 Corner Main And Catherine St." "Miss A Sleight 1 All (?) + G1 Pd (?)" |
| Picture Of Building, People + Horse Buggy In Front | Building, Civic Dutchess County Courthouse People, Unidentified Horses Vehicles | | Photo 4″ X 5 1/4″ Cardboard 7″ X 9″ | | The Third Dutchess County Court House, Erected In Place Of The Court House Destroyed By Fire In 1806. Demolished 1902. |
| 2 Stored Wooden Building. Store Front Lower Level, 1 Person Walking In Front. Cobblestone Street With Trolley Tracks Foreground. | Buildings, Commercial Place Names- Poughkeepsoe (city) Main St. People, Unidentified Utilities? | | 3 1/2 X 2 3/4 Snap Shot | | On Back "186 Main St. Pck Ny 1893" |
| Very Dark Snap Shot- 2 Buildings In Back, One On Left Has 2 Chimneys. Many People Standing Along Curb | Buildings, Commercial People, Unidentified Utilities (?) Vehicles | | 3 1/4 X 4 1/4 | | Picture Too Dark To Distingush Clearly. |
| People Seated On Ground- Picnicing. St. View Of River On Left. Hills In Background. | Rivers-Hudson- General People, Unidentified Organizations, Cultural- DCHS Biographical Material- Roosevelt Place Names- Hyde Park ( Town) | | Snap 4 1/2″ X 3 1/2 | | Pilgrimage 1927. F.D. Roosevelt's Hyde Park |
| Man Standing With Tea Cup- Long Serving Table On Right. People Standing In Back. | People, Unidentified Organizations, Cultural- DCHS Biographical Material- Roosevelt Place Names- Hyde Park (town) | 1927 | 3 1/4″ X 4 1/2″ Snap Shot | | Pilgrimage 1927 FD Roosevelts Hyde Park |
| People Standing + Sitting Eating- Large + Ree On Left, Hills In Background | People, Unidentified Organizations, Cultural- DCHS Biographical Material- Roosevelt Place Names- Hyde Park (town) | 1927 | Snap 3 1/2 " X 4 1/2″ | | Pilgrimage 1927 FD Roosevelts Hyde Park |
| People Sitting In Groups- On Ground + On Chairs (picnicing) Large Trees On Left- Hills In Background | People, Unidentified Organizations, Cultural- DCHS Biographical Material- Roosevelt Place Names- Hyde Park (town) | 1927 | Snap 3 1/4 " X 4 1/4″ | | Pilgrimage 1927 FD Roosevelts Hyde Park |
| Scene At F.D Roosevelt's Home. Many People In Foreground – Seated In Sall Groups | People, Unidentified Organizations, Cultural- DCHS Biographical Material- Roosevelt Place Names- Hyde Park (town) Buildings- Residential | 1927 | Snap 3 1/4 " X 4 1/4″ | | Pilgrimage 1927 FD Roosevelts Hyde Park |
| White Frame Building- 5 Pillars Seen + 4 Small Windows Upstairs + Doorway With Fanlight Many People In Foreground. | People, Unidentified Organizations, Cultural- DCHS Biographies Van Kleeck Biographical Material – Roosevelt | 1927 | Snap 3 1/4 " X 4 1/4″ | | Pilgrimage 1927 FD Roosevelts Hyde Park |
| Large Frame Building- 2 Smaller On Both Ends- One On Left Has Sign "winnike- "on Front- Horsey Wagon In Front Of Building. Man With Cone Crossing Street | Vehicles Buildings- Commercial Animals People- Unidentified Utilities Place Names- Poughkeepsie (city)- North Clinton St. Biographical Material- Winnike | | H " X 5″ | | Front Of Picture "Hay Markey North Clinton St. East Side" |
| "Apparently A Parade Of Some Kind. Three Rows Of Men, Four Abrouest, Visible. A Woman In Left Foreground. | Buildings- Commercial Biographical Material- Timmons People, Unidentified Celebrations- General Animals | | 3 5/8″ X 5″ | | Very Faded. Lower Left Corner Cut Off |
| Two Identical Views Of Livingston House. House Seem Obliquely Through Trees. Man And Women Visible In Front; Man Standing Against Tree, Woman Seated. | Buildings, Residential Biographical Material- Livingston People, Unidentified | | 3 1/5″ X 7 " | | On Back " Livingston House 1886, Destroyed By Fire 1892." |
| Elephants And A Man On Horse Back In A Parade In Front Of Stores | Buildings, Commercial Animals People- Unidentified Celebrations- General Biographical- Lynch, Timmons | | 3 3/4 X 4 1/2 | | |
| Fireman In Parade, Holding Onto Hose Or Pulling Something (not In Picture). Building, Part Of A Wagon, Flags On Buildings | Buildings, Commercial Celebration- General Fire Companies Utilities People, Unidentified | | Photo: H- 8.0 Cm (3 1/8in.); 1-10.3 Cm (4 1/16 In) On Cardboard: H -10.8 Cm ( 4 1/4 In), 1-13.3 Cm (5 1/4in) | | On Back; "July 4- 93" |
| Scene At Market St. County Court Building On Left Sign To Smith Bros Restaurant On Rt! | Buildings, Commercial Biographical Material- Smith Dutchess County Court House Transportation Utilities Place Names- Poughkeepsie (city)- Market St. People, Unidentified | 1915 | Back Of Picture "1915" | | |
| Front Of Nelson House, Man (white Shirt) And Woman (with Parasol) On Balcony. Many Men On Sidewalk + Entrance To Hotel. | Buildings, Commercial Hotels- Nelson House People, Unidentified | | 4 " X 5″ | | Looks As Though "there Had Been A Speaker" |
| View Of Lower Main St, Evidently Looking Down Towards Thre River, Large Group Of Men Gathered At South Side Of Street, Smaller Group On Northside | Biographical Material- Van Kleeck People, Unidentified History Of City- Poughkeepsie Houses And Buidligns Photographers- Vail | | 6 1/2″ X 4 1/2″ | | On Back In Pencil, " Main St. Opposite Dutch Church And Court House, 1857″ |
| Front View Of The Winnikee Rink. Two Men Standing In Front; Two Approaching From The Left | Biographical Material- Van Kleeck People, Unidentified Buildings, Recreational. | | 4 1/4″ X 5 1/4″ | | |
| View Of The Methodist Episcopal Church On Corner Of Washington And Mill. Evidently An Autumn Day. Small Group Of Men Standing Off To The Right. | Biographical Material- Van Kleeck History Of City- Poughkeepsie Houses And Buildings- General People, Unidentified Religion- General | | 4 1/4″ X 3 1/4″ | | Top Right And Left Bottom Corner Torn Off. On Back In Pencil: M.E. Church Corn. Washington And Mill. |
| Store Front W/ Awning, Lady And Man Standing In Front. | Buildings- Commercial People, Unidentified Place Names- Poughkeepsie (city)- Main St. Wearing Apparel | | 4 1/2 X 6 1/2 | | Written On Back "# 330 Main St. Pok New York, Run By Mary Peterkin |
| A View Of H.A. Aldvich's "Wholesale And Retail Grocery" At 355 Main St. Four Men, Two With Mustaches Two Clean-shaven Standing In Front Amid Their Produce. | Buildings, Commercial People, Unidentified Place Names- Poughkeepsie (city) Main St. Biographical Material-Aldrich | | 6 1/2 X 4 1/2 | | Photo Very Dirty And Discolored . On Back In Blue With "#355 Main 86" |
| Street Scene. Several People Blurrily Visible In Fare Ground, A Bicyclist And The Storefornt "M. Timming" In Background | Biographical Material- Timmins People, Unidentified Buildings, Commercial Vehicles | | 3 5/8″ + 4 3/4″ | | Photo Torn At To- Very Discolored |
| Five Women Seated On A House Porch, Four Holding Guitars And One A Mondolin. Trees Visible In Background. | Buildings. Redidential Musical Intruments People, Unidentified | | 4 2/4 X 6 1/2 | | Extensive Explanationof Whoto On Back |
| 3 Young Men Hamming It Ip; One With A Hat On, 2 With Hats In Hand | Biographical Material-Wing People | | 4 3/4 In. H X 3 1/4 In W; Unframed; 2 Left Cornerscat; Slightly Bent | | 3 Young Men Hemming It Up; One With Hat On, 2 With Hats In Hands. |
| Man In A Naval- Type Uniform On A Ship | Biographical Material- Wing People Transportation-ships | | 4 3/2 In. H X 2 5/8 In. W | | Entire Photo Has Been Cut Down. |
| Photo Of Women In Fur Coat, Hat With Feathers. | Biographical Material- Wing People | | 5 1/4 In. H X 3 1/2 In. W | Flett, 1517 Boardwalk, Atlantic City, N.J. | |
| Two Men Wearing Straw Boater Hats, Me With Mustache And Cane. | Biographical Material- Wing People | | 5 1/2 In. H X 3 1/2 In. W | | |
| 2nd BN HQ 8th Regt., # 109; 9 Soldiers, One With Flag, Posing | Biographical Material- Wing People Wars- World War II | | 3 1/2 In. H X 5 1/2 In. W, | | On Front "2nd BN HQ- 8th Regt. # 109" |
| Battalion Photo- Several Hundred Soldiers Seated Or Standing In Five Rows. World War II Vintage. | Biographical Material- Wing People Wars- World War II | | Photo: H- 20.3 Cm (8 Inches) W-79.8cm (31 Inches). No Frame Or Backing | | At Bottom Of Photo. "Co. B-11 Bn- Ft. McClellan, Ala. Copt. Teddy L. Johnston, Commanding" Sgt. Robert L. Hazlett, 1st Sgt" |
| Photograph- People In Old Fashion Dress Dancing On Lawn. Large Group Of Epectations (sp??) In Background. | Biographical Material- Wing People Photographers- General | | Photo- H- 24.5 Cm (9 3/4 Inches) W- 34.5 Cm (13 3/4 Inches)- Backing: H- 28cm (11 Inches) W-35.5 Cm (14 Inches) | | Photo- Dirty; Came To Us In A Large Folder With No Corner Holders. See Also: Ph 203 B |
| Photo – People In Carr, (are) In Front Decorated With Flowers. | Biographical Material- Wing People Transportation- Automobiles Animals Photographers- General | | Photo: H- 18.5 Cm (7 1/2 Inches) W-24.5 Cm (9 5/8 Inches) Backing: H28cm (11 Inches) W 35.5 Cm (14 Inches) | | |
| Photo- Man And Woman In Garden, Sitting On Stone Bench, Dog Nearby | Biographical Material- Wing People Animals Photographers- General | | Photo- H-30cm (11 3/4 Inches) W-42.3cm (16 5/8) Inches) | | Photo Removed From Folder: "a Mezzotint" By Aime Dupont, 509 Fifth Apoe.(?) Ny |
| Five Men On Horseback Along With Several Pack Horses In Clearing. Trees And Hillside In Bark Ground. | Biographical Material- Wing People Animals | | Photo: H.19.4 Cm (7.6 Inches) W- 24.4 Cm 9.6 Inches) Carboard Frame: H-28 Cm (11 Inches) W-35.6 Cm (14.1 Inches) | | |
| Small Boy In Featherred Hat On Horse Back Pointing A Toy Rifle. White House In Background. | Biographical Material- Wing Children Animals Houses And Buildings- General | | Photo: H-19.2 Cm (7.6 Inches) W-24.3 Cm (9.5 Inches) Cardboard Baching: H-28 Cm (11 Inches) W-35.7 Cm (14 Cm); Big Chunks Of Cardboard Missing, Including 3 Corners. | | |
| Wedding Photo 22 Men And Women Seated Or Standing In Front Of A House. | Biographical Material- Wing People, Unidentified Wedding Photographers- Walter Scott Place Names- Millbrook Place Names- Washington (Town) | | Photo: H-16 Cm (6.3 Inches) W-20.6 Cm (8.1 Inches) Frame: A – 29 Cm (11.4 Inches) W-34.6 Cm !13.6 Inches) | Walter Scott. Shc? Ny. | On Backof Frame "Mongan Wing Wedding" Wife Lucia |
| Photo Of A Painting: Man Seated, Wearing Vest, Coat, Knickers (?) And Heavy Socks, With Cap In Left Hand, And Right Handd Around A Dog. | Biographical Material- Wing Biographical Material- Jones People, Identified Animals | | 33. 9 Cm (13 5/16 In.) H X 27.0 Cm (10 5/8 In.) W | | On Back : "George Jones, Founder, NY Times" |
| 13 Men Posing For Picture In Front Of Stone Building | Biographical Material- Wing People | | 8 1/4 In. H X 10'18 In. W | | On Back: "N.Y. Farmers Meeting Washington, D.C. May 15/46" "Beltsville Md May 15, 1946" Morgan Wing Lost Man On Right See Ph. 91 B |
| Photograph- For Men In Masonic Garb (sp??) Standing In Front Of House. | Biographical Material- Wing Houses And Buildings – General Photographers- General Tedyele (sp??) Organizations/Fraternal | | Photo- H-18 Cm (7 3/4 Inches) W-24.5 Cm (9 5/8 Inches) Booking: H- 20.13 Cm (8 Inches) W-30.5 Cm ( 12 Inches) | | Underneath Picture: "Rogenhof", Newburgh N.Y – July 1907. F.C. Vann Seyen (sp??) Entertaining His Masonic Friends. Lorn (sp??) Eistan- McFrasen + Homer |
| Photo: Group Of People On Porch. | Biographical Material- Wing People Children Houses And Building- Millbrook History Of Villages- Millbrook Photographers- General History Of Town- Washington | | Photo- H-19.3 Cm (7 5/8 Inches) W-24.3 Cm (9 1/2 Inches)- Backing: H-25.5 Cm (1o Inches) W-30 Cm (11 3/4 Inches) | | Photo In Fainly Good Condition On Back: "Sandanona" |
| Photo: Group Of People On Porch. | Biographical Material- Wing People Children Houses And Building- Millbrook History Of Villages- Millbrook Photographers- General History Of Town- Washington | | Photo- H-19.3 Cm (7 5/8 Inches) W-24.3 Cm (9 1/2 Inches)- Backing: H-25.5 Cm (1o Inches) W-30 Cm (11 3/4 Inches) | | Photo In Poor Condition Sandanona |
| Photo- Guests Sitting At Tables On "Sandanona" Lawn. | Biographical Material- Wing People Children Houses And Building- Millbrook History Of Villages- Millbrook Photographers- General History Of Town- Washington | | Photo- H-19 Cm (7 1/2 Inches) 24.5 Cm (9 3/8 Inches)- Backing: H-25.5 Cm (1o Inches) W-30.5 Cm (12 Inches) | | Sandanona- Photo Loose On Npride (sp??) |
| Photo- Two Men In Doorway Of Building. Building Situated In Forrest Cleaning. [check Spelling] | Biographical Material- Wing People Animals Houses And Building- Millbrook History Of Villages- Millbrook Photographers- General | | Photo- H- 10.8 Cm (7 1/8 Inches) W-20.3 Cm (9 Inches); Lower Right Corner Of Cardboard Gone. | | On Back: " Cheshinc (Sp??) House- Given To John D. King After Its Inhibition(sp?) At Chicees (sp??) Warhold Fower (sp??) (1893) Being A Copy Of A ?? "old Covington Hall" Cheshnie Eng- Mentioned Into The "Dormadoy Books" [CHECK SPELLING] |
| Portrait Of A Woman Holding An Open Book In Her Right Hand And Spectacles In Her Left. | Biographical Material- Wing People Photographers- General | | Photo: H-23.9 Cm (9.4 Inches) W-18.6 Cm (7.2 Inches) Cardboard Frame: H-36.2 Cm (14.2 Inches) W-25.2 Cm (9.9 Inches) | Koshiba, 548 Fifth Avenue, New York | Photo Originally In Paper Folder With Photographer's Name And Address Pasted On. |
| Framed Paranoramic Photo Of Opening Meet, Thorndale. Bright Sunny Day. Ridera And Lootiers On In Front Of House. Several Automobiles In Foreground. | Biographical Material- Wing People Houses And Building- Millbrook Animals History Of Villages- Millbrook Sports- General Transportation- Automobile Biographical Material- Thore History Of Town- Washington | 1-Oct-21 | | | Backing Paper Torn And Water Stained Gold Seal On Back: "The Closson Art Galleries, Cincinnati; Color (possibly Hand Done) Photo Thorndale SeeTH 198B |
| Head And Shoulders Portrait Of A Woman. | Biographical Meterial- Wing People Photographers- General | | Photo: H-16.7 Cm (6.6 Inches) W-10.5cm (4.1 Inches) | Falk, 949 Broadway | |
| Double Framed Photo. On Left: H-children With Guns. Dog And Flag Also In Picture. On Right, Photo Of Same Four As Adults In Uniform, Also With Dog And Flag. | Biographical Material- Wing People Children Wars ( World War) Animals | | Frame: H : 19cm (7 1/2 Inch) W: 49.3 Cm (19 6/16 Inch) Openings: 7-H: 17 Cm (6 3/4 Inch) L: 23.3 Cm (9 2/16 Inch) | | Sticker On Back: Frank H. Hamli D.B. Bulter And Co., Picture Frames Madison Chambers, 601 Madison Ave., N.Y Order Wing H 6295. See Also #: 222 And |
| Three Photos In One Frame. Middle Photo Is Of A Young Girl. End Photos Of A Young Woman "Josephine Wing" Written On Back | Biographical Material- Wing People Children | | Frame H: 25.8 Cm (10 3/16) L 56.1 Cm (22 1/8) W 13 Cm ( 1/2) Opening: H-23.8 Cm (9 3/8) L-54.4 Cm (21 7/16) | | Frame Missing At One End. On Back Of Fram From Paul Kauffmann Fine Arts. 1242 Broadway, Between 31 And 32 Sts. NYC. |
| Framed Photo Of Meadow Brook Point To Point; Nov. 1911. Won By Aqnita Marie Five Riders On A Mist, Day. Row Of Trees In Background. | Biographical Material- Wing People Animals Sports-General | | Frame: H: 27.3 Cm (10 3/4 Inch) W-61.5 Cm (24 1/4 Inch) Opening: H.22.5 Cm (9 Inch) W-56.5 Cm (22 1/4 Inch) | | Paper Backing Gone |
| Man With White Hair And Beard | Biographical Material- Wing People Biographical Meterial- J Photographers-General | | Fram: 76.2cm (30 In) H X 66.0 (26in) L X 320 Cm (1/4 Inch) W; Opening: 60.0 Cm (23 5/8 In) H X 49.7 Cm (19 9/16inch) W | Aine (?) Dupoint, NY | Sticker On Back (now Removed): Not Sure Could Be A Great, Great Or George Jones Father Of Josephine Gilbert Wing |
| Man Standing Holding 2 Cows By Halters. | Biographical Material- Wing People Animals Photographers- General | | 2 1/2 Inch. H X 4 In. W- Carte D. Visite | | E. Bookhaut, Photographer, Nos. 1+3 Broadway, Near 1st St., Brooklyn, E.D., NY. |
| Man With Mustache | Biographical Material- Wing People Photographers- General | | Frame: 64.2 Cm (25 1/4 In) H X 54.0 Cm (21 1/4 In) L X 2.5 Cm (1m) W; Opening: 54.1 Cm (21 9/16 In) H X 44.0cm (17 9/16 In) W; Emulsion Badly Cracked And Peeling; Photo Loose In Frame | | |
| 4 Boys Dressed In "cowboy" Outfits, One On Pony | Biographical Material- Wing People Children Animals | | Photo: 36.5 Cm (14 3/8in) H X 46.6cm (18 3/8in) W; Frame: 50.6cm (22in) H X 66.5 Cm (26 3/16in) L X 2.0 Cm (3/4 In) W | | Morgan Wing, Jack Wing, Bryce Wing, S. Stuart Wing |
| Man Standing Next To Horse To Pose Horse; In Front Of Barn | Biographical Material- Wing People Animals | | 3 1/8 In. H X 2 7/8 In. W; Photo Rounded Off At Top And Probably Cropped All Around | | Photo Probably Used Fro Stud Purposes. |
| Man Standing, Holding Horse By Bridle To Pose Horse, In Front Of Barn. | Biographical Material- Wing People Animals | | 3 1/8 In. H X 3 In. W; Photo Rounded Off On Top And Probably Cropped All Around. | | Photo Probably Used Fro Stud Purposes. |
| Man In Naval Uniform With White Hat | Biographical Material- Wing People Wars- World War I | ? N.Y. Back R.H. Macy + Co. Herald Sq. N.y, N.y | Frame: H 33 3 Cm (13 1/4 Inch) L 26 2 Cm (10 1/4 Inch) Picture: H 22.4 Cm (8 3/4 Inch) L 17.4 Cm (6 14/16 Inch) | | See Also: # 225 |
| Elderly Couple Sitting On Stone Bench With Dog Nearby. | Biographical Material- Wing People Animals | | Frame H 32 Cm (12 10/16 Inch) L 41 Cm (16 Inch) Photo H 27 Cm (10 10/16 Inch) L 36 Cm (14 2/16 Inch) | | |
| Man In Naval Uniform With Dark Hat | Biographical Material- Wing People Wars- World War I | | Frame : H 20 Cm (7 12/16 Inch) L- 48 Cm (5 3/4 Inch) Picture: H 4 Cm (5 1/2 Inch) L: 10 Cm (4 Inch) | R.H. Macy. Co, Herald Square, New York | See Also: # 228 |
| 4 Men In WWI Type Uniforms With White Dog And Draped Flag | Biographical Material- Wing People Animals Wars- World War I | | Frame H: 19.7 Cm (7 3/4) L 27 Cm (10 1/2 Inch) Picture: H: 17.2 Cm (6 3/4 Inch) L 243 Cm (9 10/16 Inch) | | Left To Right Leut S Stuart Wing- 21 Years- Capt 5 Bryce (?) Wing 28 Yrs Leut. J.D. Wing 31 Years- Ensign Morgan Wing 33 Years 1919 Information On Back As Same Picture In Old Frame W/ Young Boys See Also: # 236 |
| Man Standing Near Horse, Holding It By The Bridle To Pose It, In Front Of A Barn | Biographical Material- Wing People Animals | | 3 1/8 In. H X 3 In. W; Photo Rounded Off At Top And Probably Cropped All Around. | | Photo Probably Used For Stud Purposes |
| Man In White Suit And Hat Standinf Behind Sheep End Holding Sheep's Head Up. | Biographical Material- Wing People Animals Photographers- General | | Photo: 3 5/8 In. H X 2 3/8 In. W; On Card 4 1/2 H X 3 In W | E. Bookhout, Photo., Brooklyn, E.D. N.Y | Photo Probably Used For Stud Purposes. Photo Glued On Card. |
| Man With Top Hat On Horse | Biographical Material- Wing People Animals Sports- General | | Frame: H- 199 Cm (7 13/16 Inch) L 274 Cm (10 3/4 Cm) Picture: H 17 Cm (6 3/4 Inch) L 248 Cm (9 3/4inch) | | |
| Photo Of Young Women In Evening Dress | Biographical Material- Wing People Animals Photographers- General | | Frame: H 31.1 Cm (12 1/4 Inch) L 24.1 Cm (9 1/2 Inch) Picture- Oral- H- 22cm (8 11/16 Inch) L 16.4 Cm (6 7/16 Inch) | Ebnee La Haye At Amsterdam | |
| Man Standing Behing 4 Sheep Next To A Split-rail Fence | Biographical Material-wing. People Animals | | Photo: 2 3/4 IN. H X 3 7/8 IN W; On Card 3 1/2 In. H X 4 1/2 In W | | Photo Probably Used For Stud Purposes,On Front: "288 Madison Avenue", Photo Posten On A Card |
| Man With Cigar On Horse Near House | Biographical Material-wing. People Animals Sport- General | | Frame:H 21 Cm ( 8 1/2 Inch) L 26.1 Cm (10 1/4 Inch) Picture: H 18.5 Cm (7 3/4 Inch) L 235 Cm (9 1/4 Inch) | | On Back: "Wing" Thorndale See PH 198 B |
| 2 Girls In White Dresses And Vails | Biographical Material-wing People Children Biographical Material- D Biographical Material- L Photographers- General | | Frame H 17.7 Sm (6 15/16 Inch) L-108 Cm (4 1/2 Inch) Photo: H 9.5 Cm ( 3 3/4 Inch) L 6.5 Cm ( 2 1/2 Inch) | | Georgette Weysen- Marguerite Dumont Born On The 2oth Of Jult 1900, Daughter Of The Later Commandant Dumont Killed On The 29 Of August 1914 ( On Back) |
| Man Standing Behind Large Sheep | Biographical Material-wing People Animals Photographers- General | | 2 1/2 In. H X 4 1/4 In. W- Carte Diviste | | Photo Probably Used For Stud Purposes. On Back: "Bred By H.Howell Coates, Killed At Circencester Xmas 1870, Weight 330 Lbs; Brother To The Father Of The No.1 Ram I Sent You Last Year; Second Price At The Gloucestershire Agriculture Society. |
| Man On Horse Jumping Stonewall | Biographical Material-wing People Animals Sports- General History Of Villages-Millbrook History Of Towns-Washington | | Frame: H-21.9 Cm (8 12/16 Inch) L 27 Cm ( 10 11/16) Photo: H-11.7 Cm (4 1/2 Inch) L 15.5 Cm (6 1/2 Inch) | | On Front: "Koorblim", Millbrook 1909 |
| Man In Hat Standing Near Sheep In A Barn Yard | Biographic Material- Wing People Animals | | 3 1/8 In H X 2 7/8 In W; Photo Has Been Rounded Off At Top + Probably Cropped All Around; Small Peice Out In Lower Right Corner. | | Photo Probably Wed For Stud Purposes |
| Man On Horse Back In An Open Field With A Large Number Ahead Of Him. | Biographic Material- Wing People Animals Sport-General | | Photo: H-11.7 Cm ( 4 5/8 Inches) W-16.7 Cm (6 9/16 Inches) No Frame Or Backing | | |
| Large Number Of Men On Horse Back With Their Dogs Proceeding Up A Hill | Biographic Material- Wing People Animals Sport-General | | Photo: H- 12cm (4 7/16 Inches) W-16.5 Cm (6 1/2 Inches) | | |
| Town (spelling?) Men On Horseback, Cluster Of Hounds, Open Field. | Biographic Material- Wing People Animals Sport-General | | Photo- H- 20.2 Cm ( 8 Inches) W-25.5 Cm (10 Inches) | | "L- R Roland Robinson From R.I., Earl, Elias + Hounds, Teddy Sowden- Brother In Law To Roland Robinson."- Note Attached |
| Photograph Of Men On Horseback, Open Field, Utility Wires | Biographic Material- Wing People Animals Sport-General Utilities | | Photo- H 20.2 Cm (8 Inches) W-25.5 Cm | | "L To R- Pr. Collins, Farnham, Billly Boom (worked) For Boute? Cam), Walter Wolf Nearest Camera."- Note Attached " Circa 1946″ |
| Photograph Of People, Cars, Horse, Open Field | Biographic Material- Wing People Animals Sport-General Transportation- Automobiles History Of Towns- Millbrook Biogrpahical Material- P History Of Towns- Washington | 1915 | Photo- H 20.2 Cm (8 Inches) W-25.5 Cm | | "S. Bryce Wing, Marie Wing, Frank Paton Hunt Meet- Millbrook "1915"- On Back. Photo Damaged- Upper Left Corner |
| Photograph At Gathering Of Mon, Most Seated, Building In Background- Two Porches | Biographic Material- Wing People Houses And Buildings | | Photo- H 20.2 Cm (8 Inches) W-25.5 Cm (10 Inches) | | |
| Group Of People On Lawn, Possibly Dancers, People In Background Watching. | Biographic Material- Wing People | | Photo- H 20.2 Cm (8 Inches) W-25.5 Cm (10 Inches) | Pach Bros. 1935 Broadway, N.Y | Photo In Poor Condition. Dried Rubber Band On Front. |
| 21 Men Sitting On A Porch, Most In Short Sleeves | Biographic Material- Wing People Biographical Material- Thorne | | 8 In. H X 10 In W. | | On Back: "N.Y. Farmers Meeting At F. Ambrose Clark's Farm Cooperstown, NY. June 10th On 11th- 1947- Front Row L To R- Herman Place – Farm Supt. John C. White? Oliver D. Tillery, W.D. Reddington, Stephen C.Clark Jr. Fred Bonet (?) – 2nd Row- Robert W. Strawbridge Jr. M.W. Skiddy VonStade, Sheldon Whitehouse? Sam Thorne- Fred Winthrop Jr. Judy (?) Zoqbaum- 3rd Row- Wm H. Osborn- Sydiy Hayt- Frank Rippleton- Bruce Clark William Webb |
| Portrait Of Man With Moustache, Hands In His Packets. | Biographic Material- Wing People | | Photo- H- 20 Cm (8 Inches) W-13.4 Cm (5 1/4 Inches) Cardboard Backing Approximately The Same. | | Photo Quite Dirty |
| Three Women Standing In A Forest Clearing | Biographic Material- Wing People Biographical Material- Q | | Photo: H-9.9 Cm (3 15/16 Inches) W- 12 Cm (4 3/4 Inches) Cardboard Fram: H-20.2 Cm (8 Inches) W-15.5 Cm (10 1/16 Inches) | | On Back: "Mrs. J.M. Wing, " Quimby" J.O. Wing" |
| Man Seated In A Dray Hitched To A Dark- Colored Horse. Located In Front Of An Unident, Fied Building | Biographic Material- Wing People Animals Transportation- General Houses And Buildings- General | | Photo: H-15.5 Cm (6 1/8 Inches) W-20.8 ( 8 3/16 Inches) | | Frame Cut Away- Some Building As PH 151-1 Later On |
| Man And Woman In An Office. Man Seated At A Desk, Apparently Reading Something, Woman Perhaps Taking Dictation. | Biographic Material- Wing Building, Residential, Interior People, Unidentified Place Names- Millbrook Place Names- Washington (town) Photographers- Royal | | Photo: H-14.9 Cm (6 Inches) W-21 ( 8 1/4 Inches) | Royal Photo View Co. 260 Bowery, N.Y | Frame Cut Away. On Back Written In Blue Ink "Sandanona" (sp?) |
| Woman Seated In A Chair. Evidently A Formal Pose. | Biographic Material- Wing People | 1906 | Photo: H-15 Cm ( 5 15/16 Inches) W- 10.2 Cm ( 4 Inches) Cardboard Frm: H- 20.4 Cm Cm (8 1/16 Inches) W-15cm (5 15/16 Inches) | Edmandson (?) | On Lower Right Hand Corner: "Edmanson 1906" |
| Portrait Of A Man With Moustache | Biographic Material- Wing People | | Photo: H-16 Cm ( 6 1/4 Inches) W- 12 Cm ( 4 11/16 Inches) Cardboard Frame: H- 17.7 Cm (16 15/16 Inches) W-12.7 Cm (5 Inches) | | Something Scribbled On Back In Pencil, Mark On Front Across Face |
| Boy And Man, Apparently Picking Fruit. Man On Ladder, Boy On The Ground. | Biographic Material- Wing People Transportation- General | | Photo: H- 9.2 Cm ( 3 7/16 Inches) W- 11.8 Cm ( 4 5/8 Inches) Cardboard Frame: H- 14.2 Cm (5 9/16 Inches) W-16.5 Cm (6 1/2 Inches) | | |
| Man And Woman In Open Carriage. Negro. Cochman In Top Hat. | Biographic Material- Wing People Blacks Transportation- General | | Photo: H- 10 Cm ( 3 15/16 Inches) W- 12 Cm ( 4 3/4 Inches) Cardboard Frame: H- 20.5 Cm (10 Inches) W-16.5 Cm (6 1/2 Inches) | | On Back In Upper Right-hand Corners "Mrs. J.D. Wing, Mr. J.M. Wing Taken In Augusta Ga" |
| Two Women In An Open Carriage. Blach Coachman In Top Hat. Women Carrying A Parasol Between Them. | Biographic Material- Wing People Blacks Transportation- General | | Photo: H- 9.8 Cm ( 3 3/4 Inches) W- 12 Cm ( 4 4/16 Inches) Cardboard Frame: H- 20.9 Cm (8 Inches) W-26.6 Cm (10 1/16 Inches) | | On Back In Upper Left-hand Corner: "Mrs. J.O Wing "J.M. Wing" |
| Youngboy | Biographic Material- Wing Children People Photographers – General | | Photo: H- 5 1/2 Inch ( 139 Inches) L 4 Inch ( 10 Cm) | Hargrave + Gubel Man- 38-40 West 23 Rd St. N.Y | |
| Woman W/ Hair Pulled Back On Braid | Biographic Material- Wing Children People Photographers – General | | Photo: H- 5 1/2 Inch ( 14 Inches) L 4 1/4 Inch ( 10.4 Cm) Mat- H 6 1/2 Inch (16.5 Cm) L 4 1/4 Inch (10.4 Cm) | Sarony (sp?), Gald Medal Paris 1878-37 Union Sq. N.Y | Written On Back: Josephine Gilbert Wing, Daughter Og George Jones, Founder Of My Times See PH 2540 + 232 |
| Garden + Terracer W/lady – Sandanona | Biographic Material- Wing People Houses And Buildings- Millbrook History Of Villages- Millbrook History Of Town- Washington | | Photo: H- 3 3/16 Inch ( 85 Cm) L 5 1/4 Inch ( 13.8 Cm) | | Sandanana Rose Garden- West Side |
| Man On Horse Jumping Jumps | Biographic Material- Wing Animals Sports- General People | | Photo: H- 3 6/16 Inch ( 8.5 Cm) L 5 1/4 Inch ( 13.8 Cm) | | |
| Man In White Unifrom | Biographic Material- Wing People | | Photo: H- 4 1/4 Inch ( 10.5 Cm) L 2 1/2 Inch ( 6.5 Cm) | | |
| Child On Railing With Man | Biographic Material- Wing People Children Photographers- General | | Photo: H- 4 Inch ( 10.2 Cm) L 2 7/16 Inch ( 6.2 Cm) | R.A. Lewis K2 Chatham St. N.Y. | |
| Head Of Child | Biographic Material- Wing People Children Photographers- General | | Photo: H- 4 Inch ( 10.2 Cm) L 2 7/16 Inch ( 6.2 Cm) | Rockwood + Co, 839 Broadway N.Y | |
| Child On Chair W/ Vase Of Flowers | Biographic Material- Wing People Children Photographers- General | | Photo: H- 4 Inch ( 10.2 Cm) L 2 7/16 Inch ( 6.2 Cm) | C.H. Williamson's (Vignette Specialty) 245 Fulton St. Brooklyn, Est 1851 | |
| Bay With Lamb | Biographic Material- Wing People Children Photographers- General Animals | | Photo: H- 2 1/4inch ( 6 Cm) L 3 3/4 Inch ( 9.4 Cm) Mat: H 3 Inch (7.5 Cm) L 4 1/4 Inch (11.3 Cm) | E. Bookhout, Photo, Brooklyn, ED N.Y. | Written On Back: John Morgan Wing + His Pet Lamb "Gibby" (sp?), At "Maple Shade"- 7 Or 8 Years Old |
| Two Children In Costumes | Biographic Material- Wing Children People, Unidentified | | Photo: H- 5 3/4inch ( 14.7 Cm) L 4 Inch ( 10 Cm) Mat: H 6 1/8 Inch (15.6 Cm) L 4 Inch (10 Cm) | | Many Numbers Written On Back |
| Two Children | Biographic Material- Wing Children People, Unidentified Photographers- General | | Cabinet Photo: H- 5 3/4inch ( 14.8 Cm) L 4 Inch ( 10.4 Cm) Mat: H 6 1/2 Inch (14.9 Cm) L 4 1/4 Inch (11 Cm) | Hargrave + Gubelman, 38 +40 W 23 Rd St, New York | |
| Man With Mustache In Uniform | Biographic Material- Wing Children People, Unidentified Photographers- General | | Cabinet Photo: H: 6 Inch (15.2cm) L: 4 1/4 (10.7 Cm) | Dana- Portraits Cor 14th St + 6th Ave. N.Y | |
| Man W/ Mustache In Uniform | Biographic Material- Wing People | | Photo: H: 5 3/4 Inch (14.5 Cm) L: 4 Inch (10.1 Cm) Mat: H: 6 3/4 Inch (17.2cm) L: 4 1/2 Inch (11.5 Cm) | | |
| 8 People Grouped Together | Biographic Material- Wing People Biographical Material: Delano Biographic Material: Forqlth (spelling?) | | Cabinet Photo: H : 4 Inch (10.3 Cm) L: 6 Inch (15.2 Cm) Mat- H: 4 1/4 Inch (10.5 Cm) L: 6 1/2 (16.5 Cm) | G.w Pach (?) 841 Boradway, N.Y Branchesat, Poughkeepsie Etc. | Written On Bads: Miss Sallie Delano, Miss Ba (?) Roosevelt, Miss Kassie Delano, Miss K.T (?) Van Duzer, Mr. Julian Weir Mr. George Forsyth, Mr. Harry Barrisdell, Mr. H. P Van Duzer "an Excursion" |
| Man W/carriage + Horse In Front Of House | Biographical Material- Wing Animals People Transportation- General Building- General | | Photo: H 3 3/4 Inch (9.5 Cm) L 4 10/16 Inch (12 Cm) Mat: H 4 1/4 Inch (10.8 Cm) L 5 1/4 Inch (13.2 Cm) | | |
| Man In Carriage With Horse | Biographical Material- Wing Animals People Transportation- General | | Photo: H 3 3/4 Inch (9.5 Cm) L 4 10/16 Inch (12 Cm) Mat: H 4 1/4 Inch (10.8 Cm) L 5 1/4 Inch (13.2 Cm) | | |
| Man Showing Bull W/ Buildings | Biographical Material- Wing Animals People Building- General | | Photo: H 4 1/2 Inch (11.5 Cm) L 3 3/4 Inch (9.5 Cm) Mat: H 5 1/2 Inch (15.3 Cm) L 4 1/4 Inch (10.5 Cm) | | |
| Child With Mitt, Mask + Baseball | Biographical Material- Wing History Of Towns- Millbrook Children People Sports- Baseball | | Photo: H 4 3/4 Inch (2.1 Cm) L 4 Inch (10 Cm) Mat: H 5 1/4 Inch (3.2 Cm) L 4 1/4 Inch (10.8) | | Duplicate Of Ph 135 A |
| Child With Mitt, Mask + Baseball | Biographical Material- Wing History Of Towns- Millbrook Children People Sports- Baseball | | Photo: H 4 3/4 Inch (2.1 Cm) L 4 Inch (10 Cm) Mat: H 5 1/4 Inch (3.2 Cm) L 4 1/4 Inch (10.8) | | Printed On Back "morgan" |
| Two Children On Steps With Dog | Biographical Material- Wing History Of Towns- Millbrook Animals Children People Sports- Baseball | | Photo: H 4 3/4 Inch (11.9 Cm) L 3 3/4 Inch (9.5 Cm) Mat: H 5 1/2 Inch (13.9 Cm) L 4 1/4 Inch (10.5) | | Written In Pecil On Back: "Morgan And Jack On The Steps Of Thornedale." |
| Child In Long Coat (dress) ?, With Large Hat | Biographical Material- Wing Children People | | Photo: H 3 3/4 Inch (9.3 Cm) L 4 1/2 Inch (11.5 Cm) Mat: H 4 1/4 Inch (10.6 Cm) L 5 1/4 Inch (13.3) | | |
| Man Holding Finishing Pole And Fish. Gentleman Wearing White Pants + Shoes, Jacket + Hat | Biographical Material- Wing People Sports- General | | Photograph: H 3 1/2 Inch (8.9 Cm) L 3 1/2 Inch (8.9 Cm) Mat: H 3 1/2 Inch (8.9 Cm) L 4 3/4 Inch (12 Cm) | | |
| 3 Girls In Open Carriage Pulled By One White Horse; Building On Right | People Children Animals Houses And Buildings- General History Of Towns- Pawling | | Photo Mounted On Paper Which Has Been Torn Around Edges; Photo: H-14.2 Cm (5 5/8 In); 1- 19.3cm (5 5/8 In) | | On Back: "from Fairfield Estate, Quaker Hill, Pawling, N.Y" |
| People On Driveway In Front Of Large House | People Photographers- General History Of Towns- Rhinebeck | 5/20/87 | 4 X 7 Sterograph | | The Lawn In Front Of Kelly's House At Rhinebeck Oic Vie 1868 |
| Cooperage With At Leat 2 Wagons, Barrel Riggin (?), 4 Men And 2 Children; One Man In Work Apron, Others In Suits; Another Small Building On Left In Background. | People Houses And Buildings History Of Towns- Pine Plains Transportation | 1883 | Photo 16.5 Cm (6 1/2 In) X 21.0 Cm (8 1/4 In), In Wood Frame- Brown With Black Trim. | | On Back: "R.C. Bards Cooperage, Pine Plains, NY 1883; Peter Weaver With Arm On Barrel Riggin Tillie Bard On Barrel @ Years, Russel L. Bard- With Hand On Barrel, Lacy (?) Bard- A.e. 7 Years" |
| Large Building In Back With People On Steps | People Photographers- General Houses And Buildings- General History Of Villages- Rhinebeck | 5/20/87 | 4 X 7 Sterograph | | Label On Back: Choice Views Of The Hudson River, Kelley Greenhouse, Rhinebeck, Pie Vie Partz, 1868 (?) |
| 3 Ladies Sitting On Pier By River W/ Boat | Rivers- General Transportation- General People | 5/20/87 | 4 X 7 Sterograph | | See Back For A List Of Views Of The Hudson River |
| Snow Storm Of '88 Building With People | History Of City- Beacon Disasters- Blizzard Of 1888 House And Buildings- General People | 5/20/87 | 4 X 7 Sterograph | | Written On Back: The Great Snow Blockade At Matteawan N.Y- March 12th, 13th, 14th 1888 "Main Street" |
| Full Length Portrait Of Women In Medium- Colored Dress. Hair In Snood, Right Hand On The Back Of A Chair, Patterned Carpet. | People Photographers- General | | H- 4 In (10.2 Cm) Carte-de-visite L- 2 3/8 In (6.0 Cm) | | |
| Full Length Of Men With Sword, Civilian Clothes; Patterened Carpet | People Photographers- General | | H- 4 In (10.2 Cm) Carte-de-visite L- 2 1/2 In (6.2 Cm) | J.S. Woodbridge, Montgomery St., Rhinebeck, N.Y | |
| Baby Seated In White Dress And Shoes | People Children Photographers- General | | H- 4 3/16 In (10.6cm) – Carte-de-visite L- 2 9/16 In (6.4 Cm) | J. Coumbe, Rhinebeck, NY | |
| 2 Men In Uniform With Kept Hats- Full Length Portrait | People Wars- Civil War | | H- 3 3/4 In. (9.5cm) Corners Rounded Off L-2 3/8 In. (6.0 Cm) | | On Back: "J. Judene (?) + E.Ketcham (?)" |
| Girl With Bangs And Hair In A Braid Down Back | People Photographers- Vail Bros. | | H- 4 1/8 In (10.4cm)- Carte-de-visite L-2 1/2 In. (6.4 Cm) | Vail Bros, 254 +256 Main St. Pok NY | |
| 3/4 View Of Men With Beard And Mustache | People Photographers- General | | H- 4 In (10.2 Cm)- Carte-de-visite L-2 7/16 In. (6.2 Cm) | S.J. Thompson, Ss State St. Albany, NY | |
| Several Men Appear To Be Laying Brick Paving, House In Background. | People Houses And Buildings- General Transportation- Highways And Roads | | H- 4 1/4 In (10.8 Cm) L-5 1/4 In. (13.3 Cm) | | |
| Portrait Of Man With Mustache And Side Whisker's | People Photographers- General | | H- 3 3/16 In (10.6 Cm)- Carte-de-visite L- 2 1/2 In. (6.4 Cm) | Hagadorn's Art Gallery, No. 2 Liberty St, Pok, NY | |
| Man In Clerical (monks) Garb With Cross Around Neck | People Religion- General History Of Towns- Hyde Park | | H – 6 1/8 In. (5.5 Cm) Painted Over With Some Yellow Substance L- 4 3/8 Inch. (11.0 Cm) | | On Back: "Rev. Father Huntington, Founder Episcopal Order Of Came In Packaged With Attached Note |
| Portrait Of Man Seated With Cigarette In Right Hand, An Left Elbow On Back Of Choir, Head To Face. | People Biographical Material- Davies Family | | H- 6 1/2 Inch. (16.5 Cm)- Cabinet Photo L-4 1/2 In. (11.4 Cm) | | On Back: "F. Siddons Moubray (?) On Faculty Of AA Student's League , NYC Ay, While My Father, Augustus Dvias, Was A Student"; In Package With Attached Note. |
| Portrait Of Man In Formal Attire | People Biographical Material- Davies Family Photographers- General | | H- 6 1/2 Inch. (16.5 Cm)- Cabinet Photo L-4 1/4 In. (10.8 Cm) | Hargrave Portraits, 68 West 23rd St, NY, NY | On Back- "To My Friend A. Davies, Ernest Girard"; Was In With Papers And The Attached Note. (Augustus Davies) |
| Ladies Playing Lawn Tennis; Shows 3 Small Pavillions And Possibly Planetarium In Background, Possibly Vassar (?) | People Sports- Tennis- Genera; Education- Colleges- Vassar (?) Education- Colleges- Athletics (?) Photographers- Vail Bros. | | H- 6 1/2 Inch. (16.5 Cm)- Cabinet Photo L-4 1/4 In. (10.8 Cm) | Vail Bros., 254+256 Main St. Pok, NY | Came In Photo Album # 89 With Some Vassar Photos |
| Dirt Path With Grass + Trees; Bench On Right With Man Seated. Vassar Coll. (?) | People Education- Colleges- Vassar (?) Photographs- Vail Bros. | | H- 6 1/2 Inch. (16.5 Cm)- Cabinet Photo L-4 1/4 In. (10.8 Cm) | Vail Bros., 254+256 Main St. Pok, NY | Came In Photo Album # 89 With Some Vassar Photos |
| Lady With Pleated Suit + High Neck; Hair On Top On Head. | People Photographers- Vail Bros. | | H- 6 1/2 Inch.- Cabinet Photo L- 4 1/4 In. | Vail Bros., 254+256 Main St. Pok, NY | Came In Photo Album # 89 With Some Vassar Photos |
| Man With Beard + Mustache, Suit, Bow Tie, Vest + Shirt | People Photographers- Vail Bros. | | H- 6 1/2 Inch.- Cabinet Photo L- 4 1/4 In. | Vail Bros., 254+256 Main St. Pok, NY | "Died Aug 1906" Came In Photo Album # 89 With Some Vassar Photos |
| Lady With Curly Bangs, Pins At Neck Of Highneckline | People Photographers- Vail Bros. | | H- 6 1/2 Inches- Cabinet Photo I- 4 1/4 Inches | Vail Brothers, 254-256 Main Street Poughkeepsie NY | Came In Photo Album # 89 With Some Vassar Photos |
| Bald Older Man With Mustache, Suit, Vest, Shirt, + Tie | People Photographers- Vail Bros. | | H- 6 1/2 Inches- Cabinet Photo I- 4 1/4 Inches | Vail Brothers, 254-256 Main Street Poughkeepsie NY | Came In Photo Album # 89 With Some Vassar Photos |
| Man With Mustache And Gotee (?) Fancy Suit With Vest, Shirt + Bow Tie | People Photographers- Vail Bros. | | H- 6 1/2 Inches- Cabinet Photo I- 4 1/4 Inches | Vail Brothers, 254-256 Main Street Poughkeepsie NY | Came In Photo Album # 89 With Some Vassar Photos |
| Younger Lady With Earrings + Blank Band Around Neck Ruffled At Front | People Photographers- Vail Bros. | | H- 6 1/2 Inches- Cabinet Photo I- 4 1/4 Inches | Vail Brothers, 254-256 Main Street Poughkeepsie NY | Came In Photo Album # 89 With Some Vassar Photos |
| Lady With Ruffled Collar + Pretty Pin At Neck. Frizzy Bangs + Bun On Back Of Hair | People Photographers- Vail Bros. | | H- 6 1/2 Inches- Cabinet Photo I- 4 1/4 Inches | Vail Brothers, 254-256 Main Street Poughkeepsie NY | Came In Photo Album # 89 With Some Vassar Photos |
| Plain Lady, With Pin On Jacket | People Photographers- Vail Bros. | | H- 6 1/2 Inches- Cabinet Photo I- 4 1/4 Inches | Vail Brothers, 254-256 Main Street Poughkeepsie NY | Came In Photo Album # 89 With Some Vassar Photos |
| Man With Strange Mustache + Beard. Suit, Vest, High Collar And Bowtie | People Photographers- Vail Bros. | | H- 6 1/2 Inches- Cabinet Photo I- 4 1/4 Inches | Vail Brothers, 254-256 Main Street Poughkeepsie NY | Came In Photo Album # 89 With Some Vassar Photos |
| Lady Sitting In Ornate Chair, Writing At Ornate Table, Fancy Dress With Beads On Back Of Dress, Hair Parted In Middle And Pulled Back | People Photographers- Vail Bros. | | H- 6 1/2 Inches- Cabinet Photo I- 4 1/4 Inches | Vail Brothers, 254-256 Main Street Poughkeepsie NY | Came In Photo Album # 89 With Some Vassar Photos |
| Man With Long Narrow Beard, Semi Bald, Suit + Shirt | People Photographers- Vail Bros. | | H- 6 1/2 Inches- Cabinet Photo I- 4 1/4 Inches | Vail Brothers, 254-256 Main Street Poughkeepsie NY | Came In Photo Album # 89 With Some Vassar Photos |
| Lady With Bangs And Topknot, High Neck, Buttons Down Front Of Jacket | People Photographers- Vail Bros. | | H- 6 1/2 Inches- Cabinet Photo I- 4 1/4 Inches | Vail Brothers, 254-256 Main Street Poughkeepsie NY | Came In Photo Album # 89 With Some Vassar Photos |
| Lady With Hair Pulled Back, Dark Band Around Neck With Small Pin | People Photographers- Vail Brothers | | H- 6 1/2 Inches- Cabinet Photo I- 4 1/4 Inches | Vail Brothers, 254-256 Main Street Poughkeepsie NY | Came In Photo Album # 89 With Some Vassar Photos |
| Lady With Bangs + Light Colored Dress With High Neck. | People Photographers- Vail Brothers | | H- 6 1/2 Inches- Cabinet Photo I- 4 1/4 Inches | Vail Brothers, 254-256 Main Street Poughkeepsie NY | Came In Photo Album # 89 With Some Vassar Photos |
| Lady With Topknot Dark Band Around Neck | People Photographers- Vail Brothers | | H- 6 1/2 Inches- Cabinet Photo I- 4 1/4 Inches | Vail Brothers, 254-256 Main Street Poughkeepsie NY | Came In Photo Album # 89 With Some Vassar Photos |
| Lady With Hair On Top Of Head, Ruffled Collar With Pretty Half Moon Pin, Bow Decoration (?) On Front Right Side Of Dress | People Photographers- Vail Brothers | | H- 6 1/2 Inches- Cabinet Photo I- 4 1/4 Inches | Vail Brothers, 254-256 Main Street Poughkeepsie NY | Came In Photo Album # 89 With Some Vassar Photos |
| Lady With Curls, Hair On Top, Beaded Dress With High Neck. | People Photographers- Vail Brothers | | H- 6 1/2 Inches- Cabinet Photo I- 4 1/4 Inches | Vail Brothers, 254-256 Main Street Poughkeepsie NY | Came In Photo Album # 89 With Some Vassar Photos |
| Light Haired Lady, Ruffled Collar At Neck + Pin | People Photographers- Vail Brothers | | H- 6 1/2 Inches- Cabinet Photo I- 4 1/4 Inches | Vail Brothers, 254-256 Main Street Poughkeepsie NY | Came In Photo Album # 89 With Some Vassar Photos |
| Heavy Lady With Upswept Hair, Pretty Beading On Front Of Dress | People Photographers- Vail Brothers | | H- 6 1/2 Inches- Cabinet Photo I- 4 1/4 Inches | Vail Brothers, 254-256 Main Street Poughkeepsie NY | Came In Photo Album # 89 With Some Vassar Photos |
| Lady With Hair Parted In Middle + Pulled Up. Pinch-nez Glasses, Pretty Pin At Collar. | People Photographers- Vail Brothers | | H- 6 1/2 Inches- Cabinet Photo I- 4 1/4 Inches | Vail Brothers, 254-256 Main Street Poughkeepsie NY | Came In Photo Album # 89 With Some Vassar Photos |
| Lady With Ruffles At Neck + Pretty Pin. Buttons On Front Of Jacket. Hair Parted In Middle + Pulled Back | People Photographers- Vail Brothers | | H- 6 1/2 Inches- Cabinet Photo I- 4 1/4 Inches | Vail Brothers, 254-256 Main Street Poughkeepsie NY | Came In Photo Album # 89 With Some Vassar Photos |
| Lady With Pretty Pin At Neck Of Dress. Hair Parted In Middle | People Photographers- Vail Brothers | | H- 6 1/2 Inches- Cabinet Photo I- 4 1/4 Inches | Vail Brothers, 254-256 Main Street Poughkeepsie NY | Came In Photo Album # 89 With Some Vassar Photos |
| Women With Scarf At Neck Of Jacket. Hair Parted In Middle, Pulled Back. | People Photographers- Vail Brothers | | H- 6 1/2 Inches- Cabinet Photo I- 4 1/4 Inches | Vail Brothers, 254-256 Main Street Poughkeepsie NY | Came In Photo Album # 89 With Some Vassar Photos |
| Women With Glasses, Possibly A Robe With Bow And Neck. Bun At Nape Of Neck; Possible Vassar College | People Photographers- Vail Brothers | | H- 6 1/2 Inches- Cabinet Photo I- 4 1/4 Inches | Vail Brothers, 254-256 Main Street Poughkeepsie NY | Came In Photo Album # 89 With Some Vassar Photos |
| Man In Tophat With Cane And Suit, Coat + Gloves. In Front Of Large Building And Small Wall With Vines; Possible Vassar College | People Education-Collegues- Vassar Photographers- Vail Brothers | | H- 6 1/2 Inches- Cabinet Photo I- 4 1/4 Inches | Vail Brothers, 254-256 Main Street Poughkeepsie NY | Came In Photo Album # 89 With Some Vassar Photos |
| Gentleman Wirh Leart Arm On Fire Place- Cane In Right Hand | People Photographers- Vail Brothers | | H- 6 1/2 Inches- Cabinet Photo I- 4 1/4 Inches | Vail Brothers, 254-256 Main Street Poughkeepsie NY | Came In Photo Album # 89 With Some Vassar Photos |
| Gentleman In Academic Robes With Mortor Board On Knee Pinch-nez On Cord Around Neck; Possible Vassar College | People Education-Collegues- Vassar Photographers- Vail Brothers | | H- 6 1/2 Inches- Cabinet Photo I- 4 1/4 Inches | Vail Brothers, 254-256 Main Street Poughkeepsie NY | Came In Photo Album # 89 With Some Vassar Photos |
| Old Man Bald No Mustache , Double Breasted Jacket With Shirt And Bow Tie | People Photographers- Vail Brothers | | H- 6 1/2 Inches- Cabinet Photo I- 4 1/4 Inches | Vail Brothers, 254-256 Main Street Poughkeepsie NY | Came In Photo Album # 89 With Some Vassar Photos |
| Lady With Curls On Tope Wearing A Jacket With Clasps | People Photographers- Vail Brothers | | H- 6 1/2 Inches- Cabinet Photo I- 4 1/4 Inches | Vail Brothers, 254-256 Main Street Poughkeepsie NY | Came In Photo Album # 89 With Some Vassar Photos |
| Gentleman With Handlebar Mustache Bouble Breasted Jacket With Shirt And Tie | People Photographers- Vail Brothers | | H- 6 1/2 Inches- Cabinet Photo I- 4 1/4 Inches | Vail Brothers, 254-256 Main Street Poughkeepsie NY | Came In Photo Album # 89 With Some Vassar Photos |
| Old Lady With White Curls, Lace Cap, Ruffled Blouse With Pin And Jacket | People Photographers- Vail Brothers | | H- 6 1/2 Inches- Cabinet Photo I- 4 1/4 Inches | Vail Brothers, 254-256 Main Street Poughkeepsie NY | Come In Photo Album # 89 With Some Vassar Photos |
| Two Ladies (one Seated-one Next To Step Ladder In Planetarium; Possible Vassar College | People Photographers- Vail Brothers | | H- 6 1/2 Inches- Cabinet Photo I- 4 1/4 Inches | Vail Brothers, 254-256 Main Street Poughkeepsie NY | Came In Photo Album # 89 With Some Vassar Photos |
| A Woman In Swimming Pool | Building, Educational Education- Colleges Vassar Biographical Material A-G Place Names- Poughkeepsie Town Of People- Unidentified | | B+w 8 X 10″ | | Verso, " Pool In Vassar College Gym Built By Edgar V. Anderson |
| Construction Site | Building, Educational Education- Colleges Vassar Poughkeepsie- General Biographical Material A-G Place Names- Poughkeepsie Town Of People- Unidentified | | B+w 8 X 10″ | Steenson + Van Vlack Poughkeepsie N.Y | Verso, " Vassar College Nursery School Edgar V. Anderson Builder Oct 1, 1926. View From S.E. |
| Construction Site | Building, Educational Education- Colleges Vassar Photographer- General Biographical Material A-G Place Names- Poughkeepsie Town Of People- Unidentified | 1-Oct-26 | B+w 8 X 10″ | Steenson + Van Vlack Poughkeepsie N.Y | Verso, " Vassar College Nursery School Edgar V. Anderson Builder Oct 1, 1926. View From S.E. |
| View Of Road And Side View Of House, Men Laying Pipe | Photographer- General Place Names- Poughkeepsie Town Of Building Residential People- Unidentified | 1929 | B+w PHOTOGRAPH 8 X 10″ | V. Shepard, Central Hudson Gas And Electric Co | Verso: " Photo By V. Shepard, Central Hudson Gas And Electric Co 1929 Lindbergh PL Looking West From North Grand Ave House Now No.4 (c. 1980's) See DC. 2001. 4.2 (some House) See DC. 2001.4.6 (Same 1933 View) |
| Street Scene In Poughkeepsie Fireman Lined Up To Parade | Fire Companies People, Unidentified Building- Hotels Buildings- Civic Place Name- Poughkeepsie Transportation- Horse Drawn Animals | N.d | B+w Oversize Photograph H 13 X W 16 1/4″ In Poor Condition | Unknown | On Reverse: Dec 11, 1988. This Photo Was Given To A.G. Bachelet (sp?) By Ethel Cramer ( Bill Cramers; Wife, Who Was A Fireman In Poughkeepsie For Many Years And She Ethel (sp?) Was A Waitress There. This Picture Was Probably Twan (sp?) Of The Poughkeepsie Fire Dept. Snd Shall Find Its Way To The Historical Society There- AEB |
| Full Length Portrait Of A Young Child Seated On A Bench | People, Unidentified Photographer-General | N.d | Sepia Photograph Mounted On Cardboard Image Size 4 X 6 Mat Size: 4 1/4 X 6 1/2 | M. Smith 257 Main St. Poughkeepsie, NY | |
| Full Length Portrait Of A Young Girl On A Swing | People, Unidentified Photographer-General | N.d | Sepia Photograph Mounted On Cardboard Image Size 4 1/8 X 5 1/4 Mat Size: 4 1/4 X 6 1/4 | M. Smith 257 Main St. Poughkeepsie, NY | |
| Bust Portrait Of A Young Child | People, Unidentified Photographer-Gallup | N.d | Sepia Photograph Mounted On Cardboard Image Size 3 7/8 X 4 7/8 Mat Size: 4 1/4 X 6 1/2 | C.H. Gallup 292, 299, 296 Main St. Poughkeepsie, NY | |
| Full Length Portrait Of A Young Boy In A Skirt | People, Unidentified Photographer-General | N.d | Sepia Photograph Mounted On Cardboard Image Size 3 7/8 X 4 7/8 Mat Size: 4 1/4 X 6 1/2 | | |
| Bust Portrait Of A Young Child | People, Unidentified | N.d | B+w Photo Mounted On Cardboard Image Size: 3 7/8 X 5 1/2 " Mat Size: 4 1/4 X 61/2″ | C.H. Gallup 292, 299, 296 Main St. Poughkeepsie, NY | |
| Building Of Bridge | People, Unidentified Bridges Buildings Residential | | B+w 2 @ 3 1/4 X 5 1/2″ 1 @ 3 33/4 X 5 3/4″ | | Came In With Group Of Photographs Of Garner Print Works + Bleachwey (SP?), Wappingers Fally, NY |
| Bridge Construction | Bridges People, Unidentified | 1917 | 3 B+w 3 1/4 X 5 1/2″ 1 B+w 3 3/4 X 5 3/4″ | | |
| Bridge Construction | Bridges People, Unidentified | 1917 | Each B+w 3 1/4 X 5 1/2″ | | |
| Bridge Construction | Bridges People, Unidentified | 1917 | B+w 3 1/4 X 5 1/2″ Each | | |
| Garner Print Works + Bleachary Wappingers Falls, NY Dutchess Branch | Buildings, Commercial Place Names- Wappinger Falls People, Unidentified | 1917 | B+w 5 X 7″ | | |
| Garner Print Works + Bleachary Wappingers Falls, NY Dutchess Branch Industrial Road | Buildings, Commercial Place Names- Wappinger Falls People, Unidentified | 17-May | B+w 5 X 7″ | | Originally Property Of Fallkill Construction Co, Inc. Poughkeepsie, NY |
| Garner Print Works + Bleachary Wappingers Falls, NY Dutchess Branch | Buildings, Commercial Place Names- Wappinger Falls People, Unidentified Animals | 1917 | B+w 5 X 7″ | | |
| Parade Down Maint St. Poughkeepsie NY | Parade People, Unidentified Bands Poughkeepsie City- Main St. Building- Commercial | Unknown | 21 X 27″ B+w Framed Dims | | |
| Parade Of Soldiers In Front Of Steamers For New York, Poughkeepsie NY | Wars- WWO ? People Transportation- Steamship Buildings- Commercial Military Group Place Names Poughkeepsie, City | Unknown WWI Era (?) | B+w Postcard 3 3/8 X 5 3/8″ | | |
| Photo Of Students Outside Putnam Hall | School- Putnam Hall People, Identified People, Unidentified | 1908/1909 | B+w Photograph | | 4 Students Are Identified |
| H.V. Music Theatre | Theatre- H.V. Music Theatre People, Unidentified | 1960 | B+w Cast Photograph | Unknown | |
| H.V. Music Theatre | Theatre- H.V. Music Theatre People, Unidentified | 1960 | B+w Photograph Of Cast | Unknown | |
| H.V. Music Theatre | Theatre- H.V. Music Theatre People, Unidentified | 1960 | B+w Photograph Of Cast In Pajamas | Unknown | |
| H.V. Music Theatre | Theatre- H.V. Music Theatre People, Unidentified | 1960 April 30 | B + W Group Photo Actors In Classroom Doubling As Dressing Room. | Unknown | |
| Horse Drawn Fire Truck | Vehicles Fire Companies- Lady Washington Co No 3, Pokeepsie People, Unidentified Horses | June | Photo 6 3/4 X 4 1/4 | | Front Of Photo – " Duty Apparatus Of Lady Washington Hose Co., No 3, Pokeepsie, N.Y" On Back: "June 1912" |
| Front View Of Bunk With Two People On The Street Near The Sidewalk And A Horse Drawn Wagon | Building- Commercial People- Unidentified Animals | Dec. 1919- Written On Card | B + W | | Good Condition. Title Says : Bank Of Millbrook- Millbrook N.Y |
| Picture Shows The Kennel Building With Pugs In The Yard Along With 3 Men On Horse And One On Foot, Millbrook, New York | Building Organization Animals | Dec. 1919- Written On Card | Black + White Post Card | Published By Vincent + Hines | Good Condition. Title Says : Millbrook Hunt Club Kennel |
| Snow Shovelers + Pedestrians On Snow Banked Street | Disasters People, Unidentified Place Names- Poughkeepsie (city)- Main Street | | | | On Back "March 14, 1888"; Label On Front "Main Street Corner Of Little Smith Street Looking East" |
| Trolley Track Construction; Commercial Bldgs. | Buildings, Commercial People, Unidentified Trolleys Place Names- Poughkeepsie (city)- Main Street | 1893 | | | On Back – Construction Of Trolly Tracks On Main St. 1893 |
| Street Scene After Blizzard | Place Names- Poughkeepsie (city)- Main Street Disasters- Blizzard Of 1888 People, Unidentified | | Snow Banks In Street, People On Sidewalk Utilities | | On Bank "Main St. Looking West Between Academy – Catherine Streets And Garaen- Liberty Sts. |
| Portrait Of A Seated Girl, Hands In Lap, White Dress W/ Cummerband (SP?). Huge Bow At Back Of Head Show; On Each Side. She Wears A Bead Neck Odee(SP?) | Biographical- Van Wyck People- Unidentified | | 4 X 6 Print In A Brown Paper/ Order 7″ X 11″ When Folded Sleeve (SP?) | Poughkeepsie | Picture Good Condition, Folder Is In Poor Condition |
| Almost Side View Portrait Of A Young Woman With Hair Done In A Twisted Liun (SP?) Of Back | Biographical- Van Wyck People- Unidentified Photographers- C.H. Gallup | | 1 1/2 X 3 Print M 1 3/4 X 3 1/4 Cardboard | C.H. Gallup + Co. 292-294-296 Main St. Poughkeepsie NY Branches: Fishkill And Matteawah, N.Y., Danbury. Conn., Holyoke, Mass. | Smudged |
| Oval Portrait Of A Man W/ Glasses + Side Whiskers, Food Dozen, Collar, Bow Tie, Curly Hair. | Biographical- Van Wyck People- Unidentified Photographers- Clark, New Brunswicck, N.J. | | 2 1/4 X 3 1/2 Rectangle W 2 1/8 X 3″ Oval Picture, Print Mounted On 2 1/2 X 4 1/4 Cardboard | Clark, Photographer, 4 King Block, New Brunswick N.J. | Spotted. Eyes Inked In; On Back: "New Brunswick Teacher, At The College" |
| Portrait Of An Older Man With Large Gray Goatee (beard), Standing Collar, Long Dark Tie | Biographical- Van Wyck People, Unidentified Photographers- C.H. Gallup | | 3 7/8 X 5 1/2 Print On 4 1/4 X 6 1/2 Cardboard | C.H. Gallup + Co. (Carbonette) 292-294-296 Main St. Poughkeepsie NY | Good Cond. 30B Is In A Transparent Envelope Printed With "CH Gallup + Co, The Modern Portrait Artists, Branch Studios: Danbury, CT. Holyoke, Mass. Ivory Finish. |
| 3/4 View Portrait Of Young Woman | Biographical- Van Wyck People, Unidentified Photographers- C.H. Gallup | | 1 1/2 X 3″ Print On 1 3/4 X 3 1/4 X 3 1/4 Cardboard | C.H. Gallup + Co. (Carbonette) 292-294-296 Main St. Poughkeepsie NY Fishkill + Maheawan NY., Danbury, Conn., Holyoke, Mass. | Smudged On Front |
| Portrait Of A Sweet Faced Young Woman With Curly Hair + Dark Dress And A Man W / Mustache And Standing With Collar With Large Knotted Stripe Tie | Biographical- Van Wyck People, Unidentified Photographers- C.H. Gallup | | 4 X 5 3/4 Print On 4 1/4 Y 6 1/2 Cardboard | Wilde + Gerloch, 211 State St, S.E. Cor. Third, Milwakea | Faded, Stained, But Lovely |
| Long Oval Portrait Of A Seated Woman, Dark Skirt White Top W/ Dark Trim., Holding A Folding Fan [?] | Biographical- Van Wyck People, Unidentified Photographers- Boyce White Plains | | 2 3/4 X 5 1/4 Oval Print On 4 1/4 X 8 1/2 Cardboard | Boyce, 161 R.R. Ave., White Plains, NY | Interseccion Of Another Photograph Has Become Visible On The Cardboard. |
| Oval Portrait Of A Fair Young Woman W/ Ponydown (sp?) Wary Hair, Ruffled Dress, W/brooch On Locket And Eyeglasses. | Biographical- Van Wyck People, Unidentified Photographers- C.H. Gallup | | 2 X 3 1/2 Oval On 5 X 7 1/4 Cardboard. | C.H. Gallup + Co. (Carbonette) 292-294-296 Main St. Poughkeepsie NY | Good Condition |
| Portrait Of An Aristocratic Looking Older Woman W/ Pince Nez Eyeglasses, Pinydown Hair, And Embroidered, High Necked Dress. | Biographical- Van Wyck People, Unidentified | | 3 X 4 Print Mounted On 4 X 8 3/4, Cardboard | | Slightly Stained Cardboard, No Information |
| A Dark Eyed, Middle Aged Man W/ Receding Hair And A Handlebar Moustache- Pin Stripe Suit Portrait | Biographical- Van Wyck People, Unidentified Photographers- C.H. Gallup | | 3 3/4 X 5 1/4 Oval Mounted On 5 1/4 X 7 1/4 Heavy Cardboard | C.H. Gallup + Co. (Carbonette) 292-294-296 Main St. Poughkeepsie NY | Very Good |
| Lady With Ponydowned Hair Holding Flowers- Profile View, Dark Dress. Portrait. | Biographical- Van Wyck People, Unidentified Photographers- Lorillard | | 2 3/4″ X 3 3/4″ Print Mounted On 4 X 6 3/4 Brown Paper In A Brown Paper Folder | Lorilland, 15 Rose Ave , Ocean Park, Calf | Perfect Condition |
| Snow Shoveless + Group In Front Of Snow Banks. Snow Tunnel | People, Unidentified Place Names- Poughkeepsie (city)- Main Street Disasters- Blizzard Of 1888 | | | | On Back " Main St. Corner Little Smith, March 14, 1888 View After Blizzard 1888 |
| Trolley Track Construction; Row Of Buildings On Rt. | Trolleys People, Unidentified Buildings- Commercial Place Names- Poughkeepsie (city)- Main Street | | | | "Construction Of Trolley Tracks On Main St 1893" |
| Phoenix Firehouse. Man With 2 White Horses In Doorway. | Building- Civic Fire Companies- Phoenix People- Unidentified Horses Celebrations | | | | On Back "Firemens" Convention June 18-20, 1907 |
| Young America Firehouse. Man With 2 Horses. In Front: Sign Advertising Fireman Convention 6/18- 6/20 1907 | Building- Civic Fire Companies- Phoenix People- Unidentified Horses | | | | On Back : "Young America Firehouse" 1907 |
| 2 Towwing Cars With 4 Men In Each | Vehicles People, Unidentified Buildings- Commercial Hotels- Morgan House | | | | On Back : "Y1902 Morgan House, Main + Catherine" |
| Corner Of Two Streets, Buildings, People | Buildings, Commercial People, Unidentified Place Names- Poughkeepsie (city) Main St. Photographers- Gallup Biographical Material- Frost Biographical Material- Overbaugh | 1865 | Photo 6 X 8 Cardboard 11 X 14 | C.H. Gallup + Co. 292-294-296 Main St. Poughkeepsie NY Branches: Fishkill And Matteawah, N.Y., Danbury. Conn., Holyoke, Mass. | "Northwest Corner Of Main And Garden Streets, 1865" On Back |
| 2 Pictures- 1st Large Brick Building With Cupola + 4 Vents On Root- 2nd Picture Partially Light Struck- Store Interior | Buildings, Civic Dutchess County Court House Biographical Material- Van Kleeck People, Unidentified | | Mat 4″ X 5″ Pictures 4^4 X 3 1/4 ^4 | | 1st "'old Court House" (1) 2nd "rk-co"(sp?) (2) |
| Horse Drawn Fire Wagon- 2 Horses + River, Fire Extinguisher, 2 Hanging Lanterns On Rear | Fire Companies- Contract Steamer No. 4 People, Unidentified Animals Vehichles | 1912- June | 4 1/4 ^4 X 7 ^4 | | Front " Duty Apparatus Of Cataract Stemer Co. No. 4, Po'keepsie, N.Y."; On Back- "June 1912" |
| Poughkeepsie Hotel And Adjoining Buildings, Carriages Pulled Up In Front, Man On Balcony, Porch + Street | Place Names- Poughkeepsie (city)- Main Street People, Unidentified Buildings, Commercial Hotels- Poughkeepsie Hotel Vehicles Horses Biographical Material- Tallmadge, Carmen, Wilkinson, Henderson, Eisel, Applleby | 1869 | Photo: 10 7/8″ X 13 1/2″ On Cardboard: 15 7/8″ X 20″; Cardboard Frayed, Tear In Upper Right Corner | | On Front: "Poughkeepsie Hotel, Poughkeepsie, N.Y., 1869; No.1-Wm. H. Tallmange, 2- Charles Carmen , 3- Gilbert Wilkinson, 4- Stout, 5- Oliver Henderson, 6-Geo, Eisel, 7-Appleby; On Back:" Main St. 1869, New Market St. Was Cat Thru This Site; |
| Long Row Of Buildings, With Man Posed In Front, Horse + Wagon On Brick Street. | Biographical Mat.- Van Kleeck Photographers- Voil Bros. Buildings, Goverment-Post Office Hotels- Nelson House Place Names- Poughkeepsie (city)- Market Street Vehicles Horses People, Unidentified Biographical Material- Cook, Black, Rook | | Photo: 10 1/8″ X 13 1/2″ On Cardboard: 12 1/2″ X 17″; Lower Left Corner Of Beard Torn Off, Top Bent | | On Front: "Market St. Corner Of Union. Site Of Post Office, The Goverment Building Erected On This Site Was Occupied By The Post Office On The 13th Day Of November 1886." On Back: "Site Of Post Office, The Post Office Was On The Corner, The Brick Part Of The Building, Before Removal To The City Hall: Albert Van Kleeck Was Postmaster At The Timeof The Removal To The City Hall. Photograph Taken Prior To 1884." |
| Large Group Of Boys In Uniform Man Also, Styles, Flag In Stone Of Back Building Drums Also (sp?) | People, Unidentified Building, Academic Schools, Orivate- Riverview Military Academy Biographical Material- Booth, Oliver Photographers- Vail Bros | | Photo- 13 1/2 X 16 1/2 Inches | Vail Brothers, Poughkeepsie, N.Y | Written On Back: "Riverview Mil Academy" Oliver + Booth #56″ 3-94 |
| Flanagans Cafe And "V. Frank's Sons Lager Beer" Sign; Winter, Lady Walking On Left | Biographical Material- Van Kleeck People, Unidentified Restaurants- Flanagan's Cafe | | 19.9 Cm (7 7/8 In) X 24.7 Cm (9 3/4. In) Photo On Cardboard 27.9 Cm (11 In) X 33.2cm (13 1/18 In) With Newspaper Headlines Posted On | | On Back: "Baltus Van Kleeck, 265 Main St. "; Newspaper Headlines" "Nation Prepares For Beer Return Tomorrow" Etc. |
| Row Of Four Story Buildings On City Street, One Has Canopy. People Standing In Front, Horse And Buggy On Side Of Street. | Buildings, Commercial People, Unidentified Vehicles Horses Biographical Material- Adrianee, Burroughs, Fitchett, Sterling, West | | Photo 7 1/4″ X 9″ Cardboard 11″ X 14″ | | "1869" On Back |
| Sidewalk Corner In —- Line Of Buildings On Opposite Side People Lining The Sidewalk Horse And Buggy Parket In Front. | Buildings, Commercial People, Unidentified Vehicles Place Names- Poughkeepsie (city)- Main Street Photographers- C.H.Gallup Biographical Material- Doughty, Van Keuren, Shultz, Frost | 1863 | Photo 7 X 9 1/2 Cardboard 11″ X 14″ | C.H. Gallup | "Main Street Opposite Gordan 1863, Cooking South From Garden St, Frank Van Kleeck"- On Back |
| Two Buildings In View, Street + Sidewalk, People In Front Of Building, Pole On Edge On Sidewalk, One Building In Candle Factory Line Of People In Front Of Picture | Place Names- Poughkeepsie (city)- Vassar St. Poeple, Unidentified Buildings, Commercial Photographers- C.H. Gallup Biographical Material- Sloter, De Groff, Dunvroody | | Photo 7″ X 9″ Cardboard 11″ X 14″ | C.H. Gallup + Co. (Carbonette) 292-294-296 Main St. Poughkeepsie NY | " Sloter Brothers, Jacob DeGroff, Dunwoody Brothers Soap Factory, Opposite Vassar Street Vassar St. " On Back |
| Group Of Soldiers (World War I Uiniforms) In Front Of Brick + Stone Building. | Military Groups- Co. K 1917.10th People, Unidentified Wars- World War I Buildings, Civic- National Guard Armory | 1917 | Cardboard 11″ X 12 3/4″ Picture 9 3/4″ X 7 1/2″ | Steen Son + Van Vlack, 308 Main St, Poughkeepsie, N.Y. | Back Of Picture "Co.k 1917 10th InF. N.Y.N.G" |
| Wooden Buildings On Street, With Sidewalks, Trees, People, Store Signs, Horse + Wagon. | Biographical Material- Biddle Buildings, Commercial People, Unidentified Vehicles Horses Place Names- Poughkeepsie (city)- Garden Street | C. 1860 | Photo: 9 1/2″ X 7 7/8″ On Cardboard: 13 9/16″ X 11 3/4″; Cardboard Torn On Right Side | | On Back: Garden St. From Cor. Of Main About 1860; Garden St. Looking North From Main St. 1860 +-" |
| House, Residence. People Standing And Sitting Outside Driveway Leading Up To Porch. Vines Growing On House. Trees And Shrubs. | Biogrsphical Material- Atwater People, Unidentified Buildings, Residential | | Photo 7 1/4″ By 8 1/2″ Cardboard 10″ By 12 1/2″ | | "Place Unknown" On Back. [see # 655c – Looks Like Atwater House- Academy St., Pok?] |
| High Snowbanks In Foreground. Cornerbuilding With Shops. Group Of People In Front Of Shop. | Biographical Material- Hayt, Lindley, Miller, Strickler Buildings- Commercial People, Unidentified, Disasters- Blizzard Of 1888 | March 14, 1888 | Cardboard 9 3/4″ X 12 " Picture 9 1/2″ X 7 3/4″ | | Front Of Picture "Main St. Corner Of Garden St." Back Of Picture- "March 14-1888 Northeast Corner Main + Garden Streets" |
| Very Faded Photo Council Chambers Men Sitting In Enclosure | Goverment- Poughkeepsie (city) Buildings, Civic- City Council- Interior People, Unidentified | | Cardboard. 9 3/4″ X 12″, Picture 8″ X 6″ | | Very Faded |
| Long View Of Street, Building Lined Up On Both Sides People + Horses And Bugg In Foregrounf | Buildings, Commercial Place Names- Poughkeepsie (city)- Main St. People, Unidentified Utilities Biographical Marerial- Filkins Photographers-Vail Bros | 1863 | Photo 7 1/2″ X 9″ Cardboard 10″ X 12″ | Vail Bros, Pokeepsie, NY | "Corner Main And Garden In 1863", Frank Van Kleeck |
| Front Of Store, Side Angle, Two Men Standing In Door Sidewalk, Part Of Neighboring Buildings. | Biographical Material- Van Kleeck People, Unidentified Photographers – Vail Bros Biographical Material- Joseph Place Names- Poughkeepsie (city)- Main St. | 1863 | Photo 7 1/2″ X 9″ Cardboard 10″ X 12″ | Vail Bros, Pokeepsie, NY | "265 Main St. 1863, Now Site Of Joseph's Clothing Store, Formerly Owned By Albert Van Kleeck (sold By Estate Of A.VK In 1867) A.v.k'a Hat Store West Left Hand In Picture Portion Prior Ro 1854 Frank Van Kleeck"- On Back |
| Row Of Buildings, Streets, Man Standing On Porch Of One Building, Horse And Buggy Parked In Front. | Buildings, Commercial People, Unidentified Place Names- Poughkeepsie (city) Main St. Biographical Material- Kirchner, Frisber, Dean, Friend, Pettion | 1860 | Photo 5 3/4 X 8 Cardboard 10″ X 12″ | | Site Of Kirchner Building; Frisbees Grocery In Basement; Aaron Dean, Friend Bros; Pettilon Shoes; 278 Main St. Frank Van Kleeck, Size 4 1/2 X 6 1/2 |
| Row Of Businesses, People In Front, Utility Poles, Street | Biographical Material- Van Kleeck, Beach, Tallmadge, Candee, Spencer, Harry | 1863 | Photo 7 1/2″ X 9 1/2″ Cardboard 10″ X 12″ | | "Baltus Van Kleeck, Southside Of Main Street 254-262 Main At Present, Site Of Church Building 1863"- On Back |
| Row Of Commercial Buildings; Lorwook House With Railings, | Buildings, Commercial Utilities Place Names- Poughkeepsie (city) Main St. Biographical Material- Carman, Lockwood, Seward | | Photo 9 1/2 X 7 1/4 | Walker Photo | Back Of Photo: "North Side Of Main St. Looking East Probably About 1865" "Lockwood House Is 275 Main St." |
| People Standing In Front Of House, Utility Wires, Other Houses In Background, Trees, Bicycle | Biographical Material- Wright Biographical Material- Wilson People, Unidentified Utilities Buildings, Residential Place Names- Poughkeepsie (city)- Cannon St, So. Hamilton St. | Dec 27, 1895 | Photo 6 1/2 X 8 1/4 Cardboard 10 X 12 | Wm. A Dutcher, Po'keepsie, N.Y. | Residence Of Mr Abram Wright, Corner Cannon And South Hamilton, After The Wind Storm In The Night. Dec 27 1895-2 Am 1929- Owned By Dr. John Wilson. Frank Van Kleeck |
| Horse And Cart, Buildings, Street, People | Biographical Material- Frost Biographical Material- Hyde Buildings, Commercial People, Unidentified Photographers- Gallup Place Names- Poughkeepsie (city)- Main St. Vehicles | | Photo 9 1/2 X 8 Cardboard 10 X 12 | C.H. Gallup + Co. (Carbonette) 292-294-296 Main St. Poughkeepsie NY | "Frost Stove Stroe, Liberty Hyde's Shoe Store, Corner Main And Garden Sts" Copy- On Front |
| People In Front Of Store, Street, Some Items Outside | Biographical Material- Van Kleeck People, Unidentified Buildings, Commercial Biographical Mat- Melhado Place Names- Poughkeepsie (city)- Main St. | 1912 | Photo 6 1/4 X 9 Cardboard 10 X 12 | | "111 Main Street, 1912" On Back |
| Street Scene Of About 1/2 Dozen Buildings, With Goods On Sidewalk Under Roofs; People And Horse And Wagons; Hitching Posts | Biographical Material- Van Kleeck Houses And Buildings- Main St. History Of City- Poughkeepsie Photographers- Vail Bros. People, Unidentified Animals Biographical Material- D | 1856 (?); 1862 (?) | 18.0 Cm (7 1/16 In) X 20.8 Cm (8 3/6in) Photo On Cardboard 25.5cm (10in) X 30.5 Cm (12in) | Vail Brothers, 254-256 Main Street Poughkeepsie NY | On Front "265 To 277 Main St. In 1856″; On Back:" About- 1862; The Building Marked 265 Main St. Was At One Time Owned By Teunis Van Kleeck Who Moved His Hat Store Here From Main. St, Opposite CrannelSt. In May 1808. In This Picture It Is A Clothing Store. Teunis And Family Lived Over The Store. After Death Of Teunis V.K. The Property Was Purchased By His Son Albert Who Continued The Business Here Until His Removal To 259 Main St. In 1853. Albert V.K. Died 1866 And 265 Main St. Was Then Sold. The East Store Next To Tunis V.K. Hat Store Was A Drug Store Owned By Moses Dawe (?) 1852- Then Phinnoy, Moore, Howard. |
| Building Market '257' With Several Men Standing In Front And Horse- Drawn Wagon Standing In Front | Biographical Material- Van Kleeck Houses And Buildings- Main St. History Of City- Poughkeepsie People, Unidentified Animals Biographical Material- B Utilities | | 6″ X 8″ Photo On Cardboard 10″ X 12″ | | On Front: "Old Building Formerly On Site Of "The Arlington "# 237 Main St." Jacob Blankenhorn Standing In Dorr Of No. 237. Blankenhorn's Market Formerly In 237." |
| Street Scene (probably Main St.) With Unplowed Snow, People Part Away Down Street. | Biographical Material- Van Kleeck Buildings, People, Unidentified, Utilities, Disasters- Blizzard Of 1888 | | Photo 7 3/8″ X 9 1/8″ | Vail Brothers, 254-256 Main Street Poughkeepsie NY | On Front: "Blizzard March 1888" On Back: "Frank Van Kleeck" |
| Store Fronts After Blizzard, Man Looking Through Tunnel Of Snow; Mailbox On Pole. | Biographical Material- Brand Biographical Material- Cornell Biographical Material- Simpsom Biographical Material- Roberts Disasters- Blizzard Of 1888 Peopl, Unidentified Utilities Youth Organization- YMCA Fire Companies- Davy Crockett Hook + Ladder Co. ? | March 14, 1888 | Photo: 19.7 Cm (7 3/4) H X 24.2 Cm (9 1/2 In.) W, On Cardboard: 25.2 Cm (9 15/16in) H X 30.4cm (11 15/16 In) W | | On Front: "# 229 Main Street From Davy Crockett Hook + Ladder Co. Building"; On Back: "March 14, 1888" "Frank Van Kleeck" |
| Street Scene With Huge Snowbanks In Middle Of Street; Buildings, Utility Poles; A Few People On Right | Biographical Material- Van Kleeck Houses And Buildings- Main St/ History Of City- Poughkeepsie Disasters- Blizzars Of 1888 Utilities People, Unidentified Photographers- Vail Bros. | 1888 | Photo: 19.0 Cm (7 1/2 In) H X 23.1 Cm (91 /8 In) H On Cardboard: 25.3 Cm (10 In.) H X 30.5cm (12 In) W | Vail Brothers, 254-256 Main Street Poughkeepsie NY | On Front: "Blizzard March 1888. Main St. East From Current Penny Farmers"; " On Back: "Frank Van Kleeck" |
| Looking Down Sidewalk After Blizzard Of 1888- Shows Morgan House, Several Men Standing Around. | Biographical Material- Van Kleeck Houses And Buildings- Main St. History Of City- Poughkeepsie Photographers- C.H. Gallup Disasters- Blizzard Of 1888 People, Unidentified Utilities | March 13, 1888 | Photo: 20.0 Cm (7 13/16 In.) H X 24.0 Cm (9 1/2 In) W, On Cardboard 25.1 Cm (9 7/8 In) H X 30.2 Cm (11 7/8 In); Cardboard Broken In Upper Left Corner + Another Piece Of Cardboard Glued On Back: Sticker On Front Of Cardboard | C.H. Gallup + Co. (Carbonette) 292-294-296 Main St. Poughkeepsie NY | On Front: "Main St. Corner Of Catherine St.looking West" "Tuesday March 13th, 1888"; On Back: "Corner Main And Catherine St" "Dutches County Historical Society" (round Stamp) |
| Band Marching Down Street. Spectators On Side. Buildings Line The Streets. | Biographical Material- Van Kleeck People, Unidentified Buildings- Commercial Bands- Poughkeepsie Bass Band 1861 Celebrations | 1861 | Photo 10″ X 12 3/4″ | | "The Poughkeepsie Brass Band 1861." Frank Van Kleeck"- On Back |
| Two Stone Streets Intersects, Hotel In Foreground, People Standing In Front Of Hotel- Horses And Buggles Setting In Front Of House. A Lot Of Trees | Vehicles Buildings, Commercial- Hotels People, Unidentified Place Names- Poughkeepsie (city)- Main St. Place Names- Poughkeepsie (city)- Washington St. | 1862 | Photo 8 3/4″ X 10 1/2″ Cardboard 10 1/2″ X 12″ | | On Front: "Northern Hotel 1862"; On Back: "Northern Hotel North East Corner Mill And Washington At; Washington W Corner Of Mill St. 1862"; 2 Cents Postage Stamp On Back, Cancelled "Washington Hallow, NY, Feb 12, 1886" |
| Group Of Men Standing In Dark Room, Dressed In Over Coats And Hats , Some With Umbrellas And Valises. | Building- Civic Interiors People, Unidentified | | Ohoto 6 1/2″ X 8 1/2″ Cardboard 10″ X 12″ | | Group Of Men Standing In Dark Room, Dressed In Over Coats And Hats, Some With Umbrellas And Valises. |
| Large Group Of People In Front Of Building, Pathway And Grass In Front, Has Two Stories With Balcony. | Biographical Material People, Unidentified Buildings, Commercial Biographical Material- Vassar | | Photo 5 1/4″ X 7″ Cardboard 9″ X 10 1/2″ | | "Long Branch, N.J. (?) Hotel, X M. Vassar Jr., Aug 1860(?) On Front |
| Picture Of Many Store Fronts W/ A Group Of Man Standing In Fornt | Biographical Material- Van Kleeck Houses + Buildings- Poughkeepsie Biographical Material Frost Biographical Material-Morgan People, Unidentified Houses + Buildings- Main St. | | Photo- 5 3/4 Inch X 7 1/4 Inch, On Paper 8 1/2 X 9 1/2 Inch | | On Back: Possibly S.L. Walken ?; On Front Written "1850" "main St. East Of Liberty, South Side 1850, (jewish Star) On Building Solomon Frost Store, Elijah Morgan Jewlery Store On Cirner Of Liberty St. |
| Men, Women In Front Of Star Affie Newshays. Signs For Miller Tires., Drs. H.L.B Ryder + Chaltered On Dentists | Biographical Material- Van Kleeck Wars- World War I Houses + Buildings- Po'keepsie Biographical Material People, Unidentified Transportation- General Newspaper- Soul | | Photo 4 1/2 X 6 1/2 Cardboard 8 X 10 | | "Draft Day July 20th, 1917- In Front Of Star Office" On Front |
| House, Trees, Sidewalk, Street, Person | Biographical Material- Van Kleeck Houses + Buildings- Clinton House History Of City- Pok Organization D.A.R | | Photo 3 3/4″ By 4 3/4″ Cardboard 6 1/4″ By 8 1/2″ | | Clinton House- Compliements Of Mr. D.C. BI [torn] Field |
| Street, Trolley Track. Buildings, People, Sidewalk, Pole | Biographical Material: Van Kleeck Buildings, Residential People, Unidentified Utilities Animals Landmarks- Liberty Pole | | Photo 8″ X 9 3/4″ | | Liberty Pole, Lawyer's Row, Forbus House, Court House 1809-1902. Frank Van Kleeck 2 |
| Store Front- "Van Kleeck's Across Front Windows Pasted With "going Out Of Business" Signs. | Biographical Material: Van Kleeck Buildings, Rcommercial Vehicles People, Unidentified | | Photo 9 3/4 X 8 1/4 | | Back Of Photo "October 1960" |
| Street And Row Of Buildings From Side Angle Poeople, Horse And Buggy, Large Pole In Center | People, Unidentified Buildings, Commercial Buildings, Religious- Christ Episcopal Church Place Names- Poughkeepsie (city- Market Street) Vehicles Biographical Material- Smith | | Photo 7 X 9 1.4 Cardboard 9 X 10 3/4 | | "No. 1- City National Bank, No. 2 American Express; No. 3 Ian Eeeles …Bank:…Bindery; No.7- Savings Bank… Spelling? |
| Flag Droped Platform- Speaker At Podium 8 People Seen Seated | Buildings, Civic People, Unidentified Health Care- Hospitals- Vassar Brothers | | Photo 9 3/4 X 7 3/4 | | Back Of Picture "Vassar Hospital- Ground Breaking Fror New Building" |
| People Standing In Front Of Store, Street, Sidewalk | Place Names- Poughkeespei (city) Main St. People, Unidentified Buildings, Commercial Biographical Material- Heaton Family Wearing Apparrel- Shoes | | Photo 8 1/4 X 10 1/2 | | "359 Main St." – On Back |
| Building Of Frank Van Kleeck- Hats + Furs; Shows Store Windows Full Of Clothing; Trolly Tracks On Paved Street; 2 People On Right; Upper Window- T.A. Lavery, Charles F. Lavery, Paul A. Rieser, Jov. F. Horan | Biographical Material- Van Kleeck Houses + Buildings- Main St. History Of City- Poughkeepsie Transportation-Trolly Biographical Materia- L Biographical Material- R Biographical Material- H | | Photo: 7 1/2″ X 9 1/2″ On Cardboard 8 1/8″ X 10″ | | |
| "August 1911"; Frank Van Kleeckgats, Caps + Furs Store | Biographical Material – Van Kleeck Biographical Material- Thing Buildings, Commercial People, Unidentified Place Names- Poughkeepsie (city- Main St. | | 4 3/4 X 6 Photo Glued To 8 X 10 Cardboard | | Van Kleeck Collection |
| Line Of Buildings Pictured From Middle Of Street People In Front On Sidewalk, Car Parked In Front, Car Seen Beyond Corner, Large Advertisement Sign On Top Of One Building | Biographical Material- Van Vlack People, Unidentified Restaurants Churches- Reformed, Poughkeepsie Vehicles | | Photo 7 5/8″ X 9 1/2″ Cardboard 8 1/2″ X 10 1/2″ | Steenson + Van Vlack, Poughkeepsie, NY | "Reformed Church Property, Market St. + Main St. Torn Down April 1932″/ "Photographs For Business Steen Son C Van Vlack Poughkeepsie, N.Y"-On Back |
| Major Intersection, Trolly Tracks, Large Building On Corner, Several Automobile Parked Along Side Street , Many People Walking On Sidewalk, Utility Poles, Takes Place In Early 20th Century | Biographical Material- Van Kleeck Hosues And Buildings- Main St. People, Unidentified Hotels- Morgan House Biographical Mat- W,V Utilities | | Photo 7 1/2″ X 9 5/8″ Cardboard 11″ X 14″ | | "Destroyed By Fire March 19th", "B.B. Van Kleeck" |
| Group Of Men Seated In Courtroom, High Cielings, Judge Seated In Center Of Foreground | Biographical Material- Van Kleeck People, Unidentified Buildings- Interior Dutchess County Courthouse | | Photo: 6 5/8″ X 9 5/8″ On Cardboard: 111/16 X 14 1/16 | | "Interior Of Old Courtroom, Balutus B. Van Kleeck, 1809-1902" On Back |
| Men Sitting Around Room- Possibly Court Room Or Meeting Room | People, Unidentified Buildings- Civic Interiors | | 8 1/16″ X 10 | | |
| House, Leafy Tree, 2 Children On Porch Man Standing In Front | People, Unidentified Buildings- Residential Biographical Material- Werner Place Names- Poughkeepsie (city)- Montgomery St. (?) | | Photo 4 3/4 X 6 1/2 | | See Photo: "Werner House West Of Christian Science Church. Demolished Sept 1914" |
| Row Houses With 2 Men Standing In Front Of One. Street Lamps, Automobile. | Biographical- Van Kleeck People, Unidentified Utilities Vehicles | | Photo 4 1/2 X 6 1/2 Cardboard 9 X 7 | | "49-51 Market St. July 1915" |
| Church, Indoors, Altar | People, Unidentified Churches- First Presbyterian Church Buildings-religious- Interior | | Photo 6 3/4″ By 4 3/4″ Cardboard 9″ X 7″ | | First Presbyterian Church – So Hamilton + Canon Streets Demolished 1905 |
| Construction Site, New Building, People, Building | Biographical Material; Van Kleeck Building- Civic People, Unidentifoed Fire Companies- Pheonix Hose | | Photo 6 3/4″ By 4 3/4″ Cardboard 9″ X 7″ | | Layung Corner Stone Of Peonix Hose House |
| Men Marching, Building Street, Sidewalk, People, Utilities | Utilies Buildings- Religious People- Unidentified Parades Place Names- Fishkill Churches- Trinity, Episcopal- Fishkill Cultural Organizations- Dut Co. Hist Soc | | Photo 9″ X 6 " | | #1 Fall Pilgrimage US Mil. Academy Color Guard |
| Line Of People Entering House, Shrubs | Biographical Material- Swartwout People, Unidentified Buildings, Historical Cultural Organizations- Dutch. Co. Hist. Soc | | Photo 9″ X 6 " | | Fall Pilgrimage, Greeting Historical Society Members At Swartwout Home |
| Buildings, Street, People, Empty Lot With Pikes Of Rocks – Ruins Of A Building | Place Names- Poughkeepsie (city) Main St. Buildings- Commercial People, Unidentified | | Photo 6 1/4″ By 4 1/7″ Cardboard 8 78″ X 7 | | 412 Main St. East Of Hughes Furniture Store Nov 1912. R.6. Lloyd Property |
| Sweet, Trolley Tracks, Sidewalk, Buidings, People Utility Wires | Buildings, Commercial Vehicles Place Names- Poughkeepsie (city)- Main St. People, Unidentified | | Photo 6 1/2″ By 4 1/2″ Cardboard 9″ X 7″ | | 95 Maint St. July 21st 1915 |
| Intersection Of Streets, Buildings, Sidewalks, People, Horse + Carrage, Poiceman | Buildings, Commercial Place Names- Poughkeepsie (city)- Main St. Place Names- Poughkeepsie (city)- Washington St. Vehicles Biographical Material- Zimmer People, Unidentified | | Photo 6 1/2″ By 4 1/2″ Cardboard 9″ X 7″ | | Northwest Corner Main And Washington Sts. Demolished April- May 1914. |
| Building, People, Trees | Place Names- Poughkeepsie (city) Main St. Biographical Material- Hasbrook Family People, Unidentified Biographical Material- Hooker Family Buildings, Residential | | Photo 6 1/2″ By 4 5/8″ Cardboard 9″ By 7/8″ | | See Back: Hooker House, 58 Market St. Now Site On Y.M.C.A Building- Frank Hesbrook? In Doorway: The Bow Window Was Not Part Of The Original Building |
| Back Of Stable, Horse Wagons, People, Hay, Road, Door, Utility Wires | Place Names- Poughkeepsie (city) Buildings Vehicles People, Unidentified Animals | | Photo 6 1/2″ By 4 3/4″ Cardboard 8 3/4″ By 6 " | | See Back: Stable In Rear Of Nelson House Annex March. 31, 1913″ |
| 2 Buildings + Partial 3rd. Buidling On Rt. Has Sign "Luckey, Platt : Cos Annex, Furniture Repairing, Upholstering Awnings." Store To Its Left On Window" D.W. Wilbur Coal | People, Unidentified Place Names- Poughkeepsie (city)- Academy Street Biographical Material- Lucky Family Buildings, Commercial Biographical Material- Wilbur Family Vehicles 1st Floor Laundry 2nd Floor | | Cardboard 9″ X 7″. Picture 4 3/4″ 6 1/2″ | | Back Of Picture" 12-14-18 Academy St. Site Of Luckey, Platt + Co" May 1909 |
| Horse Drawn Trolly On Tracks In Dirt Road; Boy Near Tree In Back, And Barn In Background. | Place Names- Poughkeepsie (city) Main St. Vehicles Animals Photographer- Wm A. Dutcher People, Unidentified | | Photo: 7″ X 11″ On Cardboard 10 5/8″ X 15″; Cardboard Torn At Bottom. | | On Back: "Taken 1894 Main St. Near Junction Church St." |
| Horsedrawn Trolley | Place Names- Poughkeepsie (city) Vehicles Animals Photographer- Wm A. Dutcher People- Unidentified | 1894 | 10″ X 7 3/4 | | Back Of Picture "Poughkeepsie Main Near Glebe House – Taken About 1894. Given To Baltus B Van Kleeck 1935"; On Front. "Wm. A. Dutcher" |
| Row Of Brick Houses And Stores. People Standing On Sidewalk | Place Names- Poughkeepsie (city)- Main Street | | Photo: 4 3/4 X 6 3/4 Inches- Backing: 7 X 9 Inches | | Written On Front: Vassar Row- May 1914 |
| Row Of Buildings With Cars, Trolley, Tracks And Women | Place Names- Poughkeepsie (city)- Main St. People, Unidentified Vehicles | | Photo- 5 Inch X 6 3/4 Inch, On Backing 8 In X 10 In | | On Front: "South East Corner Main + South Hamilton Sts. April 1917 |
| Store Fronts W/ Horses + Earrings + Women Trolley Tracks In Street | Buildings, Commercial People, Unidentified Place Names- Poughkeepsie (city)- Main St. Biographical Material- Knox Vehicles Animals | | Photo 6 1/2 X 4 1/2 Inch Backing 9 1/2 X 7 Inch | | 251 Main St. May 1916 |
| View Of Large Three Story Frame House Flog Displyed On Front Porch. Man And Child With Doll Carriage Standing In Front, Rather Blurry. | Buildings- Residential Place Names- Poughkeepsie (city)- Washington Street People, Unidentified | | Photo- 6 9/16 Inch X 4 3/4 In, On Cardboard- 7 15/16 In X 5 15/16 | | At Bottom: "North West Corner Mill And Washington Sts. Aug, 1917 |
| 3 Men Standing Outside Winnikee Hall | Buildings, Recreational Winnikee Hall People, Unidentified | | Photo- 4 1/2 Inc. X 6 1/8 In, On Paper- 8 In X 10in | | On Front: " 18fr 7 Fr 6 Fr (?)? |
| 2 1/2 Story Building, 2 Chimneys, Person Standing In Front; Picket Fence In Front; Snow; Another Building (?) Off To Right, And One To Left. | Buildings, Educational- School # 4 Place Names, Poughkeepsie (city)- Bayard St. Schools People, Unidentified | | Photo 3 1/2″ X 4 5/8″ On Cardboard 5 3/8″ X 6 3/8″ | | On Front: No. 4 School In Bayeaux St. 1906." |
| 4 Pictures On 1 Side. Interiors Og 60 Montgomery St. Upper Left "suk At Montgomery St" | Biographical- Van Kleeck People, Unidentified Building, Residential- Interiors | | Mat 8″ X 9 3/4-Ea. Picture 4″ X 3″ | | "60 Montgomery St/ 1891″ This Sode Never Photographed" "S.VKat 60 Montgomery St." |
| Several Store Fronts, Showing Street, Wagon, People | Buildings, Commercial Vehicles People, Unidentified Place Names- Poughkeepsie (city) Main Street Biographical Material-Tallmadge Biographical Material-Deidley | 1870 | Photo 3 3/8″ X 5″ On Cardboard 6″ X 7″ | | On Front: 260 Main St. 1870 No. 1 W H Tallmange No.2 Guilford Dudley" On Back: "No.1 Wm H Tallmadge 2 Guilford Dudley" |
| "Jail April 1902" With Trolley In Lower Left And Reynolds Elavator Co. In Upper Left. | Building, Civic- Jail Vehicles People, Unidentified Buildings, Commercial | Apr. 1902 | 4 1/2 X 6 Photo Glued To 8 X 9 Cardboard | | Van Kleeck Collection |
| Greek Style Open Pavilion, Landscaped Grounds; People Near It | Buildings, Recreational Poeple, Unidentified College Hill Dudley Memorial Shelter Biographical Material- Dudley | 1944 | 20.3cm (8in) H X 25.5 Cm (10 1/16 In) W | | On Back: "College Hill 1944; Dudley Memorial Shelter |
| Man Sitting On Front Porch Of Large Howe With Shutters, Wooden Pointed Fence In Front | Biogrpahical Material- Lent Buildings, Residential Place Names- Poughkeepsie (city)- Nort Clinton St. | | Photo: 14.8cm (513/16 In) H X 17.4 Cm (6 7/8 In) W, On Cardboard 20.4 Cm (8 1/16 In) H X 25.5 Cm (10 In) W | | On Back: 55 No. Clinton St. Home Of John R. Lent" "Frank Van Kleeck" |
| "Front Of Kirchner Building, Sept 1915"; Allen Brothers Dowego (?) At #278 To Right Of Picture; Trolley Tracks, Automobile, Air Pump In Front Of Store | Buildings, Commercial Biographical Material- Allen Place Names- Poughkeepsie (city) Main Street People, Unidentified Vehicles | Sept, 1915 | 5 X 7 Photo Glued To 7 X 9 Cardboard | | Van Kleeck Collection |
| "Lafayette Place" Sign On Fence In Lower Right Corner Across The Street From Window Loss Building In Front Of Which Brick Sidewalk Is Being Laid. | Buildings, Commercial Biographical Material- Pine People, Unidentified Place Names- Poughkeepsie (city)- Lafayette Place Columbus Institute | | 5 X 6 3/4 Photo Glued To 8 X 10 Cardboard | | Van Kleeck Collection; On Back: "Pine House, Washington St., Now Site Of Columbus Institute" |
| 21 Academy St. 1913″; Building With Zierman's Laundry, 4 Men Standing In Doorway To Right | Buildings, Commercial Biographical Material- Zeinman People, Unidentified Place Names- Poughkeepsie (city) Academy St. | | 4 3/4 X 6 1/2 Photo Glued To 8 X 10 Cardboard | | Van Kleeck Collection |
| View Of Golf With Trees On The Right And Three(3) Gulfers In Center | School Gulf Course | | B+W Post Card | Printed By H.M. Wright | Good Condition |
| Line Of Buildings Pictured From Midde Of Street. People In Front On Sidewalk, Car Parked In Front, Car Seen Beyond Corner, Large Advertisment Sign On Top Of One Building | Biographical Material- Van Kleeck People, Unidentified Restaurants Churches- Reformed, Poughkeepsie Vehicles Buildings- Commercial Biographical Mat- Colling Wood Biographical Mat.- Seaman Place Names- Poughkeepsie (city)- Main St. | | Photo 7 5/8″ X 9 1/2″ Cardboard 8 1/2″ X 10 1/2″ | Steenson + VanVlack, Poughkeepsie, NY | "Reformed Church Propertu, Market Street + Main St. Torn Down April 1932″/ "photographs For Business Steenson C Van Vlack Poughkeepsie, N.Y."- On Back |
| Flanagans Cafe And "V. Frank's Sons Lager Beer" Sign; Winter, Lady Walking On Left | Biographical Material- Van Kleeck People, Unidentified Restaurants- Flanagan's Cafe | | 19.9 Cm (7 7/8 In) X 24.7 Cm (9 3/4 In) Photo On Cardboard | | On Back: "Baltus Van Kleeck, 265 Main St." ; Newspaper Headlines: "Nation Prepares Fro Beer Return Tomorrow" Etc |
| Steamship Hendrick Hudson And The Railroad Bridge | Place Names- Poughkeepsie City Of Transportation, Ships Bridges River- Hudson | | Color Postcard 3 1/2 X 5 1/2″ | | On Front Poughkeepsie, NY Steamer Hendrick Hudson Leaving Wharf Day Line Landing And Poughkeepsie Bridge |
| Three Stacked Boat On River With Bridge In Background | Bridges- P'ok Railroad Rivers- Hudson Boats | | 4 1/4 X 5 1/4 | Kodak Camera Eastman Kodak Co.-1150 X Ford St., London Rochester Ny | |
| Boat In River W/ Bridge In Background (Pok.. R.R. Bridge) | Bridges- P'ok Railroad Rivers- Hudson Boats | | 4 1/2 X 5 1/2 | | On Back: Kodack Camera |
| View Of River From Hill | Photographer- E.+ H.T. Anthony Place Names- Beacon Rivers- Hudson Buildings, Commercial | | 4 X 7 Sterograph | E + HT Anthony + Co. . 501 Broadway Ny | Printed On Back: Fishkil Landing W/Newburg + Snake Hill In Distance |
| Poughkeepsie Railroad Bridge, Hudson River At Lef, Houses And Buildings | Bridges-Poughkeepsie Railroad Rivers-Hudson Buildings, Residential | | H-28.0 Cm (11in.) I-36.5cm (14 In.) | N.Y. Photo-gravure, 137 W. (?) St., New York | On Back: "Poughkeepsie Bridge, Eastern Viaduct" |
| Hudson River In Foreground.. Kaal Vock To The Left, With Several Buildings To The Right. | Rivers-Hudson Buildings, Commercial | | 3″ X 4″ | | On Back In Pencil: "Kaal Rock To Left" |
| Bridge Walkway Leading Into Poughkeepsie, People At Bottoom; Bridge Under Reconstruction | Bridges- Mid Hudson | | Photo 3 1/2″ X 5 7/6″ | | |
| Picture Of Walkway Leading Up To Support Beam On Bridge: Bridge Under Construction | Bridges- Mid Hudson Rivers- Hudson | | Photo 3 1/2″ X 5 7/8″ | | |
| People Standing On Walkway On Bridge, Poughkeepsie In Background; Bridge Under Construction | Biographical Material- Van Kleeck Bridges- Mid- Hudson Rivers- Hudson | | Photo 3 1/2″ X 5 7/8″ | | Aunt Viola, Uncle Louis, Edno, Will"- On Back |
| Skeleton Of Bridge In Early Stage Of Construction Picture Taken From Top Of Support Beam Looking Toward Poughkeepsie, Picture Taken From Beam On Far Side Of River | Bridges- Mid- Hudson Rivers- Hudson | | Photo 3 1/2″ X 5 7/8″ | | |
| View Of Town From River | Rivers-Hudson | | Photo 3″x4″ | | No Markings |
| View From River Looking At Some Buildings By River And Large Buildings On Hill | Buildings,civic-hospitals Rivers-Hudson | | Photo 4 1/4 X 5 1/4 | | "Vassar Hospital On Hill"- On Back |
| Buildings In Background, Water In Front, Pier | Rivers-Hudson River- Kaal Rock | | 4 1/4 X 5 1/4 | | Written On Back: "Kaal Rock To Left" |
| River Scene W/buildings, Boats, Barges | Boats Kivek-Hudson River Kaal Rock | | 4 1/4 X 3 1/4 | | Written On Back: "South From Kaal Rock" |
| River Scene W/ Buildings, Sailboat | Boats River-Hudson River, Kaal Rock | | 4 1/4 X 3 1/4 | | Written On Back: "North From Kaal Rock" |
| Foreground- Stacks Of Lumber- River R.R. Bridge Possible Lumber Yard | Bridges- Pok.R.R. Industries Rivers-Hudson-Waterfront Biographical Mat.-Arnold | 1891-Aug | 3 3/4″ X 3″ Mat 4″ X 5″; Torn In Middle Where Bant | | Back Of Picture "View From North Water St. Near Residence Of Wm C. Arnold Aug 1891" |
| Foreground-number Of Rowboats, Larger Boat In Back Moored In Slip. Background-large Brick Building With Tall Smoke Stack | Boats Rivers-Hudson Biographical Mat- Booth | C. 1891 | 4″ X 5″ | | On Front- "Innis Slip Oh Booth Yacht About 1891" |
| People Seated On Ground- Picnicing Sl. View Of River On Left. Hills In Background. | Rivers- Hudson People, Unidentified Organizations, Cultural-DCHS Biographical Material- Roosevelt Place Names- Hyde Park | 1927 | Snap 4 1/2″ X 3 1/2 | | Pilgrimage 1927. F.D Roosevelt's Hyde Park |
| River In Foreground, 2 Buildings On Rivers Edge, Larger Building Has Sign " Vassar + Co Brewery" | Biographical- Vassar Buildings, Commerccial Industries- Vassar + Co. Rivers- Hudson | 1909 | Cardboard 10″ X 8″ Picture 4 1/2″ X 6 1/2″ | | Back Of Picture "Vassar Brewery Torn Down Dec 1909" |
| View Of The Hudson, Rail Tracks + Utility Lines (sp??) | Biographical- Van Kleeck Rivers- Hudson Transportation- Railroads Utilities Rivers-Hudson-Transportation History Of Towns-Rhinebeck | | Photo 4x 8 1/2 | | "View From Linwood, Rhinebeck" |
| (154/267) River Scene-bridge Spamming, Piles Of Lumber Foreground-2nd 267A 2 Story Frame Building-sign Over Po'Bont Club, 3 Men At Front Door, Large Wooden Water Tank | Bridges- Poughkeepsie Railroad Bridge Rivers-Hudson | | Mat 4 3/4 X 4 Picture 3″ X 4″ | | 2 Pictures-1 "Po'keepsie Bridge" (1) 2nd "A'pokeepsing Bont House (2) |
| River Scene With Barge And Buildings | Buildings, Commercial Biographical Vassar Industries- Vassar Brewery Rovers-Hudson-Waterfront Boats | | 4 1/4 X 3 1/4 | | Written On Back "Vassar Brewery" |
| Stream With Rocky Banks And Dam | Rivers- Fishkill Parks- Wolcott Park, Beacon | 5/20/87 | 4 X 7 Sterograph | | Written On Back: August 22, 1894- Falls At Rockey Glen. |
| Small Boat Marina With Mountains In Backgrounds | Rivers Photographers- C.A.Palmer | 5/20/87 | 4 X 7 Sterograph | | |
| Falls With Factory | Rivers Buildings- Commercial | 5/20/87 | 4 X 7 Sterograph | | |
| Long Shot Of Woods With Steam + Large Building In Background | Rivers- General Houses And Buildings- General Parks And Recreation- Wolcott Park | 5/20/87 | 4 X 7 Sterograph | | Writing On Back Ileg. Except For "groveville? |
| Long Shot Of Woods With Steam + Large Building In Background | Rivers- General Parks And Recreation- Wolcott Park | 5/20/87 | 4 X 7 Sterograph | | Written On Back: View From Wolcott, Park, Looking Up Rodry Glen |
| Steam With Factory (factory?) In Background | Rivers- Fishkill Buildings, Industrial Place Names- Glenham | 5/20/87 | 5 X 7 | | Written On Back" : View From R.R.Bridge, Looking Towards Glenham, Glenham Wollen Mill In Distance." |
| Rocky Stream With Island In Middle | Rivers- General | 5/20/87 | 5 X 7 | | Ritten On Back: "Matteawan Creek North From Wolcott's (?) Bridge" |
| Creek With Trees | Rivers- General | 5/20/87 | 5 X 7 | | Written On Back: View On Matteawan Creek Looking South" |
| 3 Ladies Sitting On Pier By River W/ Boat | Rivers-General Transportation-General People | 5/20/87 | 5 X 7 | | See Back For A List Of Views Of The Hudson River |
| Buildings On Banks Of River With 2 Bridges; Possibly Falls On River. | Buildings, Industrial Rivers- Fishkill Bridges | | Overall: H- 18.0 Cm (7 1/16 In); Photo-h-11.9cm (4 11/16 In) I-223.0cm (91 /8 In); I- 16.9cm (6 10/16 In.) | | On Back: "The Matteawen Bridge (in Distance)" |
| Building In Background Q/waterfall And Stream | Houses, Residential Rivers- Fallkill | | 4 1/4 X 3 1/4 X 3 1/4 | | "Written On Back: "Fallkill From NY.CRR Tracks?" |
| Waterfall, Railroad Bridge, Houses, Utility Poles, Trees, Wall, Rocks In Water | Biographical Material- Van Kleeck Bridges- General Houses And Buildings- City Of Poughkeepsie Rivers Transportation- Railroads Utilities Industries | April 10, 1899 | Photo 8 1/4″ By 6 1/4″ Caardboard 10″ By 8″ | | See Back: Innis Dye Works On Either Side NYCRR Bridge; The Fallkill 1899. W.C. Chairislin? |
| Picture Of The Lake Showing Treee And Bush Shoeline Of Lake. | Rivers+ Lakes | Dec.1919. Written On Card | B+W Photo | | Good Condition |
| 2 1/2 Story Building, 2 Chimneys, Person Standing In Front: Picket Fence In Front; Snow; Another Building (?) Off To Right, And One To Left | Buildings, Educational- School #4 Place Names, Poughkeepsie (city)Bayard St. Schools People; Unidentified | | Photo 3 1/2″ X 4 5/8″ On Cardboard 5 3/8″ X 6 3/8″ | | On Front: "No.4 School In Bayeaux St. 1906." |
| Large Building With Large Addition, Flowers + Trees | Buildings, Educational School- Poughkeepsie Military Insitute Schools- Warring's | | Photo 4 3/4 X 6 3/4 Inch, Backing 8 X 20 Inch | | Written On Picture: "used As Gymnasium. Poughkeepsie Military Institute. Warring's School. |
| Large Building With Bushes + Trees | Buildings, Educational Schools- Poughkeepsie Military Institute Schools- Warring's School | | Photo 4 3/4 Inch X 6 1/2 Inch, Backing 8 X 10 | | Written On Picture: " Poughkeepsie Military Institute Warring's School," Written On Backing "Warring School June 5 Th 1917" Sign On Front Of Building "Charles E Warring School" |
| Large Group Of Boys In Uniform Man Also, Styles, Flag In Stone Of Back Building Drums Also (sp?) | People, Unidentified Buildings, Academic Schools, Private- Riverview Military Academy Biographical Material Material- Booth, Oliver Photographers- Vail Bros. | | Photo-13 1/2 X 16 1/2 Inches | | Written On Back: "Riverview Mil Academy" "Oliver + Booth #56" 3-94 |
| Two Large Structures Surrounded By Trees | Place Names- Poughkeepsie (city) -Garden Street Buildings- Educational Biographical, Jewett,Milo P. Schools- Cottage Hill, Seminary Photographer- Lossing Barrit | | Picture 6 3/8″ X 3 3/4″ Mounted On Cardboard 10″ X 8″ | | On Back- Garden Street (sp?) Mill + Mansion St. Cottage Hill Seminary Milo P. Jewett, A..M., Pincipal |
| Lettering Is Faint | Buildings, Residential Place Names- Poughkeepsie (city)-So.Hamilton School. MIss Herrick's School | | | | Lettering Is Faint |
| Small Frame Building, 4 Pillars, 5 Dormers Picket Fence In Front | Buildings, Educational Schools-miss Powers Place Names- Poughkeepsie (city)-Academy | | | | On Back "Academy St Circa 1890. House Formerly Miss Powers Schools" |
| Portrait Of Thomas E. Parker As Student In Unifrom. | Riverview Military Academy Biographies- Thomas E. Parker | | Mounted Sepia Photograph 4 1/2 X 7 1/2 Image Of Photo Has Copied Itself On Photograph Cover | The Gallup Studio, Poughkeepsie, NY | PL Side Of Cover At PL Corner-torn |
| Portrait Of A Uniformed Thomas E Parker Riverview Military Academy | Riverview Military Academy Biography- Parker, Thomas E | | Mounted Sepia Photograph 3 1/4 X 5 7/8 Cover (open) 91/8 X 9 1/4″ | The Gallup Studio, Poughkeepsie, NY | Adhesive Beginning To Dry Out Cover Torn Center Bottom |
| Portrait Of Thomas E Parker In Dress Uniform Student At Riverview Military Academy | Riverview Military Academy Biography- Parker, Thomas E | | Mounted Sepia Photograph 3 1/4 X 5 7/8 Cover (open) 91/8 X 9 1/4″ | The Gallup Studio, Poughkeepsie, NY | Adhesive Beginning To Dry Out Cover Torn Center Bottom |
| Group Photo- Men In Suits, Boys In Uniforms Riverview Military Academy | Riverview Military Academy Biographies- Parker, Thomas E | No Date | Unframed Sepea (sp?) Photograph 9 X 5 3/4″ | Wolven (?) | Emulsion Crackling And Slatnial (sp?) |
| Group Photo Of 4 Young Men In School Uniform, Riverview Military Academy Thomas E Parker, Ned Schwartz, Ellist Smith, Colter Decline | Riverview Military Academy Biographies- Parker, Thomas E | No Date | Mounted Sepia Photo 5 3/4 X 8 1/2″ Paper 7 7/8 X 10 3/4″ | Wolven (?) | "4" Written In Ink On Bottom Of Paper |
| Building And Driveway With Trees Main Building Riverview Military Academy | Riverview Military Academy | No Date | Photo Printed On Tissue Paper Mounted On Cardboard Tissue 6 7/8 X 4 5/8″ Cardboard 8 3/4 X 7 1/2″ | The Harwell- Evans Co.NY | Front Page Of School Catalog Cardboard Stained, Has Holes, Remnants Of Glue, Centerbottom, Tissue Paper Torn Puckering Upper PR Corner String Tied At Top Center |
| Group Photo Of Students In Uniform- Riverview Military Academy | Riverview Military Academy Biographies- Parker, Thomas E | No Date | B + W Photograph 8 1/2 X 5 1/2″ Mounted On Paper 1- 7/8 X 8 " | Wolven (?) | Students Not Identified Thomas E.Parker Back Now 2nd Row PR (circle Above Head) Paper Is Buckling "2" Bottom Center Of Paper In Ink |
| Exterior Photograph Of Building Of Riverview Military Academy Surrounded By Trees | Riverview Military Academy | No Date | Unframed Sepia Photograph 12 X 8 1/2″ | E White (?) NY | PL Bottom Corner Creased PL Center Edge 3/4″ Piece Of The Photograph Almost Completely Detached. |
| Group Of 10 Male Students Dressed In Gym Attire Lined Up Behind A "vaulting Horse" Riverview Military Academy | Riverview Military Academy | No Date | Unframed Sepia Photograph Image: 13×9″ Paper: 15 3/4 X 11 3/4″ | E White (?) NY | Students Are Not Identified |
| Interior Photograph Of A Room With Large Table In The Center Covered With Books And Arm Chairs Against The Wall | Riverview Military Academy | No Date | Unframed Sepia Photograph Image: 13×9″ Paper: 15 3/4 X 11 3/4″ | E White (?) NY | |
| View Of Baseball Field And Bleachers | Riverview Military Academy | No Date | Unframed Sepia Photograph Image: 13×9″ Paper: 15 3/4 X 11 3/4″ | E White (?) NY | |
| Interior Photograph Of Classroom With Male Students In Uniform Seated At Desks | Riverview Military Academy | No Date | Unframed Sepia Photograph Image: 13×9″ Paper: 15 3/4 X 11 3/4″ | E White (?) NY | PL Row Last Student- Possiby Thomas E. Parker Student Seated In Front Of Him – Ink Mark On His PL Arm. |
| Group Photo Of Men All In Suits. Alumni Of Riveeview Military Academy | Riverview Military Academy Biographies- Parker, Thomas E | 1961 | Unframed B + W Photo 10 X 8″ | Murray Wayne | Some Names Written On Reverse But Not Identified By Location In Photo |
| Photos Of 9 Men In Baseball Unifros And The Manager In Regular Clothes, Each Mens Name Is Next To The Photo | People Sports- Baseball Photographers- C.H. Gallup | 1886 | H-6 1/2 In. (16.5 Cm)- Cabinet Photo I-4 1/4 In (10.8 Cm) | C.H.Gallup, 292 + 294 Main St. Pok, NY | Poughkeepsie B.B. Club 1886. Jas. McDonald- Mnager; T. McDermott-S.S. |
| Child With Mitt, Mask + Baseball | Biographical Material Wing History Of Towns. Millbrook Children People Sporta- Baseball | | Photo : H 4 3/4 Inch (2.1 Cm) L: 4 Inch (10cm) Mat. H 5 1/4 Inch (3.2cm) L: 4 1/4 Inch (10.8) | | Duplicate Of PH 135 A |
| Child With Mitt, Mask + Baseball | Biographical Material Wing History Of Towns, Millbrook Children People Sports- Baseball | | Photo: H 4 3/4 Inch (2.1cm) L: 4 Inch (1ocm) Mat: H 5 1/4 Inch (3.2 Cm) L: 4 1/4 Inch (10.8 Cm) | | Printed On Back "Morgan" |
| Man Holding Fishing Pole And First Gentleman Wearing White Pants + Shoes, Jacket + Hat | Buildings, Commercial Hotels Place Names- Pawling Sports-tennis | 5/27/87 | Photograph: H- 3 1/2 Inch (8.9cm) L-3 1/2 Inch (8.9) Mat: H 3 1/2 Inch (8.9cm) L 4 3/4 Inch (12cm) | | |
| Child With Mitt, Mask + Baseball | Biographical Material- Wing Place Names- Millbrook Children People, Unidentified Sports- Baseball Place Names- Washington (town) | | Photo: H 4 3/4 Inch (2.1cm) L: 4 Inch (10cm) Mat: H 5 1/4 Inch (3.2 Cm) L: 4 1/4 Inch (10.8 Cm) | | Printed On Back "Morgan" |
| Man On Horse Jumping Jumps | Biographical Material Wing Animals Sports- General People | | Photo: H 3 6/16 Inch (8.5cm) L-5 1/4 Inch (13.8cm) | | |
| 3 Men On Horses With Pack Of Hounds, On Lawn Near House; A Number Of People Standing Behind Wall Looking Down | Biogrpahical Material- Wing Biographical Material- Higginsen People, Unidentified Animals Sports- Fox Hunting Buildings, Residential Place Names- Millbrook Place Names- Washington (town) | | 2 In. H X 9 1/2 Inc. W | | On Front: "Alice Higginson M.F.H At Sandonona 1920" Come In A Brown Folder- Discarded |
| Large House With 2 Story Columns, Small Lake And Canoe In Foreground | Biographical Material- Wing Houses And Buildings- Millbrook History Of Town- Millbrook Lakes Sports- General | | 7 3/4 In H X 9 3/4 In. W | | On Back: "Thorndale"; "Mrs. D.Parchall Ruch T (?)"; Has Pencil Marks On Front- Possibly Crop Lines. |
| Photograph Of People, Cars, Horse, Open Field | Biographies/Material-Wing People Animal Transportation-Automobiles Sports-General History Of Towns-Millbrook Biographical Material- P | 1915 | Photo- H-20.2 Cm (8 Inches) W-25.5 Cm | | "S. Bryce Wing, Morie Wing, Frank Paton Hunt Meet. Millbrook "1915"- On Back. Photo Damaged- Upper Left Corner |
| Photograph Of Men On Horseback, Open Field, Utility Wires | Biographies/Material-Wing People Animal Sports-General Utilities | Cc 1946 | Photo-H 202 Cm (8 Inches) W-25.5cm | | "L + R-Pr. Collins, Farnham, Billy Boon (worked For Boutecom), Walter Wolf Nearest Cameral"- Note Attached "circa 1946" |
| Town Men On Horseback, Cluster Of Gounds, Green Field | Biographical Materal- Wing People Animals Sports- General | | Photo- H-20.2 Cm (8 Inches) W-25.5 Cm | | "L-R Rolond Robinson From R.I, Earl, Elias + Hounds, Teddy Bowden- Brother In Law To Roland Roland Robinson."- Noted Attached |
| Large Number Of Men On Horseback With Their Dogs, Proceeding Up A Hill | Biographical Material- Wing People Animals Sports- General | | Photo: H-12 Cm (4 7/16 Inches) W- 16.5cm ( 61/2 Inches) | | |
| Man On Horse Back In An Open Field With A Large Number Of Dogs Ahead Of Him | Biographical Material- Wing People Animals Sports- General | | Photo: H-11.7cm (45/8 Inches) W-16.7 Cm (6 9/16 Inches). No Frame Or Backing | | On Front: "Koorblim", Millbrook 1909 |
| Man With Cigar On Horse Near House | Biographical Material-Wing People Animals Sports- General | | Frame H 21 Cm (8 1/2 Inch) L 26.1 Cm (10 1/4 Inch) Picture H 185cm(7 3/4 Inch) L 235 Cm (91/4 Inch) | | On Back: "Wing" |
| Man With Top Hat On Horse | Biographical Material-Wing People Animals Sports- General | | Frame: H- 199cm (7 13/16 Inch) L 274 Cm (10 3/4 Inch) Picture: H 17 Cm (6 3/4 Inch) L 248 Cm (9 3/4inch) | | Paper Backing Gone |
| Framed Panoramic Photoof Opening Meet, Thorndale. Bright Sunny Day. Riders And Lookers-on In Front Of House. Several Automobiles In Foreground. | Biographical Material- Wing Poeple Houses And Buildings- Millbrook Animals History Of Towns- Millbrook Sports- Generall | October 1 1921 | | | Backing Paper Torn And Water Stained Gold Seal On Back: " The Closson Art Galleries, Cincinnati; Color (possibly Hand Done Photo) |
| Sailboat On A Small Pond. Surrounding Countryside With Gazebo In Foreground. | Biographical Material- Wing Lakes Sports- General Houses And Buildings- General | | Photo: H-15.6 Cm (6.1 Inches) W-21.6 Cm (8.5 Inches) Cardboard Frame: H-25.5 Cm (10 Inches) W-30.7cm (12.1 Inches) | | See Also Ph 242 C, Ph 251 C |
| View Of Small Lake With Trees And Hills Lying Beyond It. Small Gazebo To The Right. | Biographical Material-Wing Lakes Sports- General Houses And Buildings- General Photographers- General | | Photo: H-15.3 Cm (6 Inches) W-21.8 Cm (8 7/16 Inches) Cardboard Frame: H-25.6 Cm (10 1/16 Inches) W-31 Cm (12 3 /16 Inches) | George W. Burger, Poughkeepsie, N.Y | Frame Torn At Top |
| Photo- Small Lake, Sail Boat, Gazebo, Low Hills In Background | Biographical Material-Wing Lakes Sports- General Houses And Buildings- Millbrook Photographers- General | | Photo: H-15.2 Cm (6 Inches) W-21.5 Cm (8 3/4 Inches) Backing:: H-25.3 Cm (10 Inches) 30.5 Cm (12 Inches) | George W. Burger, Poughkeepsie, N.Y | Photo In Good Condition |
| Small Pond, Canoe Beached On The Left Bank. Large Willow On For Side. Sandanona Visible In The Distance. | Biographical Material-Wing Lakes History Of Towns- Millbrook Sports- General Houses And Buildings- Millbrook Photographers- General | | Photo: H-26 Cm (10 1/4 Inches) W-33.4 Cm (13 1/8 Inches) Frame: H-40.6 Cm (16inches). W-51cm (20 1/16 Inches) | | Come From Portfolio- Supposedlly Sandanona |
| Part Of Building With Pointed Root- Mang Windows, Criss-crossed White Railing- 4 Trecs | Buildings- Recreational Sports- Tennis- Pok. Tenns Club Place Names- Poughkeepsie (city)- So. Hamilton St. | | 3 3/4″ X 4 13/4 Mat 4 1/4 X 5 1/4″ | | Back Of Photo – "Poughkeepsie Tennis Club- 1892 So. Hamilton St. At Dwight, Destroyed By Tire" |
| People Playing Lawn Tennis, Men And Woman; Couple Of Buildings Behond Trees; Some People Watching Players | People, Unidentified Sports-Tennis Biographical Material- Jackson Biographocal Material- Morgan | C. 1890 -92 | Photo: H-9.5 Cm ( 3/4 In) X 1-12.5cm (4 15/16in) On Cardboard-h-10.8 Cm (4 1/4in), L-13.5 Cm (5 5/16 In) | | On Back: "About 1890-92. The Early Poughkeepsie Tennis Club Courts (3) Of Them On The Corner Of Market And Montgomery. The First Courts Offer Leaving Those In Rear Of Eastern Terrace. The Figure ( Large + In Foreground) Is Dora Taylor. In Second Court. Margaret Mandevilla (?) Bart (?) Left Is About To Serve And Louise Scofield Jackson At The Net. Cannot Make Out The 3rd Court Players, But Htink Isabel Morgan Taylor Is The One Facing The Corners Fred Morgan Is The Umpire Of First Court "Balton B. Van Kleeck" |
| Foreground- Drystone Wall. Center- Building With Large Porch Surrounding- Small Balcony Above | Buildings Receational- Po'k Tennis Club Sports- Tennis | | Picture 6 1/2″ X 4 1/2″ Mat 7″ X 5″ | | Back "Batus B Van Kleeck" Probably Poughkeepsie Tennis Club |
| 2 Pictures- Top- 2 Children , 1 On Horseback Other Holding Horse. Lower Picture- Both Boys On Horseback | Biographical- Van Kleeck, Barnes, Scott Animals Sports- Horseback Riding | 1891 | Photo 5″ X 8 1/4″ | | "Bert Barnes + Alared Scott 1891" |
| Group Of Men + Boys (31) + Dog And Additional Man In Background. Some Baseball + Equipment In Foreground | People, Unidentified- (partial) See Original (Ph562 B ) Illegible | | Picture 8 1/4 X 6 1/2; On Cardboard 8″ X5 1/2″ | | Back Of Picture "Gift Of Raymond Baumbusch, Son At M.B. Baumbusch, Given To Dutchess Co. Historical Society 1974. Davy Crockett Hol Clambake On Helson Place, Springside. Men Identified See Below |
| View Of Baseball Field And Bleachers | Riverview Military Academy Sports-Baseball | | Unframed Sepia Photograph Image 13 X 9″ Paper 15 3/4 X 11 3/4″ | | |
| Dutchess Golf & Country Club, Poughkeepsie N.Y. Vintage Tourine. CPR Is Also Depicted | Buildings- Orginizational Transportation- Vintage Photo Sports- Golf Buildings- Recreational | | | | Good Condition, Published By John B. Floger, Poughkeepsie |
| Ladies Playing Lawn Tennis; Shows 3 Small Pavilions, And Possibly Planetarium In Background, Possibly Vassar (?h Msso | People Sports- Tennis- General Education- Colleges- Vassar (?) | | H- 6 1/2 In (16.5 Cm)- Cabinet Photo L-4 1/4 In. (10.8 Cm) | Vail Bros, 254 + 256 Main St., Pok, NY | Come In Photo Album # 89 With Same Vassar Photos |
| Portrait Of Morgan Wing- View Of Porch Railing, Iron Fence, Low Hills In Background. | Biographical Material- Wing People Children Sports- Tennis | | Photo-H-12.7 Cm (5 Inches) W-17.8 Cm (7inches) | | Moroon May Have Been Playing A Lawn Game. On Back: " Morgan" |
| R.R. Rock Cut | Railroads Place Names- Beekman | 5/20/87 | 4 X 7 Sterograph | | Printed On Back: Haida Historical Lib. PO Box 947 Mahopac NY 10541- Written On Back: Rock Cut On N.Y + NERR At Poughquag |
| RR Tracks Alongside Of Water | Railroads Lakes Place Names- Fishkill | 5/20/87 | 4 X 7 Sterograph | | Written On Back: "View At Whaley's Pind- (?) Track |
| Waterfall, Railroad Bridge, Houses, Utility Poles, Trees, Walls, Rocks In Water | Biographical Material- Van Kleeck Bridges-General Houses And Buildings- City Of Poughkeepsie Rivers-General | April 10, 1899 | Photo 8 1/4″ By 6 1/4″ Cardboard 10″ By 8″ | | See Back: Innis Dye Works On Either Side NYCRR Bridge; The Fallkill 1899-WC Chainislin? |
| 154? (267) Riverside- Bridge Slamming Piles Oƒ Lumber Foreground- 2nd 267 A 2 Story Frame Building – Sign Over D? Po' Bont Club, 3 Man At Front Door, Large Wooden Water Tank | Bridges- Poughkeepsie Railroad Bridge Rivers- Hudson | | Mat 4 3/4 " X 4 Picture3″ X 4″ | | 2 Pictures- "Po'keepsie Bridge" (1) 2nd "A Po'keepsie Bont House" (2) |
| Interior Of Poughkeepsie Rail Road Station Waiting Era | Place Names- Poughkeepsie City Photographers- General Transportation- Railroads Buildings Civic Interiors | N.d | B + W Image Adhered To Cardboard Backing Image Size 7 1/2 X 9 9/16″ | | According To Donor This Photo Was Taken For The D.H. Laury Tile Company Rocco Staino 131 Hooker Ave. Poughkeepsie NY 12601 |
| 28-34 Washington St. | Poughkeepsie Buildings Commercial Vehicles | 1913 | B + W 2 3/4 X 4 1/2″ | | Workers A Moco Service Parkign 15 |
| Men, Children + Automobiles In Fornt Of Commercial Bldg. | People, Unidentified Vehicles Buildings, Comercial Biographical Material- Schenck Biographical Maerial- Wellwood Biographical Material- Nevell? | 1913 | Central Hudson Gas+ Electric Co. Bldg. 50 Market St. | | Men Partially Identified |
| Commercial Hags. Vehicles, Traffic Lights | Vehicles Place Names- Poughkeepsie (city)- Main Street Place Names- Poughkeepsie (city)- Market St. | Prior To 1932 | | | Con Main + Market Sts. Dutch |
| Wooden House W/ Cars + Truck In Front | Biographical- Swiftt Biographical- Van Gruson Buildings, Residential Vehicles | | 3 1/4 X 4 1/4 | | Written On Back: "The Old Swift + Van Grieson House-24 Cannon St." |
| "316 Frank Carpenter , 318 S.V. Raymond, May 1916"; Storefront, People Auto , Bicycle , Trolley Tracks, Street Lighting. | Buildings, Commercial Biographical Material- CarpenterBiographical Material- Raymond Poeple, Unidentified Vehicles Place Names- Poughkeepsie (city) Raymond Avenue | 16-May | 4 5/8 X 6 3/4 Photo Glued To 7 X 9 1/2 | | Van Kleeck Collection |
| "Frank & Kirchner Building. Sept 1915"; Ice Cream Parlor + Vassilliview(?) Bros. Confectioning Ar # 282 On Left | Place Names- Poughkeepsie (city) Main St Buildings- Commercial Vehicles People- Unidentified Biographical Material- Kirchner | 15-Sep | 5 X 7 Photo Glued To 7 X 9 Cardboard | | Van Kleeck Collection |
| "James W. Wood Drug Store, July 1915"; "corner Main + "wood Lane" Formerly Mechanic St." Building, Brick Street , Trolley Tracks, Part Of Automobile | Place Names- Poughkeespsie (city) Main Street Vehicles Buildings Commercial People- Unidentified | 15-Jul | 4 1/2 X 6 5/8 Photo Glued To 7 X 9 Cradboard | | Van Kleeck Collection |
| "Front Of Kirchner Building. Sept, 1915"; Allen Brothers Drugo (?) At # 278 To Right Of Pictures; Trolley Tracks, Automobile, Air Pump In Front Of Store. | Buildings, Commercial Biographical Material- Allen "?" Kirchner Place Names- Poughkeepsie (city)- Main Street People, Unidentified Vehicles | Sept. 1915 | 5 X 7 Photo Glued To 7 X 9 Cardboard | | Van Kleeck Collection |
| Row Houses With 2 Men Standing In Front Of One. Street Lamps, Automobile. | Biographical Van Kleeck Utilities Marker (sp?) Building, Poughkeepsie Vehicles People | 15-Jul | Photo 4 1/2 X 6 1/2 Cardboard 9 X 7 | | "49-51 Market St, July 1915 |
| Row Of Buildings With Cars, Trolley, Tracks And Women | Place Names- Poughkeepsie (city)- Main Street People, Unidentified Vehicles | | Photo- 5 Inch X 6 3/4 Inch, On Backing 8 In X 10 In | | On Front: "South East Corner Main + South Hamilton Sts April 1917 |
| Major Intersection, Trolly Tracks, Large Building On Corner, Several Automobile Parked Along Side Street , Many People Walking On Sidewalk, Utility Poles, Takes Place In Early 20th Century | Biographical Material- Van Kleeck Buildings Commercial- Main St. People, Unidentified Hotels- Morgan House Utilities Vehicles Place Names. Poughkeepsie (city)- Main St. | | Photo 7 1/2″ X 9 5/8″ Cardboard 11″ X 14″ | | "Destroyed By Fire March 19th 1917", "B.B Van Kleeck" |
| Street Scene With Stores, Street Lights, Automobiles, Trolley Tracks | Biographical Material- Van Kleeck Houses And Buildings- Main Street History Of City- Poughkeepsie Photographers- Steenson + Van Vlack Utlities Vehicles | | Steenson + Van Vlack, Pok, NY | | On Fron: "1931"; On Back: Reformed Church Property; Main & Market Street Torn Down April 1932, 1935 "The Church Bldg"; "1981 Yearbook Pg. 94 Shoot At 19% (?) |
| Store Front- "Van Kleeck's" Cross Front Windows Pasted With "going Out Of Business" Signs | Biographical Material- Van Kleeck Buildings, Commercial Vehicles People, Unidentified | Oct.1960 | Photo 9 3/4 X 8 1/4 | | Back Of Photo "October 1960" |
| Commercial Buildings Being Demolished Police Man + Stations Police At St. Intersection Bus Parked On Rt., Car On Left, People Crossing St. | Buildings, Commercial Vehicles Photographers Place Names- Poughkeepsie (city)- Main St Place Names – Poughkeepsie ( City)- Market St. Biographical Material | 1930 | Photo 10 3/4 X 6 3/4 | W M Dutchess | Back Of Picture "So East Corner Main + Market Sts. Demolished 1930" |
| Beekman Arnis Hotel- Cars Parked On Rt Side. 9 Rte# On Corner, Mon Crossing St. | Buildings, Commercial Hotels- Beekman Arms Vehicles Place Names- Rhinebeck (village) Biographocal Material- Winnie (Winne) | | Snap 3 1/4″ + 5 3/4″ | | "Back- "5239 Rhinebeck Winnie" |
| Very Dark Snap Shot- 2 Buildings In Back, One On Left Has 2 Chimneys. Many People Standing A Long Curb | Building, Commercial People, Unidentified Utilities (?) Vehicles | | 3 1/4″ X 4 1/4″ | | Picture Too Dark To Distinquich Clearly |
| Photo- People In Cars. Cars In Front Decorated With Flowers. Houses And Buggys | Biographical Material- Wing People Transportation- Automobiles Animals Photoographers- General | | Photo- H-23.3 Cm (9 Inches ) W-18 Cm (7 1/8 Inches) Backing: H- 35.5 Cm (14 Inches) W-28 Cm (11 Inches) | | |
| Photograph Of People, Cars, Horse, Open Field | Biographical Material- Wing People Animal Transportation- Automobiles Sports- General History Of Towns- Millbrook Biographical Material- P | 1915 | Photo- H-20.2 Cm (8 Inches) W-25.5 Cm (10 Inches) | | "S. Bryce Wing, Marie Wing, Frank Paton Hunt Meet- Millbrook "1915"- On Back. Photo Damaged- Upper Left Corner |
| Photo Of Car Decorated W/ Flowers, And Trophy. Car Standing In Field. | Biographical Material-Wing Transportation- Automobile Photographers- General | | Photo-H-23.3cm (9 Inches) W-18cm (7 1/8 Inches) Backing: H-35.5cm (14 Inches) W-28cm (11 Inches) | | "S.Bryce Wing, Marie Wing, Frank Paton Hunt Meet. Millbrook "1915"- On Back. Photo Damaged – Upper Left Corner |
| Framed Panoramic Photo Of Opening Meet, Thorndale. Bright Sunny Day. Riders And Lookers- On In Front Of House. Several Automobiles In Foreground. | Biographical Material- Wing People Houses And Buildings- Millbrook Animals History Of Towns- Millbrook Sports-General Transportation- Automobiles | 1-Oct-21 | | | Backing Paper Torn And Water Stained Gold Seal On Back: "The Closson Art Galleries, Cincinnati; Color (possibly Had Done) Photo |
| Motorcade. | Place Name, Hyde Park FDR Prime Minister Of Canada- Mackenzie King King George Windsor Of England Tranportation- Automobile Military Biographical Material A-G Biographical Material H-Q Biographical Material U-Z | 1939 | B + W Photo 4 5/8″(w) X 3 1/2 (h) | | On Reverse "1939 King/Eng. + FDR |
| Town Dump @ Left Telephone Pole And Houses And One Cow | Transportation- Automobile Place Names- Town Of Poughkeepsie Biographical Material A-G Building- Residential Photographer- General Highways + Roads | 1929 | B + W Photo 8 X 10″ | V. Shepard Fro Central Hudson Gas And Electric Co. | On Verso Photo By V. Shepard, Central Hudson Gas + Electric. Co 1929 North Grand Ave |
| Building Of Vassar College | Buildings, Educational Education- Colleges- Vassar Photographer- General Place Names- Poughkeepsie Town Of Transportation- Automobile Biographical Material A-G | | B + W Photo 8 X 10″ | Steenson + Van Vlack Poughkeepsie, NY | Built By Edgar V. Anderson |
| 2 Touring Cars With 4 Men In Each | Vehicles People, Unidentified Buildings, Commercial | | | | On Back "1902 Morgan House, Main + Catherine" |
| People Driving In Cars Along A Country Road. Wall On Side Of The Road And House In Foreground. | Biographical Material – Van Kleeck Vehicles People, Unidentified Buildings- Commercial | 1907 Or 1908 | Photo 8″x 10″ Cardboard 8 1/2″ X 10 1/2″ | | "Midhouse? Catskill Mts. Mrs. Raub? Mrs. Chenry? And Chauffeur, Mrs. Frank Van Kleeck, Mary Van Kleeck, Baltus Van Kleeck, Alfred G.Scott, H.S Scott. Tewksbury Chauffeur"- On Back |
| Boy And Man, Apparently Picking Fruit. Man On Ladder, Boy On The Ground | Biographical Material- Wing People Transportation- General | | Photo: H- 9.2 Cm (3 7/16 Inches) W-11.8 Cm (4 5/8 Inches) Cardboard Frame: H- 14.2 Cm (5 9/16 Inches) W-16.5 Cm (6 1/2 Inches) | | |
| 3 Ladies Sitting On Pier By River W/ Boat | Rivers- General Transportation- General People | 5/20/87 | 4 X 7 Sterograph | | See Back Fro A List Of Views Of The Hudson River |
| Cooperage With At Least 2 Wagons, Barrel Riggin (?), 4 Men And 2 Children; One Man In Work Apron, Others In Suits; Another Small Building On Left In Background. | People Houses And Buildings History Of Towns- Pine Plains Transportation | 1883 | Photo 16.5 Cm (6 1/2) X 21.0 Cm (8 1/4 In) In Wood Frame. Brown With Black Trim | | On Back: "R.C Bards Cooperage, Pine Plains, NY 1883. Peter Weaver With Arm On Barrel Riggin Tillie Board On Barrel @ 2 Years, Russel L.Bard- With Hand On Barrel, Lacy (?) Bard-a.c.7 Years" |
| Vassar College Building | Building, Educational Education-Colleges-Vassar Photographers- General Place Names- Poughkeepsie- Town Of Transportion-bicycle Biographical Material- A-G | | B +w 8 X 10″ | | Built By Edgar V. Anderson |
| Several Men Appear To Be Laying Brick Paving, House In Background. | People Houses And Buildings- General Transportation- Highways And Roads | | H-4 1/4 In (10.8cm) | | Written On Back: "Main St. Matteawan, NY. |
| Snow Scene | Houses And Buildings- General Transportation- Highways + Roads History Of City- Beacon Religion- M.E.Church | 5/2/87 | 4 X 7 Sterograph | | Written On Back: "Main St. Matteawan, NY.-showing The M.E. Church And "North Beacon" As A Background |
| View Of Street Taken From Center Of Street ; Stores Lining Streets, Automobiles, Trolly | Buildings, Commercial Vehicles Utilities People, Unidentified Transportation Place Namesp Poughkeepsie (city)- Main St. | | 20.6 Cm (8 1/8″) X 25.5 Cm (10 In) | | On Back: "Main St. East Of Academy 1944" |
| Street Scene, Many Trees | Transportation- Highways-Roads History Of City-Beacon | 5/20/87 | 4 X 7 Sterograph | | Written On Back: Main St., Mattewan NY, Looking West From "Town Hall" |
| Two Sides Of Street- Commercial Buildings- Poughkeepsie Hotel (?) National Bank | Buildings, Commercial Place Names- Poughkeepsie (city)-? Vehicles Hotels- Poughkeepsie Hotels | 1885 | | | "Baltus Van Kleeck", "Frank Van Kleeck", "1885" On Back |
| Commercial Bldgs, People, Vehicle- | Buildings, Commercial Vehicles Biographical Material- Doughty Photographers- S.S. Walker Biographical Material- Van Keuren Biographical Material- Shultz Place Names- Poughkeepsie (city)- Main Street | 1868 | Main St.- Cobble Pavement, Business Places Identified | | On Front "South Side Of Main St. East Of Wood's Drug Store May 18.6 On Back "Taken By S.S. Walker, May 19th, 1863- Looking South From Garden St." |
| Row Of Commercial Buildings, Inc. Merchants Bank | Buuilds, Commercial Vehicles Place Names- Poughkeepsie (city) Banks- Merchants Bank | 1868 | | | Merchants Bank 1868 |
| Row Of Stores, Cobblestone Street, Vehicles With People | Buildings, Commercial Place Names- Poughkeepsie (city) Main Street Vehicles Biographical Materials- Daniels Biographical Materials- Briggs/ Darrow | 1859 | | | "1858 356-270 Main St" On Back |
| Poughkeepsie Hotel And Adjoining Buildings, Carriages Pulled Up In Front, Man On Balcony , Porch & Street | Place Names- Poughkeepsie (city) Main St People, Unidentified Buildings, Commerial Hotels- Poughkeepsie Hotel Vehicles Horses Biographical Material- Tallmadge, Carmen, Wilkinson, Henderson, Eisel, Appleby | 1869 | Photo: 10 7/8″ X 13'12" On Cardboard:15 7/8″ X 20″; Cardboard Frayed, Tear In Upper Right Corner. | | On Front: "Poughkeepsie Hotel, Poughkeepsie, NY 1869; No. 1-Wm. H. Tallmauge, 2-Charles Carmen, 3 Gilbert Wilkinson, 4-stout, S-Oliver Henderson, 6-Geo. Eisel, 7-Appleby; On Back "Main St. 1869, New Market St. Was Cat Thru This Site. |
| Horse Drawn Fire Wagon- 2 Horses Driver, Tire Extinguished, 2 Hanging Lanterns On Rear" | Fire Companies- Cataract Steamer, No. 4 People, Unidentified Animals Vehicles | 1912-June | 4 1/4″ X 7″ | | Front " Duty Apparatus Of Cataract Steamer Co. No 4, Po'keepsie, NY"; On Back- "June 1912" |
| Horse Down Fire Truck | Vehicles Fire Companies-Lady Washington Co No 3, Pokeepsie People, Unidentified Horses | 12-Jun | Photo 6 3/4 X 4 1/4 | | Front Of Photo – "Duty Apparatus Of Lady Washington Hose Co., No 3, Pokeepsie, NY" On Back : "June 1912 |
| Sidewalk Corner In Foreground. Line Of Buildings On Opposite Side People Lining The Sidewalk . Horse And Buggy Parked In Car | Buildings, Commercial People, Unidentified Vehicles Place Names- Poughkeepsie (city)- Main Street Photographers- C.H. Gallup Biographical Material- Doughty, Van Keuren, Shultz, Frost | | Photo 7 X 9 1/2 Cardboard 11″ X 14″ | | "Main Street Opposite Garden Garden 1863 Cooking South From Garden St, Frank Van Kleeck " On Back |
| Row Of Four Story Building On City Street, One Has Canopy. People Standing In Front, Horse And Buggy On Side Of Street | Buildings, Commercial People, Unidentified Vehicles Horses Biographical Material, Adriance, Burroughs, Fitchett, Sterling, West | 1869 | Photo 7 1/4″ X 9″ Cardboard 11″ X 14″ | | "1869" On Back |
| Row Of Buildings, People In Front, Horse And Buggy | Buildings, Commercial Vehicles People, Unidentified Animals Biographical Material-Sterling, Plat | | Photo 7 X 9″ Cardboard 11 X 14 | | "I M.Photo ? 2: Elisha Sterling:3 Will Sterling Now Part Og Luckey Platt Co"- On Front |
| Long Row Of Buildings With Men Posed In Front , Horse + Wagon On Brick Street | Biographical Mat- Van Kleeck Photographers Vail Bros Buildings, Goverment-Post Office Hotels- Nelson House Place Names- Poughkeepsie (city)- Market St. | | Photo : 10 1/8″ X 13 12 1/2″ On Cardboard:12 1/2″ X 17″; Lower Left Corner Of Board Torn Off, Top Bent | | On Front: "Market St. Corner Of Union. Site Of Post Office. The Goverment Building Erected On This Site Was Occupied By The Post Office On The 13th Day Of November 1886."On Back: "Site Of Post Office . The Post Office Was On The Corner, The Brick Apart Of The Building, Before Removal To The City Hall. Albert Van Kleeck Was Postmaster At The Time Of The Removal To The City Hall. Photograph Taken Prior To 1884." |
| Wooden Buildings On Street, With Sidewalks, Trees, People, Store Signs, Horse + Wagon. | Biographical Material-Biddie Buildings, Commercial People, Unidentified Vehicles Horses Place Names- Poughkeepsie (city)- Garden Street | C. 1860 | Photo: 9 1/2″ X 7 7/8″ On Cardboard: | | On Back: Garden St. From Corner Of Main About 1860; Garden St. Looking North From Main St. 1860 +-" |
| House Surrounded By Trees, People And Horses Lined Up In Front ; Servants (?) In Windows | Vehicles People, Unidentified Buildings, Residential Place Names- Poughkeepsie (city)- Academy Street (?) Biographical Material – Atwater Biographical Material – Cummings | | Photo 7 1/4″ X 9″ Cardboard 11″ X 12″ | | Place Unknown ; Atwater House ( A.G.Cumming's House) Academy St, Pok? |
| Intersection Of Streets, Buildings , Sidewalks, Peole, Horse + Carrage , Policeman | Buildings, Commercial Place Names- Poughkeepsie (city)- Main St. Place Names- Poughkeepsie (city)- Washington St. Biographical Material- Zimmer People, Unidentified | | Photo 6 1/2″ By 4 1/2″cardboard 9″x7″ | | Northwest Corner Main And Washington Sts. Demolished April-May 1914 |
| Utility Wires Sidewalk, Buildings, People, Utility Wires | Buildings, Commercial Vehicles Place Names- Poughkeepsie (city)- Main St. People, Unidentified | July 21st 1915 | Photo 6 1/2″ By 4 1/2″cardboard 9″x7″ | | 95 Main St. July 21 St 1915 |