Kimberlee Breden of Poughkeepsie was not sure what to expect when she found a letter in her mailbox in November with a return address of New York State Governor Kathy Hochul and Erik Kulleseid, the Commissioner of the New York State Office of Parks, Recreation and Historic Preservation.
The letter advised Breden that she was a recipient of the 2022 New York State Historic Preservation Award for Excellence in Historic Building Rehabilitation. The recognition was for the work she had done restoring her home at 57 Montgomery Street, Poughkeepsie, just east of the historic Memorial Fountain and Eastman Park.
Referring to the house as the "F. R. Bain house," the name of its original owner in 1888, the letter went on to say, "Your diligent efforts to restore your historic Victorian home exemplify the power of harnessing the Historic Homeownership Rehabilitation Credit and the finished product is an inspiring example in the City of Poughkeepsie. The delight is in the details and your work is bound to get other homeowners thinking about potential projects for their historic buildings."
Breden attended a ceremony in Albany in December, being one of ten award recipients. Let's examine what makes this particular "adaptive re-use" particularly noteworthy.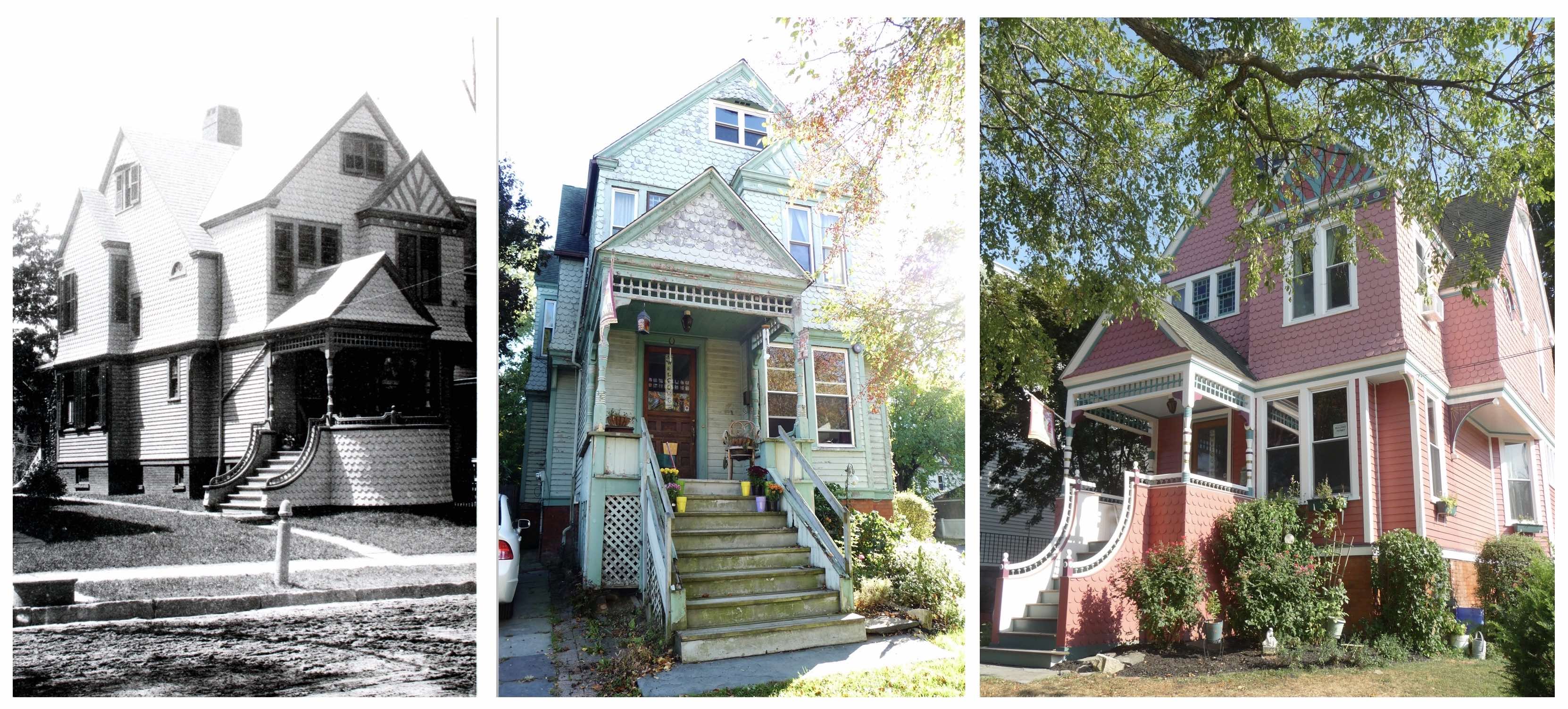 Bain House, 57 Montgomery Street, Poughkeepsie.
Left to right: 1891, 2018 and 2022.
Some owners of historic homes worry that designations and recognition can limit what they can do for their home, or that they might lose control of certain decisions. But Breden feels that the entire process has enabled her to have exactly the home she had dreamed of owning and living in. Such a project takes a combination of vision, and a deep commitment to ensuring that those qualities that can only come from historic homes are made a priority, and persistence in the face of obstacles.
Breden feels that the financial incentives through tax credits took a good deal of careful navigation but made the difference in allowing her to restore the home to the degree that she did. Doing a good deal of work herself, "and returning bottles to get the five-cent deposit" all added up to making the project economically feasible.
Where did this depth of commitment come from for Breden? It started early.
"My earliest memories relate to my father's grandparents who were from Germany. They owned a delicatessen in Mount Vernon in a beautiful old Victorian house. It was a couple stories. The retail was on the ground floor and they lived above. It had pocket doors, a club foot bathtub like my third floor has, it had a beautiful mahogany staircase and wainscoting. I was a little girl and I remember, I remember the way it smelled, everything."
Breden thinks this was one of the reasons that when she first saw 57 Montgomery Street in 2007, in spite of its state of disrepair, "it felt like home." Attempts to purchase the house in 2007 and 2008 were not successful.
That's where serendipity, or the sense that "this was meant to be" comes into play. At 1:30 in the morning on September 23, 2009, something prompted Breden to do an online search for the property, wondering what had become of it. To her great surprise, she found that the house was being auctioned just a few hours later at 9:00 am. Breden made sure she was at the auction, and although it became a protracted process, she succeeded in securing the property from the bid she made that morning She moved into the house in 2010.
Above all, Breden credits her father's wisdom for the depth of commitment she has to the house, explaining, "My father would say he had three things that he stood by. He said, 'You do the right thing because it is the right thing to do. You only do a job you would be proud to put your name on. And you leave a place better than when you found it.' And that's exactly what I feel about here."
The project has dimensions that involve scale, "I needed 1,177 shingles that were six inches wide, with a curved bottom," Breden said. "I made 1,200 of them."
Equally, the project has dimensions that involve great detail. Breden says she is able to restore a third floor window's colored glass with original colors because of the shards of broken glass she discovered buried in the backyard.
Breden also credits great partnership, in particular Poughkeepsie Design Historian, Holly Wahlberg. And Toni Mauro, a member of the City of Poughkeepsie Historic District and Landmarks Preservation Commission at the time of Breden's application for City, then State and National designation.
Having secured City historic designation, in March of 2015 Wahlberg wrote a 21-page statement of significance in support of the application for both State and National historic designation, both of which were successful in 2016. Wahlberg explains the importance of the statement of significance saying, "Saving vulnerable houses requires a mixture of passion, knowledge and fearless determination. But the process begins with extensive research and writing. A National Register nomination must articulate not just the history of a house, but also what that history reveals about our nation and ourselves."