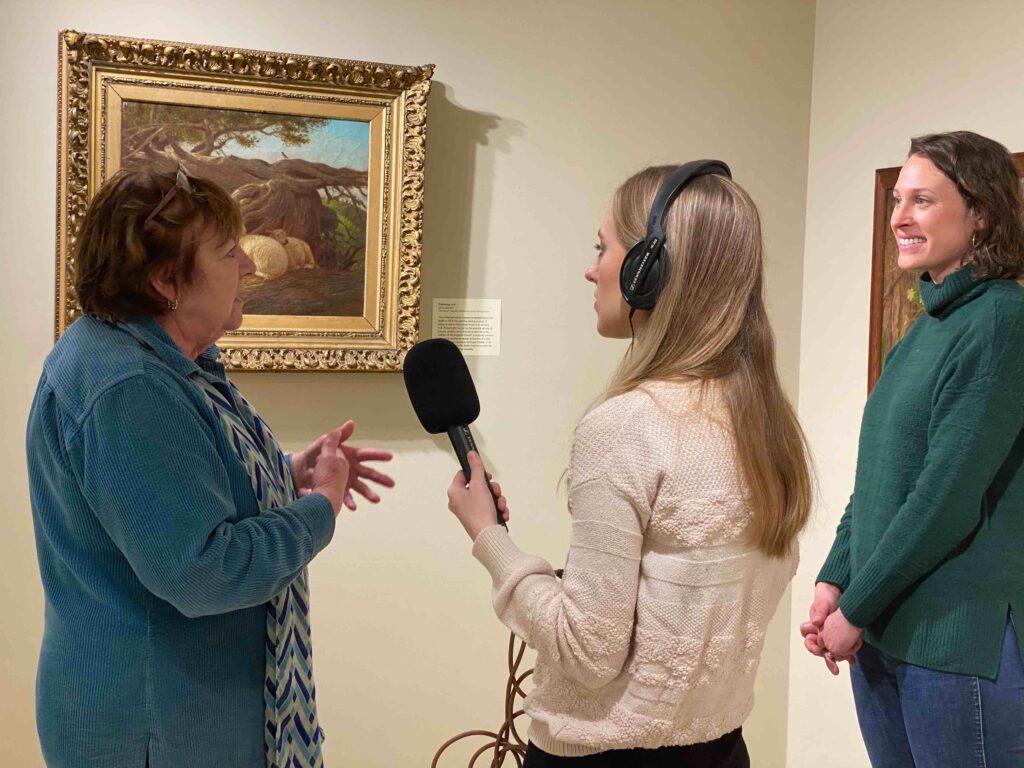 WAMC's 51%
Listen to Jesse King's interview of the curators for NPR women's program 51%. Opens a new window.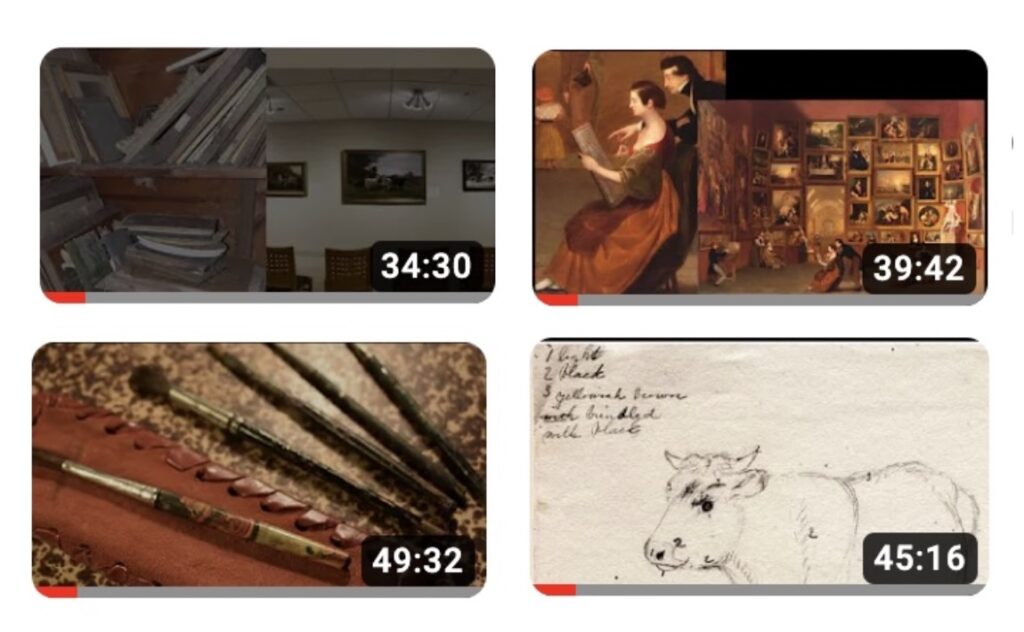 View Programs
Four video programs examine a range of topics from painting conservation, to Poughkeepsie society, to other women artists. Opens a new window.
The exhibition, Fertile Ground: The Hudson Valley Animal Paintings of Caroline Clowes, is held at the Locust Grove Estate in Poughkeepsie. It is the first exhibition of the work and life story of the 19th century LaGrange artist who earned an international reputation, but whose legacy was allowed to recede.
The exhibition is open, free to the public, Wednesdays to Sundays 1:00 to 5:00 pm between November 4 and December 30 (except Thanksgiving Day, Christmas Eve and Christmas Day). And by special appointment. The exhibition is made possible through the partnership of Locust Grove, which is generously providing space, access, and logistical and other essential support. And the Members' Fund of the Frances Lehman Loeb Art Center at Vassar College.
Caroline Clowes' personal story is compelling. She had to overcome personal tragedy and loss early in life, and experienced pushback and barriers as a woman wishing to succeed artistically and commercially in a field dominated by men. And yet it is her work that is the highlight of the exhibition.
In 1878 in the newspaper Vassar Miscellany, the head of the emerging Art Department at Vassar College, Henry Van Ingen, referred to the character of her paintings in seemingly contradictory terms, describing them as "those transparently solid flesh tints." It is this luminosity, and the skill and detail involved in depicting both the animals and the landscapes, that makes her work so powerful.
Additionally, through thousands of pages of letters and diaries, the exhibition tells the story of a woman who knows what she wants to do. She first finds support through the multi-generational household of strong women living at the family home, Heartsease, in LaGrange. Growing into adulthood, she is then buoyed by the support of nationally renowned artists and educators who emerged from the founding of Vassar College in 1865. In this way, Clowes was able to shed a remote childhood in Sullivan County woodlands for the national stage.
The restored works and legacy of Caroline Morgan Clowes are fertile ground for anyone determined to overcome obstacles in pursuit of a dream, or who seek a beauty and truth that is closer to home.
When 13-year-old Caroline left her single father's home in the remote woodlands of Sullivan County to live at the LaGrange farm affectionately known as Heartsease, she knew she would find a nurturing home with the extended family she had known all her life. Caroline's mother died when she was two, leaving herself and her sister, Lydia, who was two years older, in the care of their father William.
Prompted by encouragement from family members, William allowed 15-year-old Lydia to move to relatives in Virginia. Caroline moved to the dynamic home of her late mother's brother, Benjamin, his wife Elizabeth Nichols Hart and their six children. Others lived there, like her aunt "Miss (Adelia) Nichols," who gave Caroline her first drawing books and lessons.
Family tradition holds that upon the home's completion in 1839, the boss carpenter's prescient blessing was "Peace and Plenty: Always full and never empty." The house of generous size and proportion stands today. Generation after generation of extended Hart and Hubbard family members came to live at Heartsease, some for a short time, and others, like Caroline, for their entire lives.
What Caroline might not have realized at the time, was that in addition to emotional and material support from home, she would find support in Poughkeepsie. The City of Schools, as it was known given all its preparatory schools, opened its jewel in the crown, Vassar College, in 1865. Critics of women's higher education at the time, and there were many, said it would be the downfall of a woman's most important role: motherhood.
Like an extension of the values she learned from her family where a woman had no preordained barriers based on gender, in Poughkeepsie she found men and women with both the skills and temperament to help her achieve artistic and commercial success in a field dominated by men.
Her work was exhibited at the National Academy of Design in New York City. Her Two Cattle at the Brook was featured on the most coveted wall in the gallery of American Art at the 1876 US Centennial Exposition in Philadelphia.
Caroline's LaGrange home, The City of Schools, Dutchess County, and the Hudson Valley, not only nurtured her soul, skills and temperament, but became the subject matter she would so beautifully depict. Along with men like Frederic Rondel, who was visiting the area to capture its specific local beauty through a commission from Matthew Vassar, Caroline's subject matter was her neighborhood. Whether her backyard, or that of a neighbor, her subject matter was close to home both at LaGrange, and later at her Florida winter home.
In these paintings you will find both a careful depiction of the animals, and a careful depiction of the landscape setting, where the subtlety and variation of light and texture is sublime.
The beauty Caroline brings out in the animals reminds us that while there was an enormous functional and economic role for the cow that produced the very milk and cheese the family ate, and the horse who daily took them in their carriage to church, to the homes of friends, and elsewhere. Indeed, the animals often felt like members of the family, had names, and were discussed in letters.
On Wednesday, November 16, 1904, Caroline's young cousin, Edith Louisa Hubbard, wrote in her diary at Heartsease, "At half past seven Carrie passed quietly away." In a letter she wrote there would be only a quiet service, saying Caroline "wished everything very quiet." And so it was.
Caroline's paintings, drawings, letters, and personal effects remained in the attic at Heartsease. Her life story was allowed recede, becoming a dim memory.
In 2012, Linda Hubbard, with the encouragement of her husband E. Stuart Hubbard, began the process of readying the many paintings, drawings, letters, diaries, daguerreotypes and objects to be given to the Dutchess County Historical Society perpetual care and interpretation. This exhibition is the result of the subsequent years of study and in the cases of paintings and drawings, archival restoration.
The exhibition ranges from her very first and earliest drawings to her later, most sophisticated work. Some letters are deeply moving, like the letter Caroline's mother wrote to her on her deathbed. Some letters reveal stratetic calculation: the man representing her work to the prestigous Goupil gallery wrote to Caroline saying,"They suppose you are a gentleman and I did not undeceive them." She signed her work "C.M. Clowes." Wright mentions later in the letter that he will reveal her gender once her reputation is established. "I shall enjoy seeing the astonished look in their eyes," he wrote.
We hope you will enjoy the beauty of her work, and her inspiring life story.
Bill Jeffway, Melodye Moore, Caroline Culp, Ph.D., curators
Fertile Ground: The Hudson Valley Animal Paintings of Caroline Clowes
Photos from the November 3rd Preview
We are grateful for the constant eye and professional hand of Lenny Miller