---
In our examination of the local history of the craft of Jewelry, we include silversmiths, watch and clock makers, engravers, and metal workers in general. The local story begins with the nationally renowned Andrew Billings, who was highly regarded, and frequently employed by, General Washington in both a personal capacity as well as an official government role. Below, from DCHS Collections, we find Billings signing as Master of the Poughkeepsie Masonic Lodge in 1790 in a certificate of membership. Note the use of the beehive as an iconic image of collaboration. Nine years later, as one of the founders of the formally incorporated Village of Poughkeepsie in 1799, Billings would choose the beehive as the Village Seal. The beehive remains in place today as the City of Poughkeepsie seal, continuing to represent collaboration and common purpose.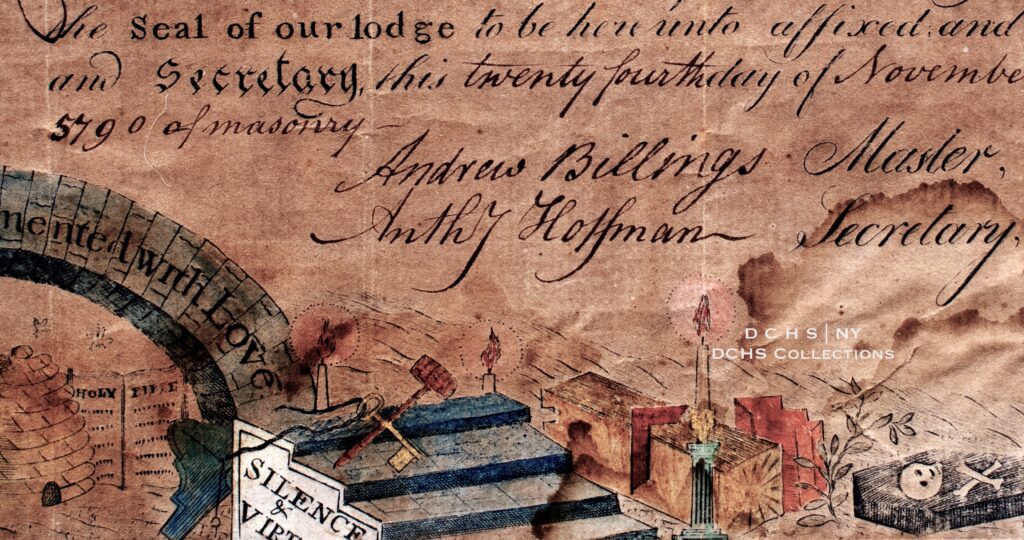 ---
The longtime and generous support of Zimmer Brothers Jewelers enables us to carefully, professionally archive and protect 18th century documents such as the Billings certificate, and the beautiful examples of jewelry and metal work we share here.
---
Founder Thomas Zimmer, Jr. started his career in the jewelry business at the age of 14 when he apprenticed as a bench jeweler for Hallowell & Co. Jewelers in Poughkeepsie, NY. Moving to New York City around the age of 18, he became shop foreman for George O. Street & Co. who manufactured wedding rings and men's rings primarily for Tiffany & Co.
Returning to Poughkeepsie in 1893 Thomas opened his own small jewelry store on Garden Street in Poughkeepsie, N.Y. where he was joined by his brother Fred, a watchmaker in 1896.
In the early days Zimmer Brothers specialized in diamonds and watches and was the official watch inspector for three railroads. Thomas's son Leonard Sr. entered the business in 1914. He was a master watchmaker graduate of the Philadelphia School of Horology. In 1948, the post war years welcomed Leonard Jr. who greatly expanded the business.
Zimmer Brothers is currently owned and operated by Leonard Jr.'s son-in-law Michael Gordon who came on board in 1971 and his daughter Jocelyn Gordon Klastow joining full time in 2001, the fourth and fifth generations of the founding family
---
DCHS Collections

February 22, 1895 saw elaborate dedication ceremonies for the new Masonic Temple on Cannon Street, now known as Revel32. Among the gifts at the time was a medal noting the December 27, 1792 visit of General Washington to the local Masonic Temple at the time, which was then located in the home of Grand Master Lewis Dubois, just north of today's Bardovan Theater. The medal was a gift of Helmus W. Barrett (1846—1932) who was born in Clinton House at 549 Main St. He was a founder and life-long Director of the First National Bank. For 17 years he was an active member of the Board of Education, giving gifts to local schools, for example, of portraits of Washington and Lincoln.
---
Silversmiths
---
Gallery