This page is dedicated to learning more about General Lafayette, both because of the time he spent in Dutchess County during the Revolutionary War, and the excitement created on the local stops related to his tour as the nation's guest in 1824.
Toward the beginning of his yearlong tour of the United States, 1824 to 1825, the Marquis de Lafayette and his son, Georges Washington Lafayette, enjoyed a major public reception in Poughkeepsie, on Thursday, September 16, 1824. They also made three private visits in Dutchess County that included former Governor Lewis at Staatsburg, and Janet Livingston Montgomery in Red Hook, and the granddaughter of John Adams, Mrs. DeWitt in Fishkill.
---
Thursday, September 16, Poughkeepsie.
2 am, boat arrives. 7 am disembarks at foot of Main Street.

Thursday, September 16, Staatsburg.
Late morning, former Gov. Lewis Morgan.
Thursday, September 16, evening/overnight
Clermont, Livingston Estate

Sunday, September 19, Red Hook.
Morning until 2 pm, Mrs. Montgomery, Montgomery Place.

Sunday, September 19, Fishkill.
7 pm, Mrs. DeWitt, granddaughter of John Adams.
---
A September 14 Dinner in New York City launched the Hudson Valley Tour
Below, from DCHS Collections, is an invitation to a member of the Van Kleeck family in Poughkeepsie to attend the Castle Garden (now known as Fort Clinton) celebrations at the southern tip of Manhattan. After being postponed twice, the Castle Garden event took place four days later than planned, on September 14. At 2 AM on the 15th, Lafayette got aboard the steamboat James Kent and sailed up the Hudson River toward Albany.
From the Van Kleeck Collection at the Dutchess County Historical Society.
An invitation to, we believe, Leonard B. Van Kleeck.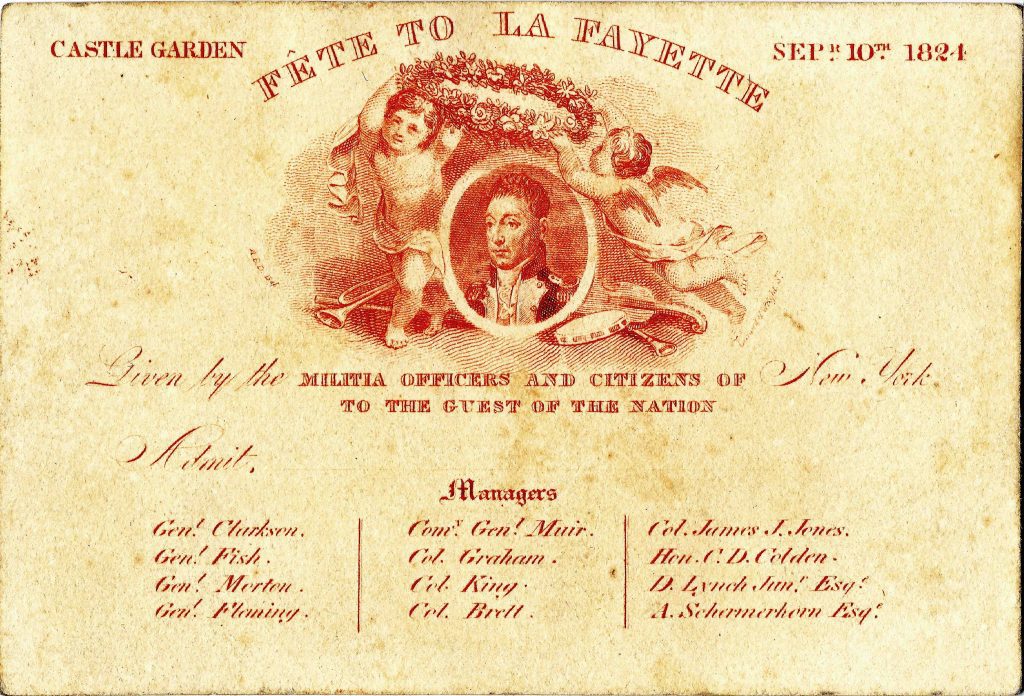 Below: the site of festivities that launched Lafayette's Hudson Valley Tour.
The 1834 map below is annotated to show the route of his brief, early morning visit to Poughkeepsie that involved a major reception at the river, procession up Main St., to Academy, Cannon and Market Streets. With a stop at Forbus House and breakfast at the Poughkeepsie Hotel.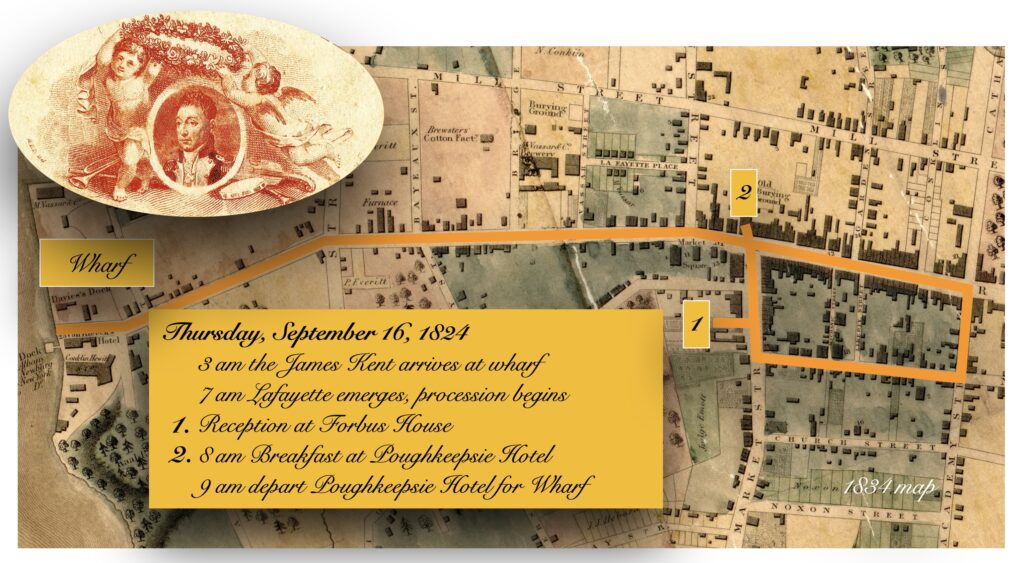 The Forbus House was Lafayette's first stop. Unfortunately there is no clear illustration or photograph of Forbus House. It was built on the site of Hendrickson's Tavern, which was a way-station for politicians and lawyers seeking a half-way spot between Albany and New York City for a drink or a night's stay. Stephen Hendrickson converted his house into an Inn. While simple, its visitors were top rate: Alexander Hamilton, Thomas Jefferson, James Madison, to name a few. Forbus House was followed by Nelson House which was a frequent platform for FDR.
The Poughkeepsie Hotel, where a grand breakfast was held, was a more elaborate and much larger Hotel. It was located at the head of Market Street when that street terminated at Main Street. Its location would be the exact location of the extension of Market Street north at and from Main Street.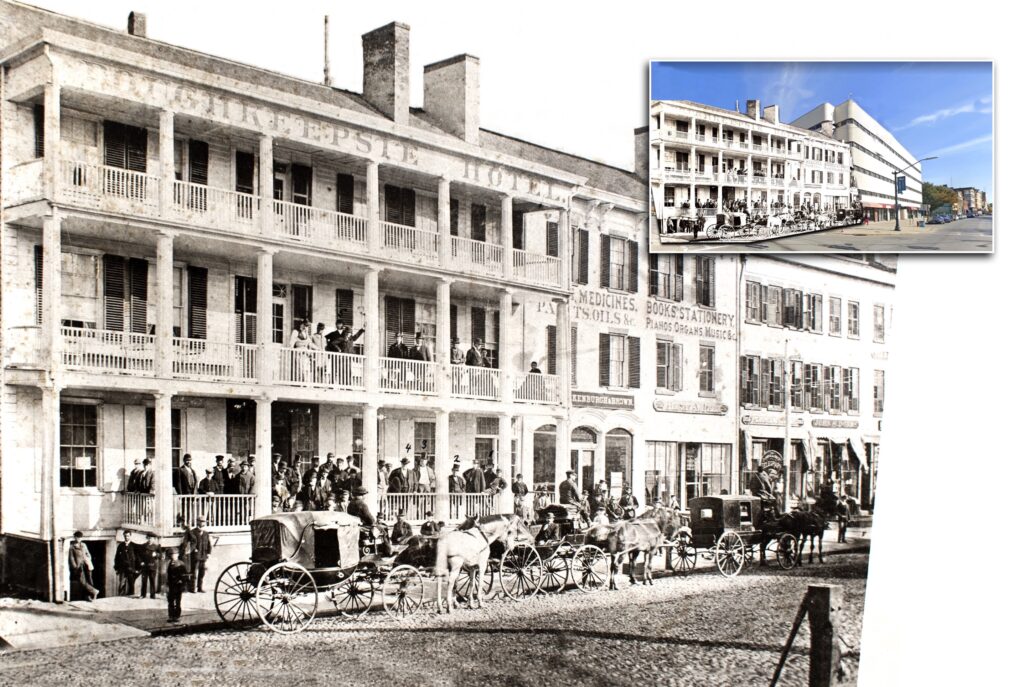 The story of Lafayette's visit at the time in local newspapers, and later in DCHS Yearbook