Above left to right: the recent headstone at the grave of Susan Elizabeth Frazier in Rhinebeck, NY in the shadow of gravestone of her great-great grandfather, Andrew Frazier, who fought in the Revolutionary War. Frazier's 1919 passport photo.
When President Woodrow Wilson addressed Congress in April 1917, seeking a declaration of war on Germany, he ended with a call to the nation saying, "The supreme test of the nation has come. We must all work, act, and speak together."
The emergency of the war, the proximity of the men, women and children of all races that were called to work together, created a sudden and visible near-meritocracy that challenged prior stereotypes. Although many of those stereotypes and prejudices persisted, many suffered cracks that began to help the United States move toward a fuller delivery on the promise that all are created equal.
Susan Elizabeth Frazier (1864-1924) is of particular interest because decades before the war she had emerged as an outspoken thought leader on the untapped capacity of persons of color, and of women in general, in a world that needed their contributions.
On February 16, 1892 Frazier spoke to the Brooklyn Literary Union on the topic of, Some Afro American Women of Mark, profiling a list of women of color who had made important contributions that were under represented.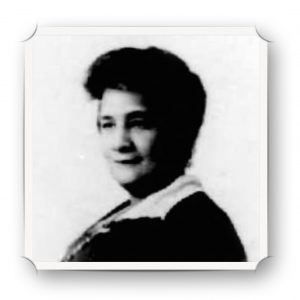 Susan Elizabeth Frazier
Susan Elizabeth Frazier's paternal great-grandfather served in the Revolutionary War out of Dutchess County, including at the Battle of White Plains. Andrew Frazier earned a pension and his headstone reflects this service.
Miss Frazier herself was born in, and lived in, New York City. She earned a national reputation when, in 1896, she became the first person of color to teach White students in New York City. Although her legal action failed, her moral argument and public relations appeal prevailed. The story was carried in newspapers across the country. She was a teacher in the public schools until her death in 1924.
In addition to her teaching, Frazier founded and became President of the Womens' Auxiliary of the 369th, the Harlem Hellfighters. During her tenure she received accolades from former President Theodore Roosevelt, and a wide range of social organizations in New York City. In 1919, in a highly fortuitous and coincidental reflection of her commitment to teaching and to veterans, she won a New York City newspaper contest as "New York City's favorite teacher." The prize was a trip to the battlefields of Europe.
Comments from newspapers at the time of her trip in 1919 reflect her strong character:
"An effort was made to buy her off when it was discovered that she was one of the successful contestants. But she would not be bought. To all of the propositions, arguments and offers to prevent her sailing, Miss Frazier returned one answer, that she was standing on her rights as an American woman and would make the trip. On board the boat an effort to seat her at a separate table and a similar effort at the hotel in Paris were frustrated by Miss Frazier's ignoring of the plan. The officer in charge of the party, in fact, was put to the necessity of apologizing to Miss Frazier."
She died February 3, 1924, the same day as former President Wilson. Her funeral was held at the Regimental Armory and included remarks by former commander Col. Wm. Hayward and the subsequent and commander at the time, Col. Arthur Little. She was accorded full military honors, the first time for a woman of color according to newspapers at the time. And yet she came to rest in an unmarked grave in the family plot she had purchased on organized for the family in Rhinebeck. Newspaper reports at the time gave conflicting reports as to whether she was buried in New York City or Rhinebeck.
In 2018, local residents secured an investigation by cemetery managers and confirmed her burial there. They raised money to erect a memorial headstone at what had prior to this been an unmarked grave. On her memorial headstone are the words, "Her Voice Endures" indicating the firm belief that her call for the full capacity of persons of color and of women should be welcomed and accommodated.