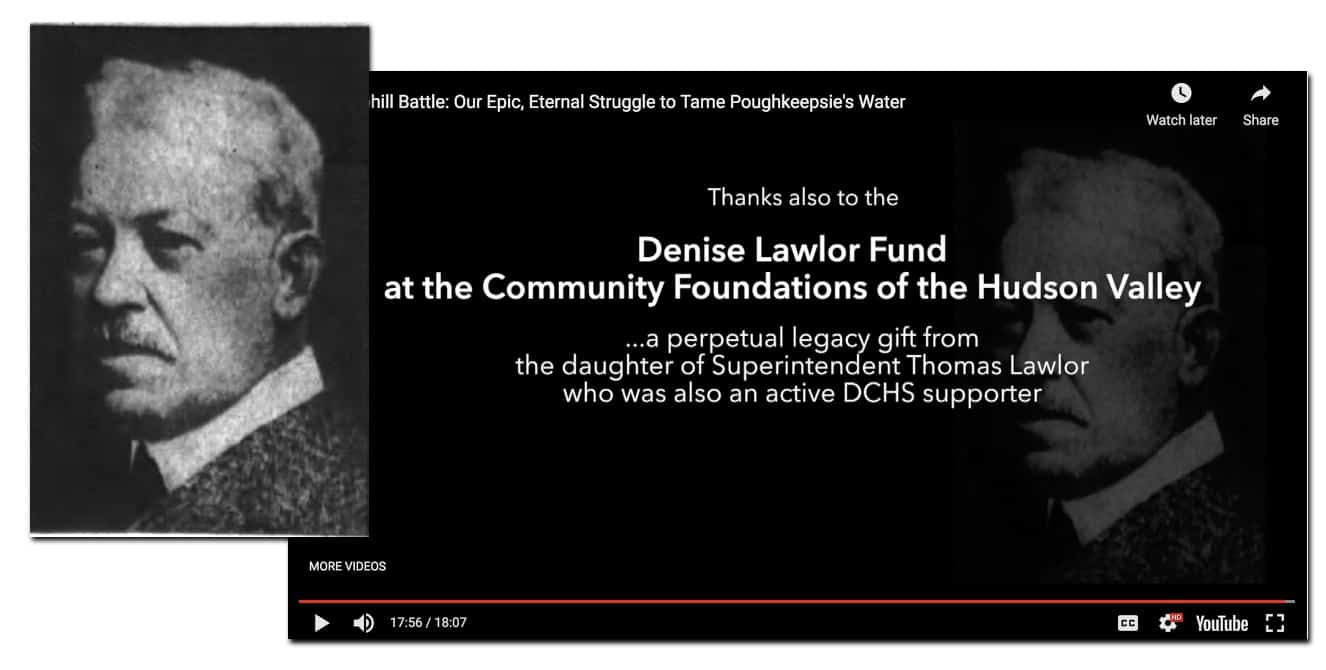 From the Dutchess County Historical Society. We look at the demands we make on water in all its forms, from the time of earliest human settlement. 18 minutes. This video is from a presentation and conversation with the Dutchess County Historical Society's Bill Jeffway and Poughkeepsie Water Facility's Randy Alstadt on March 10, 2021. DCHS is grateful to N&S Supply for their support of this event and our ambitious plans for the DCHS Virtual Event Space!
In this video, you will find that Poughkeepsie's Superintendent of Public Works, Thomas F. Lawlor, was instrumental at the beginning of the 20th century in remaking the city's water system. This gives us the opportunity to not only recognize Thomas Lawlor's contributions, including his active membership in the Dutchess County Historical Society for many years, but those of his daughter, Denise M. Lawlor. Upon her death, Denise Lawlor left a number of very generous perpetual gifts through the Community Foundations of the Hudson Valley. DCHS is one of those privileged recipients. We are grateful to Denise Lawlor, to the Community Foundations, and to Thomas Lawlor who must have inspired his daughter through a commitment to innovative modernization, combined with a love of local history.
The City of Poughkeepsie has produced this informational video that explains the past, present and future importance of fresh, clean water to customers served by Poughkeepsie's Water Treatment Facility. 7 minutes.
Link to Poughkeepsie Water Treatment Facility website and contact information.
Images from the presentation