Rich Goring reads his cousin J. Morris Goring's letter 102 years later
Rich Goring served as Regional Historic Preservation Supervisor for New York State Historic sites, overseeing interpretation and development for The Senate House, New Windsor Cantonment Site, Washington's Headquarters, Stony Point Battlefield & Lighthouse and Fort Montgomery. This profile is written by him with Melodye Moore, a long-serving DCHS Board Member she is the Chair of DCHS Collections, and leads major annual initiatives such as Year of the Veteran and Women's Voices & Talents.
J. MORRIS GORING KILLED IN FRANCE, was the headline in the Poughkeepsie Eagle-News, Tuesday, November 12, 1918, the day after the Armistice was signed. He had been killed in action September 29, one week after he wrote a September 22 foreboding letter to his parents.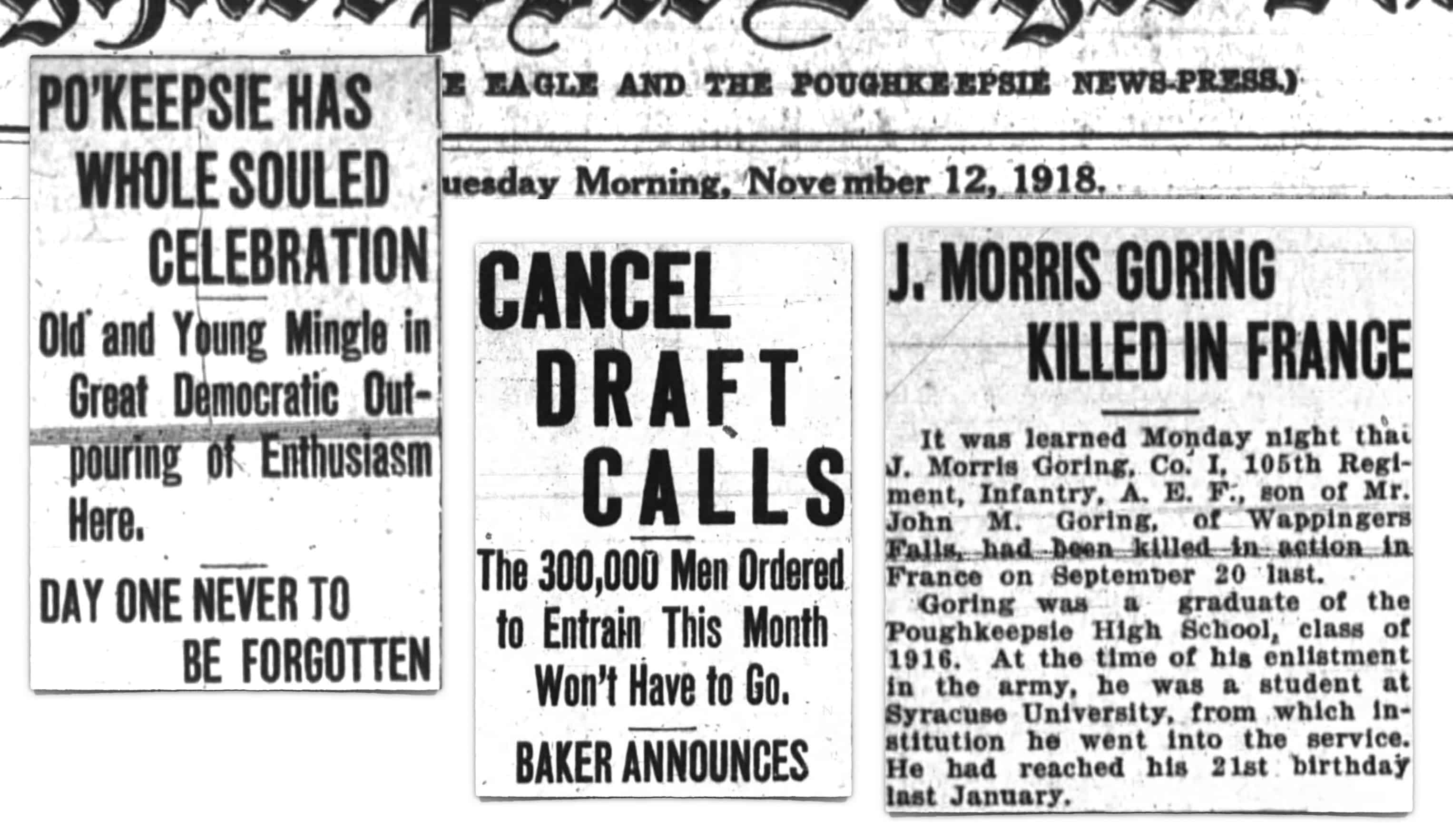 Morris, as he was called by his family and friends, was born in Wappingers Falls, along with his twin sister Mary on January 6, 1897.  The son of John M. and Mary Goring, he had two older siblings, another set of twins, Harold and Howard.  He was a graduate of the Poughkeepsie High School class of 1916.  With the United States entry into the Great War, Morris left Syracuse University where he was studying law.  His sister recounted to family members shortly before her death in 1980 that "he would've made a terrific lawyer, he loved to argue."  Morris enlisted as a Private and trained with the 27th Division, 107th Infantry, comprised largely of men from both sides of the Hudson River Valley.  As the American troops were exposed to combat in the mud-filled trenches, along with rats, poor food, gas, artillery barrages and machine-gun fire, they tried to train and prepare for what lay ahead.  In his last letter home, dated September 22, 1918, Morris wrote about the "little job" that lay ahead for him and what the outcome might be.  In this  remarkable and poignant family treasure he tried, as best he could, to prepare himself and his family for his death.
"Now mother don't you worry.  I don't like to put much of this stuff in a letter as it seems rather foolish if nothing happens and might cause unnecessary worry though it shouldn't  as if anything happened you would know it before receiving this.  It looks as if we  (have) a little stunt to do before I get a chance to write again.  If I should "go west" as we say, you shouldn't have any regrets mother dear as  there are hundreds of others the same. For the  one who dies it is easy, it is those left that we worry about.  It isn't such an awful thing, just  a great experience, a change.  We will all see each other again.  That we are sure of, millions, not only Christians, but all human beings.  I have led a fairly good life.  I have had a wonderful  time and great opportunities and a wonderful mother and family.  You must understand mother, I don't want to worry you, but if anything did happen to me I don't want you to feel  bad, and you shouldn't.  If I should get picked off I would die happy.  We are sure it isn't the end  so why such an awful thing ?  No one can conceive of an end to the personality of a loved one. It is infinite, something that can't die.  But you need no such argument mother.  You know it is only a change.  And in what better way can a man make that  change than over here fighting    For home, country, civilization, his mother, sister and sweetheart – but    enough, it is more likely that I will come home safe and that within a year.  If I am wounded don't worry as not  many of them are bad.  In fact a nice little "blighty" wouldn't be entirely unwelcome.  Some of the boys are over there now.  We have this little job so I thought it might be best to say something mother though I don't want to worry you.  If anything should happen too please drop a line to the Bunch at the (fraternity) house and tell them that though I didn't write due  to lack of time I thought of them enough." Morris closed his letter "Good night mother dear and Goodbye till the next.  Your boy is keeping as clean as when he left home and will be with you soon.  Take good care of yourself.  With love to all, your boy, Morris."
Seven days later, in the early morning smoke and fog of September 29, 1918, the Americans launched massive barrages and infantry assaults against the German positions near the St. Quentin Canal, a strong series of defenses known as the Hindenburg Line.  In the last 24 hours of the attack the British artillery fired a record 945,052 shells.  Scores of boys died that day, including Morris.  Orange County lost more than 48 soldiers, with dozens more wounded.  But the ultimate success of the attack led to the end of the war just 6 weeks later on November 11th.  Ironically, in Wappingers Falls, news was received of the armistice at about the same time as they learned of Morris's demise.  It was news the family never overcame.  After initial interment in the American cemetery in France, Morris's body was returned to Wappingers Falls where it reposes today in the family plot next to his twin sister whom he had called "his other half."
On September 1, 1919 a large bronze tablet was unveiled and dedicated at Mesier Park Homestead in Wappingers Falls.  Pvt. John Morris Goring is among the fallen heroes named on the plaque.  The J. M. Goring – Wm. Hurtz  Post 427 of the American Legion also honors the memory of a hometown boy who believed that  fighting for one's "home, country, civilization, his mother, sister and sweetheart"  was worth the sacrifice, and in his case, the ultimate sacrifice.