Photo by Olivia Barker-Duncan.
Isis Benitez
Q: Do you feel like there's a certain prevailing perception of the city held by people who live other places in the area?
A: So many people think of Poughkeepsie as a bad and scary place to live. We're predominantly a city with people of color. There's this perceived notion that if you live in the City of Poughkeepsie, don't walk around at night. Don't do this and that, especially on Main Street. It's understandable, do not get me wrong. There are a lot of random people on Main Street, and growing up I never really understood that's true in any city. It's just that in the City of Poughkeepsie there are a lot of people of color, so we are associated with being scary and weird.
Q: Was there a point in your life when you began to strongly feel that perception of the city?
A: I would hear it through our sports teams in middle school and high school, that a lot of families would be skeptical about coming to Poughkeepsie. You could see it in their faces when they came to our schools for games. Is that your hallway? Oh, is that your lobby?
Then I experienced it a lot at Marist College. I graduated in 2020, and I was a commuter student. When students found out where I lived, mostly I heard them talk about how scary Poughkeepsie is, especially at night, and they'd ask me how scary it is. I'd find out all they knew about Poughkeepsie was from driving to Taco Bell on Main Street at night.
Q: How did that affect your education at Marist?
A: I got an amazing education. My professors and classes were incredible. I had a lot of rich conversations, that really made me think. But the social aspects sucked. Being a commuter definitely made that part of it difficult, to not live on campus. Marist is also mostly white kids, and they didn't relate to me very well in class or in group time. I mostly bonded with the kids of color.
Q: What was your experience like growing up in your neighborhood?
A: It's interesting. One side of our house faces a very diverse street where I've had a lot of good friends. But the front of our house actually faces onto a street where people are predominantly white. That's where we got looked at, like, "What are they doing here?" My mom has a great job with Verizon Communications and she does very well for herself. When she and my dad moved our family to Poughkeepsie, it was into this house they bought, where I still live with my mom and my two brothers. My dad died a few years ago.
Q: Has the situation improved much, since your family has been living in the house more than fifteen years?
A: People would open up to my dad, maybe because he was a frumpy, goofy guy. People seemed to love that about him. My mom's very private. She's very tall and she walks with her head held high. She's very confident, and she's very expressive about her exterior. So people might even think she's a snobby black woman. Now it's me having to fight the looks, and my brother when he walks his dog.
Q: What's your sense of your parents' experience moving from the Bronx to Poughkeepsie?
A: I think my Dad was very accepted, but he was one of those guys that would talk to a wall. He was very talkative. There's a lot more about his experience I never got to talk to him about, because he died when I was 16. Mom left a lot of friends behind in the Bronx, but I think she's become comfortable here. Though I think it can be a love/hate relationship sometimes. She's very articulate, and that's how she wanted us to grow up. That also made her worry about how we would be treated. Would we be seen as too articulate for our black and Hispanic friends, or too Hispanic for our white friends? I think she's happy with the way this worked out in Poughkeepsie, how we've been accepted.
Q: Has your mom inspired a lot of who you are?
A: She chose a special name for me. She remembered it from the old Isis TV show about a very powerful woman, and she also knew about Isis the goddess of Egypt. When I explain my name to people they are jaws on the floor. My mom knew that would happen for me when she gave me my name. She's very strong willed. I've been doing some version of social justice work since I was like in middle school, and I see her in it. She's the kind of person who does the research, listens to the news, reads the articles. Now I'm very outspoken, whether it's housing rights or immigration rights, and she stands behind me.
Q: Was there a point when you recognized yourself as an activist?
A: it's funny, it seems like I've always been told that I was one. It wasn't until I was in college, when I understood I've been doing the same thing throughout my life.
Q: Can you give me an example of something that you feel like you were already doing in middle school or high school?
A: When I was in student government, my biggest issue to speak out about was that kids had to walk to the middle and high school, no matter where they lived in the city. That wasn't a big deal for me personally because I live near both schools, but some kids have a really long walk. I fought a lot to get us new textbooks. For some odd reason they re-did the football field, but they didn't get us new textbooks. In middle school I didn't like how they divided the building between an honors wing and a wing for "regular" students. I saw how that labeled kids in a bad way, when I was in the honors wing and my brothers weren't.
Q: Now that you've graduated college, how do you see Poughkeepsie as a working adult?
A: It's very different. I respect Poughkeepsie a lot more now than when I was a kid. A lot of my friends say that too.
Q: What comes to mind when you say you have more respect?
A: I can say to people I'm a product of the City of Poughkeepsie. Sure, a lot has to do with my upbringing. But I went to school here and now I'm successful. I'm happy at a full-time job. I'm an activist for my job. I work for the improvement of the city, and I fall in love with it that way. I'm getting to know the ins and the outs of the place, the little corners.
It's funny. Growing up I knew kids who loved Poughkeepsie, and kids who could care less for Poughkeepsie, and I was one of those kids who could care less. I always wanted to get out, because it seemed like there was a vortex that sucked you in and kept you here. But I got my backbone here. And if I leave, I will know that I made my mark, that I did what I could for my city.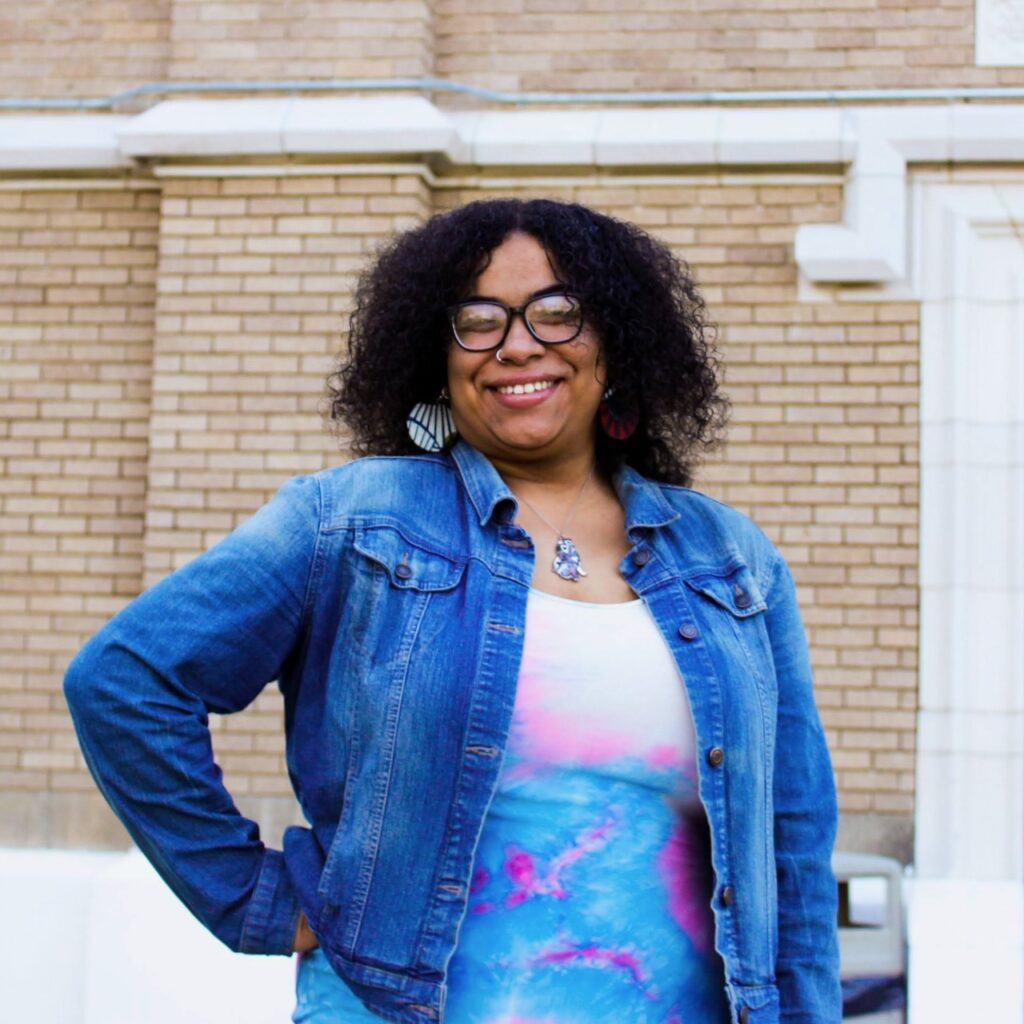 Photo by Olivia Barker-Duncan.
Q: How do you see the impact of your outreach work? What is it teaching you about the people who live here?
A: I feel like people trust me enough to tell me about their issues. It's more powerful to them because I am a resident myself. A lot of people are scared about their housing and health, and the educational system. About being moved out of here because rents are really going up, about feeding their kids. Then I bring it back to my organization, and I bring it back to city officials. When I bring things to my agency we discuss who I need to connect with next, what partners we need to make, what we can do to team up to make something better. Also, sometimes people just need someone to talk to, so they ask me to keep it to myself. All of these conversations are teaching me a lot.
Q: Do you feel like you're learning important things about Poughkeepsie from some of the older residents you work with?
A: Yes, all the time. Here's something. I hear from some of them about the word "stakeholder," which gets thrown around a lot these days. Some tell me that stakeholder should mean older black women, because they have been here since the Civil Rights era, they marched with Dr. King. But they are told that they aren't stakeholders. I have phone conversations with these women, and they tell me about all the struggles they've had to become a stakeholder. It means a lot to them to have that respect.
Q: So they're feeling overlooked, about their perspective and what they have to say on local issues and decisions?
A: Right. They think they can't be heard. So a lot of older people are looking at me and saying, you're our voice now. That's a lot of pressure. But I'm here for it, I'm here for it.
Q: Shifting gears a bit, you talked earlier about getting to know Poughkeepsie better now that you work in the city, the little corners and such. What are places in the city that you like most, and where you go to have fun? Places that may be a little under the radar? Places you might take someone visiting the city for the first time?
A: : First, I would definitely take them to the staple diners here, like the Palace and Acropolis. As far as nooks and crannies, there's the Delafield Deli. I love the sausage, egg, and cheese there.
Q: That's interesting, a lot of diners. Where else?
A: We have good soul food in Poughkeepsie, like Gennies, that's soon to be Geneva's Blues House. I would also take them to Reason and Ruckus, which is a fairly new club on Main Street. And to Zeus Brewery, which is a little further down Main. Then we can go and shop at places like Topanga. I would show them where to get their hair done, like at Mamy'fa's African Hair Braiding, Sally's African Hair Braiding, Angie's Beauty Salon, or Studio Kutz. I would also take them to parks like Lincoln Park and Eastman Park.
Honestly, these days so many people just talk about the Walkway Over the Hudson when they talk about Poughkeepsie. But you know, they need to get to know the rest of the city. Don't just come for the river, try out other places. Get to know us.
Published 01/30/2023